This Cherry Pecan Sourdough Bread is chewy and full of dried cherries and toasted pecans! It is delightful for breakfast, an afternoon snack with nut butter or for dinner!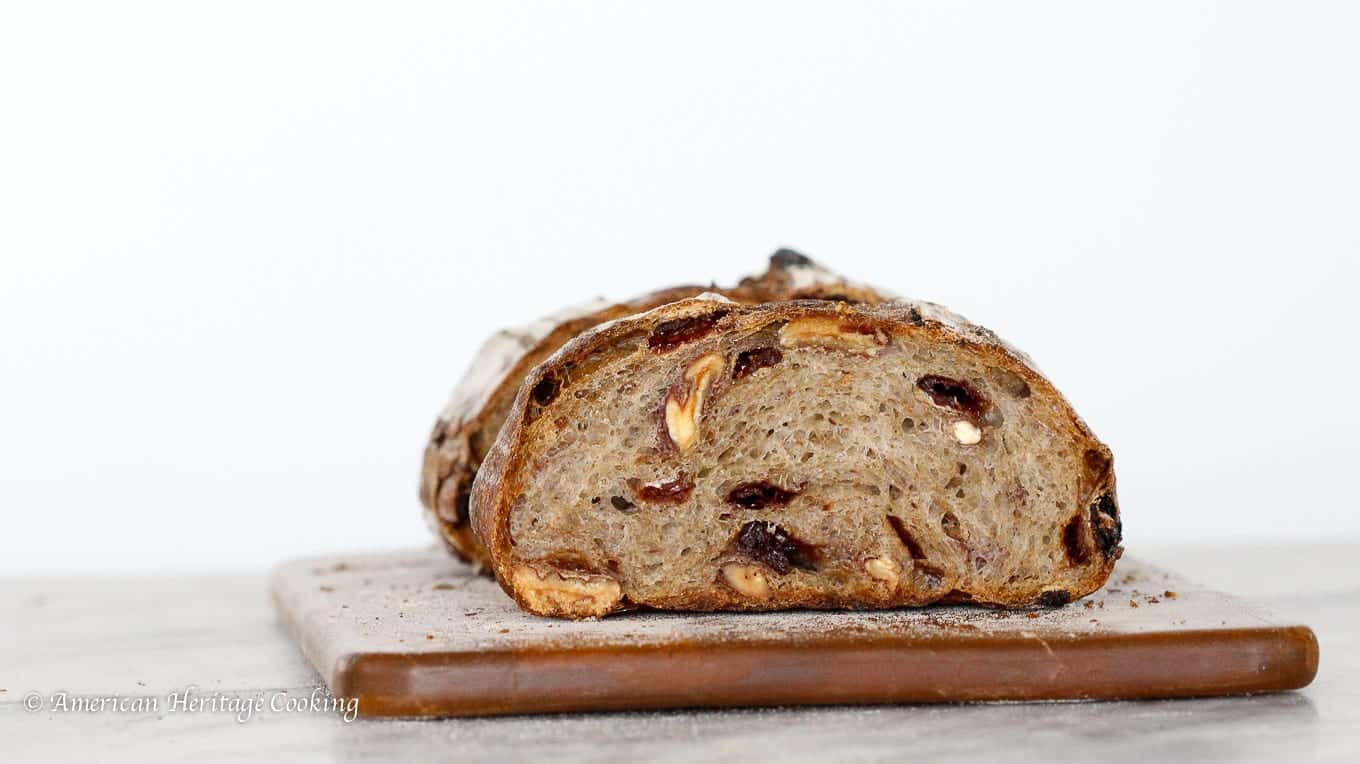 Raise your hand if whenever you go into an artisan bakeshop, you have an internal debate about which loaf to choose. ??‍♀️ Should I get the practical sandwich bread or should I get the sexy, fun loaf full of dried fruit and nuts? I know if it's the latter, that I will inevitably tear into like a savage on the way back home?
Warning: this is the sexy, fun loaf variety.
Though it seems way less of an adventurous choice when you make it at home! But you can, and should, still tear into it like you haven't eaten in a week when nobody is watching. ?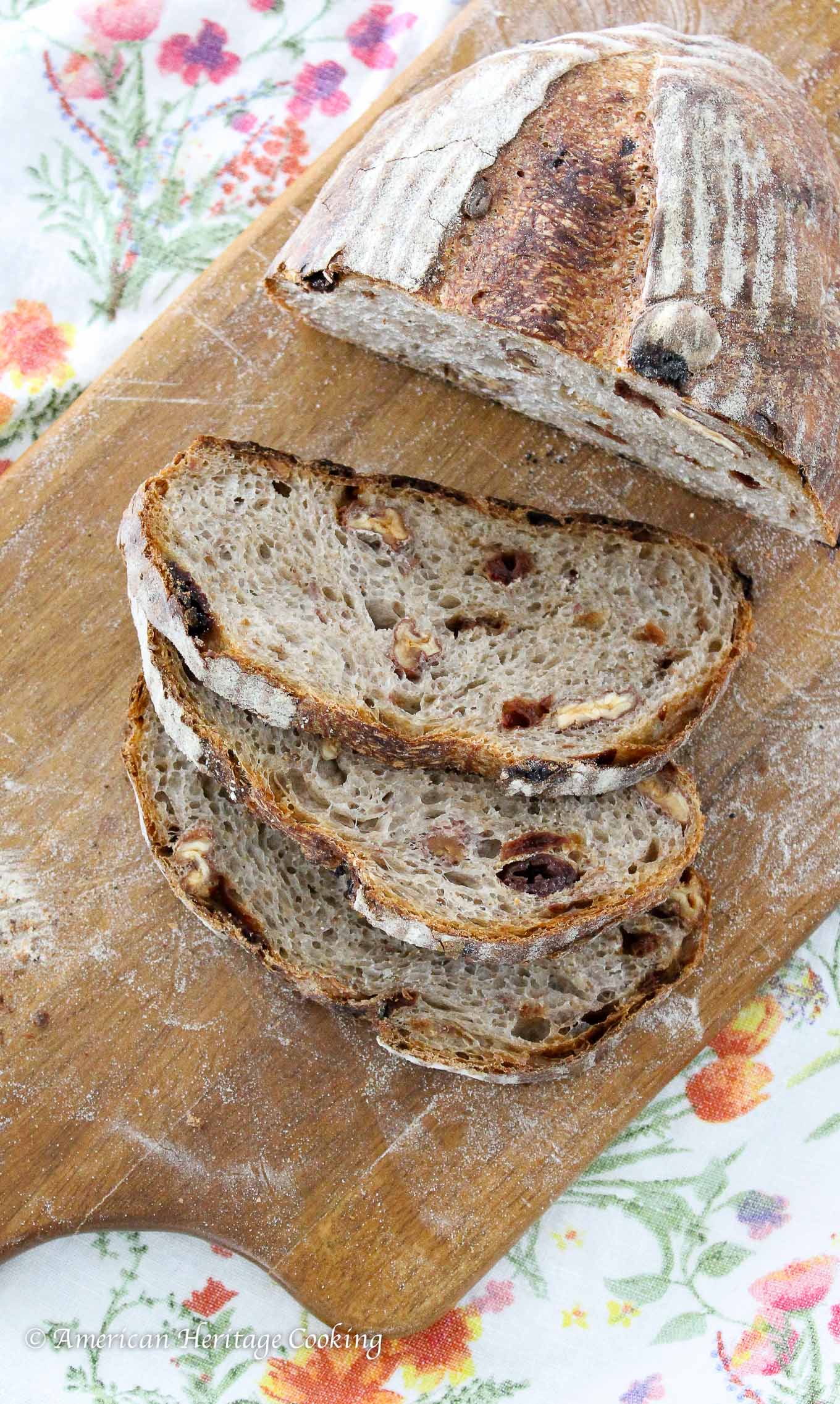 I also like to think that the whole wheat flour in this bread gives it that little dose of healthy that makes it feel like our "Summer Body" won't totally be lost in Quarantine.
I must say that I hope this National infatuation with sourdough continues after Quarantine. It's like overnight millions of people finally appreciate some obscure sport that you fell in love with years ago! It is super gratifying.
Maybe as the world opens back up, people will go back to work and return to their mundane routines. They'll make dinner and leave the bread baking up to the bakeries again. However, it it was really nice that, for a brief moment in time, everyone else understood that deep satisfaction of cutting into your homemade loaf still warm from the oven. People understood seeing those trademark sourdough holes, and savoring that first tangy bite. Like a big bite of the best oatmeal raisin cookies, it makes my soul smile.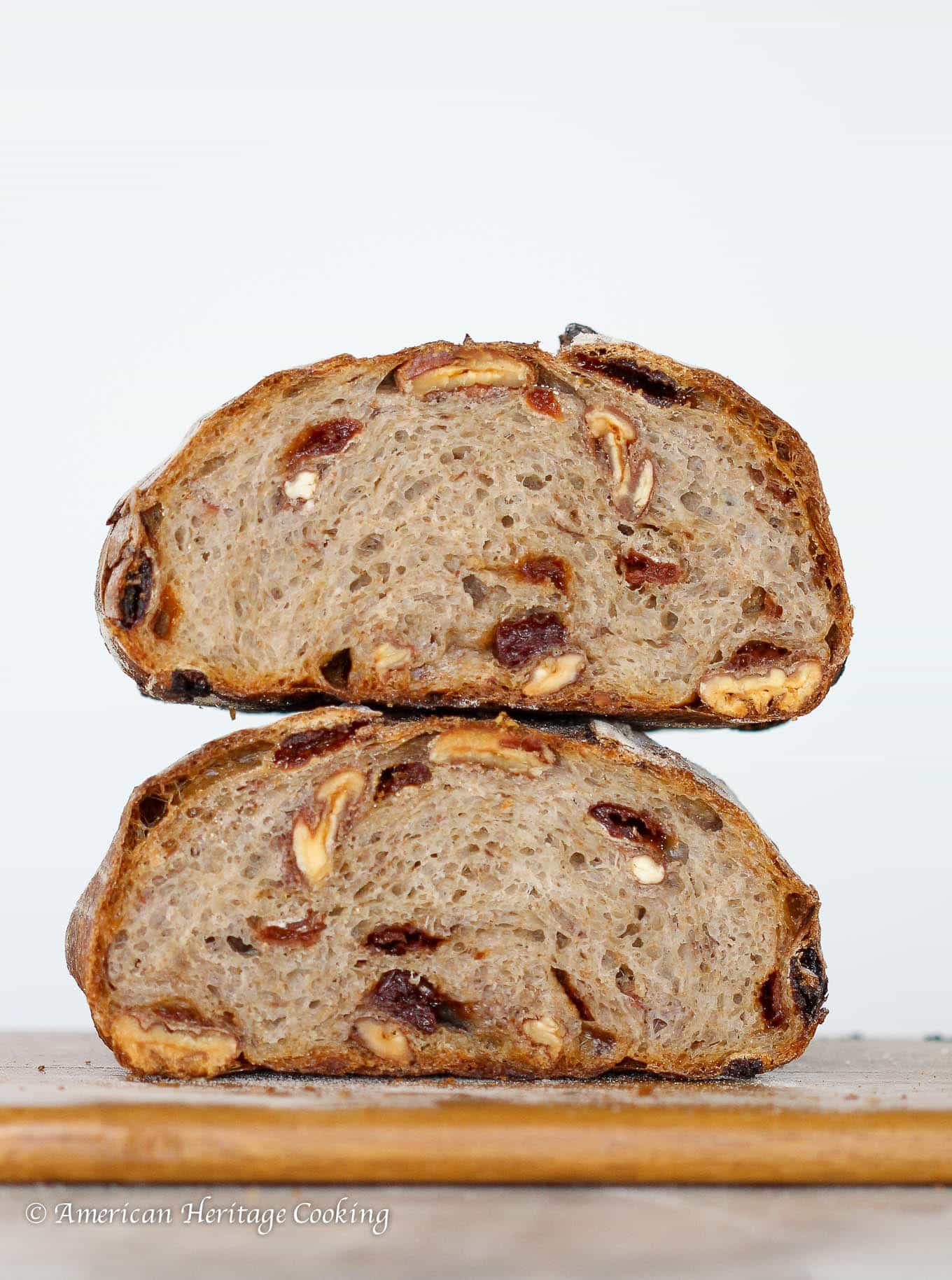 Is it so bad to admit that I have been eating this cherry pecan sourdough bread on repeat? I totally made this bread because I had eaten the last slice of this loaf, and I am almost finished! It's worth pre-slicing it, wrapping it really well in plastic wrap, and then freezing it. I like to take one of those slices out, toast it in the broiler, slather it with nut butter and mound it up with bananas! Maybe if I'm feeling extra, I'll drizzle a little local honey on top. Or I'll make a deviled egg salad sandwich.
You can halve this recipe and make one loaf at a time….but why?
Cherry Pecan Sourdough Bread
This Cherry Pecan Sourdough Bread is chewy and full of dried cherries and toasted pecans! It is delightful for breakfast, an afternoon snack with nut butter or for dinner!
Instructions
Build your Liquid Levain
The night before, build your liquid levain from your starter. If you are maintaining a liquid levain starter with 125% hydration already, there is no need to feed a separate starter, just adjust the ratio above to make sure you have enough to feed the next day. Allow it to proof at room temperature.
Make the Final Dough:
Whisk together dry active yeast and water in the bowl of a stand mixer just to hydrate and make sure there are no clumps. Add all purpose flour, whole wheat flour, and levain to the bowl. Mix on low until all the flour has been completely incorporated, let the dough sit for 15 minutes (autolyze) to develop gluten.

While your dough autolyzes, cover the dried cherries with hot water and allow to soak 30 minutes. Drain very well and set aside.

Add the salt to the bowl, switch to the hook attachment and then mix on low to incorporate the salt.

Turn the mixer up to medium speed to develop the gluten. Stop the mixer every now and again and take a piece of the dough in your hands. Working around the edges of the dough try to pull the piece thin enough to see through. The whole wheat grains will tear more easily. Do not despair! This is normal and it takes practice. This dough will not form a ball around the hook because it is too wet of a dough (this is what we want!).

Add the toasted, cooled pecans and the strained cherries and mix on low until they are inside the dough and not all on the outside.

Scoop dough into an oiled bowl and cover with plastic wrap.

Place in a warm spot for an hour.

First set of folds: Fold each of the four sides into the center, pulling the dough up and allowing it to smack down on top of the remaining dough in the bowl. This is developing more gluten! Cover and proof an additional hour or until doubled and light and airy feeling. You want to oil or flour your hand before you feel the dough. It should feel light and airy and not stiff or dense.

Pre-shape: Dust the top of the dough in the bowl with flour. Turn the dough out onto a lightly (I mean lightly!) floured surface. Divide the dough into two equal portions of 625g each. Fold each of the four sides towards you into the center, turning the dough after each fold. This will create a little packet. Flip the dough so the seam in on the counter. Shape it into a round by using both hands to pull the dough towards you. Once you have a round ball with a smooth top, allow it to sit and bench rest for 15 minutes.

Final Shape: Repeat the same process as with the pre-shape. Place the dough on a piece of parchment or flip it upsidedown into a proof basket that has been dusted with rice flour. Cover with plastic wrap.

To bake same day: Place the basket back into the warm spot and allow to rise another 1-2 hours or until it feels light and airy and has doubled in volume in the basket. The volume will be tough to tell if you are proofing it on parchment because it doesn't contain or control the shape of the sourdough. Proceed to the baking step below.

To bake next day: OMIT THE DRY ACTIVE YEAST! Place covered basket into the refrigerator to retard the dough overnight. This will slow the proofing of the yeast and will allow you to bake 12-18 hours later.

Baking: Preheat the oven to 450F convection or 470F non-convection with the Dutch oven or baking pan inside. Meanwhile, cut a piece of parchment a little larger than the loaf. When your oven is ready toss a little flour onto the dough then turn the dough out of the basket onto the parchment. [If you proofed your dough on parchment, skip this step] Score the dough using a lame, razor blade or pairing knife. You want to score midway between the bottom and the top. With this bread in a round shape, I like to make a square so that it rises straight up and maintains its round shape.

Take the preheated Dutch oven from the oven, gently lower the dough into the pot and cover it with the lid. Place in the oven and bake 20 minutes. Remove the lid and continue baking 25 minutes or until the loaf is a dark amber brown.

Remove the loaf from the Dutch oven, remove the parchment carefully, and then cool completely. This allows the crumb to set.

Enjoy!
Notes
Sometimes I will make an extra loaf and then cut it into slices, wrap it well in parchment then plastic wrap, and freeze it. I can then take out slices as I want them!
Nutrition
Calories:
154
kcal
|
Carbohydrates:
27
g
|
Protein:
4
g
|
Fat:
3
g
|
Saturated Fat:
1
g
|
Polyunsaturated Fat:
1
g
|
Monounsaturated Fat:
2
g
|
Sodium:
293
mg
|
Potassium:
68
mg
|
Fiber:
2
g
|
Sugar:
2
g
|
Vitamin A:
145
IU
|
Vitamin C:
1
mg
|
Calcium:
13
mg
|
Iron:
2
mg
Like this? Leave a comment below!