These Sourdough Cinnamon Rolls are soft, tender, cinnamon sugar perfection. Look no further for the actual best cinnamon rolls of your life!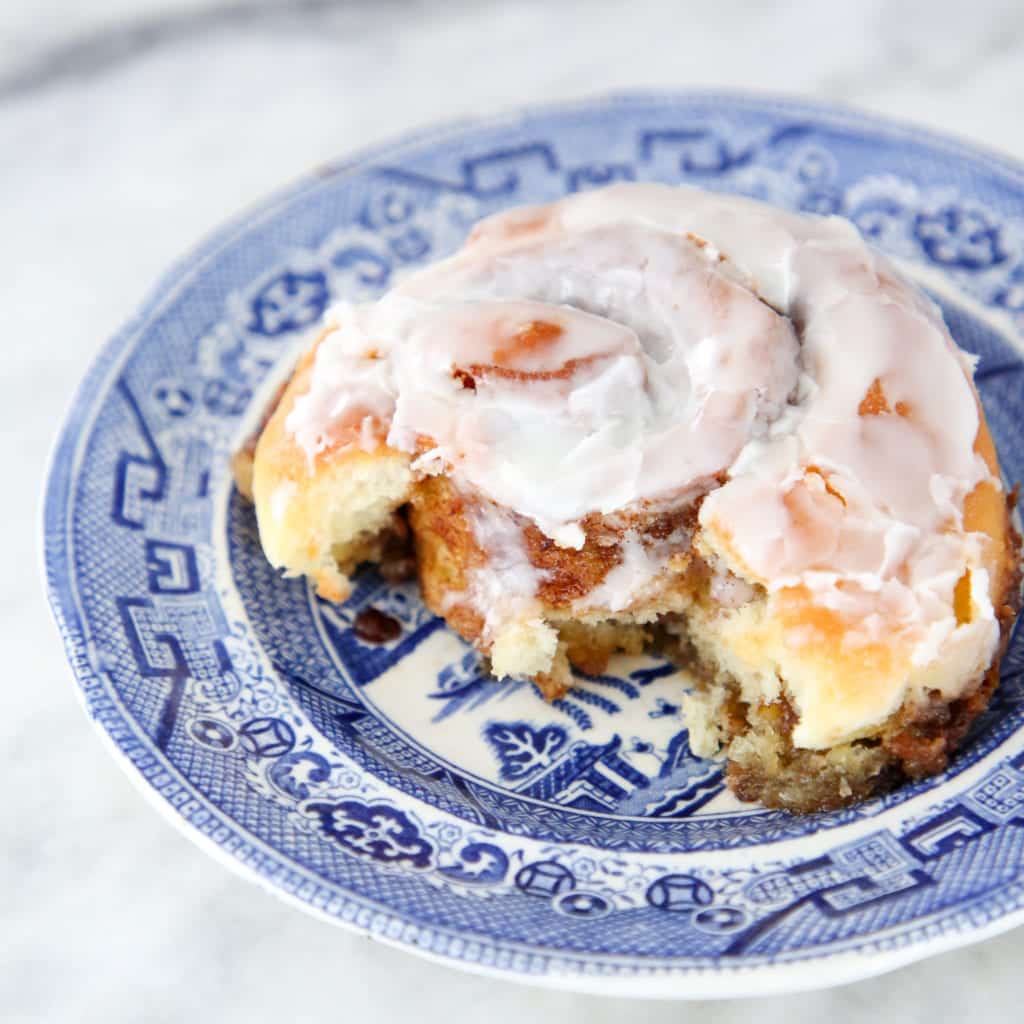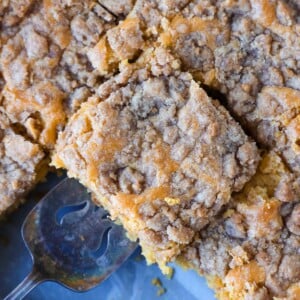 I literally spend my days perfecting recipes. Not just sometimes, but all the time. As a professional pastry chef / lifetime overachiever, I take perfectionism to heart.
More often than I would care to admit, I am able to take my experience and a hefty amount of gut-instinct to produce a dessert or bread that is pretty dang close to the best. Then a little fine-tuning gets it across the finish line.
Other times I have to work at it. While nothing tops the Bergamot Molten Chocolate Cake experiments for V-Day 2020 as my cooks can attest, I tested this cake close to 30 unique times to get it perfect), these cinnamon rolls come in a close second.
Call me basic, but Cinnabon is the benchmark for all cinnamon rolls. Maybe it is the smell that they pipe into airport terminals or maybe it is my fond memories of shopping at the mall, but I will never forget the smell and taste of a hot Cinnabon.
I spent years testing and retesting, scrapping old recipes and then revisiting them with new edits. Thus it is with the confidence of a MLB player that I give you THE BEST Sourdough Cinnamon Roll. It is tender and soft with the perfect amount of cinnamon sugar filling. The dough is pillowy with no distracting chew.
It is also EASY!
If you have a starter, great! If you don't, I have this easy sourdough starter recipe.
The starter doesn't add any distinct flavor here (it just taste like the best cinnamon roll of your life – no biggie), but it does add structure. Gluten develops with agitation (like mixing in a stand mixer or kneading by hand) but also with TIME. Yes, my friends, gluten will develop all on its own! ? I've said it before and I'll say it again: gluten is magical.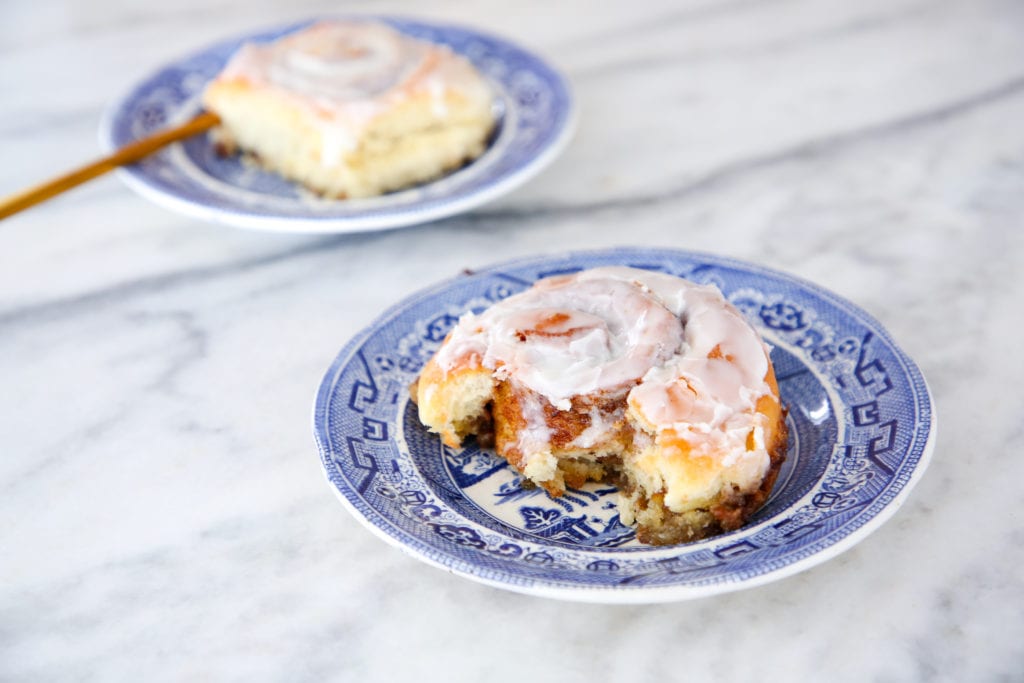 I'm that person who eats the center of the cinnamon roll. The outsides are often disappointing and dry. But trust me when I tell you that these sourdough cinnamon rolls are so soft and gooey that the outermost edge is just as amazing as the center. Trust.
And trust that I am working on a non-sourdough version for you all.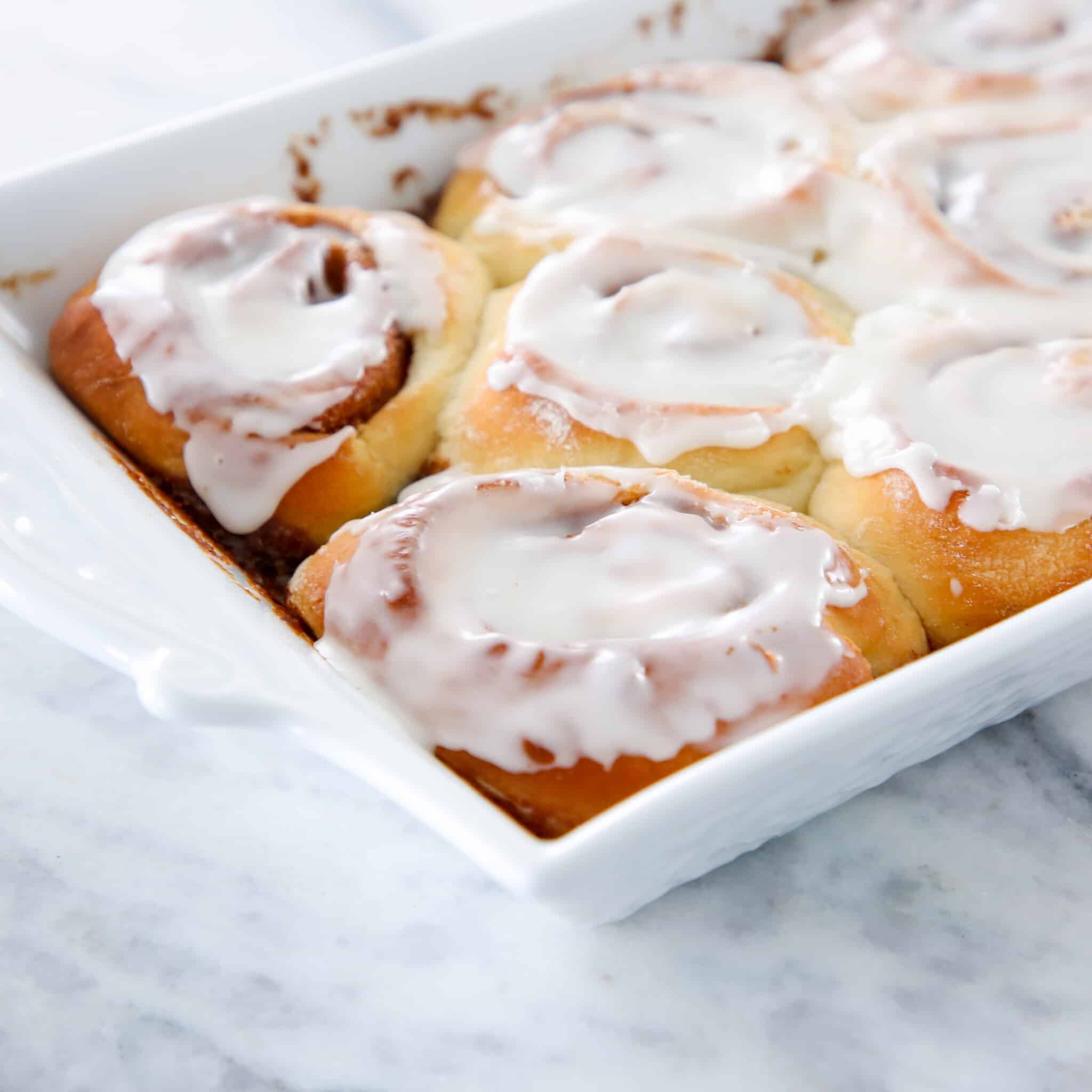 Sourdough Cinnamon Roll Side Bars:
My recipe calls for fed starter (aka NOT sourdough discard) for one reason and one reason only: I am impatient. I have been waiting my whole life for these cinnamon rolls and I wasn't going to wait for discard to get all excited and wake the F up!
You can omit the commercial (dry active) yeast. But, again, I am impatient. The dry active yeast gives these rolls a kick start. If you don't use it, they will take a whole lot longer. Especially if you use discard.
If you are going to use discard, do not use discard that has been languishing in the back of your refrigerator for months. I mean give the little guys a break! Feed them before you expect them to leaven bread in under 3 days. [My sourdough pizza dough uses discard, but then it sits for 2-3 days before baking.] I don't have that kind of patience on Sunday morning.
Pay attention to my measurements and yields: this is part of what I was testing. This is key to the perfect filling: dough ratio. Trust me.
Have the patience to make your butter the perfect level of soft. Melted butter and temped butter do not have the same properties. Your filling will not hold stay where it is supposed to or have the right texture if you are lazy and melt your butter. From one impatient person to another…it's worth it!
If you want the best results, use a kitchen scale.
Depending on when the starter has been fed, the volume will vary by triple, but the scale never lies… just like my skinny jeans…
A 100% hydration starter is a starter that has been feed equal parts water and flour BY WEIGHT.
Don't skip the heavy cream. This is a little trick I learned from my ladies at Taste of Lizzy . I don't use as much as them but I agree a little bit keeps the filling smooth and the bottoms of the rolls soft and moist.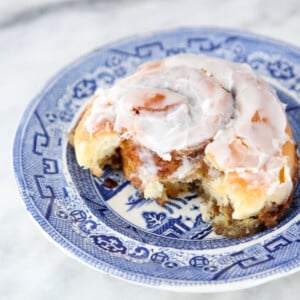 Sourdough Cinnamon Rolls
These Sourdough Cinnamon Rolls are soft, tender, cinnamon sugar perfection. Look no further for the actual best cinnamon rolls of your life!
Ingredients
For the Dough:
122

g

Warm milk

a little warmer than body temperature. 105°F if you want a number

1 ¼

teaspoon

Dry active yeast

see Notes for substitutions

1

Egg

52

g

Butter

softened

257

g

All purpose flour

100

g

100% hydration starter

fed 12 hours prior, not discard

½

teaspoon

Kosher salt

50

g

Sugar
For the Cinnamon Sugar Filling:
105

g

Butter

so soft that it is almost melted and will spread easily with a spatula

195

g

Dark brown sugar

PACKED

1

Tablespoon

Cinnamon

1 ½

Tablespoons

Heavy Cream

reserve for right before baking
For the Icing:
2

cups

Confectioner's Sugar

½

teaspoon

Vanilla extract

2

Tablespoons

Milk

or more as needed to thin it out
Instructions
Make the Dough:
In the bowl of a stand mixer add the warm milk then sprinkle the yeast over the surface. Whisk to break up any clumps. Allow to bloom (sit unperturbed) for 10 minutes or until bubbly.

Add the remaining ingredients for the dough to the bowl. All at once! Just dump it in there!

Fit the mixer with the paddle attachment and mix until incorporated and no lumps remain.

Switch to the dough hook. Mix on medium for 3-4 minutes. The dough will not pull away from the sides of the bowl or climb the hook. It is a wet dough and this is not in its nature. That is OK!

Turn out into a bowl sprayed with cooking spray, cover with plastic wrap and bulk proof in a warm spot for 30-45 minutes. My oven has a proof setting that I use at 85°F. When it has doubled it is done!
Make the Filling:
While the dough proofs, make the filling. In a bowl, mix together butter, sugar and cinnamon. Mix until a paste forms. Set aside.
Assemble:
Cover your counter generously with flour and turn out your dough onto the counter. A bowl scraper or rubber spatula helps here because the dough is sticky. Sprinkle a generous amount of flour on top of the dough and flour a rolling pin.

Roll the dough out into a rectangle 12 inches long by 10 inches high. (Try to keep those sharp corners! It's harder than it looks but it's good to have goals, right?)

Once you have your rectangle, spread your filling with an offset spatula. Sometimes it is necessary to let your fingers join the party to help spread/hold the dough. I purposefully keep a border on the top and the bottom edge.

Starting at the bottom edge (12 inches across) start to roll away from you. Seal the top edge.

Cut approximately 2 ½ inch pieces with a knife (or your bench scraper). This makes 8 rolls.

Spray a 9 " x 11" baking dish with cooking spray and then place the cinnamon rolls about 2 inches apart. I offset them so I have a row with 2 and then one in the center followed by another row of 2 and so on. This gives them space to proof and grow without crowding.

Cover with plastic wrap and place back in your warm spot to proof an additional 20-40 minutes. I proof 20 and then remove the dish to another spot and preheat my oven to 350°F convection.

Right before baking remove the plastic wrap and pour the heavy cream over the tops of the rolls.

Bake 350°F for approximately 15-20 minutes. Mine baked 18. They will be golden brown around the edges and a bit on top and the centers will no longer look or feel doughy.

Allow to cool before icing.
Make the Icing:
Whisk all the ingredients for the icing together. I kept mine a bit thicker so that I could spread it on the cinnamon rolls still warm from the oven. A little bit of heaven on earth to be sure!
Notes
Yield: 8 Cinnamon Rolls
Yeast Substitutions:
You can omit the yeast but make sure your starter is fed and fully risen. It will take longer to rise. I suggest letting it final proof over night.
Instant Yeast: 3/4 t (you can add this directly to the dough and can skip the first step of blooming.)
Fresh Yeast: 8 g (I don't have a volume measurement on this, but, honestly, fresh yeast is pretty hard to come by outside of restaurants.)
A note about the flour: My original recipe called for 207g All Purpose Flour; however, I have increased it to 257 g to make it easier for bakers of all levels to work with. This adds an additional 1/2 cup to the original recipe. This makes a dough more akin to The Best Cinnamon Rolls recipe. The original recipe will produce a lighter cinnamon roll if you dare to try! 
Refrigerating or "retarding" the dough during the final proof will also make the dough easier to handle. 
Nutrition
Calories:
521
kcal
|
Carbohydrates:
86
g
|
Protein:
5
g
|
Fat:
19
g
|
Saturated Fat:
11
g
|
Polyunsaturated Fat:
1
g
|
Monounsaturated Fat:
5
g
|
Trans Fat:
1
g
|
Cholesterol:
68
mg
|
Sodium:
297
mg
|
Potassium:
133
mg
|
Fiber:
3
g
|
Sugar:
60
g
|
Vitamin A:
600
IU
|
Vitamin C:
1
mg
|
Calcium:
83
mg
|
Iron:
2
mg
Like this? Leave a comment below!