This buttery Brioche Bread recipe is so soft and tender it melts in your mouth! A rich, flavorful bread perfect for snacking, sandwiches, French toast or bread puddings!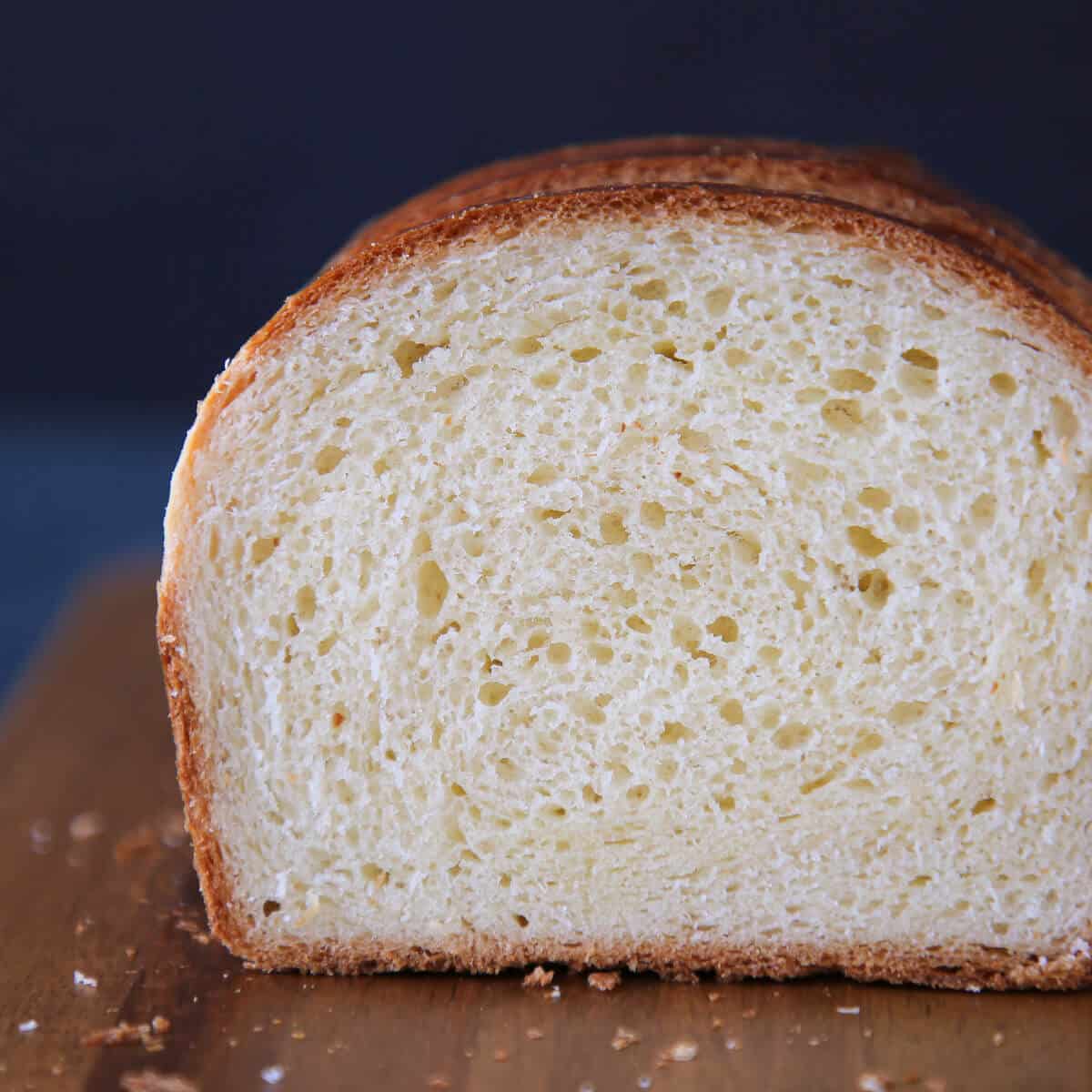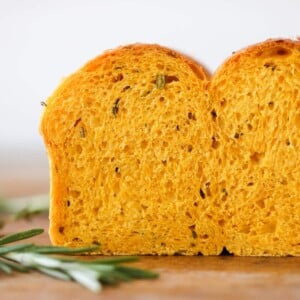 Nothing can get in between me and my bread and brioche bread is my absolute favorite! Sure, whole wheat sandwich bread is great and a healthy soft honey whole wheat roll is perfect for dinner, but buttery brioche speaks to my soul!
In my Lemon Raspberry Bread Pudding post I waxed poetical about a brioche bread that I snagged from the Bread Class while I was in Pastry School. This is that very bread recipe that I am sharing with you today! It is the star of that bread pudding but also deserves all the glory on her own!
Let's get nerdy shall we?
What is brioche bread?
Brioche is a category of yeasted bread where a substantial amount of butter is added to the dough. Typically the butter is added cold after the gluten development stage because this amount of butter will inhibit gluten formation. Brioche bread, like this one, is often enriched with other additives like eggs and sugar, but it doesn't have to be. It's all about that butter!
How much butter is in brioche?
The amount of butter varies and is calculated as a percentage of the total weight of flour. This particular recipe is a 32% brioche, meaning that the weight of butter is 32% of the weight of flour. I have made up to a 50% brioche, which is about the maximum. It is difficult to get the gluten network to support much more than 50% butter. Less than 25% is really more of an enriched dough and not buttery enough to qualify as a brioche! (Still tasty though!)
Ingredients
All Purpose Flour: I prefer to use all-purpose flour in the majority of my bread recipes because it has the perfect amount of gluten for developing a strong network but remaining tender and soft. The exception is when I want a chewy texture like with bagels.
Water & Milk: I use a combination of water and milk for hydration in this brioche bread recipe because I want a bit of the fat and flavor from the milk but not too much that it takes all the glory from the butter.
Kosher Salt: Kosher salt is lass salty than table salt and a teaspoon weighs less than other finer ground varieties.
Dry Active Yeast: These little guys require the added step of hydration, but they are fast yet controllable. See substitutions for more options.
Sugar: There is a little bit of sugar here for flavor, caramelization of the crust and also to give the yeast an easy, readily accessible food supply to get the party started!
Butter: Unsalted butter allows you to control the flavor of the dough while still adding all the buttery goodness!
See recipe card for quantities.
Substitutions
Whole Milk: I prefer baking with whole milk for the flavor and fat, but you could use skim milk, alternative milks or even make this recipe using all water.
All-purpose flour: If you only have bread flour, you can certainly use that instead, but it will take less time to develop the gluten and your final product will be a bit more chewy than tender.
Yeast: If you don't have dry active yeast, you can substitute double the weight of fresh yeast or half the weight in instant yeast. If using either fresh or instant yeast, you can add them straight to the batter, but mixing them into the sponge will still kickstart the fermentation and gluten development!
Why use a Sponge in Brioche Bread?
A sponge is a bread making technique where a portion of the flour is combined with the yeast and all of the liquids. In this recipe that is milk and water. The sponge activates and gives the yeast time to start fermenting. It also allows the gluten network to begin forming. This decreases the total amount of time you have to mix or knead the bread and will make the whole process faster!
Variations
Rolls: Divide and shape this same recipe into rolls! This same recipe will make 12 dinner rolls. Follow my recipe for dividing, shaping and baking here! If you are pernickety like me, you can weigh each piece. They will be about 82g each!
Raisin Bread: You know how I feel about raisin bread! You can add up to a pound (454g) of raisins to the recipe below.
Nut & Fruit Bread: Add any combination of dried fruit or nuts you wish up until one pound.
Citrus: Bring subtle notes of citrus by adding lemon or orange zest to the batter and substitute the water with orange or another flavor of juice!
How to store brioche bread:
For optimal freshness, consume or freeze within two days. I find it easier to pre-slice before wrapping and freezing. That way I can take out as many or as few slices as I want! Left over brioche is also phenomenal in this easy bread pudding recipe or pumpkin French Toast, or use it to soak up every flavorful bite in this Mangalorean prawn curry!
Pastry Chef Tip:
While typical brioche bread mixing methods call for adding the cold butter after gluten development, I have found that when mixing only 1-2 loaves in a home stand mixer, it incorporates best when added with the rest of the ingredients before incorporation with the paddle!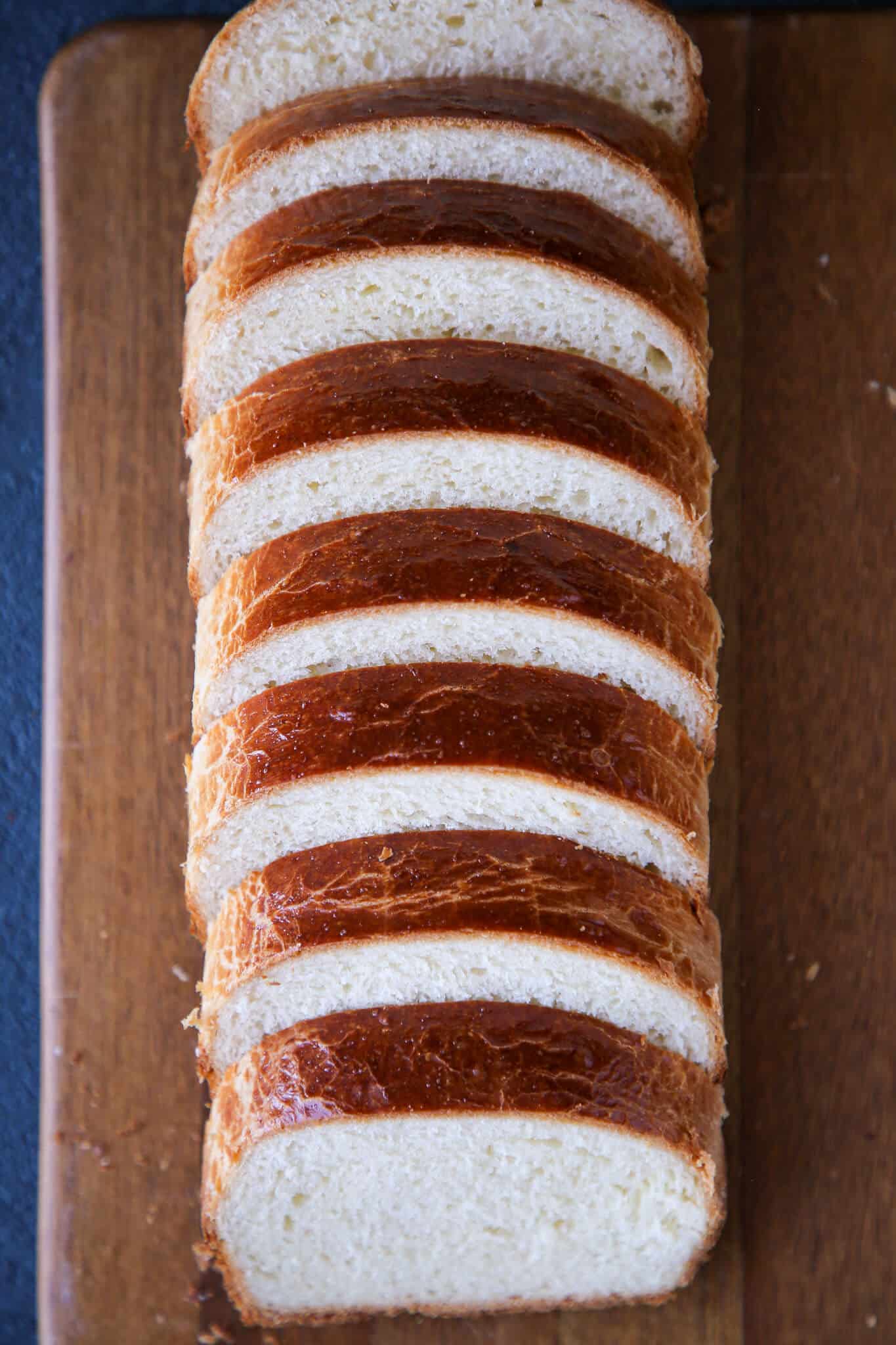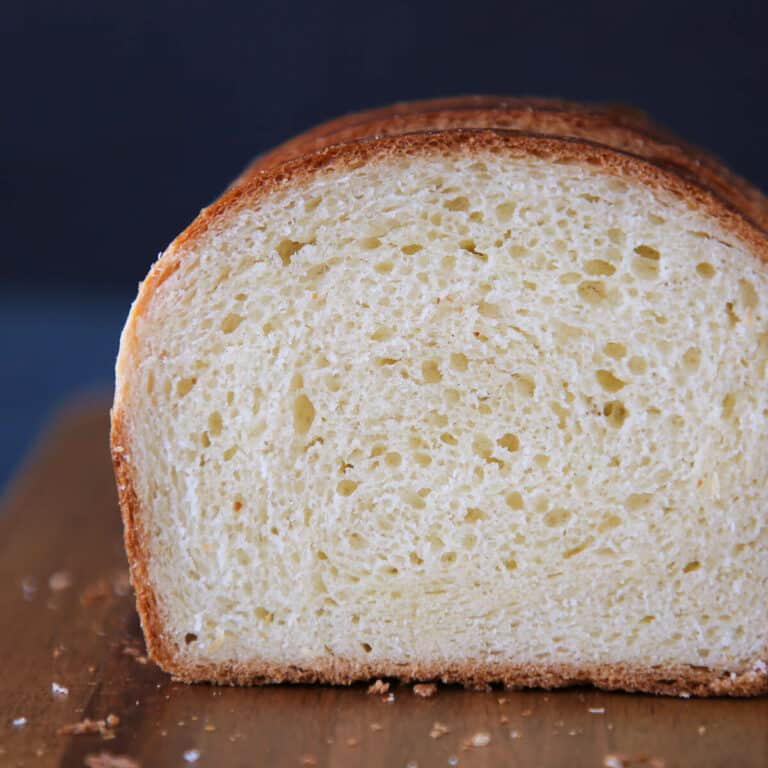 Brioche Bread
This buttery Brioche Bread recipe is so soft and tender it melts in your mouth! A rich, flavorful bread perfect for snacking, sandwiches, French toast or bread puddings!
Ingredients
Makes:
9
inch
9
x
5
inch
rectangle
Instructions
Make the Sponge:
In the bowl of a stand mixer add the warm water and sprinkle the yeast on top and allow to sit until bubbly, approximately 10-20 minutes depending on the heat of your room.
Mix the Dough:
Add all the remaining ingredients to the bowl (yes all!) and mix to incorporate with the PADDLE attachment. I find the paddle is more efficient incorporating that the hook in most home stand mixers. Once the ingredients are mixed and the flour has been hydrated, switch to the hook attachment and mix on medium until a smooth dough forms. Use the window pane test to tell if the dough is ready to proof.

WINDOW PANE TEST: take a golf ball sized portion of the dough from the mixer and gently start to pull the dough apart. I like to think of it as a square and gently pull on two sides, then rotate and repeat. If the dough tears instantly, it is definitely not ready. If it allows you to pull it thin enough to see light through it, then it is ready. There are different degrees of gluten development but with this dough we want to develop a strong gluten network to hold up to all that butter and eggs! Since we are mixing the butter in with the rest of the ingredients, it will inhibit the creation of the gluten network. In a larger batch this should be added after gluten development; however, in this case it is almost impossible to get a home stand mixer to incorporate this quantity of butter. So don't stress about the perfect window pane. That is why we will do a series of folds to finish developing the gluten.

Place the dough in a lightly oiled bowl, cover with plastic wrap and then place in a warm spot. Allow to proof 30 minutes. Give the dough one set of folds.

Set of folds: Fold each of the four sides into the center, pulling the dough up and allowing it to smack down on top of the remaining dough in the bowl. This is developing more gluten!
Bulk Proof:
Cover the dough and place back into the warm spot to proof. Check the dough every 45 minutes. This will take about 1 hours. You want to oil or flour your hand and feel the dough. It should feel light and airy and not stiff or dense.

Remove the dough from the bowl and divide in half. This will make two loaves weighing 500g each.
Pre-Shape:
Turn the dough out onto a lightly (I mean lightly!) floured surface. Fold each of the four sides towards you into the center, turning the dough after each fold. This will create a little packet. Flip the dough so the seam in on the counter. Shape it into a round by using both hands to pull the dough towards you. Once you have a round ball with a smooth top, allow it to sit and bench rest for 15 minutes.
Final Shape:
It is time to final shape! We are going to shape these into a log (or a bâtard if you like fancy French terms for things). Take one of the rounds and flip it over. Grab the top and bottom edges and gently pull it into a small rectangle. Place it on the counter and fold the top edge down 2/3rd of the way and press it into the dough. Rotate so that the unfolded edge is now away from you and fold that edge down towards you to meet the bottom edge. Press to seal. Now we are going to do 2 thumb folds. Take the top edge with your right hand and fold it over you thumb about half way down, pressing to seal as you go. Repeat until you have folded the entire length. You will notice the dough getting tighter and also longer. Keep in mind the length of your pan. You don't want your dough to be longer than your pan. You can put it on the counter above you dough for reference if that makes it easier to judge the length. Repeat the thumb fold once more, sealing really well on the bottom. You should now have a log shape that is even in width along the whole length, that is the length of your pan, and tight enough to not slouch onto the counter. If the dough is too loose, repeat the thumb fold once more.

Place each log into the sprayed pan seam-side down. Cover with plastic wrap and place once more in your warm spot.
Final Proof:
Allow to proof until the dough just starts to reach the top of the pan. When that happens preheat your oven to 350°F. As soon as it is preheated bake for 35-40 minutes or until the internal temperature reads 185°F.

Allow to cool 5 minutes in the pan then remove to a rack to cool completely. If they sit in the pan too long, they will steam and the sides and bottom will get soggy!

Slice and enjoy!
Notes
To Freeze: Pre-slice, wrap VERY well in plastic wrap, place in gallon zip-top baggy and freeze. Remove as many slices as desired and toast (or microwave).
I find that two loaves mixes better in home mixers, so I always make two at a time and freeze one. You can halve this recipe and make one loaf, but it might be difficult to develop the gluten in most stand mixers.
Nutrition
Calories:
140
kcal
|
Carbohydrates:
18
g
|
Protein:
3
g
|
Fat:
6
g
|
Saturated Fat:
4
g
|
Polyunsaturated Fat:
0.4
g
|
Monounsaturated Fat:
2
g
|
Trans Fat:
0.2
g
|
Cholesterol:
30
mg
|
Sodium:
211
mg
|
Potassium:
37
mg
|
Fiber:
1
g
|
Sugar:
3
g
|
Vitamin A:
190
IU
|
Vitamin C:
0.001
mg
|
Calcium:
11
mg
|
Iron:
1
mg
Like this? Leave a comment below!