These Sourdough Hot Crossed Buns are soft, tender buns flavored with orange zest, allspice, and currants! They have the traditional butter flour dough piped on top, which sinks into the dough and almost tastes like a sugar cookie!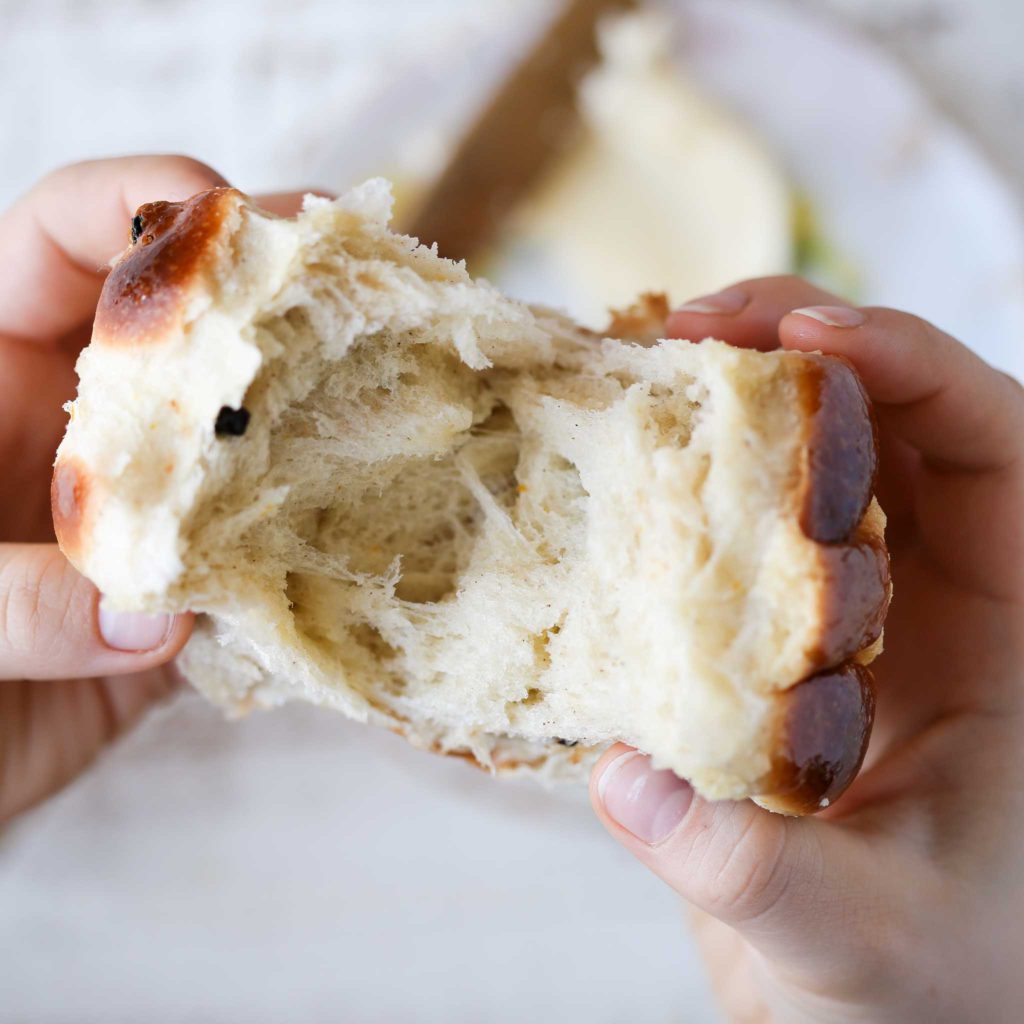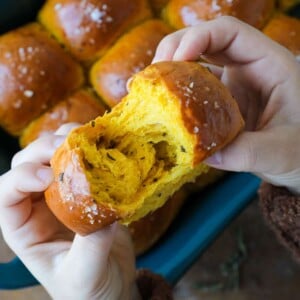 Hot Crossed Buns have been on my "Want to make" list for a while. I kept putting it off because I wanted to create the perfect recipe, and then the season would pass and I would shrug and say, "next year."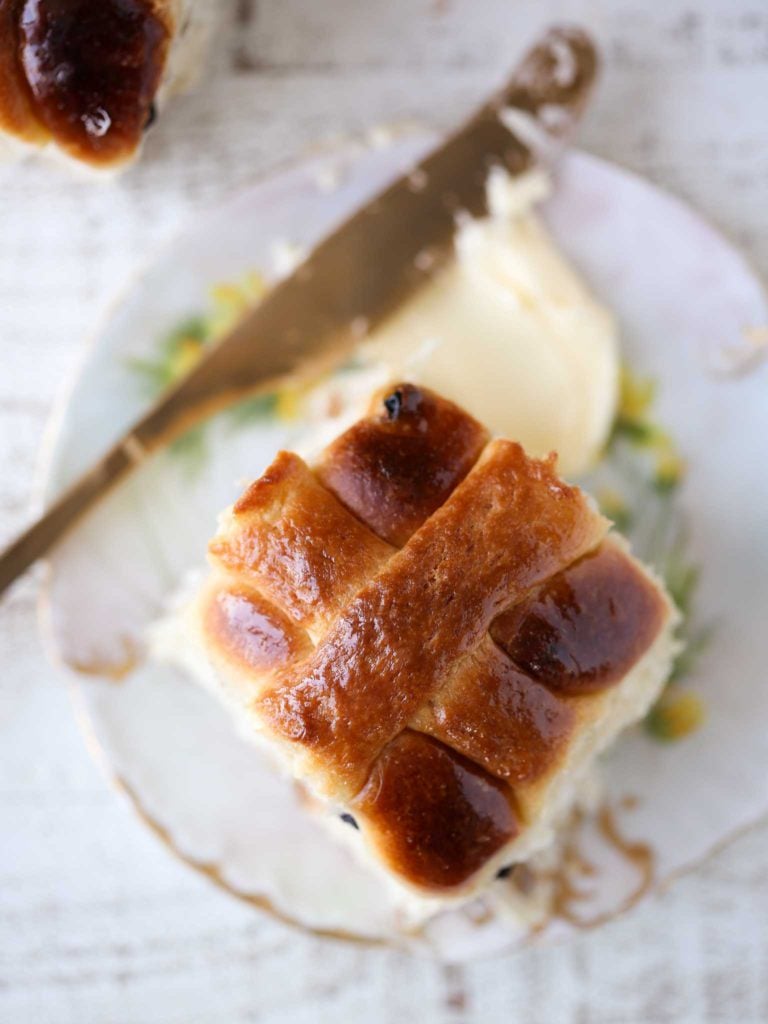 Well next year is certainly NOW! It was during a casual Friday in "the office" and my sourdough starter was practically popping out of her jar begging me to use her. Mara (my business partner) and I gave in to the siren call of sourdough bread recipes.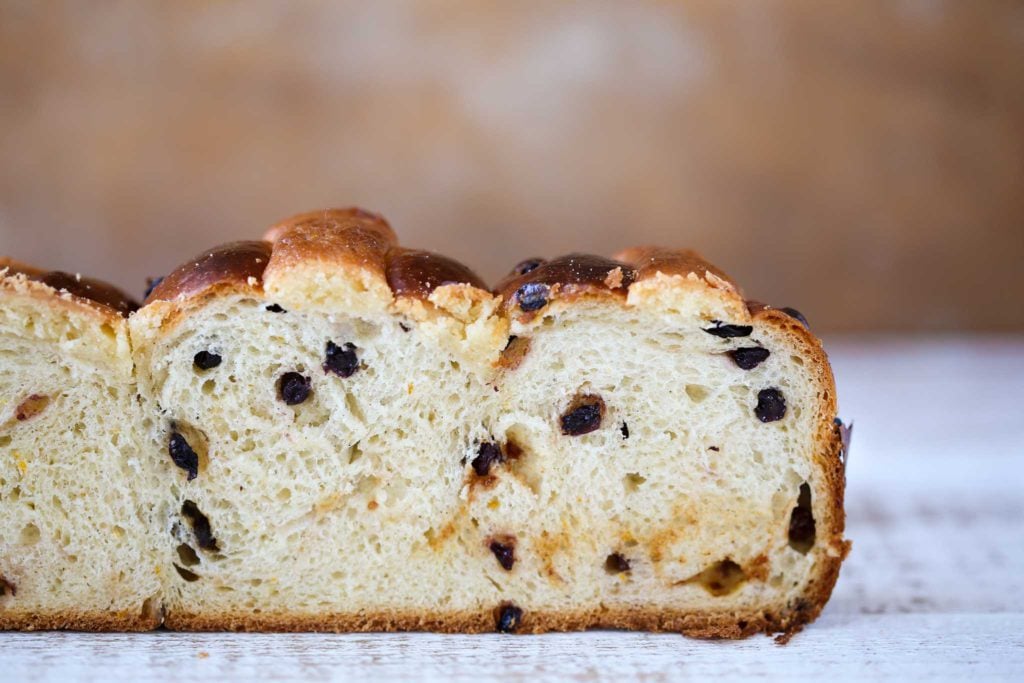 She too had been perpetually disappointed by every single hot crossed bun she'd had in her life, and I declared that I was going to crack this secret code. These traditional Easter buns have all the makings of my favorite type of bread: fragrant with citrus and spice; soft, tender enriched crumb; enough butter to be a little (a lot) indulgent; and currants.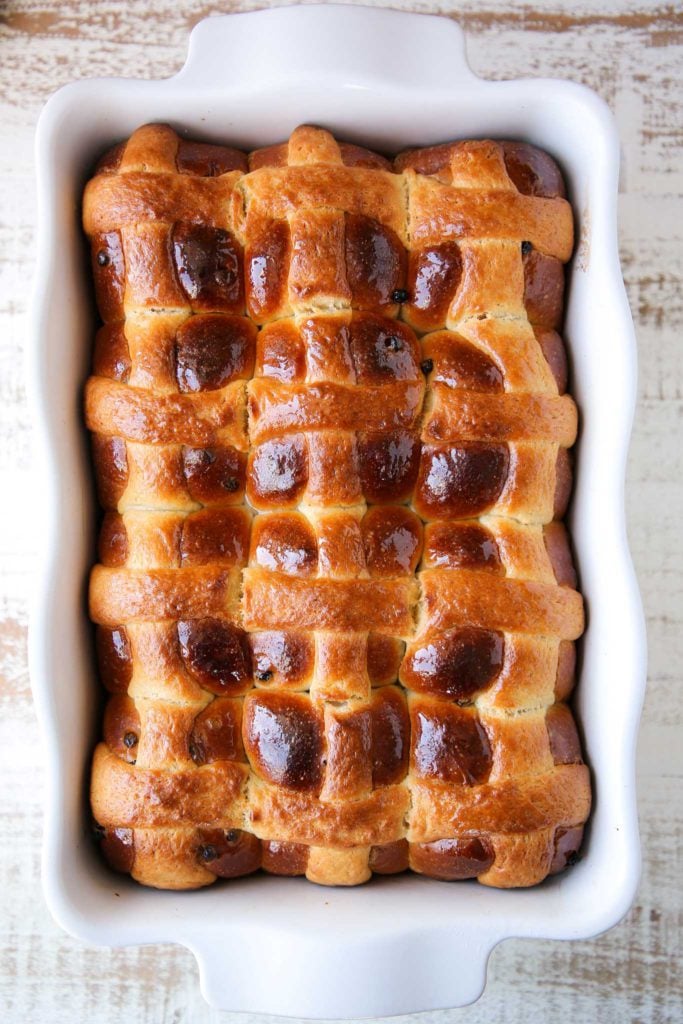 Currants are my secret passion. ? Someday I'll share that story.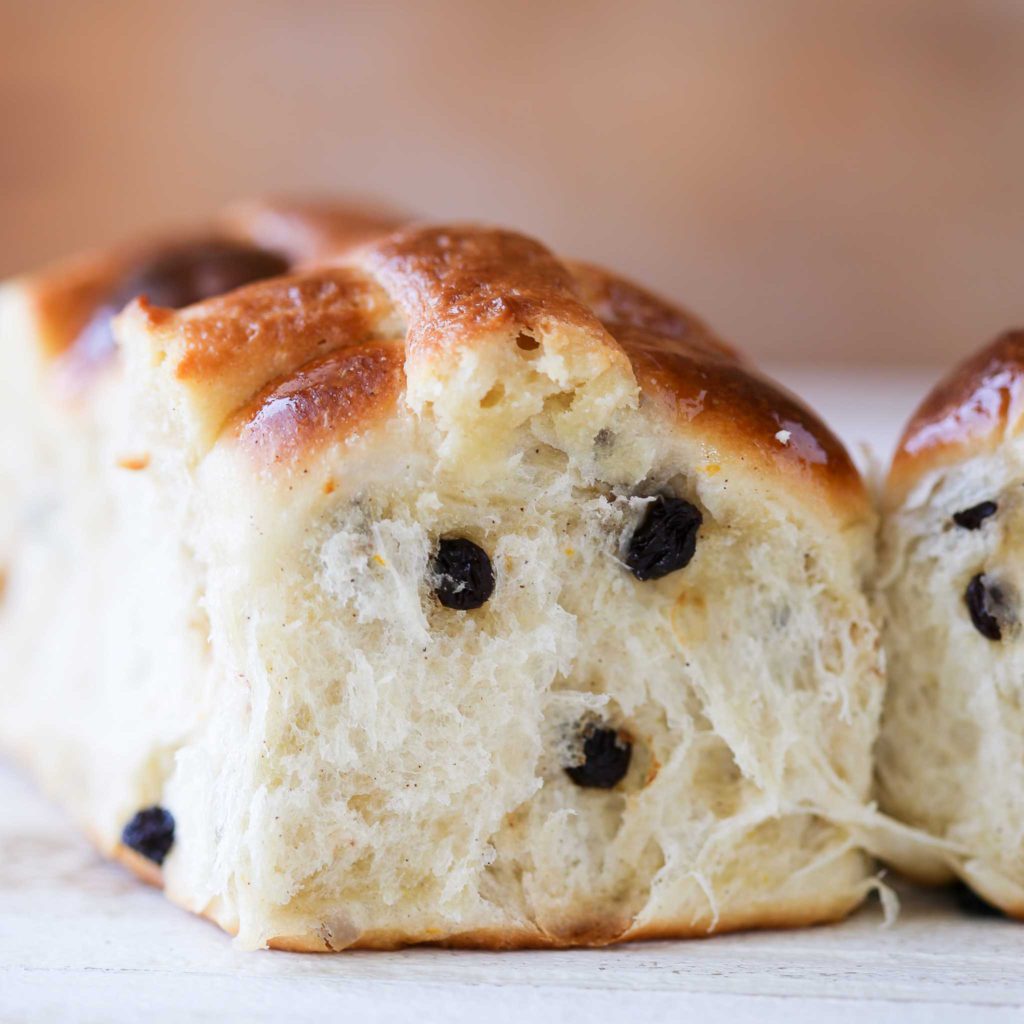 Spoiler Alert: I did it. These Sourdough Hot Crossed Buns are everything I knew they could be and more. Look forward to a life where you never have to eat another mediocre hot crossed bun again. And you know what? They are EASY!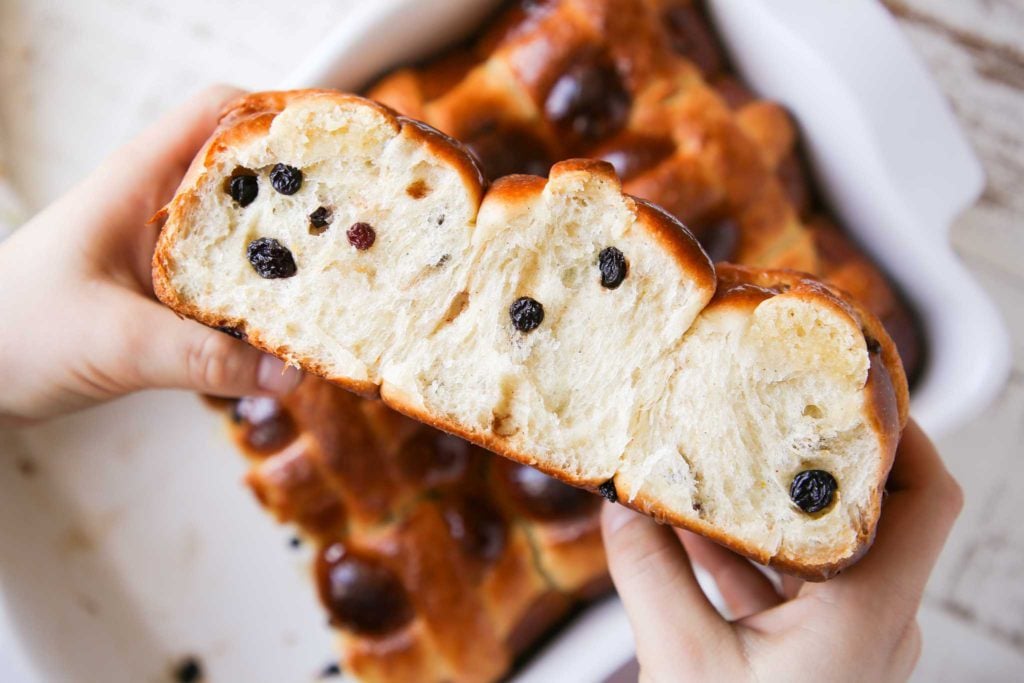 How to 'start' your Sourdough Hot Crossed Buns
Want to make this alluring recipe for Sourdough Hot Crossed Buns but worried about the first step…aka the starter? Christmas came early this year, because Sourdough Starter is Nature's greatest gift to the baker! With this easy to follow sourdough starter recipe you can be making fresh sourdough bread from your own starter in just five days! You'll find a day by day recipe and detailed answers to all your starter questions!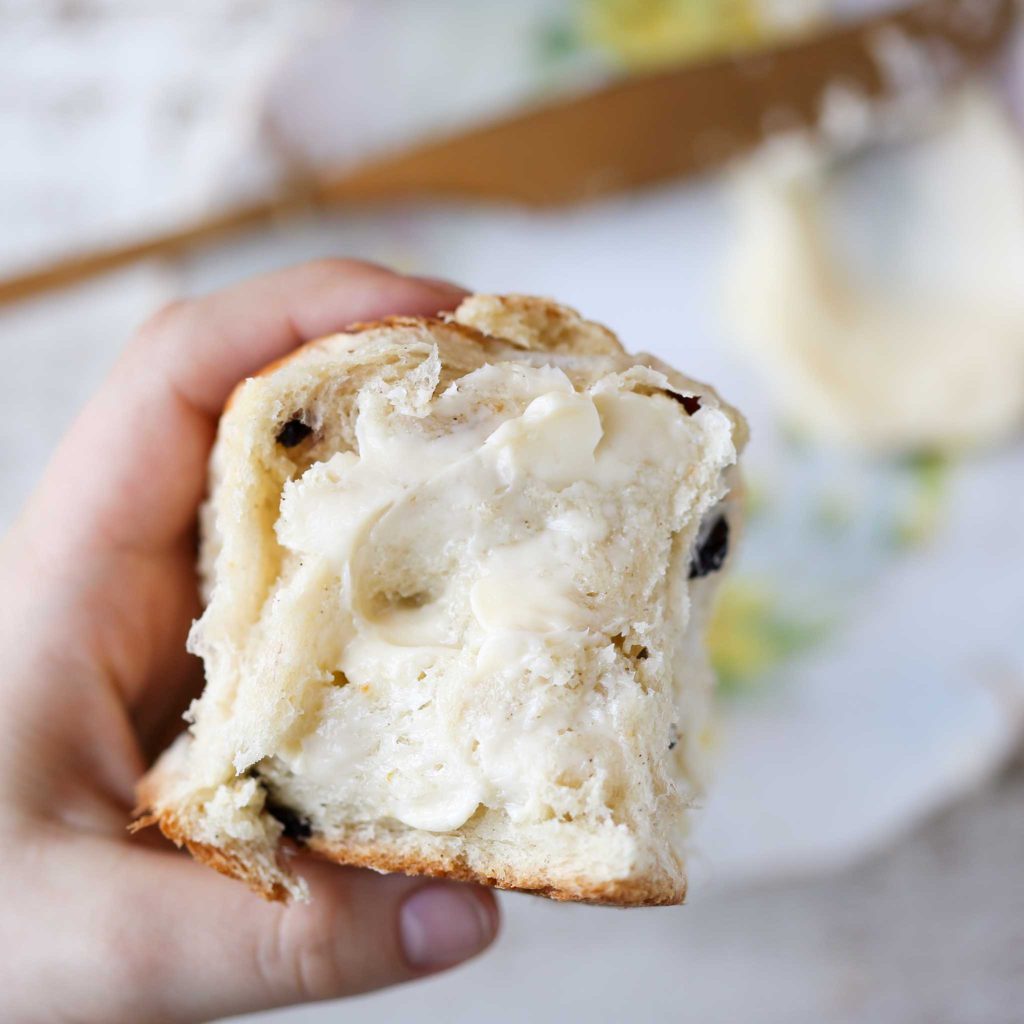 Sourdough Hot Crossed Buns
These Sourdough Hot Crossed Buns are soft, tender buns flavored with orange zest, allspice, and currants! They have the traditional butter flour dough piped on top, which sinks into the dough and almost tastes like a sugar cookie!
Ingredients
Instructions
Prepare Starter:
This recipe calls for a 100% hydration starter, which is your standard equal parts flour and water. Feed your starter 12 hours before or with enough time that it has doubled by the time you wish to mix the sponge.
Make the Sponge:
Heat the milk to around 95F in a pot or the microwave.

In a medium bowl combine all the ingredients for the sponge and mix with your hands. (You can mix with a spoon but it is so wet that it will be more difficult.)

Cover with plastic wrap and set in a warm spot until visibly bubbly. It should take about 30 minutes.
Mix the Dough:
I usually scale the remaining ingredients while the sponge is sitting.

In the bowl of a stand mixer, zest the orange into the sugar and mix together with your fingertips or with the back of a spoon. Add the flour, salt, butter, and allspice to the bowl. Finally add the egg and sponge.

Mix on low speed with the paddle attachment until combined.

Switch to the dough hook and mix on medium speed until a rough window pane can be pulled. This means the dough will not look perfectly smooth but will have pulled together and made one cohesive dough around the hook. Pinch off a piece and gently pull the sides apart, rotate and pull again, making a square shape. The dough should not tear; you should be able to see through some of the dough like a window pane but then there will be pieces of dough that look rough. This is what you want.

Add the currants and mix in on low until well disbursed throughout the dough.

Scrape the dough into a well-oiled bowl, cover with plastic wrap and allow to proof for 30 minutes in a warm place. Fold the dough by grabbing one side, pull it upwards out of the bowl and then fold it over ⅓ of the dough. Rotate the bowl 180 degrees and repeat with the opposite side. Rotate a quarter turn and repeat the same folding technique. Rotate the bowl 180 degrees and make the final fold. You should have a nice tight square packet of dough.

Marvel at your skills. Cover with plastic wrap and allow to double. Mine took about an additional hour. While the is finishing its bulk proof, grease a 9 x 13-inch baking dish with cooking spray or butter. I used butter because why not?!

When the dough has doubled and feel light and aery when touched, turn it out onto a lightly floured surface. It barely needs any flour!

Divide into 12 equal portions. You can eyeball this or weigh them. They should be about 97g each. Place each about equidistant apart in the prepared dish.

Cover with plastic wrap and place back in the warm spot to double. This took about an hour for mine. While the dough final proofs make the cross top and the simple syrup.
Make the Simple syrup:
Combine sugar and water in a small sauce pot, stirring to combine. Heat over medium heat, stirring occasionally, until it reaches a rolling boil. Remove from heat and cool.

This can be made weeks in advance if you wish. This makes more than you need for the recipe, so save it and use it in cocktails or coffee. It can be difficult to make a smaller batch of simple because it will boil before the sugar has dissolved.
Make the Cross Topping:
In a sauce pot, melt the butter. Add the sugar and cook until bubbly and smooth. Add remaining ingredients and stir together well. You will get a paste that looks a bit like choux dough. Allow to cool slightly then transfer to a piping bag.

Preheat the oven to 440F

When the buns are ready to bake, pipe the crosses on the dough. Pipe all the lines in one direction, allowing the cross dough to dip down between the bun. Cut the cross dough with scissors when you reach the end of a row. Rotate 90 degrees (a quarter turn) and repeat in the other direction.

Use the scissors to cut the cross dough between each bun, so each bun has its own individual cross. Bake in preheated oven for 10 minutes, rotate and then reduce the oven temperature to 350F. Continue baking for an additional 10-15 minutes or until an instant read thermometer reads 185F when inserted into the center of one of the middle buns. If you do not have a thermometer, you can insert a cake tester or toothpick into the center and it should come out with clinging crumbs but no streaks of dough!

Brush the hot buns with simple syrup.

Technically they should cool, but who has the patience? I say dig right on in.
Notes
They are best eaten the day they are made but can be reheated in a warm oven the next day.
Cross Topping recipe from Jeffrey Hamelman's tome, Bread: A Baker's Book of Techniques and Recipes
Nutrition
Calories:
431
kcal
|
Carbohydrates:
76
g
|
Protein:
7
g
|
Fat:
12
g
|
Saturated Fat:
7
g
|
Polyunsaturated Fat:
1
g
|
Monounsaturated Fat:
3
g
|
Trans Fat:
1
g
|
Cholesterol:
42
mg
|
Sodium:
293
mg
|
Potassium:
193
mg
|
Fiber:
2
g
|
Sugar:
35
g
|
Vitamin A:
366
IU
|
Vitamin C:
1
mg
|
Calcium:
47
mg
|
Iron:
3
mg
Like this? Leave a comment below!