This Sourdough Raisin Bread is soft, chewy, buttery and packed full of raisins in every bite!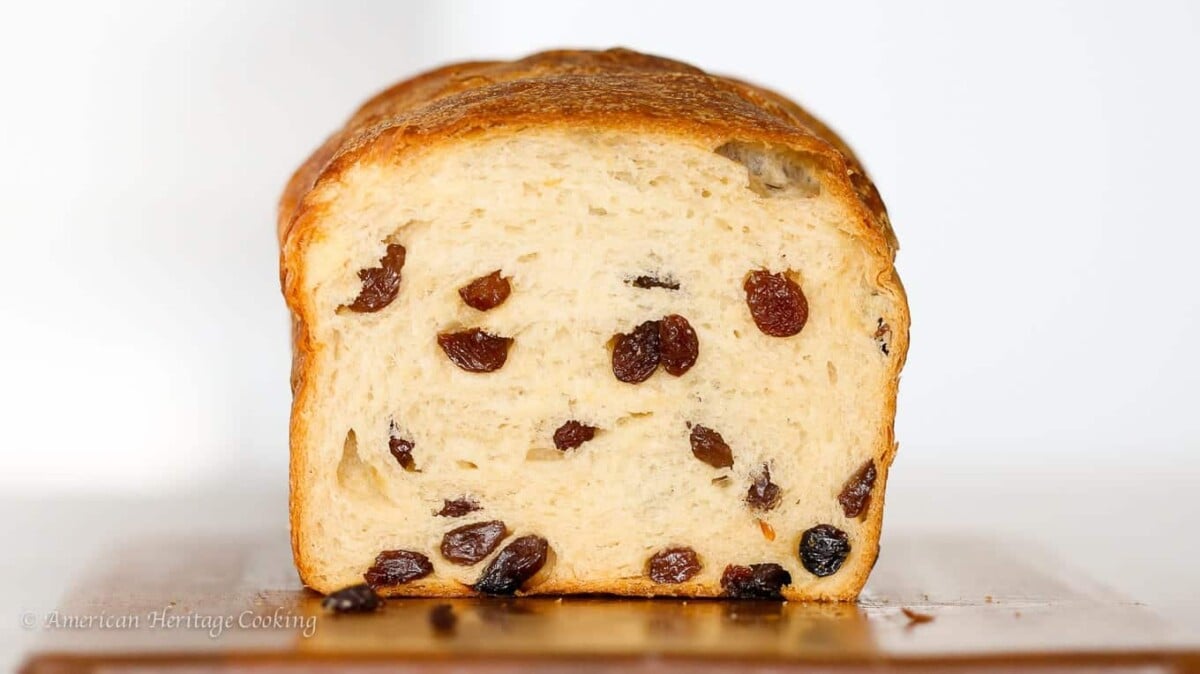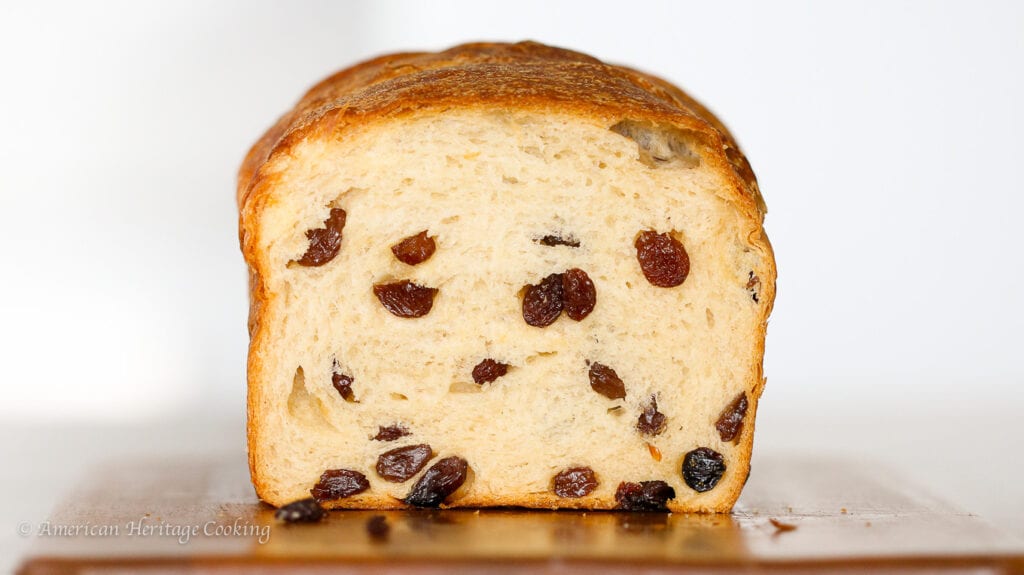 Bread is my weakness. Basically, it's that one thing that I couldn't live without. If you know me professionally, you know that I am OBSESSED with baking bread, experimenting with different flavors and creating new recipes just because I can.
I get emotionally invested in it. In brief, it's a little freakish.
Fortunately my boyfriend has been shielded from this creative process and just sees the resulting loaves, so he still finds it charming. ?
This bread's soft, tender, buttery crumb is bordering on the obscene. What's more, every single bite is packed full of raisins for a hint of sweetness that balances perfectly with the light sourdough flavor.
If you don't have a sourdough starter and don't want to make one, then try this old fashioned raisin bread instead!
About this bread
There are two different types of pre-ferments in this dough. Huh? What? To clarify, I'll roll that back for the class. Pre-fermentation just means starting the natural fermentation process of yeast a head of time.
Sourdough starter is one type of pre-ferment. Clearly this is a preferment that has been going on for weeks, years, even decades!
The second type of preferment in this recipe is a sponge. A sponge uses a portion of the flour in the recipe and all the yeast and water. In this recipe the sponge also has honey and the sourdough starter too! The sponge's job is just to give the yeast a kickstart. It adds a bit of depth of flavor but mostly just shortens the whole process.
Take all that flavor and add in some…butter! Oh, yes, this wonderful bread is a brioche! The butter adds a soft, richness to the dough. It also makes the crust soft!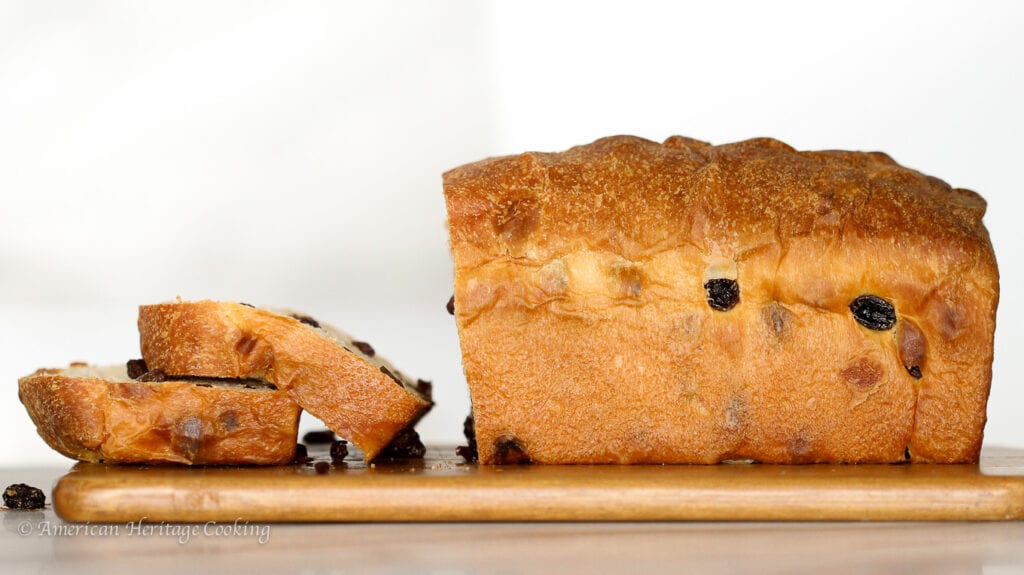 Much like my Old Fashioned Oatmeal Raisin Cookies, this sourdough raisin bread is PACKED full of raisins. A full pound of raisins in two loaves. Because I hate when a bread promises to be a raisin bread and then half the bites don't have raisins and the raisins fall out of the other half of the bites.
What to do with leftover sourdough raisin bread?
In case you have leftovers, this makes fabulous cinnamon raisin french toast, old fashioned bread pudding, or you can toast it with some cinnamon sugar and butter for an afternoon snack like my Mom used to do!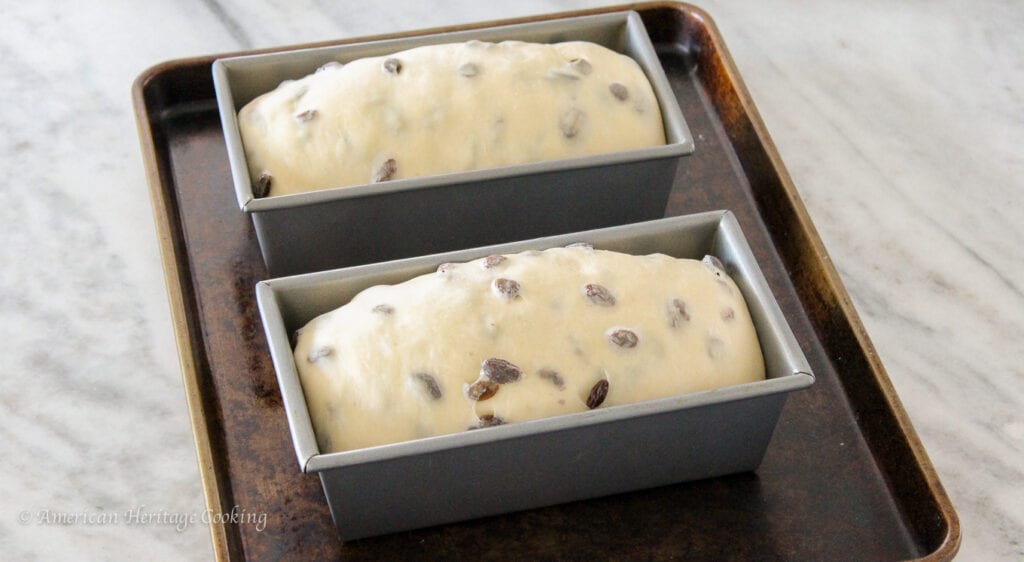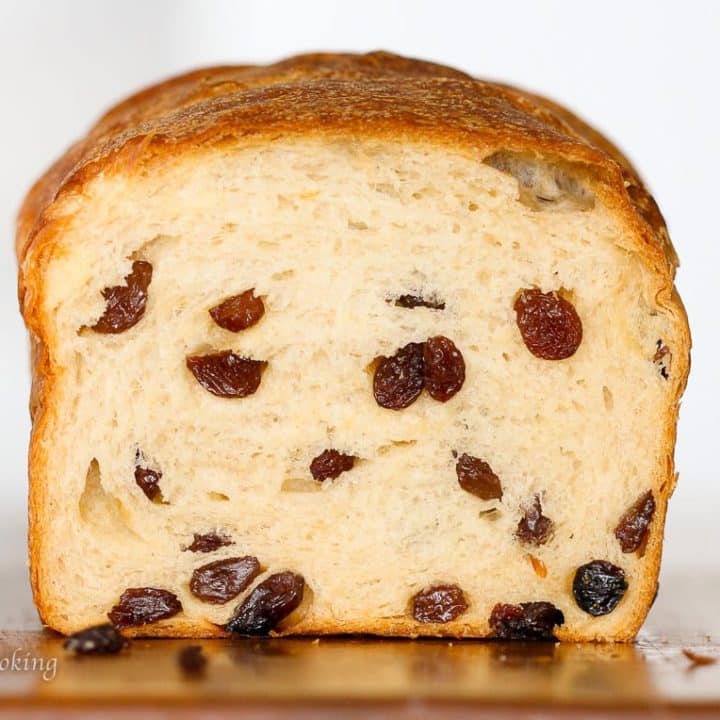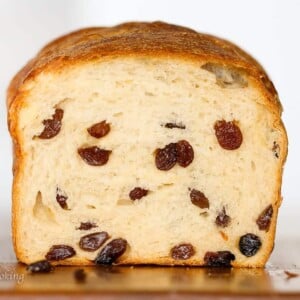 Sourdough Raisin Bread
This Sourdough Raisin Bread is soft, chewy, buttery and packed full of raisins in every bite!
Ingredients
Sponge:
226

g

All purpose Flour

296

g

Water

90°F

65

g

Honey

3

g

Dry active yeast

230

g

Sourdough Starter
Dough:
311

g

All purpose Flour

40

g

Dry milk powder

15

g

Salt

130

g

Butter

cold, cubed

454

g

Raisins
Instructions
Prepare your liquid levain:
12-14 hours before you want to mix your dough. Prepare the liquid levain. If you are already maintaining a liquid levain then you will feed it as normal with the proportions above. If you are maintaining a stiff levain (1:1 ratio of flour to water), then you will make a separate starter for this recipe the night before. There 25% more water in this recipe than you starter. Fear not. All will be fine.

Note: This amount is a bit more than the recipe because starter like to stick to containers, to spatulas, to your hand, and you don't want to be short what is needed in the recipe. Plus you also need 10g to feed for tomorrow! Gotta keep that starter going!

In a clean container, mix AP flour, water and yesterday's culture (starter). Cover it up. Let it sit out at room temperature until it doubles! Pour yourself a glass of wine and get excited for the bread you're going to eat tomorrow!
Prepare the sponge:
In a medium bowl, dissolve yeast with water and honey. Whisk to make sure there are no lumps of yeast in the water. Stir in the sponge portion of the flour and all the starter.

Cover with plastic wrap and place in a warm humid place until the sponge bubbles and makes large cracks in the flour.
Prepare the dough:
Scrape the contents of the sponge bowl into the bowl of a stand mixer fitted with the paddle attachment, add the remaining flour, salt and milk powder to the bowl and mix on low to incorporate the ingredients. When a shaggy mass forms and there are no visible dry pieces of flour, change to the hook attachment.

Increase speed to medium and mix until the dough is smooth and passes the window pane test meaning you can pull a piece of dough thin enough that light passes through it.

Add the butter and mix on medium to incorporate. Then add the raisins and mix on low until distributed throughout and are mostly inside the dough.

Preheat oven to 350°F

Turn dough onto lightly floured surface and knead into a ball. Place in a greased bowl, cover with plastic wrap and place in a warm place until the dough has doubled in size.

Turn dough out onto a lightly floured surface and divide into 2, 790g portions.

Preshape into a boule (round). Bench rest 10 minutes.

Final shape into a log and place in greased baking dish.

Proof in a warm, humid place until they have doubled in size and feel light and airy to touch.

Bake in preheated oven until a thermometer reads 186°F. Cool 10 minutes in the pan before turning out onto a cooling rack. Cool completely.
Nutrition
Calories:
654
kcal
|
Carbohydrates:
122
g
|
Protein:
13
g
|
Fat:
14
g
|
Saturated Fat:
9
g
|
Polyunsaturated Fat:
1
g
|
Monounsaturated Fat:
4
g
|
Trans Fat:
1
g
|
Cholesterol:
36
mg
|
Sodium:
879
mg
|
Potassium:
657
mg
|
Fiber:
6
g
|
Sugar:
10
g
|
Vitamin A:
515
IU
|
Vitamin C:
3
mg
|
Calcium:
98
mg
|
Iron:
5
mg
Like this? Leave a comment below!