Search no further for the perfect Whole Wheat Sandwich Bread. Soft, thick bread that slices easily for sandwiches.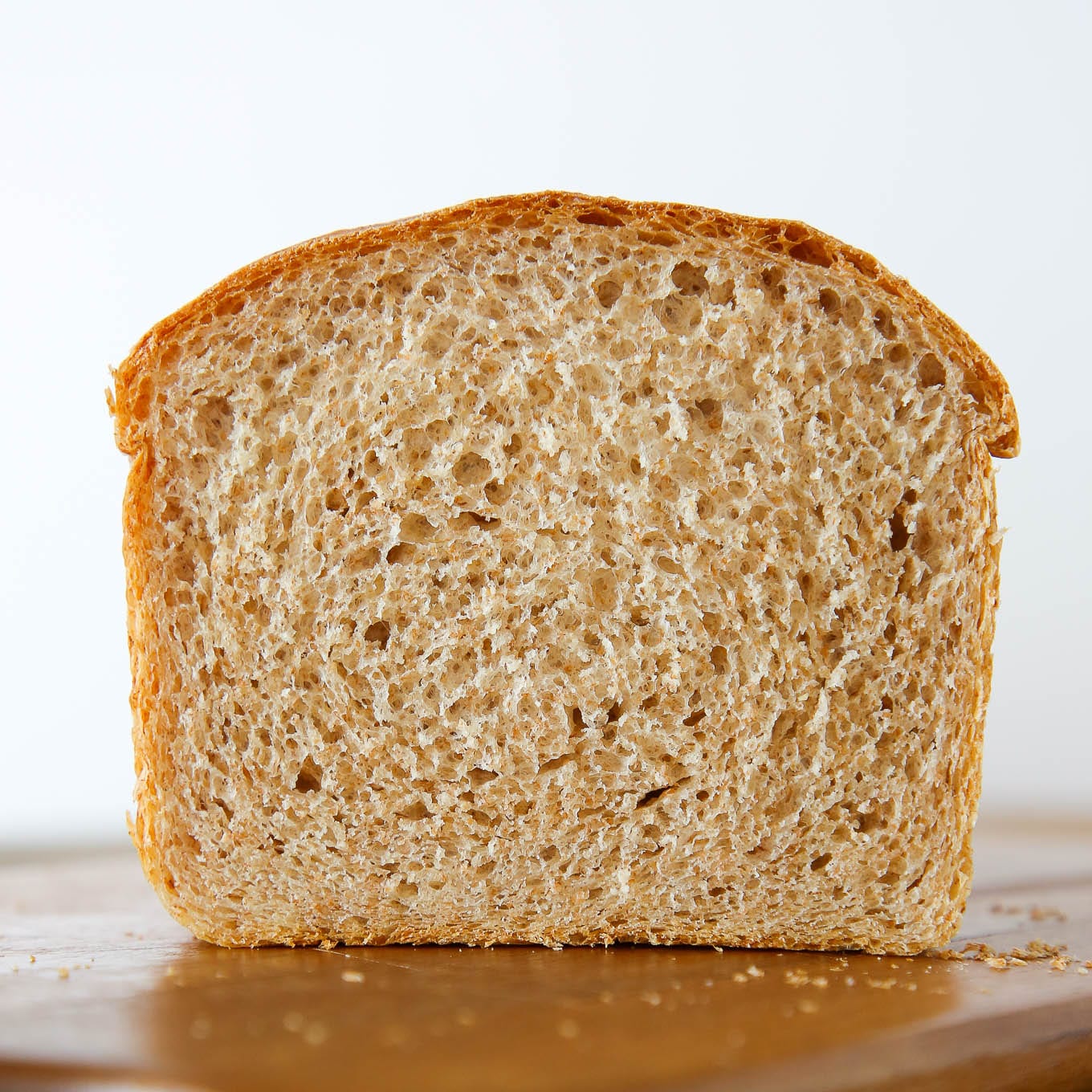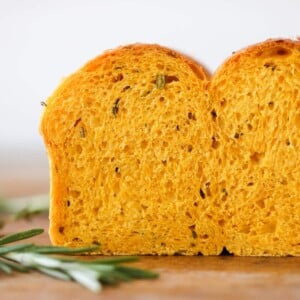 When the Quarantine bread-craze started last year it was like millions of people had barged in on a chill carb party that I had been having with a few select (obviously, very cool) people. Once I got over the shock that America had gone carb-crazy, I got super excited. Why?
Because I LOVE bread. Like all the emojis love.
I love making bread, I love eating bread (thanks Mom), I love talking about bread. I love bread.
Sharing my love of bread with these bread recipes brings me so much joy. I dove into the sourdough situation rather hard, starting with my sourdough starter recipe, but now I want to take a turn into the staple bread recipes including this whole wheat sandwich bread.
Now, no one is saying you have to make sandwiches with this bread. You can take this dough and make rolls with it following the final steps in these honey whole wheat buttermilk spiral rolls or in these rosemary sourdough rolls. You can tear it up and make a savory bread pudding or use it as the base of an apple sausage stuffing or whip up a quick cinnamon raisin French toast that feels healthier. You can use it as sandwich bread for a deviled egg sandwich. It is incredibly versatile and that is why it is a staple.
I always have bread in my freezer. Right now I have these sourdough rosemary rolls and pre-sliced 100% whole wheat bread. Pre-slice before freezing for easy snacking!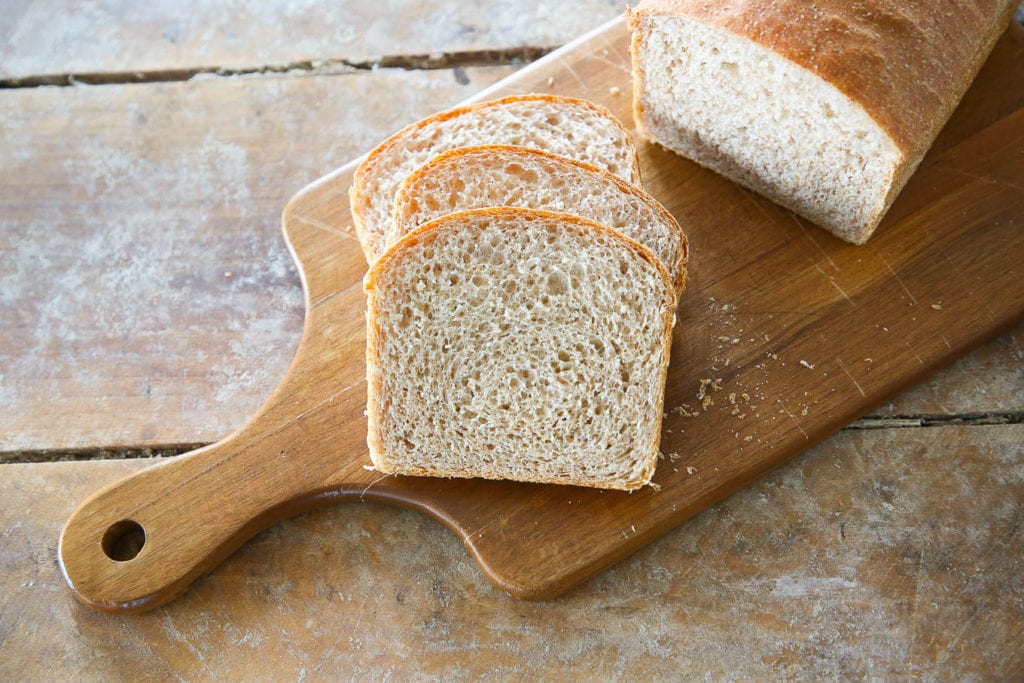 You know I can't help it so here are some tips and tricks for the best sandwich bread. Indulge me because it brings me joy, okay?
Whole Wheat Sandwich Bread Tips:
Choose the right whole wheat flour. I know, I know. Life is hard enough without having to stress about the right flour, but I was always taught; if something is worth doing, it is worth doing right. You want to choose a fine ground whole wheat flour. Your run of the mill whole wheat flour will be fine but the texture and flavor will be different. (?Bread joke!)
On that note, did you know that whole wheat flour goes bad? Shocking right? For the longest time I would let my specialty flours languish in the back of my cabinet like forgotten toys. Whole grain flours have more parts of the kernel. All those things that we love about them are what causes them to spoil faster. It won't necessarily mold (I mean it might) but the flavor will be "off". Just put it in the refrigerator (or freezer) and it will keep way longer.
This whole wheat bread is fairly unenriched meaning it doesn't have a lot of added fat or dairy. There is a little powdered milk, cream and butter to add a bit of richness and balance out the intensity of the wheat. You can omit the powdered milk if you don't have it and substitute some of the water for milk BY WEIGHT.
Same applies if you want to substitute the butter with coconut oil. Make sure you do it by weight.
It would be best if you invested $10 in a kitchen scale because it will ensure you are using the right ratios of flour and water. This is especially important when making bread. As you get used to using a scale for baking, I promise you will find it easier and faster to measure all your ingredients. Then you can spend more time baking and enjoying!
If you want more bread tips, you can check out my basic sourdough bread recipe or sourdough raisin bread recipe. I also suggest following along watch my YouTube video to see how I shape it and how to tell when it is ready to be baked.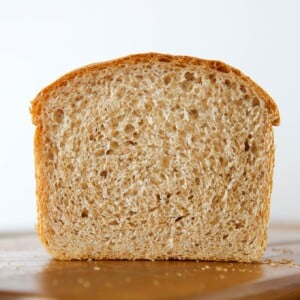 Whole Wheat Sandwich Bread
Search no further for the perfect Whole Wheat Sandwich Bread. Soft, thick bread that slices easily for sandwiches.
Instructions
In the bowl of a stand mixer add the warm water and sprinkle the yeast on top and allow to sit until bubbly, approximately 10 minutes.

Add all the remaining ingredients to the bowl (yes all!) and mix to incorporate with the PADDLE attachment. I find the paddle is more efficient at incorporating that the hook into most home stand mixers. Once the ingredients are mixed and the flour has been hydrated, switch to the hook attachment and mix on medium until a smooth dough forms. Use the windowpane test to tell if the dough is ready to proof.

WINDOWPANE TEST: take a golf ball-sized portion of the dough from the mixer and gently start to pull the dough apart. I like to think of it as a square and gently pull on two sides, then rotate and repeat. If the dough tears instantly, it is definitely not ready. If it allows you to pull it thin enough to see light through it, then it is ready. There are different degrees of gluten development but with this dough, we want to develop gluten while maintaining as many nutrients and properties of the whole wheat flour. The longer you mix, the more heat is generated and the more of these properties are lost.

Place the dough in a lightly oiled bowl, cover with plastic wrap and then place in a warm spot. Allow to bulk proof until it is doubled, approximately an hour depending on the warmth of your place.

Remove the dough from the bowl and divide it in half. This will make two loaves weighing 500g each.

Preshape the dough into a round by folding all the edges into the center, flipping it over, and tightening it into a ball by pulling it towards you in both your hands. Repeat with the second piece of dough. Cover with plastic wrap and allow to sit for 15 minutes.

While your dough bench rests, prepare your loaf pans. I use a standard 9-inch loaf pan and spray it with cooking spray. Done!

It is time to final shape! We are going to shape these into a log (or a bâtard if you like fancy French terms for things). Take one of the rounds and flip it over. Grab the top and bottom edges and gently pull it into a small rectangle. Place it on the counter and fold the top edge down 2/3rd of the way and press it into the dough. Rotate so that the unfolded edge is now away from you and fold that edge down towards you to meet the bottom edge. Press to seal. Now we are going to do 2 thumb folds. Take the top edge with your right hand and fold it over your thumb about halfway down, pressing to seal as you go. Repeat until you have folded the entire length. You will notice the dough getting tighter and also longer. Keep in mind the length of your pan. You don't want your dough to be longer than your pan. You can put it on the counter above your dough for reference if that makes it easier to judge the length. Repeat the thumb fold once more, sealing really well on the bottom. You should now have a log shape that is even in width along the whole length, that is the length of your pan, and tight enough to not slouch onto the counter. If the dough is too loose, repeat the thumb fold once more.

Place each log into the sprayed pan seam-side down. Cover with plastic wrap and place once more in your warm spot.

Allow to proof until the dough just starts to crest over the top of the pan, approximately 2-2.5 hours. When that happens preheat your oven to 350°F. As soon as it is preheated bake for 35-40 minutes or until the internal temperature reads 185°F.

Allow cooling for 5-minutes in the pan then remove to a rack to cool completely. If they sit in the pan too long, they will steam and the sides and bottom will get soggy!

Slice and enjoy!
Notes
This will make two loaves weighing 500g each.
To Freeze: Pre-slice, wrap VERY well in plastic wrap, place in gallon zip-top baggy and freeze. Remove as many slices as desired and toast (or microwave).
I find that two loaves mixes better in home mixers, so I always make two at a time and freeze one. You can halve this recipe and make one loaf, but it might be difficult to develop the gluten in most stand mixers.
Nutrition
Serving:
83
g
|
Calories:
194
kcal
|
Carbohydrates:
35
g
|
Protein:
6
g
|
Fat:
4
g
|
Saturated Fat:
2
g
|
Polyunsaturated Fat:
1
g
|
Monounsaturated Fat:
1
g
|
Trans Fat:
1
g
|
Cholesterol:
8
mg
|
Sodium:
477
mg
|
Potassium:
138
mg
|
Fiber:
3
g
|
Sugar:
1
g
|
Vitamin A:
98
IU
|
Vitamin C:
1
mg
|
Calcium:
31
mg
|
Iron:
2
mg
Like this? Leave a comment below!