This Cranberry Orange Pear Pie has a sweet brown sugar pear filling and is studded with tart cranberries! With fresh orange juice, zest and Grand Marnier, the flavors are absolute heaven!
Professional Kitchen Rule #34: No Emotions Allowed
There is a firm check-your-emotions-at-the-door policy. But if that fails…
Don't cry into the chili lobster appetizer; Cry in the walk-in like a real man.
Or, better yet, cry into this Cranberry Orange Pear Pie when you get home.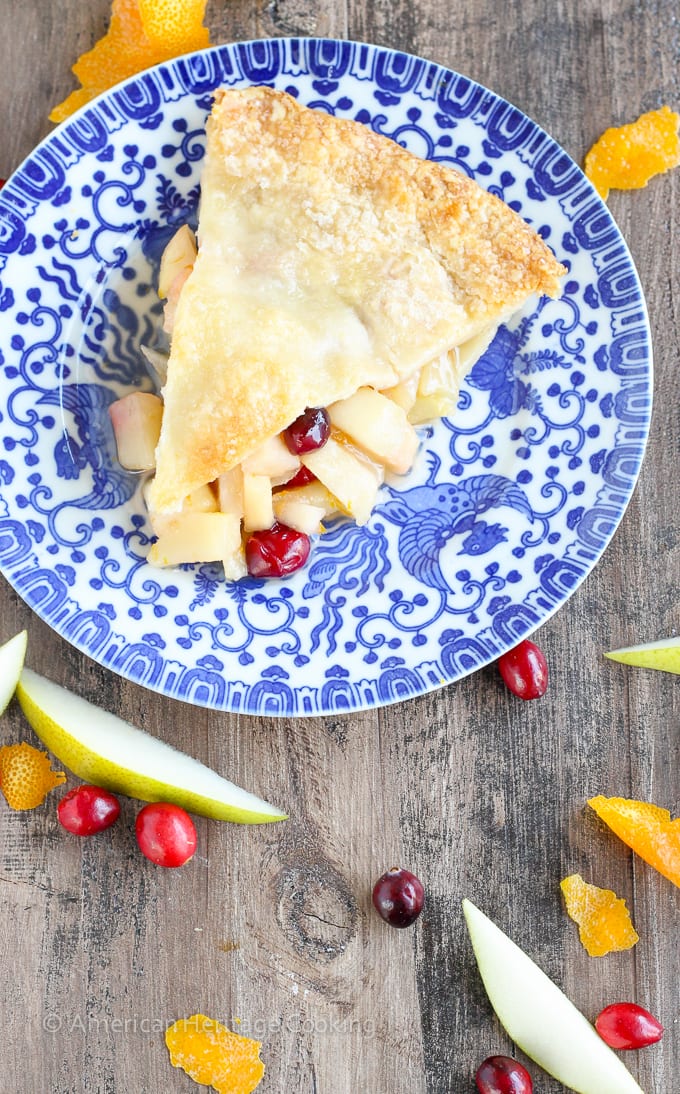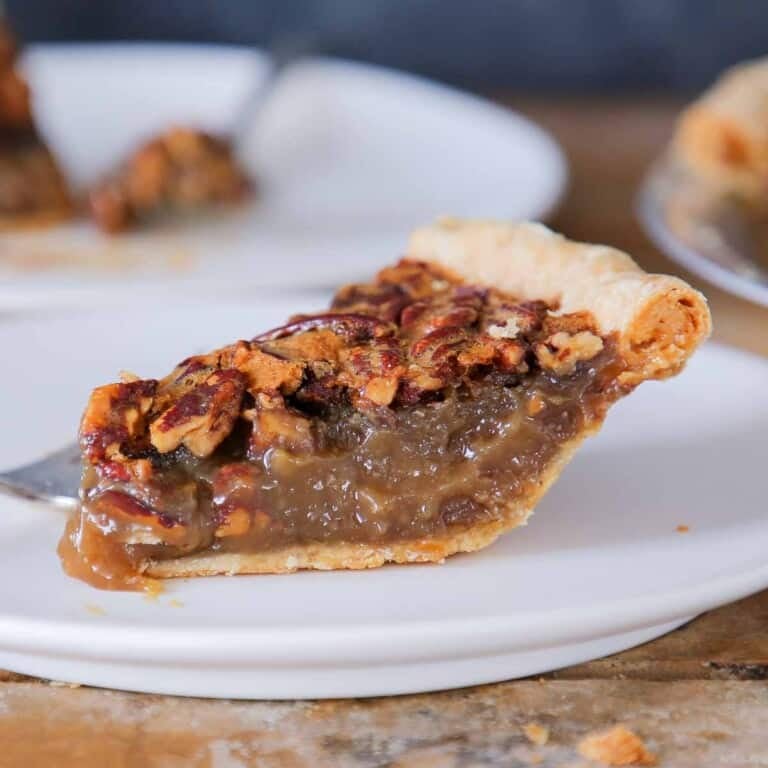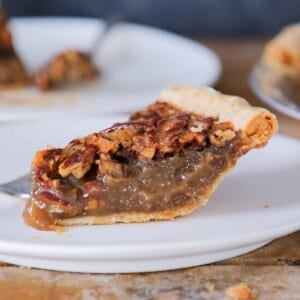 True story. Except I thought I had firmly complied with this policy until…I didn't. And then I knew I had approximately 20 seconds to get from my station and into the walk-in refrigerator before bursting into uncontrollable sobs.
Then you gather your senses, remind yourself that you'll deal with that real-life stuff later, grab some parsley and walk back to your station with purpose like you totally just needed some more parsley to garnish the bone marrow. Totally.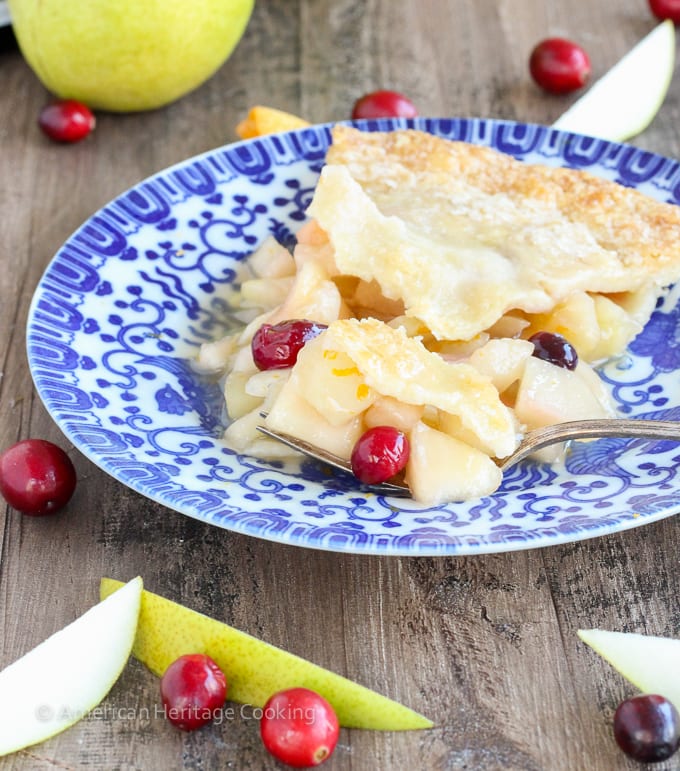 This is my life. And you wonder why I am baking pies in January when everyone else is all "healthy smoothie this" and "low fat/calorie/gluten free/vegan/non-dairy/kale that"?
This pie is not gluten-free, low calorie or remotely healthy in any way. I take that back, fruit is healthy. So there. Between this and my Mixed Berry Pie Recipe I'm absolutely a fitness guru…
But that's what the gym is for! A slice of this Cranberry Orange Pear Pie and you will be all "What problems?" It's one of my 20 Best Thanksgiving Pie Recipes for a reason! Cranberries make me think of warming spices, cranberry chutney, and the holidays.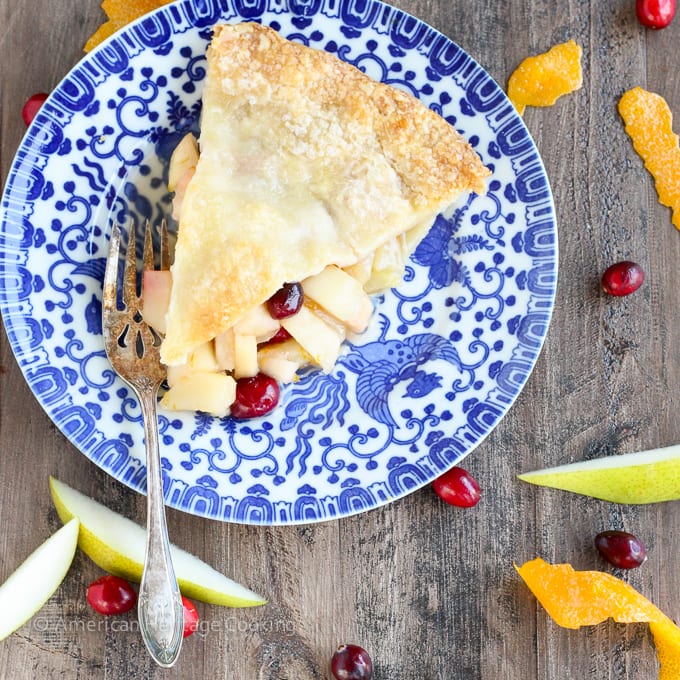 Inside the most magnificently flakey, all-butter pie crust is a mix of brown sugar, orange zest, orange juice, Grand Marnier [oh yes I did!], pears and cranberries.
The cranberries are studded throughout the pie to add just a hint of tartness to the brown sugar orange flavored pears. It is heaven all packaged in a generously sugared pie crust.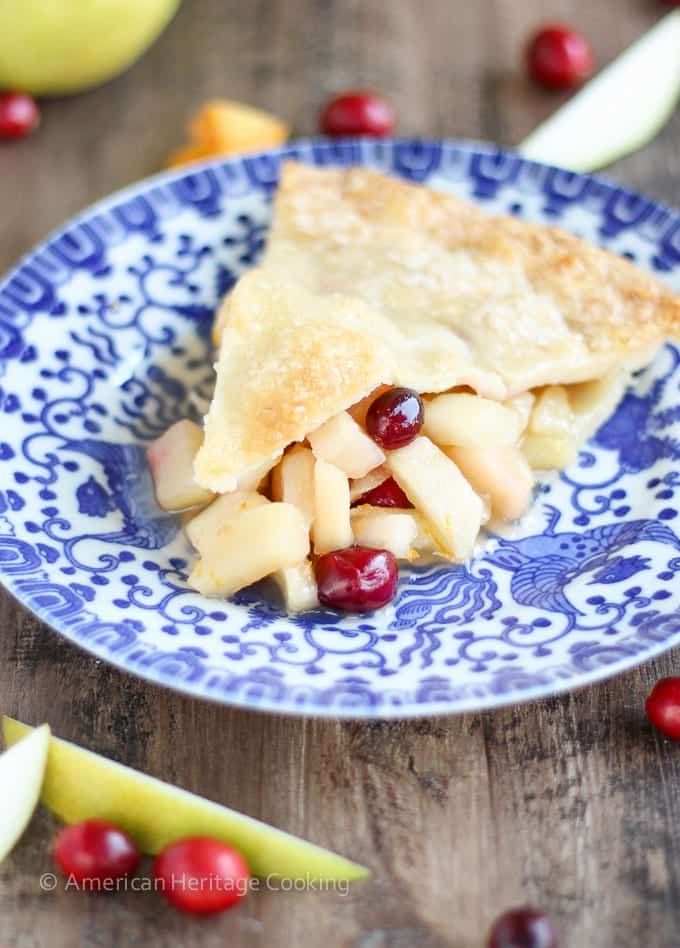 Because not sprinkling sugar on the top of the crust just seemed like a crime. And I'm no criminal.
Note that I made this pie filling the night before and then realized my gross error in judgment the next morning when I had a 1:1 ratio of pear filling to liquid.
Ugh. Baking. The struggle.
I added cornstarch but not enough to thicken it completely.
Just don't mix it the night before and your pie will be beautiful.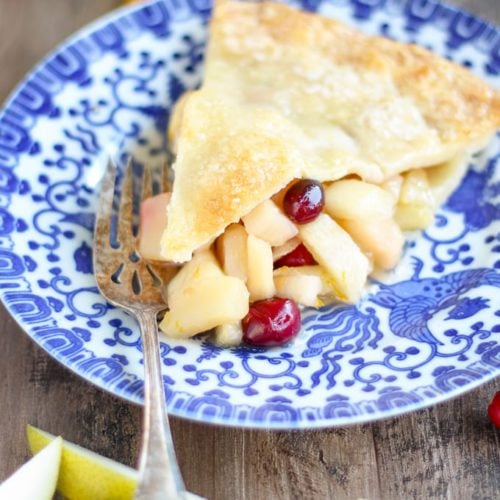 Cranberry Orange Pear Pie
This Cranberry Orange Pear Pie has a sweet brown sugar orange pear filling and is studded with tart cranberries! With fresh orange juice, zest and Grand Marnier, the flavors are absolute heaven!
Ingredients
Makes:
9
inch
9
x
9
inch
round
Instructions
Roll out half the pie dough and line a 9 or 10 inch deep-dish pie dish; refrigerate. Roll out the second half of the pie dough for the top crust, place on a baking sheet and refrigerate.

In a large bowl mix together the pears, cranberries (if you are not precooking them. See Notes.), orange zest, orange juice, light brown sugar, granulated sugar, salt, Grand Marnier and cornstarch.

Pour the filling into the lined pie dish.

Cover the pie with your second crust and decoratively crimp the edges. Refrigerate the pie on a parchment lined baking sheet for 20 minutes.

Remove pie from the refrigerator and cut some vent holes near the top. Lightly brush the pastry with heavy cream, making sure it doesn't pool anywhere because this will make your crust soggy, and then sprinkle generously with sanding sugar.

Bake 20 minutes at 425, then lower the oven temperature to 350 and continue baking for 1 hour or until the filling is soft and bubbly and the crust is brown. You can test the filling by inserting a knife into one of the vent holes. There should be no resistance from the pears! Let cool before cutting or serving. I know, the agony!
Notes
Do not mix the filling too far in advance. A few hours ahead is okay, but overnight is not.
Also if your pears are not ripe or they are out of season, reduce the cornstarch to 2 Tablespoons.
This recipe as written leaves the cranberries in tact, which for some can detract from their enjoyment of the pie. If you want the cranberries to blend into the pie filling more, cook them with ½ cup of the granulated sugar and just enough water to wet the sugar until some of the berries begin to pop. The cranberries will also help thicken your filling because they are high in pectin. Winning!
You can also precook all the filling in a pot, cool then fill pie cust and bake per the instructions. This will leave you with a thicker pie filling than pictured
Nutrition
Calories:
233
kcal
|
Carbohydrates:
60
g
|
Protein:
1
g
|
Fat:
1
g
|
Saturated Fat:
1
g
|
Polyunsaturated Fat:
1
g
|
Monounsaturated Fat:
1
g
|
Sodium:
56
mg
|
Potassium:
209
mg
|
Fiber:
5
g
|
Sugar:
49
g
|
Vitamin A:
67
IU
|
Vitamin C:
14
mg
|
Calcium:
34
mg
|
Iron:
1
mg
Like this? Leave a comment below!