A collection of 20 Thanksgiving Pie Recipes developed by a professional pastry chef. You know you will get impactful flavor, easy-to-follow tutorials, and high quality recipes! 20 professional pie recipes you can make at home!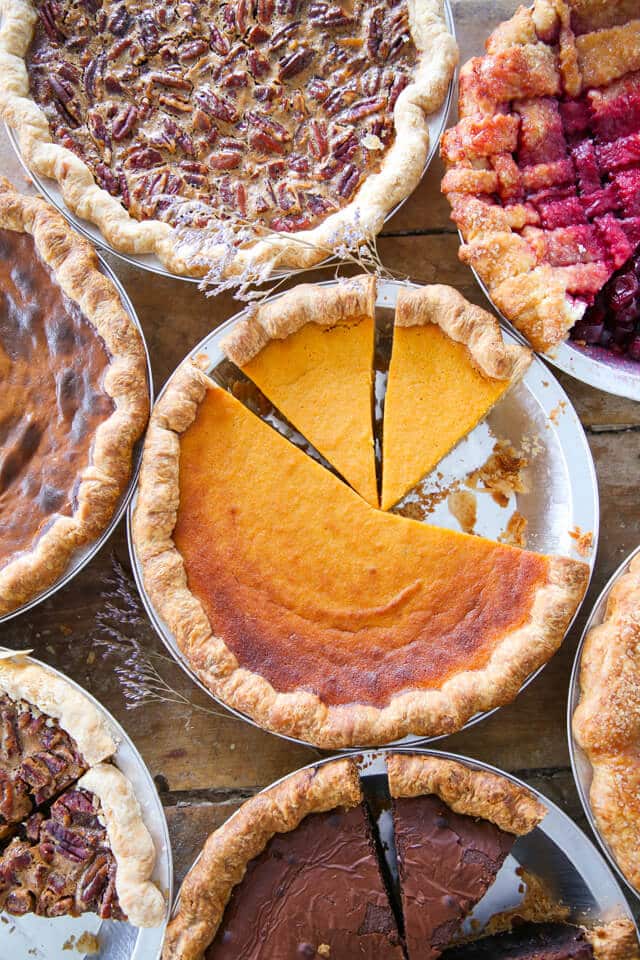 Table of Contents
Frequently Asked Questions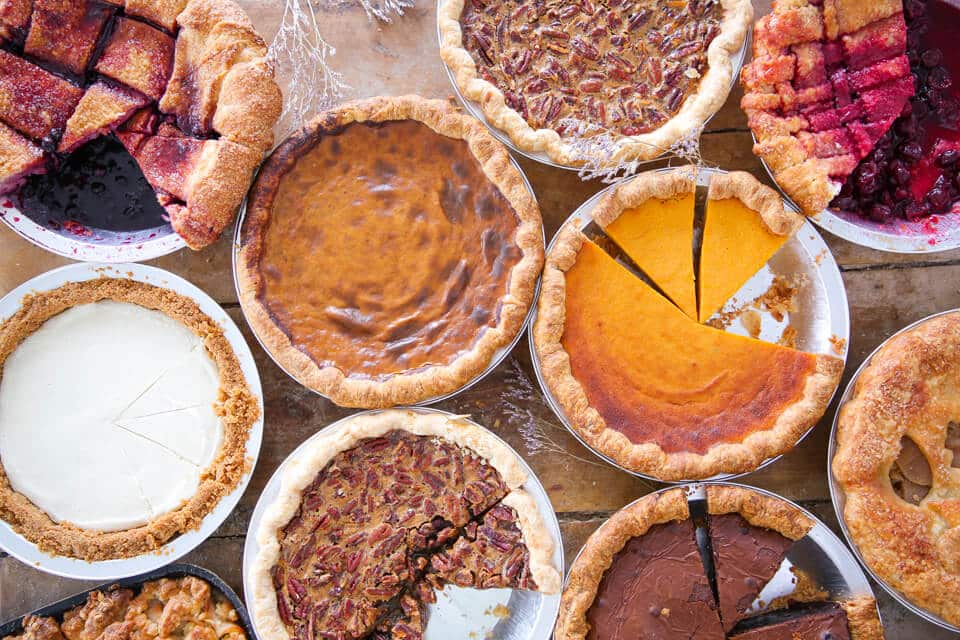 20 Best Thanksgiving Pie Recipes
I have grouped my 20 Best Thanksgiving Pie Recipes by category, so it will be easier to pick and choose a variety of flavors. There are traditional pie recipes along with some non-traditional rule breakers! As a professional pastry chef and owner of an online pie shop, I promise these recipes will bring you success and a Thanksgiving as easy as pie!
Fruit Pie Recipes
Every Thanksgiving dessert table needs at least one fruit pie, but for larger gatherings I like to have several fruit options. Plus, if you have never mixed a tart cherry pie with pumpkin pie, you just haven't lived!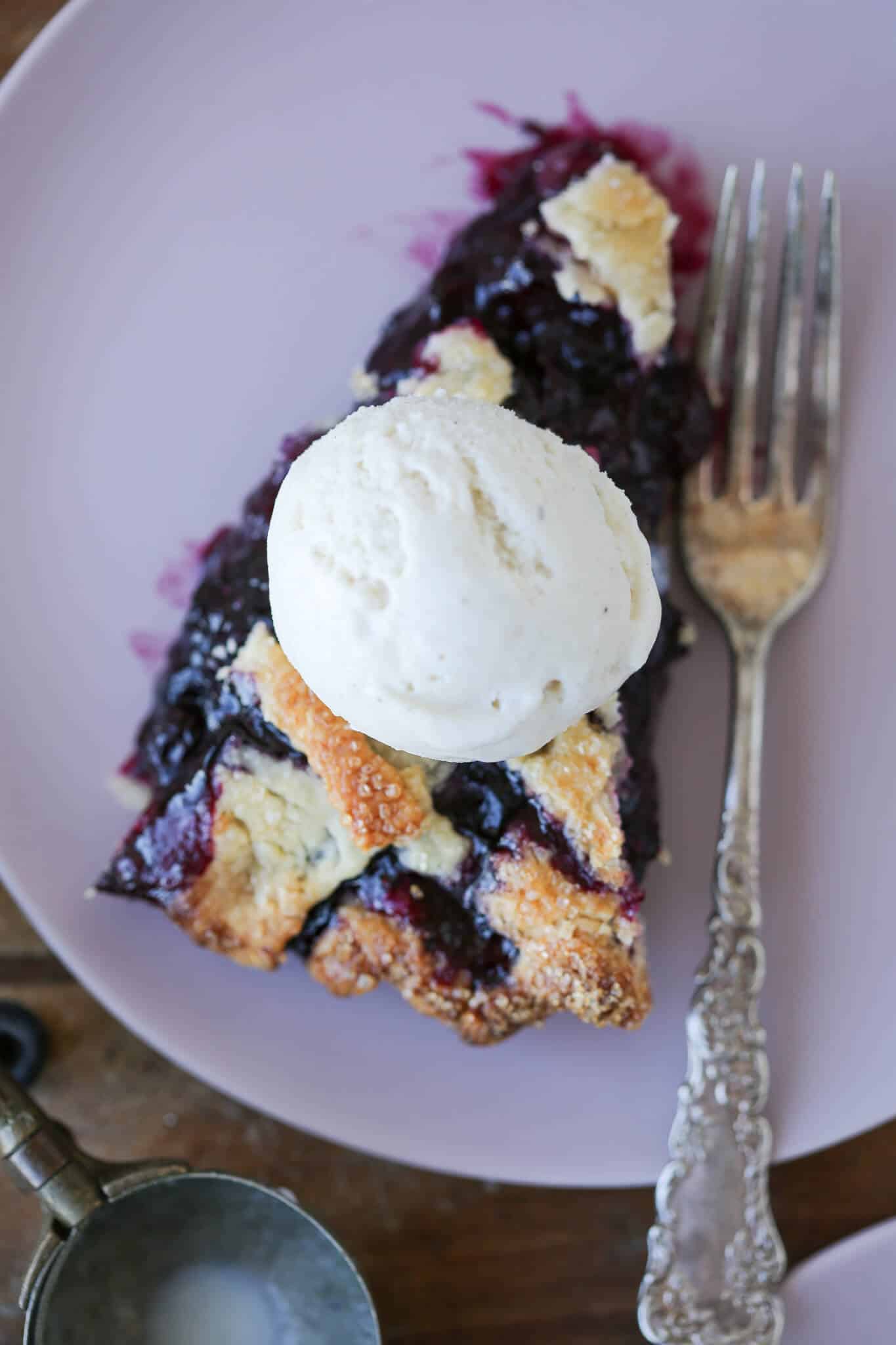 This is my recipe for the most Amazing Blueberry Pie. The filling is precooked, so it is thick and sliceable. Hints of vanilla and orange complement the blueberry flavor. Use fresh or frozen blueberries for an easy double crust pie.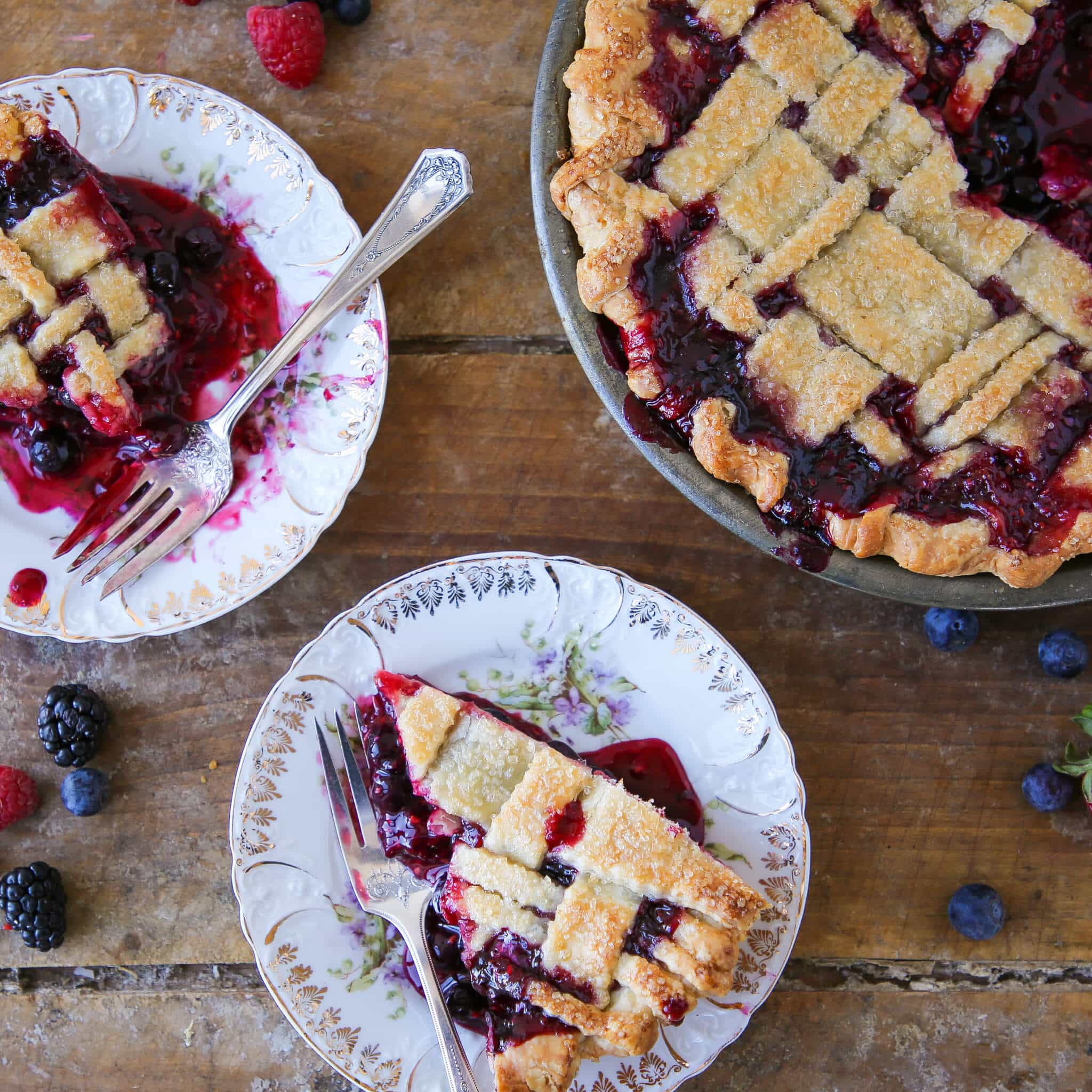 I use strawberries, blueberries, blackberries and raspberries in this flavorful Mixed Berry Pie. The filling is thick and sliceable and tastes like the best of Summer berries baked into a pie.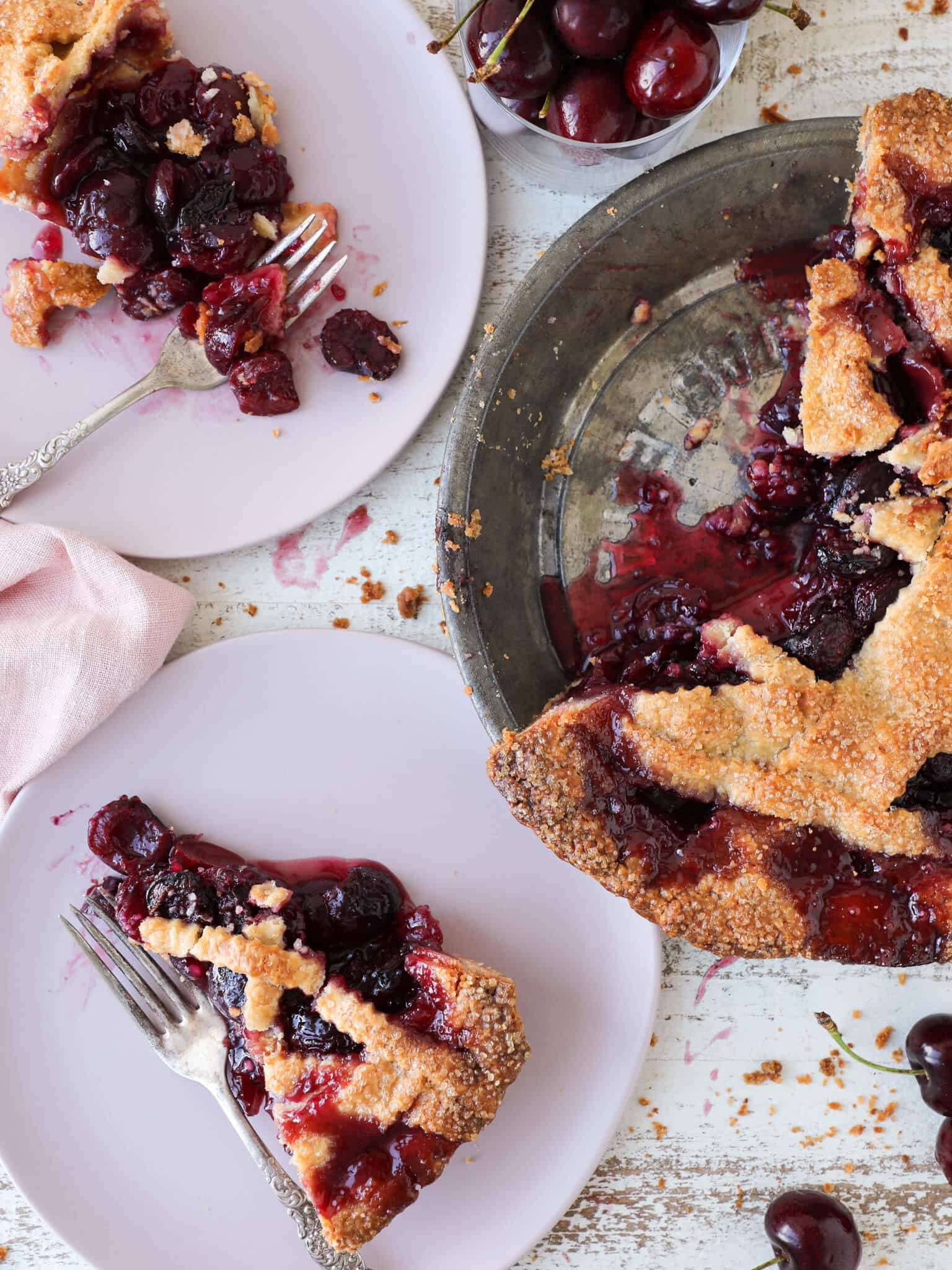 I originally baked this Cherry Pie in an old-fashioned almond crust, but for Thanksgiving I prefer to bake it in my All-Butter Vodka Pie Crust. The flakey, buttery crust lets the cherries shine! Use tart or sweet frozen cherries. I love this pie so much that I save the last of the tart cherries from the Farmer's Market just to make it every year.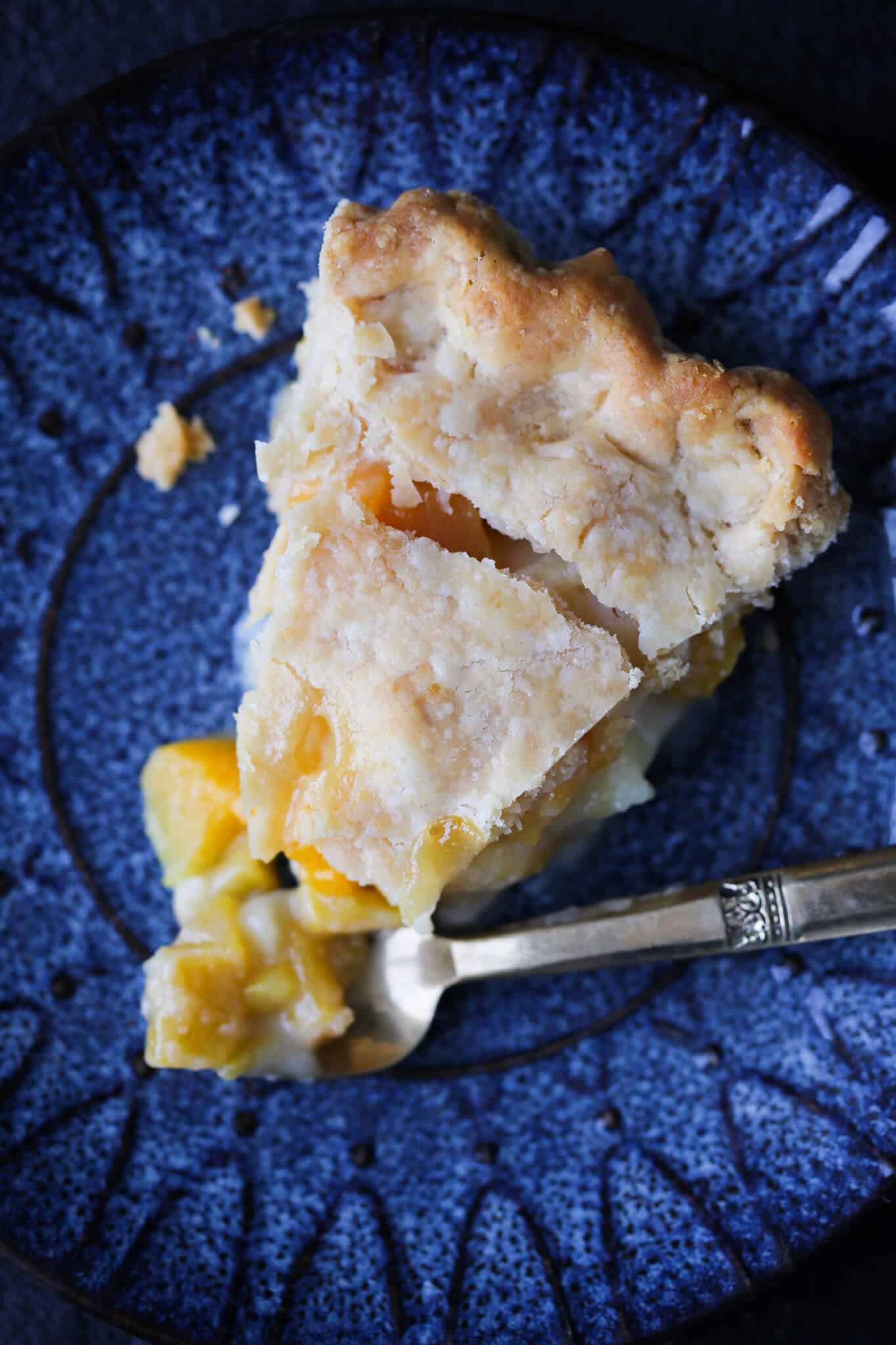 This Old Fashioned Peach Pie is baked in a crumbly shortening crust that lets the peaches shine. Since peaches will be way out of season by the time Thanksgiving rolls around, buy the highest quality frozen peaches you can find.
This No Bake Strawberry Pie is an easy way to brighten up the Thanksgiving dessert table! You can pour it into a graham cracker crust like I did in this recipe or into a blind-baked pie crust.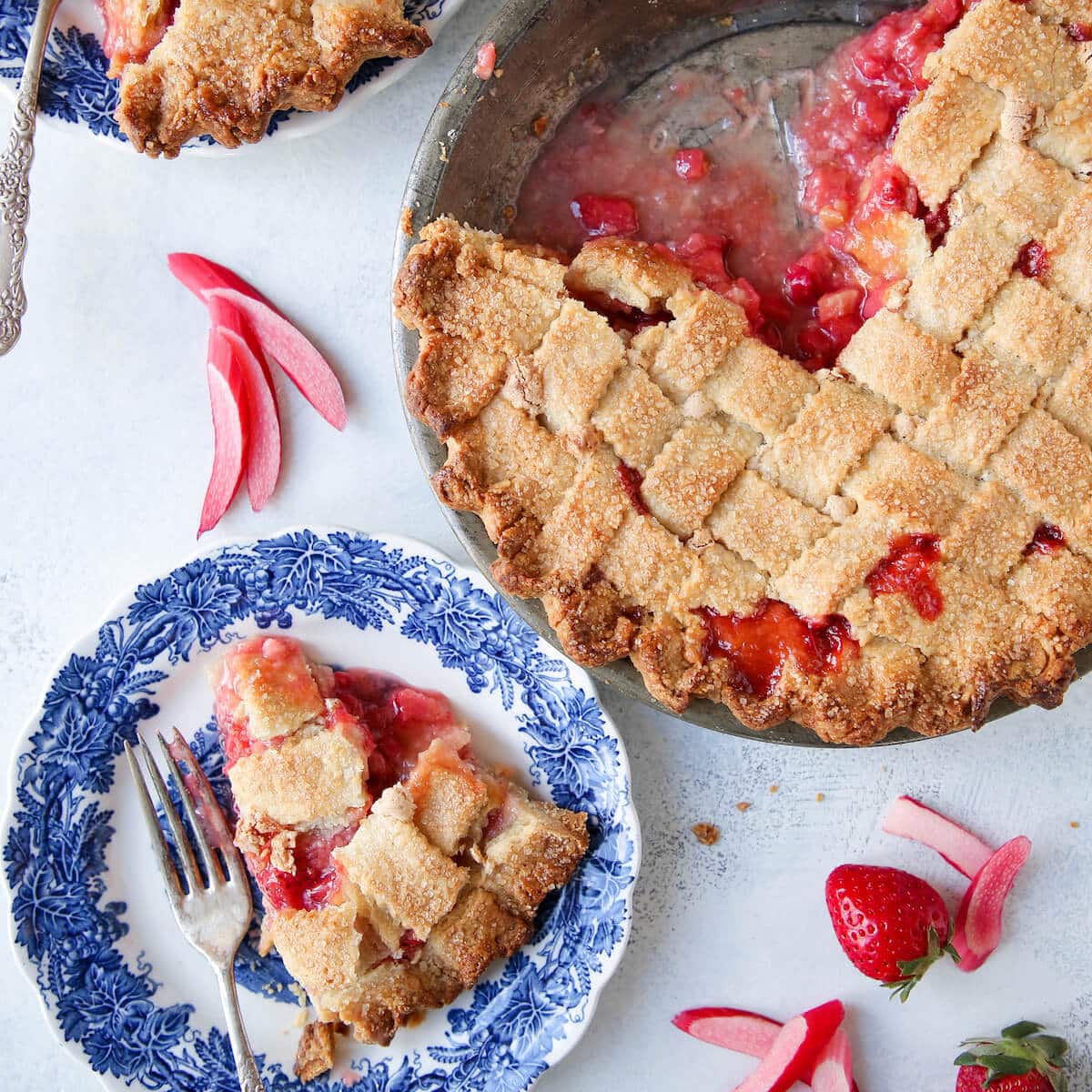 Stash away some frozen rhubarb while you can find it in the grocery stores to make this Strawberry Rhubarb Pie for Thanksgiving. It is tart and a little sweet, so it will bring some vibrancy and a touch of the unexpected!
Thanksgiving Apple & Pear Pies
Apple pie is to Thanksgiving like pumpkin spice is to Fall. Here are my best apple and pear pie recipes. Some are classic and others are fun twists on the Thanksgiving favorite.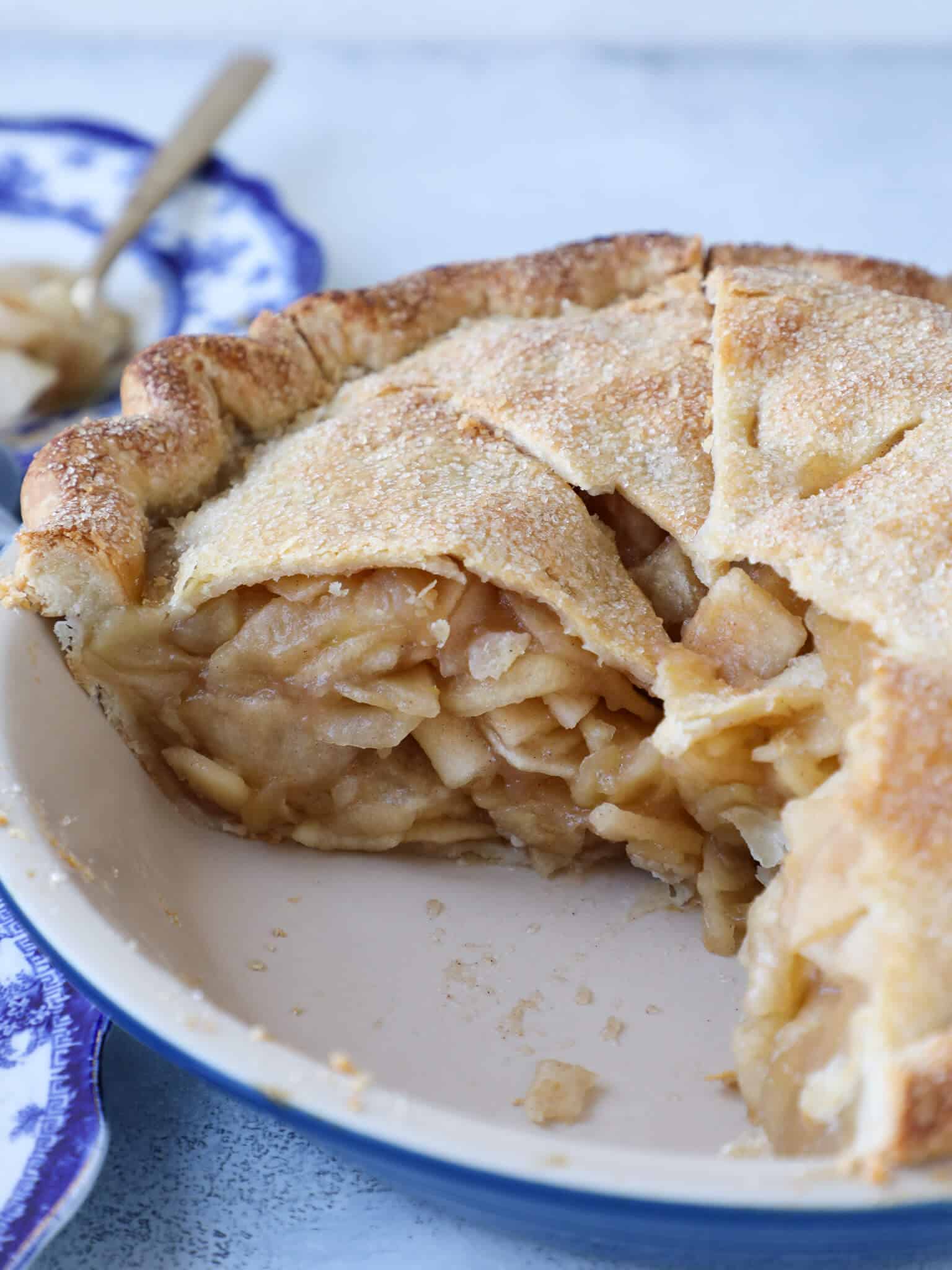 This Mile High Apple Pie recipe uses 5 pounds of fresh apples! I've precooked the filling to avoid the gap between the filling and the crust, and to nail the perfect texture.
In-season pears, oranges and tart cranberries bring a flavor party to this Cranberry Orange Pear Pie. The pie filling is sweet and mellow with pops of tart cranberries throughout!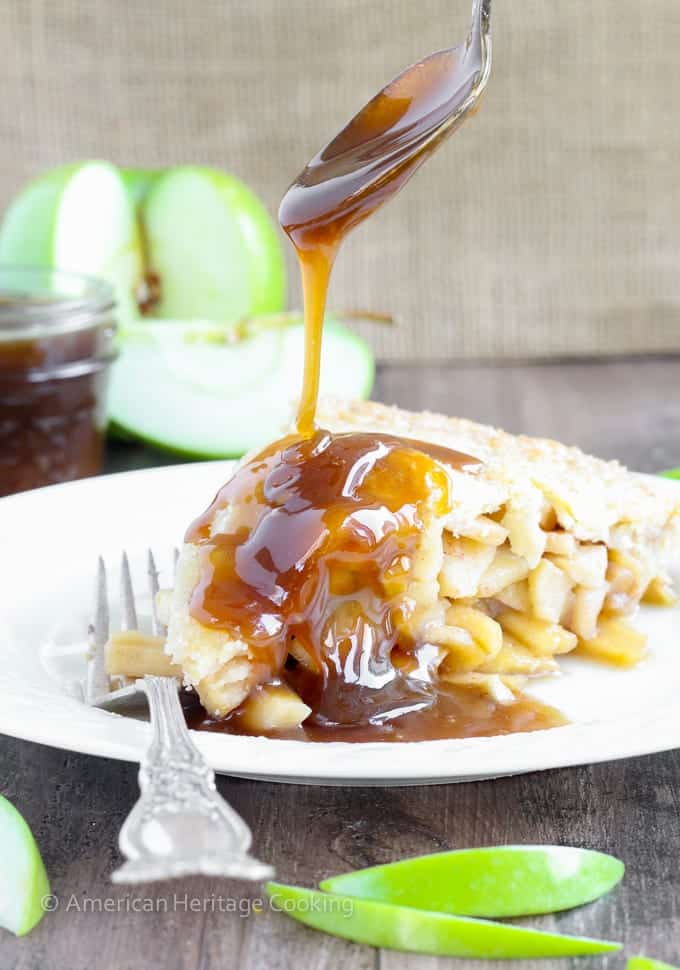 This Apple Butterscotch Pie has a generous amount of my Butterscotch Sauce inside the pie and deserves her place in the best Thanksgiving pie recipes! The flavors of the butterscotch meld with the apples, lemon and spices for a decadent twist on apple pie.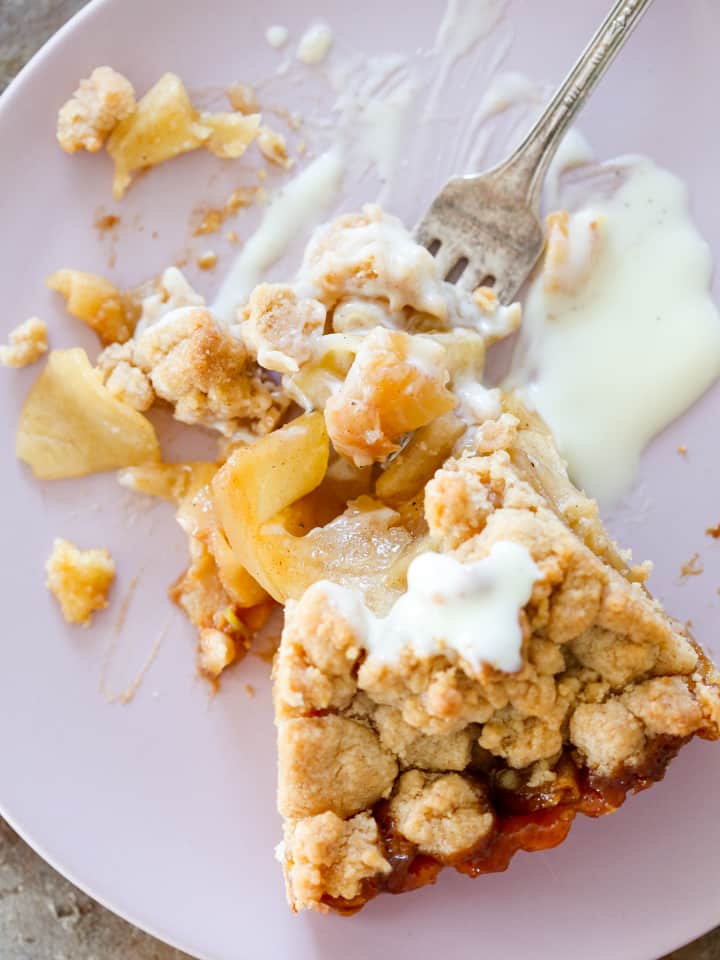 For a more traditional pairing, I have a Caramel Apple Streusel Tart. This has salted caramel baked with the apples under a generous amount of cinnamon streusel topping! It has a few extra steps, but with some advanced planning and preparation, it will be a welcome addition to your Thanksgiving dessert table.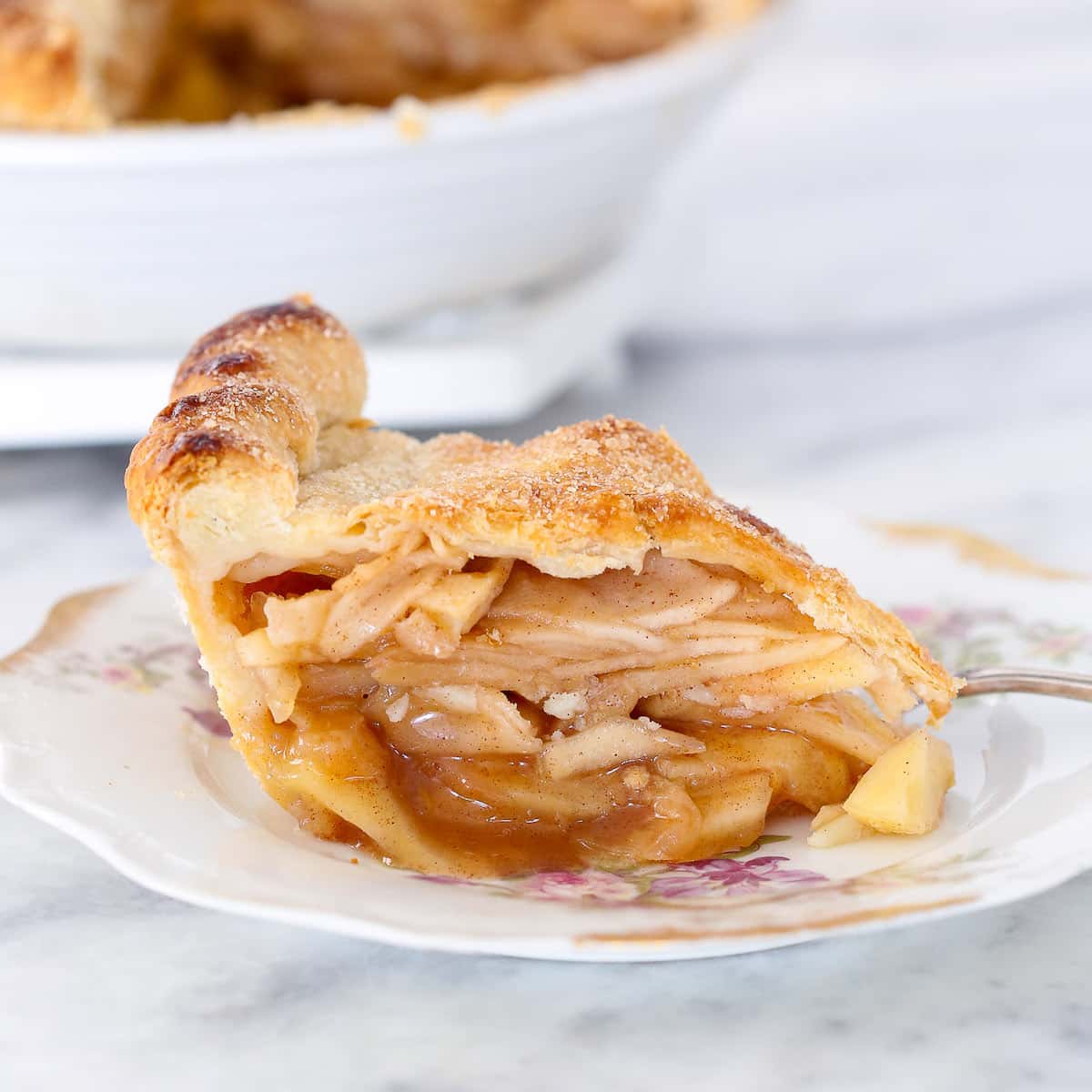 This Cinnamon Apple Pie has the apple flavor trifecta: lemon, brown sugar and cinnamon. They all bake together in a rich, perfectly-sweetened cinnamon apple filling. If you are an apple cinnamon fan, then this will be your new favorite pie!
Thanksgiving Pecan Pie Recipes
Pecan pie is a prerequisite on my Thanksgiving dessert table because it is my Dad's favorite. He gravitates towards the traditional but I love to experiment and get a little crazy (or boozy) every now and again!
This my Classic Pecan Pie recipe. What began as an accident turned into my secret to the perfect, thick, sliceable pecan pie. The filling is precooked over simmering water before baking in a par-baked pie crust. This ensures the pie filling is sliceable and not over baked and the crust is flakey and would stand up to any sturdy pie challenge!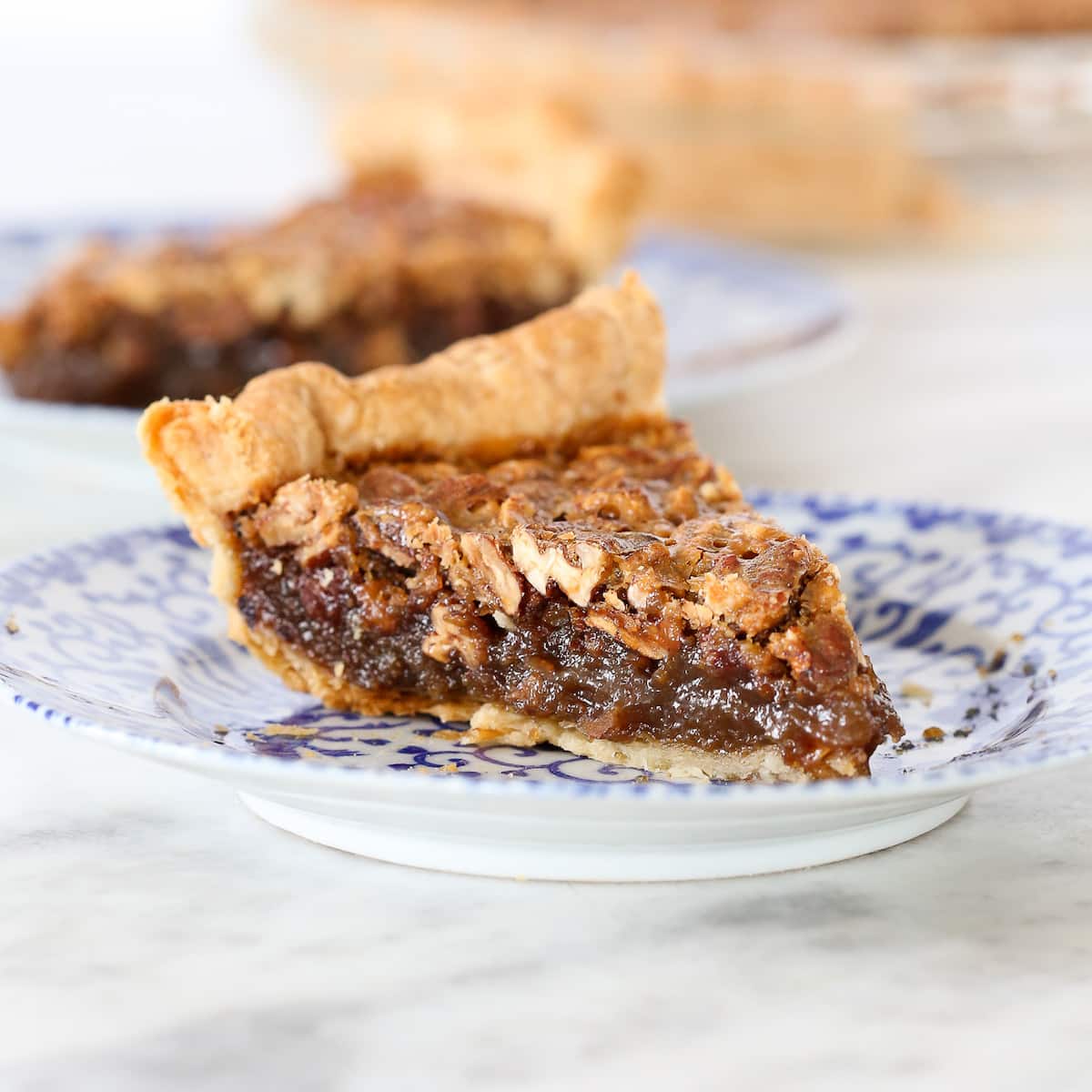 This Bourbon Pecan Pie is similar to my classic pecan pie above, but it has a healthy dose of Bourbon in the filling! I say the more the merrier, it is a celebration after all!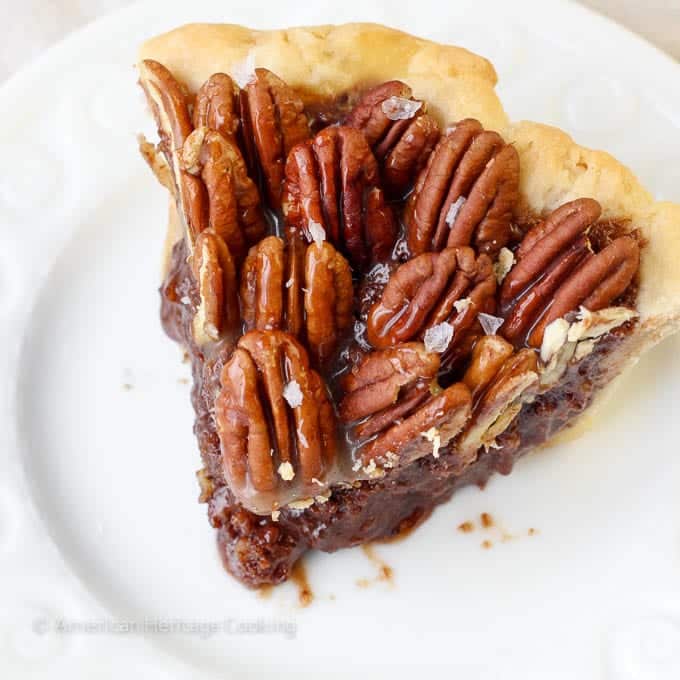 Salted Caramel Chocolate Pecan Pie is decadent and incredibly flavorful, because the chocolate pecan pie filling is rich and intensely chocolate. Pair with creamy vanilla bean ice cream or vanilla bean anglaise to let some dairy cut the richness.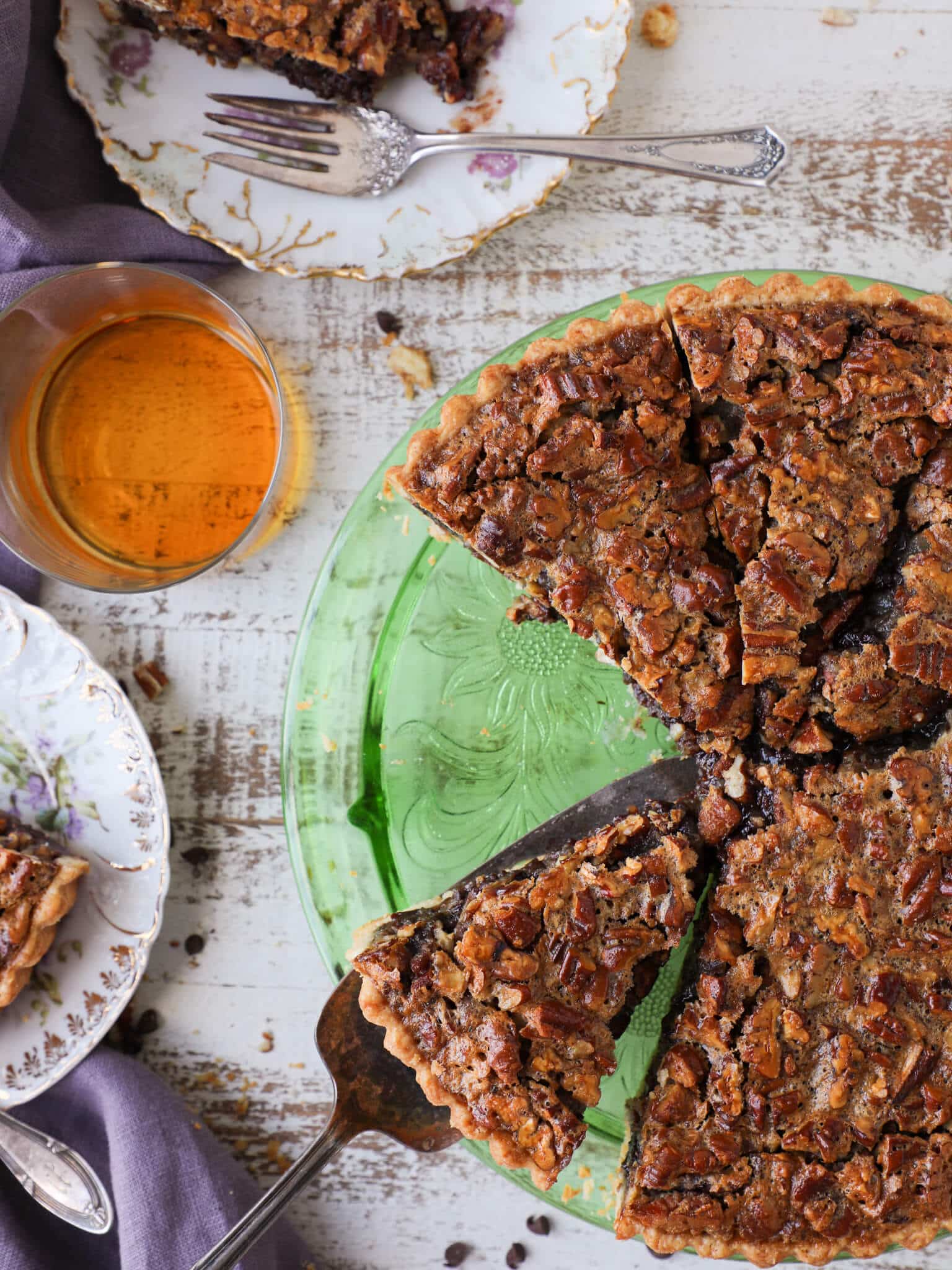 This Bourbon Chocolate Pecan Tart combines all of my favorite flavors! I choose a bittersweet chocolate for the filling so that it balances the sweetness of the pecan pie filling. Bourbon just brings us home!
Classic Pie Recipes
These are the Classic Thanksgiving Pie Recipes that we couldn't live without. This small collection begins and ends with pumpkin pie, and there's a little something fun in between.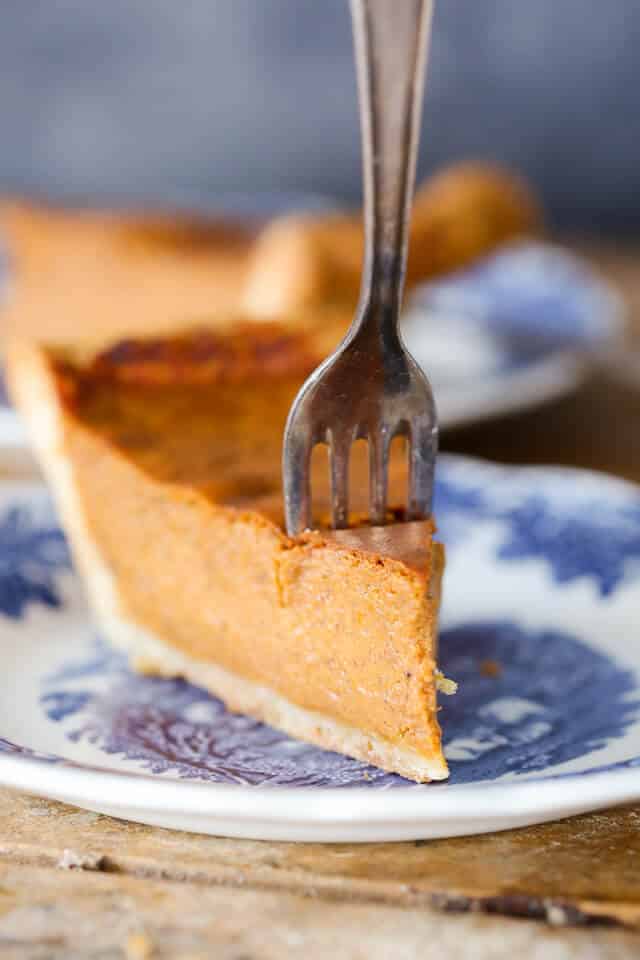 This is my go-to Foolproof Pumpkin Pie recipe. The filling is smooth, creamy and generously spiced, and it uses sweetened condensed milk for that perfect texture and sweetness.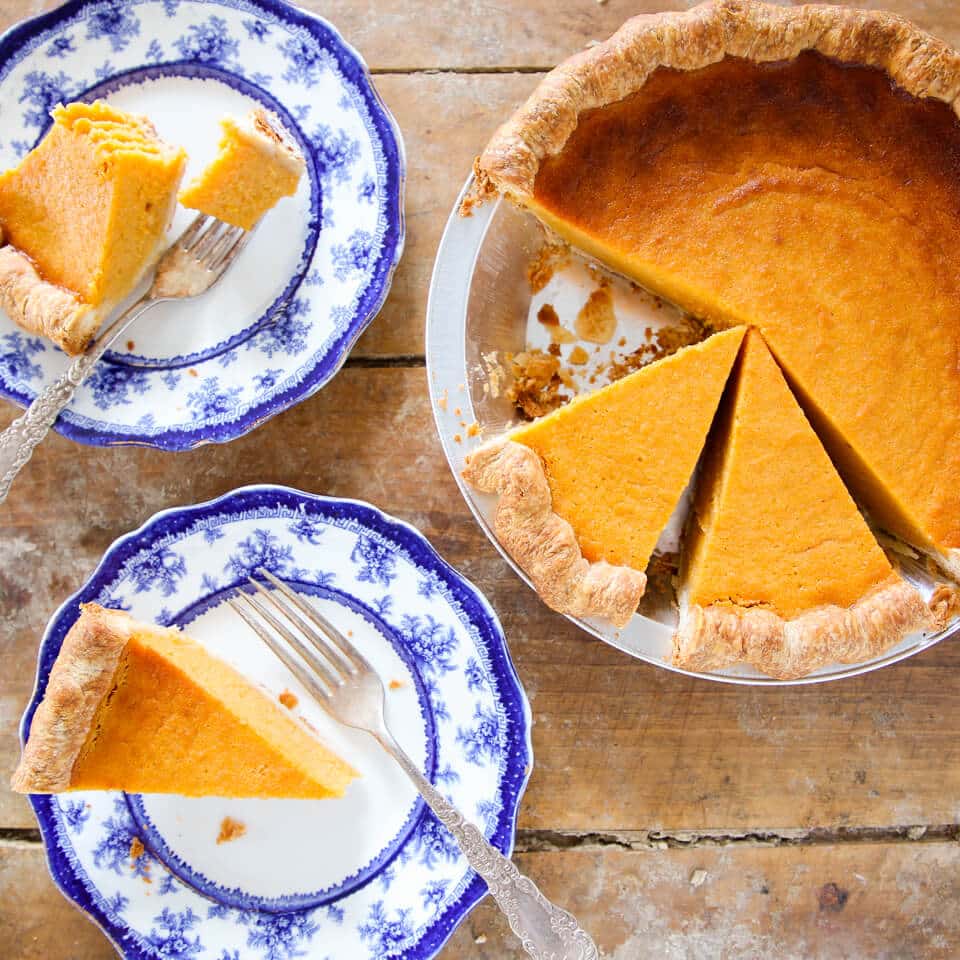 Mary Randolph's Sweet Potato Pie is a Southern favorite. Fresh sweet potato puree mixed with brandy, lemon and vanilla for the perfect flavorful pie. So perfect you could almost serve it as a side dish! On Thanksgiving rules were made to be broken!
This Old Fashioned Buttermilk Pie is an unexpected choice for Thanksgiving but the subtle tartness pairs beautifully with sweeter pies like apple, pecan and blueberry.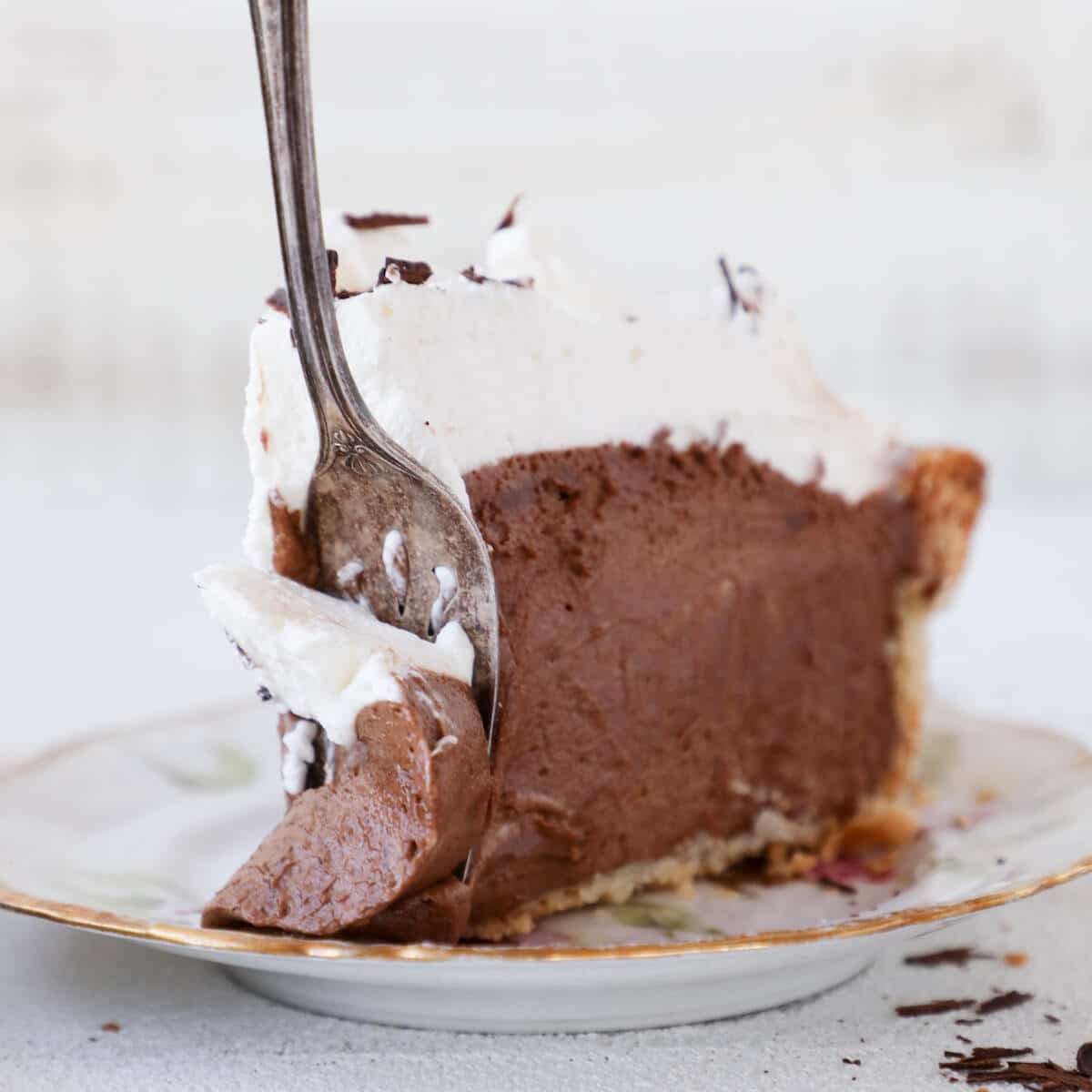 My French Silk Pie is epic. There is a mountain of rich, silky chocolate mousse filling underneath a lightly sweetened whipped cream. She will be the statement piece of the dessert table.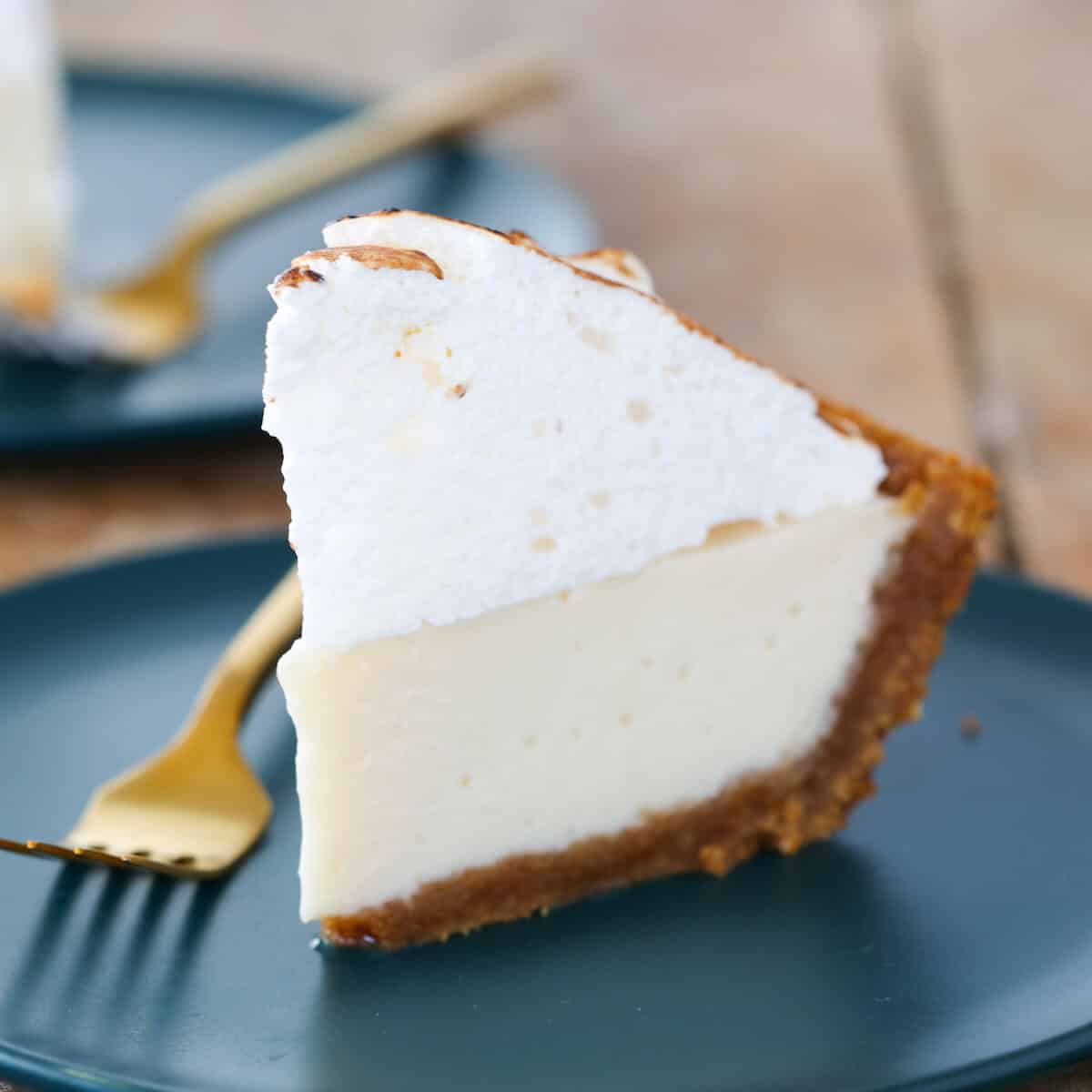 Key Lime Pie is an easy addition to the best Thanksgiving pie recipes. Just mix all the ingredients in one bowl and pour into a graham cracker crust for an instant crowd pleaser! The meringue topping is optional but show-stopping.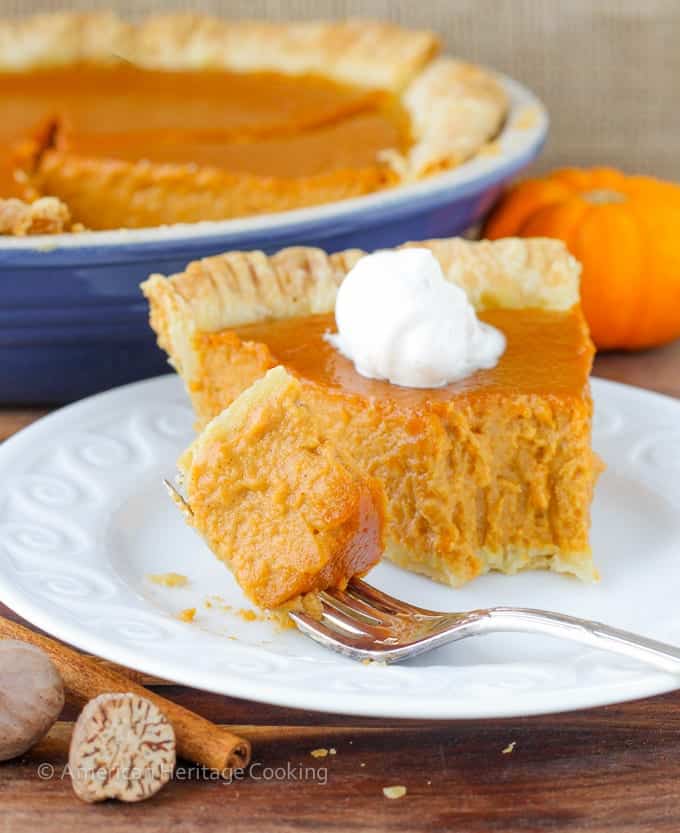 My Classic Pumpkin Pie with a Twist has all the expected flavors of traditional pumpkin pie with the addition of lemon juice. Lemon tampers the sweetness of the pumpkin pie and lets the pumpkin flavor shine. It is a surprisingly delicious pairing!