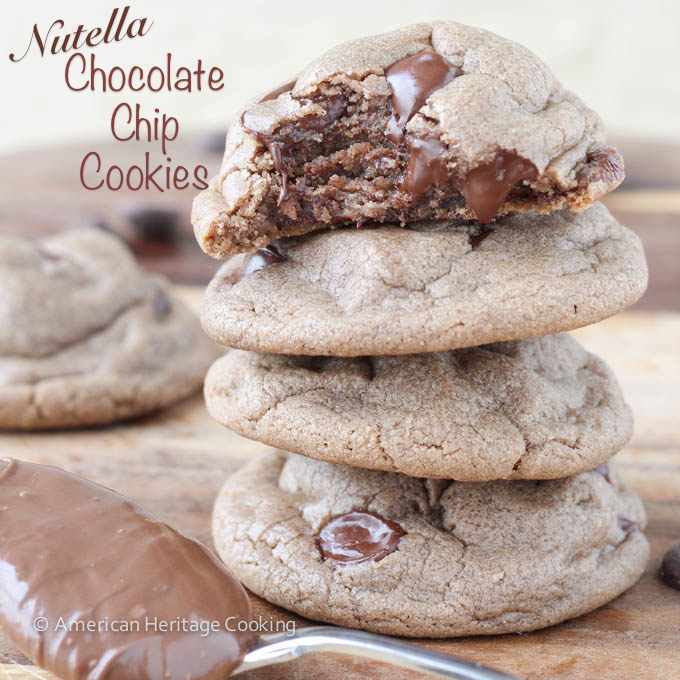 I am a woman of many contradictions. I am a woman after all. 😉 The most relevant this morning being my love/hate relationship with hazelnuts. I hate hazelnuts. I refuse to eat them. Roasted, salted, raw, whatever. Nasty.
But I LOVE hazelnut coffee. Strange? Definitely. And I really, really love Nutella! Double strange.
So you can imagine my excitement when Averie posted this recipe for Soft Nutella White Chocolate Chip Cookies. I was ecstatic!
Partially because I love Nutella and partially because I have a lonely little jar of Nutella that is about to expire. Who lets Nutella expire?! Blasphemy! In my defense…
…I have no defense. :-/
The point is moot because clearly I made these delectable Soft Nutella Chocolate Chip Cookies. They really are incredibly delicious! Perfectly soft and chewy with bittersweet chocolate scattered throughout.
If you are looking for soft, chewy chocolate cookies that are in your face chocolaty, these are not the cookies for you. But don't stress, my Quadruple Chocolate Pudding Cookies will satisfy even the most intense chocolate cookie craving!
These Nutella Chocolate Chip Cookies are more subtly chocolaty with a hint of hazelnut. The bittersweet chips give a welcome burst of rich chocolate that perfectly complements the soft Nutella cookie. Mmmm perfection.
Do you know what the secret is to keeping Nutella around long enough for it to expire?
Not opening it. Because once you do, in goes the spoon and out goes the waistline! #truth
Print
Soft Nutella Chocolate Chip Cookies
---
Prep Time:

10 minutes

Cook Time:

10 minutes

Total Time:

20 minutes

Yield:

20

Cookies

1

x
Description
These Nutella Chocolate Chip Cookies are subtly chocolaty with a hint of hazelnut. Perfectly soft and chewy with bittersweet chocolate scattered throughout.
---
½ cup

unsalted butter, softened
heaping

1/3 cup

Nutella, stir before scooping

½ cup

light brown sugar, packed

¼ cup

granulated sugar

1

large egg

2 teaspoons

vanilla extract

1 ¾ cups

all-purpose flour

2 teaspoon

cornstarch

1 teaspoon

baking soda
pinch salt

1 cup

bittersweet chocolate chips (I use Ghirardelli, in case you're new around here)
---
Instructions
Whisk together flour, cornstarch, baking soda an salt together in a medium bowl and set aside.
Beat together butter, nutella, sugars, egg, and vanilla on medium-high speed in the bowl of a stand mixer fitted with the paddle attachment until well combined, about 4 minutes. Scrape down the bowl with a spatula once during this time.
Reduce the mixer speed to low and slowly add the flour mixture until well combined, scraping down the sides of the bowl several time.
Stir in the bittersweet chocolate chips until well distributed.
Roll the dough into balls 1 inch in diameter and place on a parchment lined cookie sheet, plate or tray. Cover well with plastic wrap and refrigerate at least 2 hours or overnight.
Preheat oven to 350° Place dough 1 inch apart on a parchment line baking sheet. Bake 9-11 minutes or until the edges are set and the tops have just started to brown. Don't over bake or they will be crispy and the bottoms will burn…I know…I ruined some in the name experimentation.
Let cool 5 minutes on the cookie sheet before removing to a wire rack to cool completely or not…I know I didn't wait but I have a patience problem.
You Might Also Like:
My Favorite Chewy Chocolate Chip Cookie
 Loaded Reeses Peanut Butter Cookies
Cream Cheese Chocolate Chip Cookies
Quadruple Chocolate Pudding Cookies
My Great-Grandmother's Peanut Butter Cookies