This easy recipe for a Lemon Berry Pavlova Cake is crispy on the outside and soft on the inside. It is the perfect balance of tart and sweet! A stunning and delicious dessert!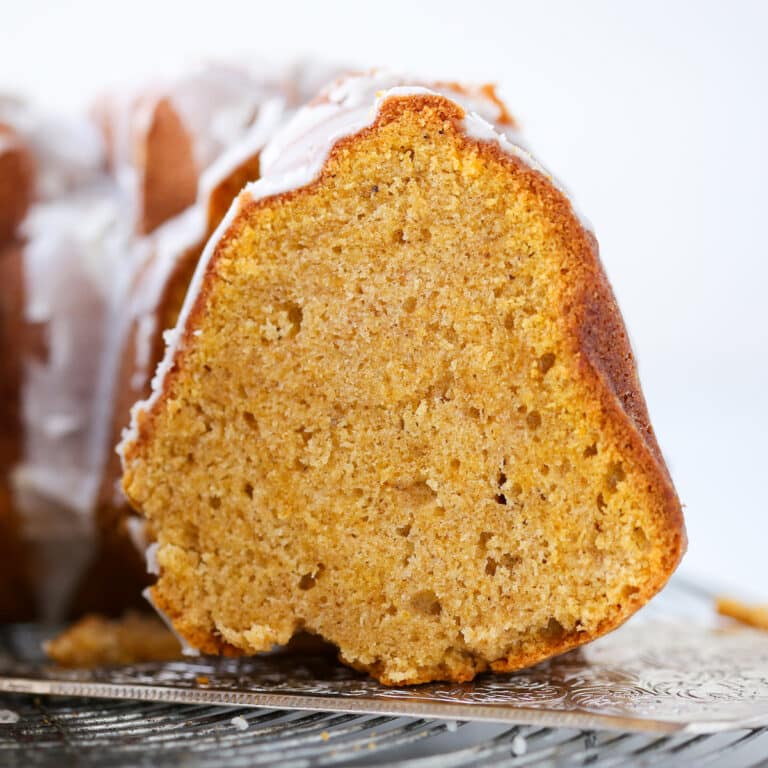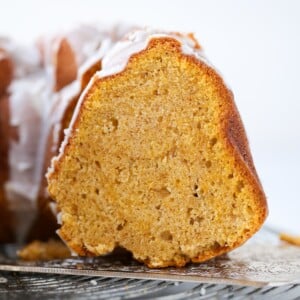 After people find out I am a pastry chef IRL, their next question usually is, "What is your favorite dessert?" as if I could choose a favorite amongst my children?! ? Don't tell the others, but pavlovas with lemon curd and macerated berries are my favorite! Bonus points for making a giant Lemon Berry Pavlova Cake!
At the restaurants I spend a not inconsiderable amount of time coming up with fresh, new pavlova shapes for plated desserts, because I love them so much.
They are my favorite because, when done right, pavlova desserts are the perfect balance. The pavlova is crunchy on the outside and soft and pillowy inside; the sweetness of the pavlova balances the tart lemon curd and lemon juice in the berries; the bright white pavlova shows of the beautiful berries and yellow lemon curd to perfection!
Pavlovas are simple desserts and, as with anything in pastry that seems simple, there are some tricks to ensure perfection. I have spent more hours than I can even count problem solving and teaching cooks how to make pavlovas, so I am here for you!
Tools for Pavlova Success:
Egg Whites: Eggs separate easier when they are cold and the one thing that matters most here is that there aren't any yolks in your whites. That little bit of fat can keep them from whipping up to their full potential. You don't have to get all crazy and wipe down the bowl with vinegar or anything…it's not that serious…but take the time to separate your whites carefully. I like to separate over three different bowls. The yolks go in one, the newly separated white in one and then I pour the new whites into a third bowl after several eggs. Trust me when I tell you that having a broken yolk drop into your quart of perfect whites is pure sadness.
Sugar: There is much debate about when to add the sugar to a meringue. I am in the earlier rather than later camp. It's not the most popular camp but I live here now. I feel that adding the sugar after the whites have already whipped leads to the sugar crystals not dissolving into the egg whites and then the sugar has a tendency to overcook and pour out like lava.
Cream of Tartar: I like to stabilize my egg whites for meringue in general and pavlovas are no different especially if you are going to pipe them or do something fancy. The ratio of sugar to egg whites also adds stability.
Distilled White Vinegar: This is a sneaky addition but very important. The vinegar also adds a bit of stability but mainly it helps keep the meringue white while baking! Super-secret professional tip right there.
Cornstarch: Another pro-tip. Cornstarch helps the meringue dry out. You can think of it as extra insurance to get that crispy outside without having to overbake.
Baking: The perfectly baked pavlova needs the right balance of baking time with heat and the right amount of time just sitting in the oven that is still warm. Too much baking time and you will have all crisp and no chew, but too little and you will have all squishy pillow and no crunch. Both are a tragedy. There is some wiggle room so don't stress too much! Each oven is different, so careful and delicate testing are necessary.
Whipping: The pavlovas need to be whipped to stiff peaks. This will take a little time especially if you start with cold egg whites. Don't stress, don't rush them, just wait patiently while they do their thing. If they still haven't reached a nice volume or even soft peaks after 15 minutes, you might want to start separating more eggs. It looks like you have a sneeky bit of fat in your meringue that is keeping it from whipping. It really is important they hold a nice stiff peak or they won't puff nicely in the oven and they might even spread out! If you overwhip the meringue then they also wont get as nice of a puff and they won't have a nice smooth exterior. You'll get this weird bumpy looking crust on the outside.
Be Nice to your Meringue: Meringues are a delicate affair. Think of all those little air bubbles trapped inside the meringues structure. Don't go banging them around or slamming oven doors. Give them the love they need to grow in the oven!
Umm you said pavlovas were easy but that was a lot?! Pavlovas are easy but if you want perfection (and you know I do), then these tips will give you a leg up. The good news is that no matter how you mess up the pavlovas, short of them not whipping up at all, they are still going to taste good. No one else is going to know…well, unless they read this post and then you are SOL.
If you watched the video then you already know all these tips and you also know that I didn't really measure my ingredients for the macerated berries and whipped cream. I am giving you the license to improvise! A rarity in pastry but it happens. If you want to get absolutely fancy, you could follow my lemon curd whipped cream recipe for all the nerdy details!
Berries very in their sweetness and some might need more or less sugar. I like to add a bit, taste and adjust as needed. I did the same with the whipped cream. Also some days I just want my desserts a bit more sweet. You do you and it will be glorious!
Wait! What do I do with the yolks?!
You make ice cream….
Or homemade mayonnaise if you feel so inclined. I never do ?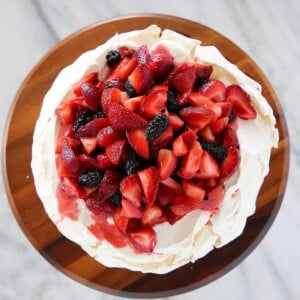 The Best Pavlova Dessert Recipe
This easy recipe for The Best Pavlova Dessert is crispy on the outside and soft on the inside. It is the perfect balance of tart and sweet! A stunning and delicious dessert!
Ingredients
Instructions
For the Pavlova:
Prepare a baking sheet with parchment paper or a non-stick liner (like a silpat)

In the bowl of a stand mixer fitted with the whisk attachment, add your egg whites, vinager and cream of tartar. Begin whisking on medium-low to break up the whites. When they start foaming, begin adding your sugar slowly. This is a lot of sugar so you are going to need to add more than you think at a time. Stop and scrape down your bowl because there are usually chunks of sugar stuck to the side.

Once all the sugar has been added, turn the mixer up to high and allow it to whip until stiff peaks form. It will get very white and glossy.

Reduce speed and add the vanilla. Turn the speed up to high once more just until the vanilla in incorporated. You don't want to overwhip at the point.

Stop the mixer, remove the bowl from the machine and tap the whisk gently against the side of the bowl to release the meringue trapped in the whisk. There is enough sugar to make this a very stable meringue but you still want to be moderately gently when tapping. Sif the cornstarch directly into the meringue. Fold in sifted cornstarch just until combined. You don't want to over fold as every moment that passes and every time you agitate the meringue, it is falling. Not to sound too dramatic.

Bake in an oven preheated to 200°F (convection ideally) for 40 minutes to an hour. It is done when you can gently touch the outside and it is firm. If it is still squishy, gently close the oven door and continue baking. The time will vary by the size and shape that you chose to make your pavlova.

Turn off oven and let cool in oven for 1 hour. Remove and let it cool completely.
For the macerated Berries:
At least an hour before you plan to serve the pavlova, mix all the ingredients for the berries in a large bowl. You can also do this the night before, but just know that the longer the berries sit in the sugar, the more juice you will have. It's not right or wrong, just something to know.
For the Whipped Cream:
In a large bowl, combine all the ingredients and whip the cream with a whisk until medium peaks. Stiff is fine too. Honestly, do whatever you want. This can also be done ahead of time.
Notes
This makes 1 large, 10 inch pavlova or 8-10 smaller ones.
Pavlovas are best within 4 days of when they are made. Wrap it very well and keep it at room temperature in the least humid part of your house.
Nutrition
Calories:
310
kcal
|
Carbohydrates:
40
g
|
Protein:
3
g
|
Fat:
16
g
|
Saturated Fat:
10
g
|
Polyunsaturated Fat:
1
g
|
Monounsaturated Fat:
4
g
|
Cholesterol:
49
mg
|
Sodium:
38
mg
|
Potassium:
105
mg
|
Fiber:
1
g
|
Sugar:
38
g
|
Vitamin A:
656
IU
|
Vitamin C:
3
mg
|
Calcium:
34
mg
|
Iron:
1
mg
Like this? Leave a comment below!