This Lemon Pound Cake with Fresh Strawberry Icing is moist, dense and packed with fresh lemon flavor. The strawberry glaze uses fresh strawberries for the taste of Summer!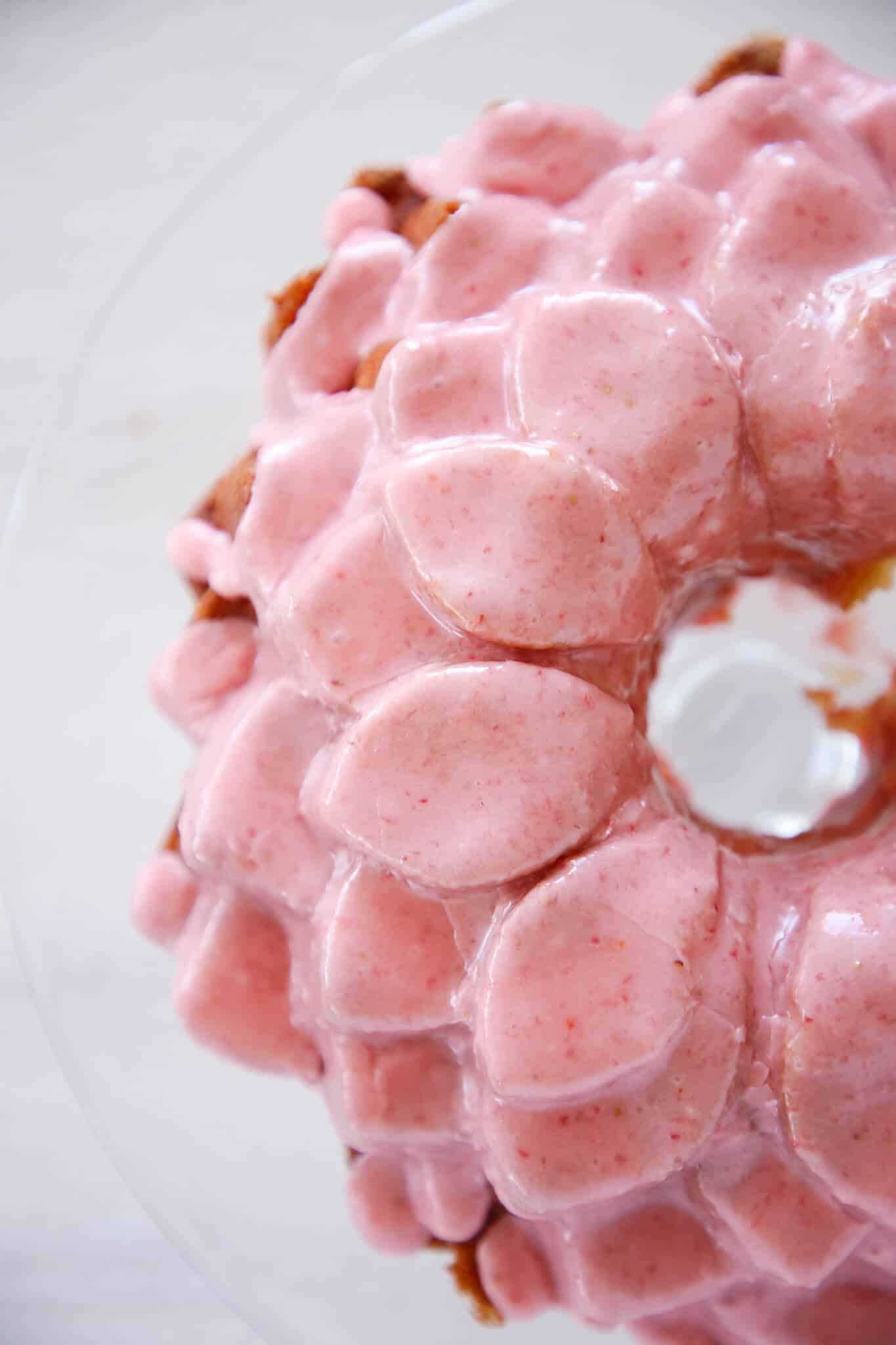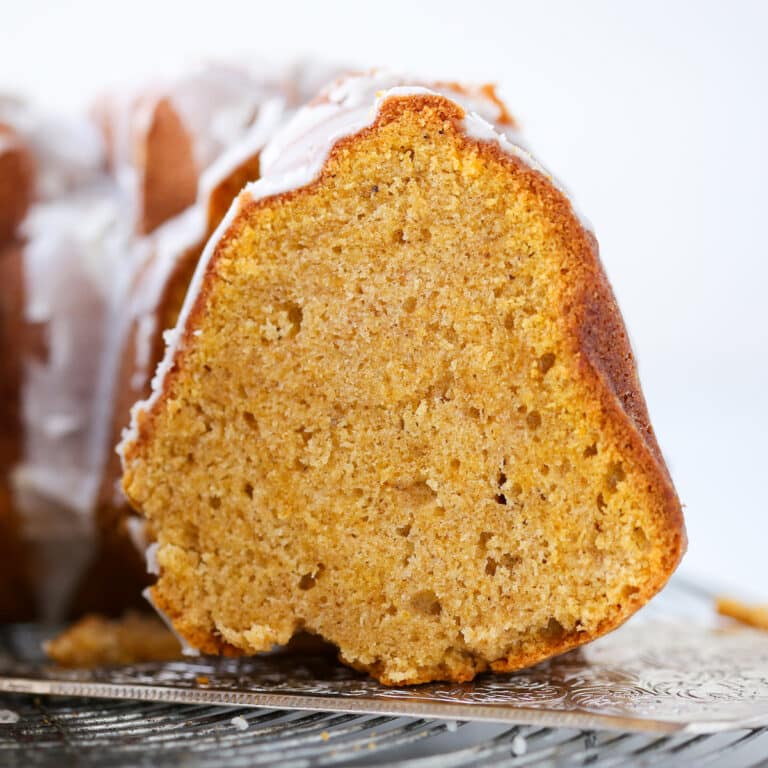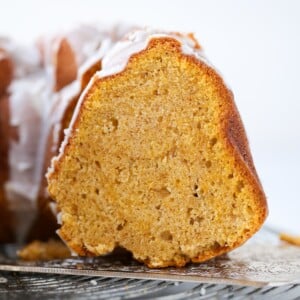 Happy 4th of July!!! Independence Day is one of my favorite holidays. I can't help but reflect on the courage, vision and fortitude it took to make this Country the paragon of freedom and democracy that it is today. On July 4th I chiefly feel overcome with this sense of pride, which is precisely how you'll feel after making and serving this Lemon Pound Cake with Fresh Strawberry Icing.
Proud that there isn't a crumb left over and all your guests are raving about how moist and flavorful it was. The lemon is subtle and the strawberry icing just takes the cake to that next flavor level. It's therefore a celebration in and of itself. We The People demand more of this cake!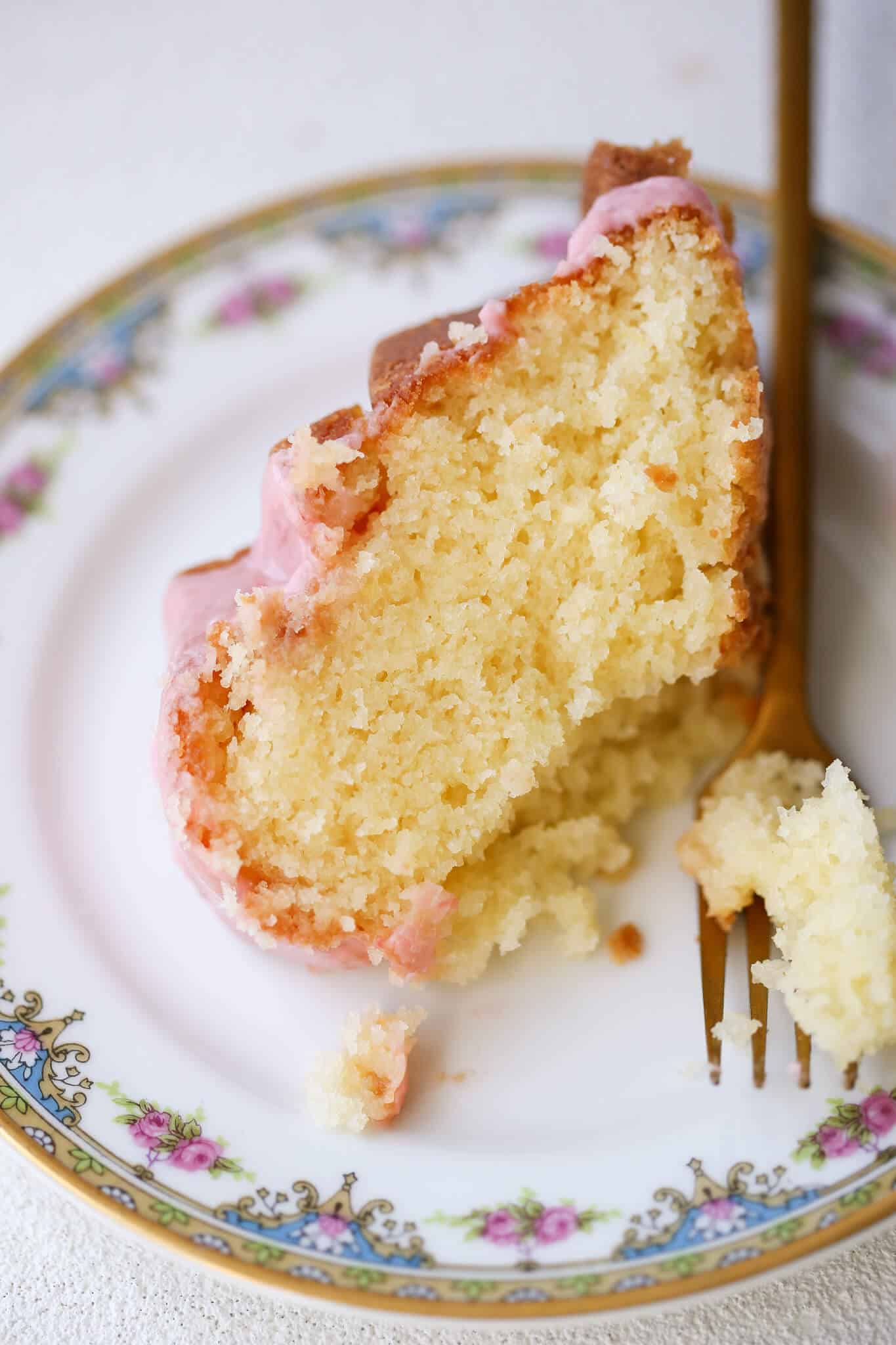 Lemon Pound Cake with Strawberry Icing – All Natural, All the Time
Another thing I love about this Lemon Pound Cake is that there isn't a drop of unnatural flavoring or coloring. Much like my Classic Strawberry Shortcake, the strawberries and lemons are a perfect all-natural combination of flavors. The pale yellow of this pound cake is tinted by lemon, and the sweet, strawberry icing is flavored and colored by fresh strawberries. Warning: You are going to want to eat this icing on EVERYTHING. Cakes, tarts, cupcakes…literally everything. It's really lovely to have such a natural and overall spectacular icing. Try it out with my chocolate pound cake recipe next!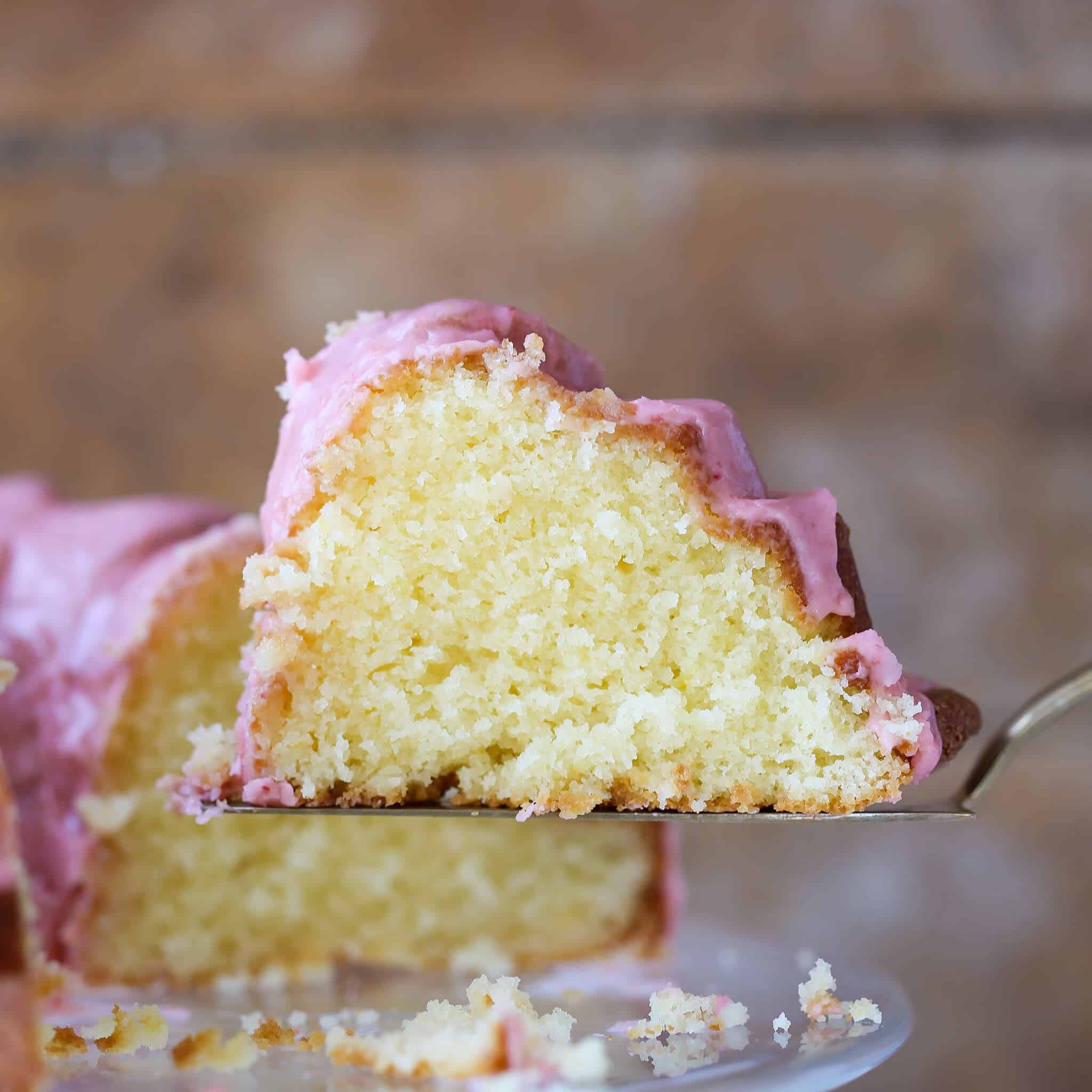 Speaking of having more of this lemon pound cake – I couldn't get this cake out of the house fast enough! It was so good that I knew if it stuck around I would eat it all (and, rest assured, I've already eaten enough!) They don't call it Pound Cake because it's fat free. And we all know what the Wedding Fairy would have to say about that [Hint: it would be snarky].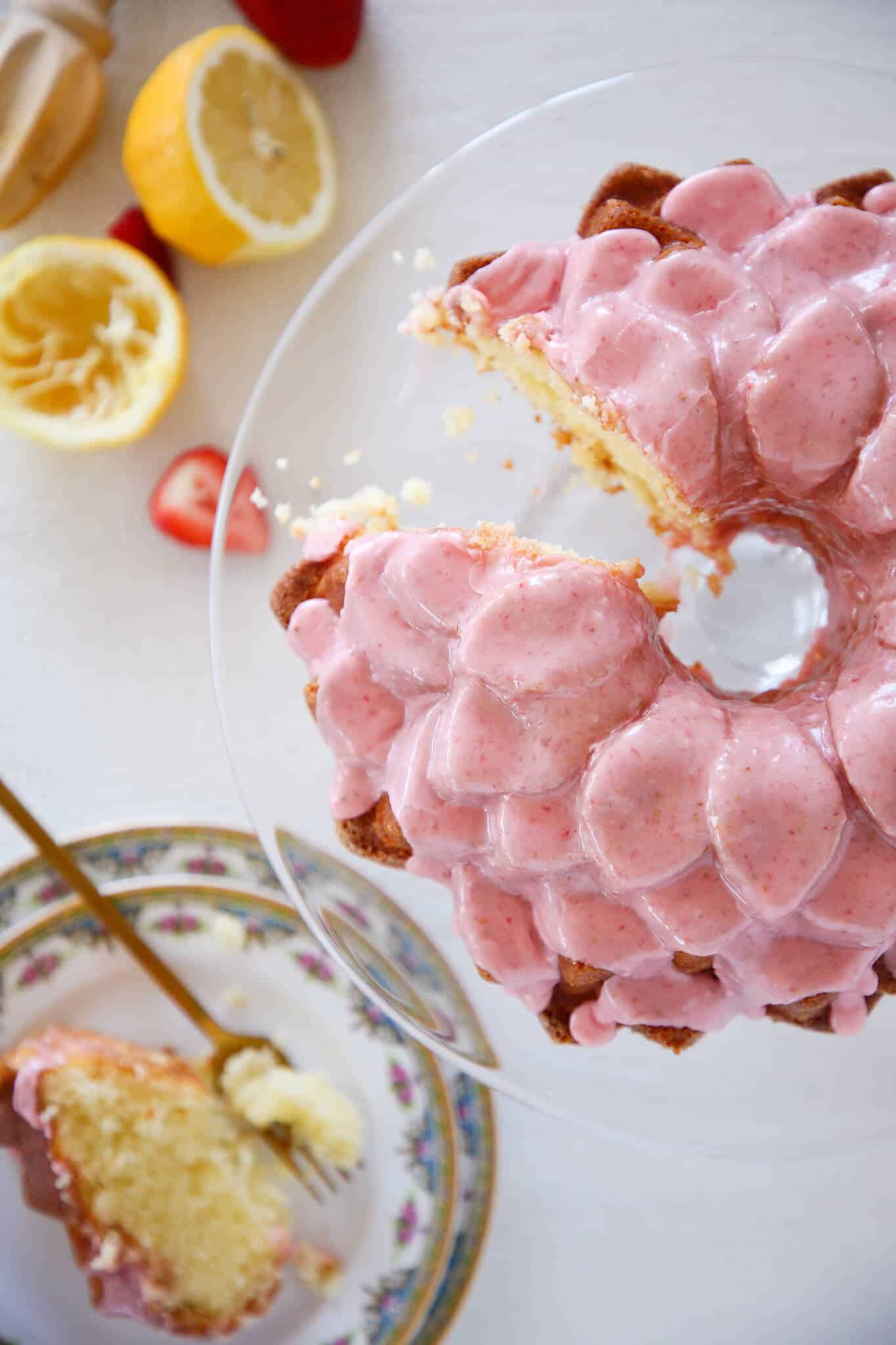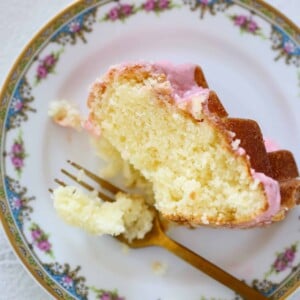 Lemon Pound Cake with Fresh Strawberry Icing
This Lemon Pound Cake with Fresh Strawberry Icing is moist, dense and packed with fresh lemon flavor. The strawberry glaze uses fresh strawberries for the taste of Summer!
Ingredients
For the Lemon Pound Cake:
For the Strawberry Icing:
Instructions
Make the Lemon Pound Cake:
Preheat the oven to 350°F. Butter and flour your pans. This recipe makes either one large Bundt pan or two large loaf pans.

Sift Flour, baking powder, and salt. Set aside.

Cream butter, shortening and sugar until the mixture comes together and it is not longer lumpy or clumpy. Add eggs one at a time, beating just until incorporated.

Add flour mixture in three additions alternating with milk, starting and ending with flour (yes, this is important). Don't worry if your batter appears curdled after adding the milk. It's all good. Mix after each addition only until just blended.

Add the lemon juice and zest. Mix well. It might look curdled. Don't worry here either.

Working quickly, pour batter into prepared pans until they are a little more than ¾ full. If you dilly-dally (like I did with my mini loaves) they will fall, and then they will look sad, and we don't tolerate sad here at CLF.

Bake cakes until tester comes out with only a few crumbs attached. Approximately 55 minutes for a large Bundt pan and 35 minutes for small pans. I personally would start testing my large Bundt cake after 35 minutes because I abhor dry cakes. Seriously, who wants that?
Make the Fresh Strawberry Icing:
Sift your powdered sugar after measuring and set it aside. Coarsely chop the hulled strawberries.

Add strawberries, ¼ cup powdered sugar, and lemon zest to a food processor. Process until the strawberries are completely pureed. Using a wooden spoon, press as much of the strawberry mixture through a fine sieve as possible. Discard seeds.

Stir the butter, corn syrup and vanilla extract into the strawberry juice. If you can't quite figure out how to incorporate softened butter into the juice, don't fret. I stuck mine in the microwave on level 2 and nuked it in 10 second increments until I could stir it all together and I didn't see any butter pieces. No one wants those.

Stir the remaining powdered sugar into the strawberry mixture. If it is too thin, add more powdered sugar. If it's too thick, add a tablespoon of water.
Notes
Makes 1, 10-12 cup bundt cake. Make sure there is an inch between the batter and the top of your pan or you might have an overflow situation. 
Lemon Pound Cake via The Plain Chicken
Strawberry Glaze from The All-American Dessert Book by Nancy Baggett
Nutrition
Calories:
445
kcal
|
Carbohydrates:
71
g
|
Protein:
4
g
|
Fat:
17
g
|
Saturated Fat:
8
g
|
Polyunsaturated Fat:
2
g
|
Monounsaturated Fat:
5
g
|
Trans Fat:
1
g
|
Cholesterol:
70
mg
|
Sodium:
175
mg
|
Potassium:
74
mg
|
Fiber:
1
g
|
Sugar:
56
g
|
Vitamin A:
399
IU
|
Vitamin C:
6
mg
|
Calcium:
65
mg
|
Iron:
1
mg
Like this? Leave a comment below!