These Amazing Lemon Bars are smooth, creamy and perfectly tart! A tender, sweet shortbread base and a soft texture set them above the rest!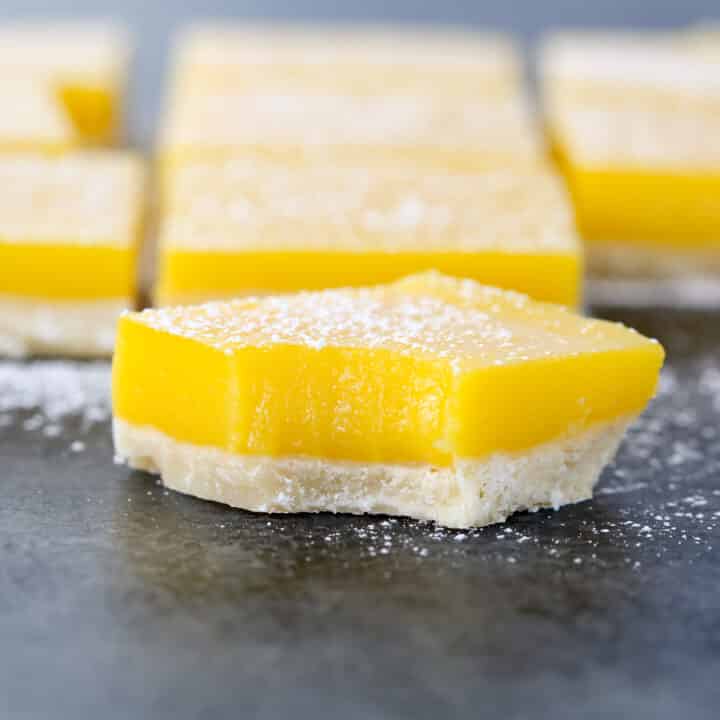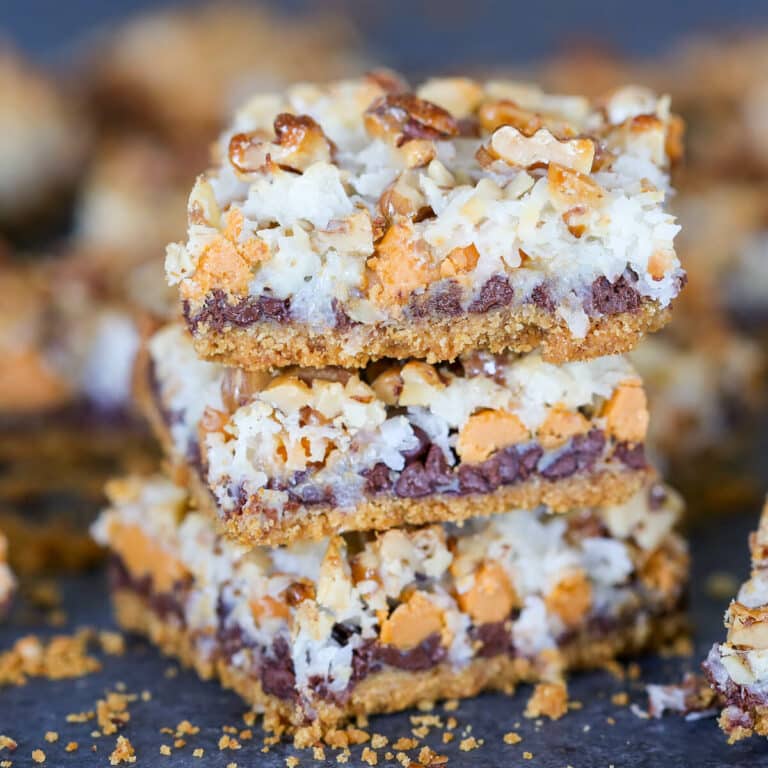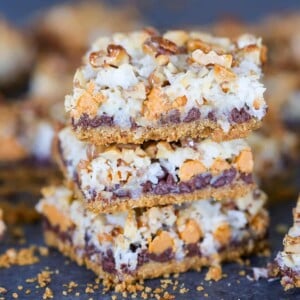 The Summer heat hits and all of a sudden I want all the lemon! My love affair with lemon curd is no secret around CLF. I put it on pavlova cake, in lemon coconut cupcakes, in lemon curd whipped cream and in this stunning lemon berry trifle.
I have refined and obsessed over my original recipe to bring you these amazing Lemon Bars. I also streamlined the process, so that they are as easy as they are delicious.
Without further ado, let's get nerdy with it! ?
What makes these the most amazing lemon bars?
Balance makes these the most amazing lemon bars! As a professional pastry chef, I value balance in my desserts. Here there is a balance between tartness and sweetness; soft (the curd) and crumbly (the crust); and form verses function.
The tartness. I love my lemon desserts tart! This is fairly easy to achieve by just controlling our urge to add ALL THE SUGAR. Sometimes I get even more outrageous and I add citric acid but not here. Lemons bring all the tartness I need.
The softness: I like a little texture with my desserts especially here. The curd is so soft that I want my crust to have substance. I made a thicker base for these bars and I made sure they were tender and crumbly but not too aggressively crispy.
Lastly the texture: I add a bit of sheet gelatin to keep the clean cut of the bars. Otherwise they get a bit loosie-goosy around the middle. This is fine but you know I love perfection. Finding the perfect amount of gelatin to hold the shape but not mar the soft, luscious texture is a delicate balance. You can omit the gelatin all together but they will not hold their shape as nicely when cut.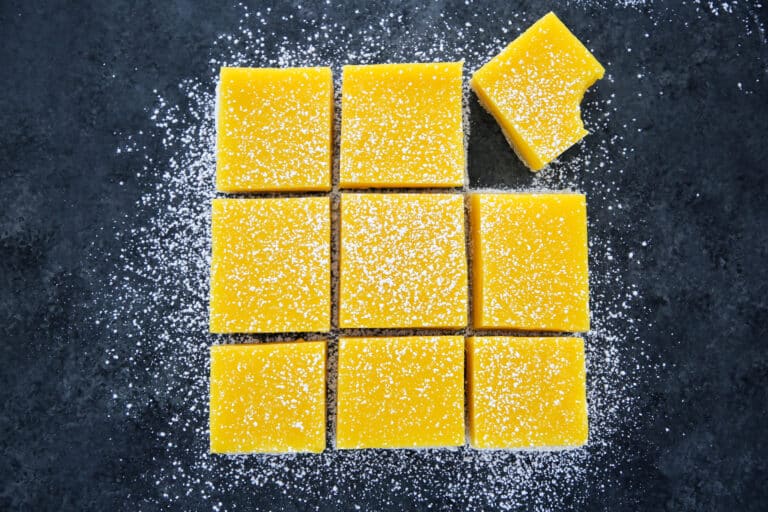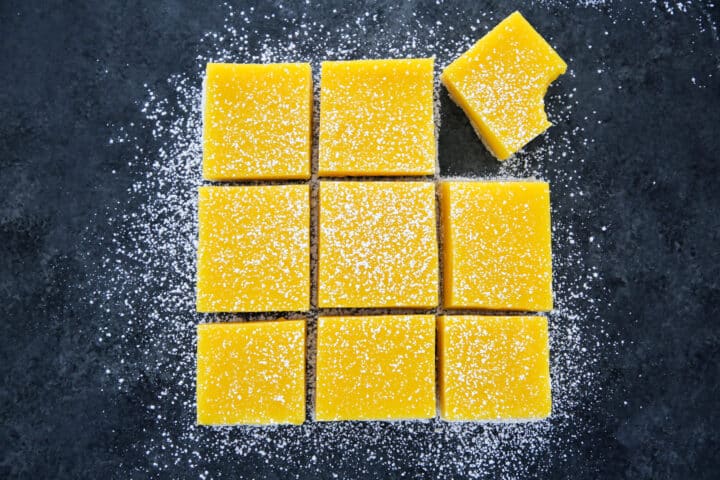 Why use sheet gelatin over powdered?
I prefer the taste and texture of sheet gelatin over powdered. It creates a final product with a smoother, silkier texture. Sheet gelatin is also more consistent because the strength is rated across brands. I use sheet gelatin in these amazing lemon bars because it is tasteless. I cannot say the same for powdered.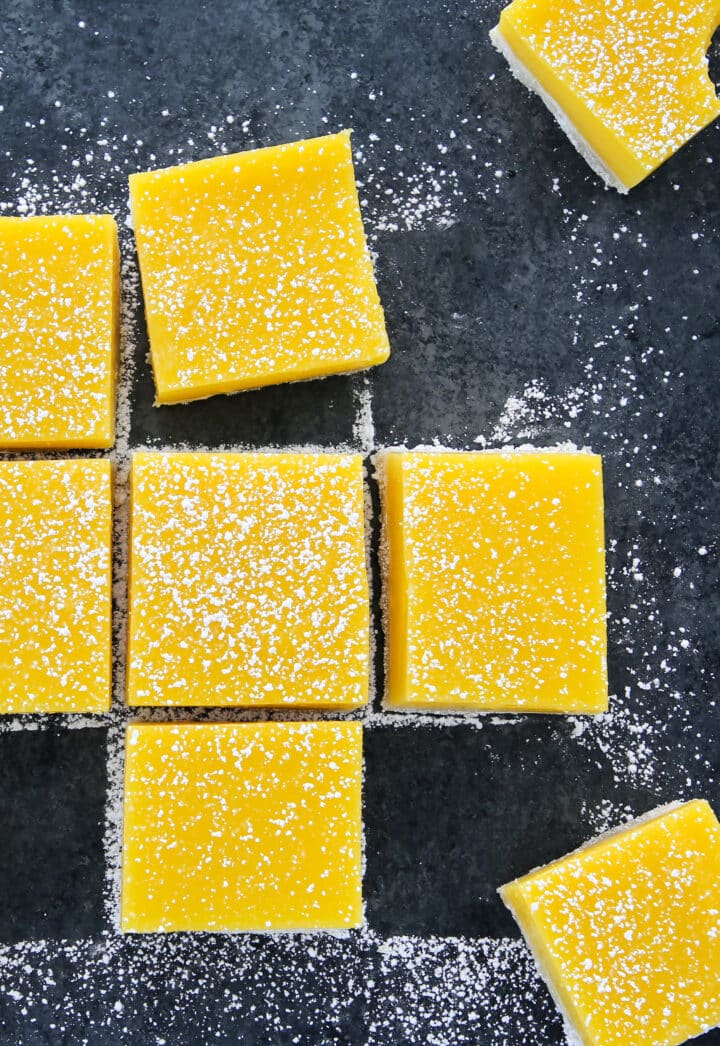 How to use Sheet Gelatin?
Just like powdered gelatin, you need to bloom it before adding it to your lemon curd. Blooming gelatin just means hydrating it.
Bloom it in ice water so that it will absorb the water more slowly without breaking down. It will dissolve in warm water.
Squeeze it out before you use it. Grab that soft gelatin and give it a strong squeeze. This will wring out any excess water, so you don't change the water content of your dessert, custard or sauce accidentally. If it squishes, then it is over bloomed and you should start again.
Buy the right strength! If you are buying sheet gelatin make sure you get SILVER! Manufacturers rate the strength of sheet gelatin by precious metals (why, I haven't the faintest!). Most recipes that are written for unspecified sheet gelatin use silver including these amazing lemon bars.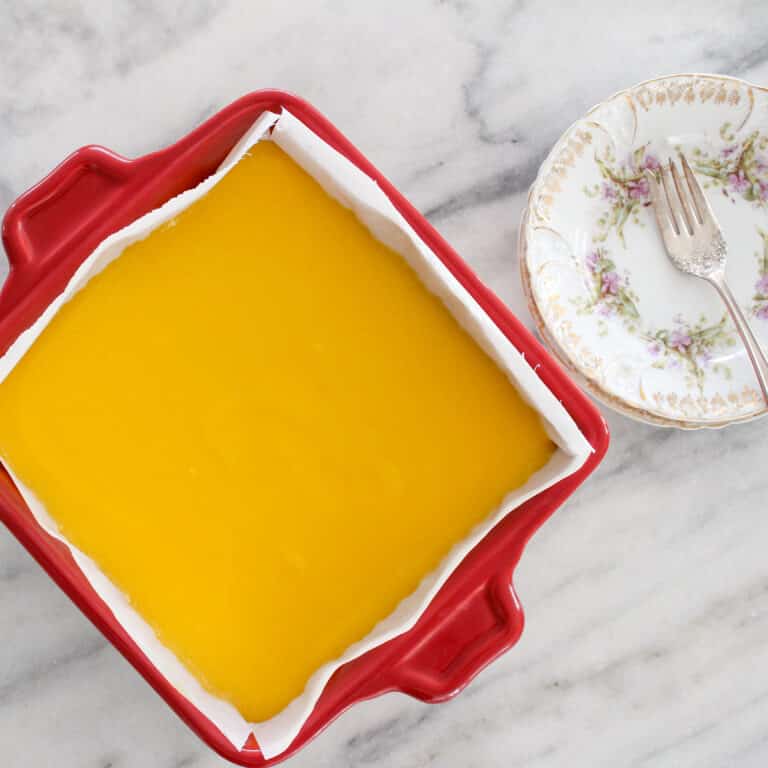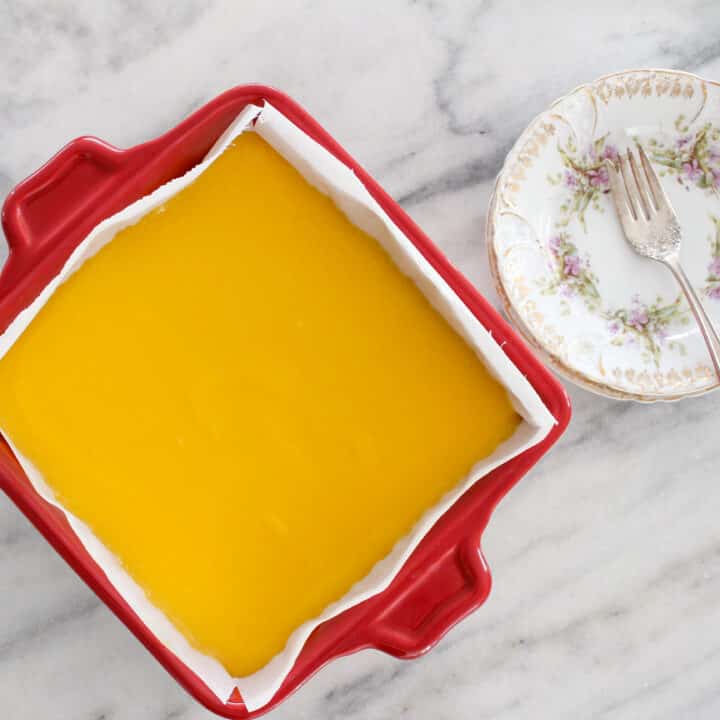 Ingredients needed for Amazing Lemon Bars
All-purpose flour: All-purpose flour has just the right amount of gluten to make a tender, soft shortbread base.
Powdered Sugar: Powdered sugar or confectioner's sugar is used to add sweetness to the shortbread base while keeping it light and tender.
Butter: Unsalted butter allows you to control the flavor of the dough while still adding all the buttery goodness!
Kosher Salt: Kosher salt is lass salty than table salt and a teaspoon weighs less than other finer ground varieties.
Cornstarch: Adding cornstarch to bar cookies helps make them soft, tender and light. The key to amazing lemon bars is an amazing base!
Whole Egg: The egg in a stirred custard is integral to thickening the custard.
Egg Yolks: Eggs yolks in a stirred custard are also thickeners like the whole eggs but they add more fat than the whole egg without the added moisture from the whites.
Granulated Sugar: Sugar is here for sweetness but also to add a little leavening when beaten with the eggs and protect the eggs from the heat and additional acidic ingredients like lemon juice.
Lemon Juice: Lemon juice is the flavor here! My motto for citrus juices is that fresh is always best. If you must use store-bought, try to find a frozen option that is frozen fresh juice, or sometimes it can be found in the refrigerator section. If it looks dark in color, then it is no longer going to taste fresh.
Butter: Unsalted butter allows you to control the flavor of the custard while still adding all the buttery goodness! It makes for a very silky, luscious lemon curd.
Silver Sheet Gelatin: This recipe is written using Silver sheet gelatin. If using a different strength, use the conversion table on modernist pantry to adjust. This is the actual brand that I used when developing this recipe and also the one I use professionally.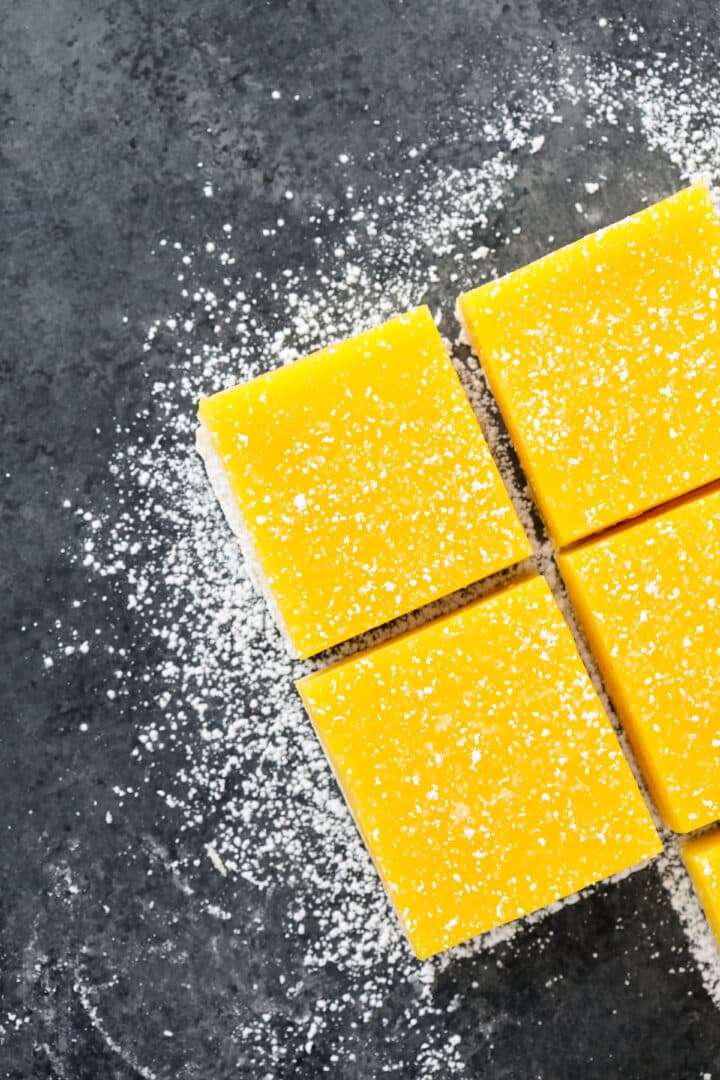 Professional Pastry Chef Tip
Even the most perfectly stirred lemon curd will begin to look lumpy right when it starts to curd. This is totally normal and it doesn't mean that it is ruined. I simply switch to a French whisk and vigorously whisk the custard until smooth, then I switch back to the rubber spatula to finish thickening over low heat.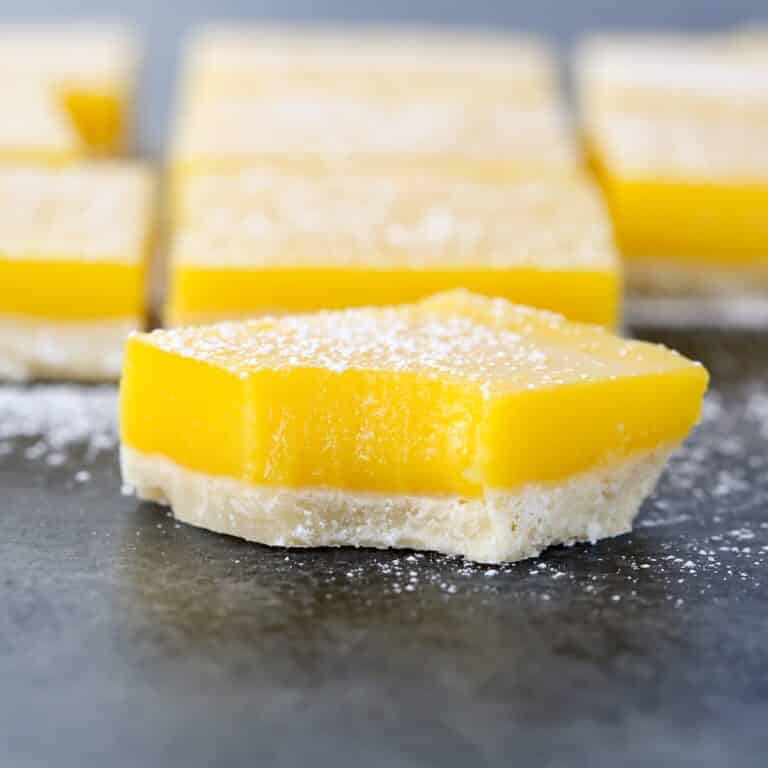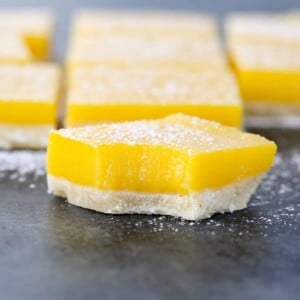 Lemon Bars
These Amazing Lemon Bars are made with a lot of lemon juice for a perfectly tart treat! A tender, sweet shortbread base and a soft texture sets them above the rest!
Ingredients
Makes:
8
inch
8
x
8
inch
rectangle
Instructions
Make the Lemon Curd:
Bloom gelatin in a tray of ice water (don't try to rush the gelatin), once it's bloomed squeeze it and set aside.

In a large sauce pot, whisk together eggs and yolks until smooth. Whisk in sugar and salt, and slowly whisk in the lemon juice. Be sure everything is perfectly homogenous or your bars will have streaks later. Cook over high heat, stirring constantly until nappant (you don't want to scramble your eggs!). Once it starts to thicken, lower the heat because you don't want it to boil. If it curds up faster than you're prepared for, give it a whisk to smooth it out. Remove from heat and stir in the butter. If you have lumps, pass it through a chinoise or sieve while it's still warm. add the bloomed gelatin, and if it doesn't melt you can briefly put it back on the stove.

To cool down the curd a little, pour it into a bowl with a piece of plastic wrap on top while you wait for the crust to finish baking.

You can also make this ahead and refrigerate or freeze. To use, place curd in a bowl set over simmering water. Gently reheat it until it is smooth. Whisk if needed.
Bake Crust:
Mix together all crust ingredients in a stand mixer with paddle attachment on low until a smooth dough forms.

Parchment line a 8×8 baking pan (I like to make wings so I can lift up my lemon bars later)

Break up dough so it's even in the pan, and press into the pan

Bake at 350°F until the crust is golden brown and set, it takes about 10 minutes if you're using a metal pan (20 if you're using glass).
Finish Bars:
Pour your curd into baked crust. Use a spatula to spread the curd so it's nice and even. Cool in the refrigerator until set, which will take at least two hours (maybe even overnight). Wrap. Can dust the top with confectioners sugar or frosting!
Nutrition
Calories:
250
kcal
|
Carbohydrates:
25
g
|
Protein:
3
g
|
Fat:
16
g
|
Saturated Fat:
9
g
|
Polyunsaturated Fat:
1
g
|
Monounsaturated Fat:
4
g
|
Trans Fat:
1
g
|
Cholesterol:
118
mg
|
Sodium:
196
mg
|
Potassium:
41
mg
|
Fiber:
0.3
g
|
Sugar:
17
g
|
Vitamin A:
535
IU
|
Vitamin C:
4
mg
|
Calcium:
17
mg
|
Iron:
1
mg
Like this? Leave a comment below!