This Lemon Berry Trifle is an easy, delicious dessert. Bright and flavorful from the layers of lemon whipped cream, berries and pound cake.
I told you not a crumb of the perfect sour cream pound cake would go to waste.
Not. One. Crumb. It's not how I roll.
You know I do roll with a good food pun or two, and it has taken ALL my self-control to refrain from dropping the Trifle Puns all at once. I put one in my stories when I first filmed the video for this epic dessert, and so few people appreciated my humor, that I am now self-conscious that I'm the only person who finds me funny.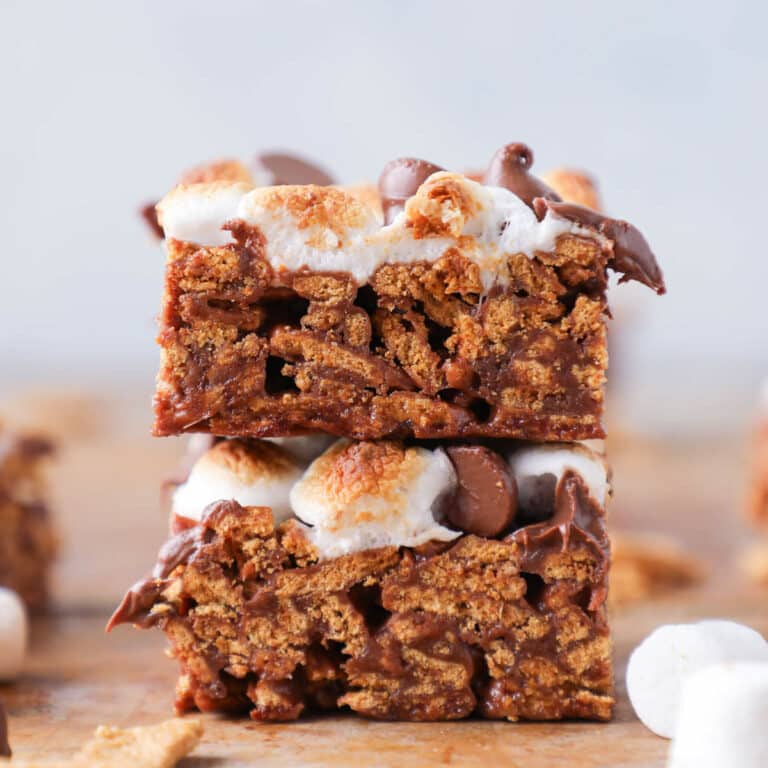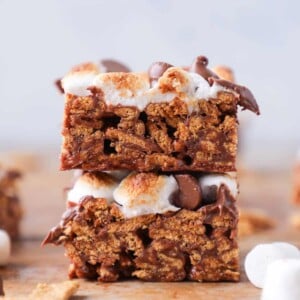 This Lemon Berry Trifle is a showstopper that seems to beg for a celebration! Like, I dunno, an ENGAGEMENT! [That is what I call burying the lead. And all the puns.]
That's right, over the 4th of July my boyfriend and I got engaged on the beach where I summered growing up. Perfection. You know what else would have been perfection? Eating this Lemon Berry Trifle in celebration! We did have a Cucumber Pimm's Cup or three!
Honestly, I feel like trifles are a trifle underappreciated. They are a bit like tiramisu where the whole is more than the sum of its parts. The cream soaks into the cake and the berries begin to relax and release some of their juices. One big happy layered family!
I vowed to be cool about the layers: not to be too obsessive and go full Pastry Chef on it. In truth, I sort of succeeded. The tweezers didn't make an appearance until the very top layer, and I consider that to be a success!
If my Classic Strawberry Shortcake has anything to say about it, it's hard for me to miss a good lemon and berry combination. In this case, I could not resist employing one of my favorite tricks; folding in lemon curd to give an extra punch of lemon flavor for the lemon curd whipped cream layers. I most recently did this in my lemon swiss meringue buttercream. The result is magical and so much better than using zest or extract to flavor. 
If you don't love lemon, then you can absolutely just use plain whipped cream with vanilla extract or vanilla bean paste. Also delightful and even easier.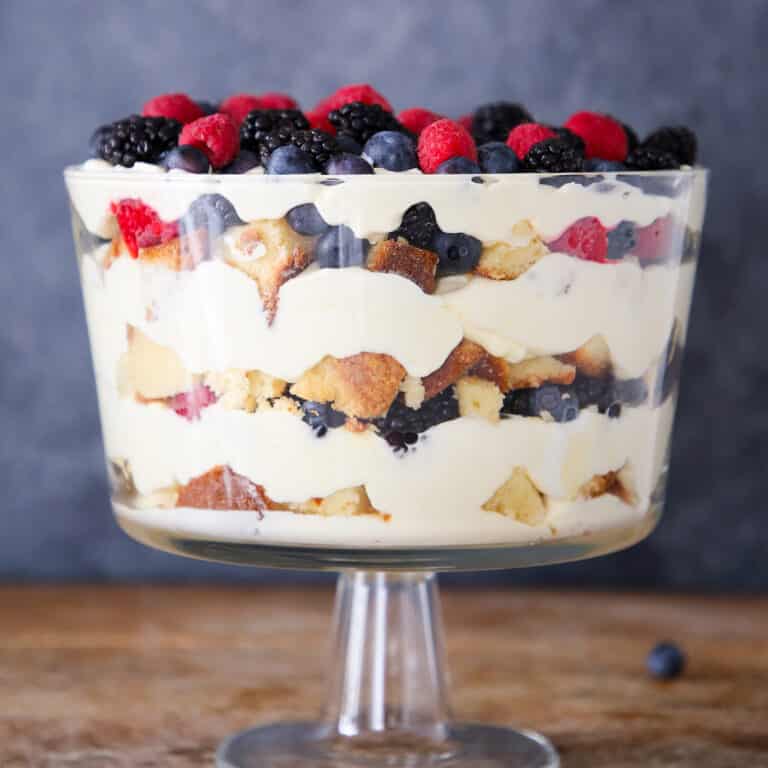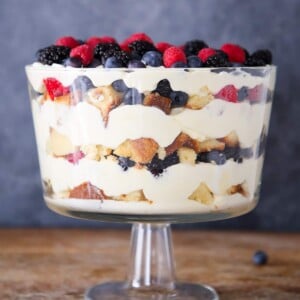 Lemon Berry Trifle
This Lemon Berry Trifle is an easy, delicious dessert. Bright and flavorful from the layers of lemon whipped cream, berries and pound cake.
Instructions
Brace yourselves for the simplicity.

Whip the heavy cream to stiff peaks and fold in the lemon curd, rotating the bowl as you fold so as not to deflate the cream.

Begin assembling your trifle! Start with a little whipped cream at the base and then layer in the following order: pound cake, whipped cream to cover, and berries. Repeat until you reach the top ending with berries!

Refrigerate until ready to use. This can be made up to a week in advance. Yes, a whole week! It is delicious immediately but it does benefit from an overnight stay in the refrigerator to let the flavors begin to meld.
Notes
I used half of my Sour Cream Pound Cake. You could also use 1 large loaf of store-bought pound cake or cake of your choice.
Yield: 1, 3 Quart Trifle Dish
Nutrition
Calories:
378
kcal
|
Carbohydrates:
61
g
|
Protein:
5
g
|
Fat:
13
g
|
Saturated Fat:
7
g
|
Polyunsaturated Fat:
1
g
|
Monounsaturated Fat:
3
g
|
Trans Fat:
1
g
|
Cholesterol:
99
mg
|
Sodium:
517
mg
|
Potassium:
110
mg
|
Fiber:
1
g
|
Sugar:
43
g
|
Vitamin A:
473
IU
|
Vitamin C:
1
mg
|
Calcium:
68
mg
|
Iron:
2
mg
Like this? Leave a comment below!