Healthy Beef Stroganoff: All of the familiar flavor with none of the guilt! Beef and mushrooms come together in a creamy wine sauce that tastes 100% decadent!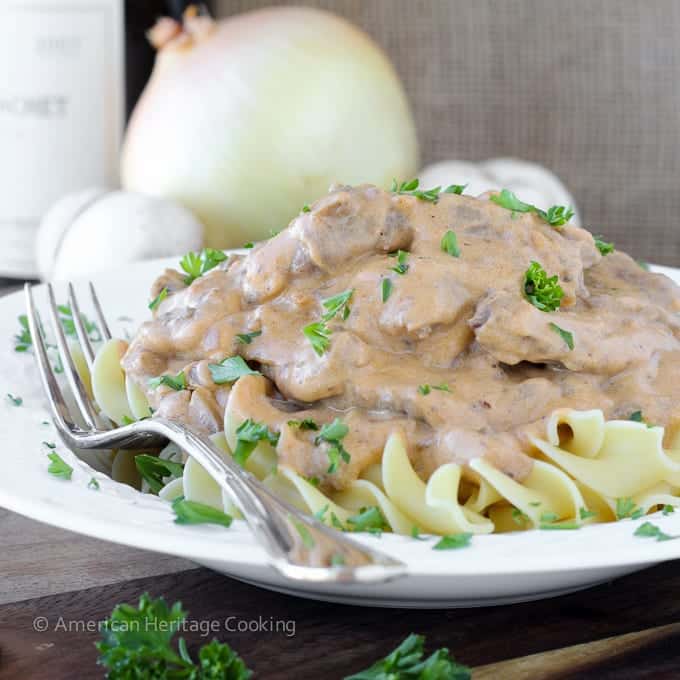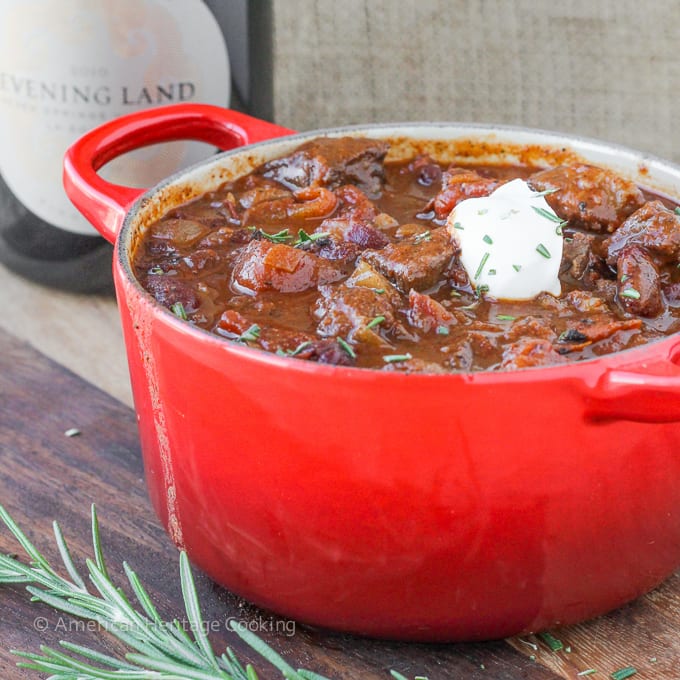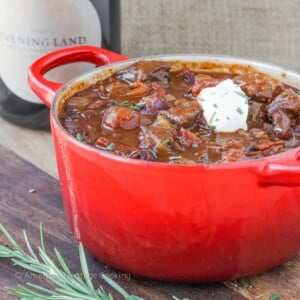 Come warmer months all I want to eat is warm comforting dishes like creamy baked mushroom pork chops, chicken paprikash, beef melt, and chipotle chicken chili.
As hard as it is, I must resist the temptation to eat like this every night. My solution is to lighten up our favorites whenever possible! This year I started with my Husband's favorite: beef stroganoff.
This is also one of my dad's favorite meals. Growing up we generally only got to eat it on his birthday because my mom preferred lighter, healthier fare. Today, in honor of my dad's birthday I've lightened up his favorite meal!
I preserved the required creamy sauce by stirring in 2% Greek yogurt instead of sour cream. It tastes sinfully creamy and rich! No one will ever know that you cut out all the sour cream and only used 1 tablespoon of butter.
The secret behind building great flavor in a simple dish like this one is using quality ingredients: fresh mushrooms, quality wine and homemade beef stock (or organic, low sodium).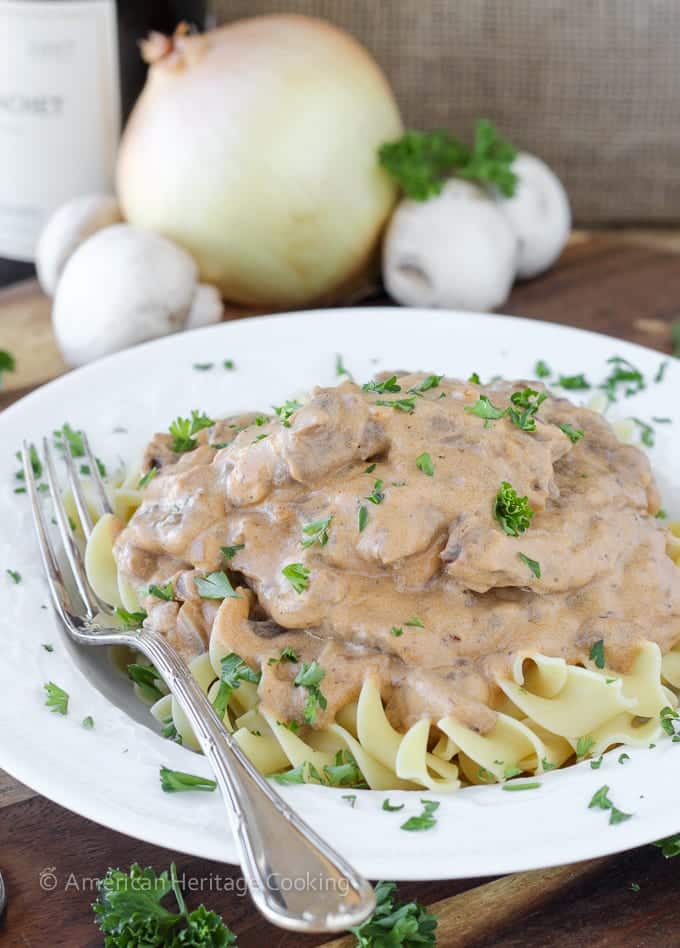 The success of this healthy beef stroganoff depends on your mis en place (have all ingredients measured and at the ready from the start) and having your yogurt is at room temperature before it is added to the sauce.
The first time I made beef stroganoff I had to make it twice to get my husband's approval, but he LOVED this healthier version the first time. He said that he couldn't even tell that it was made without sour cream. High praise indeed!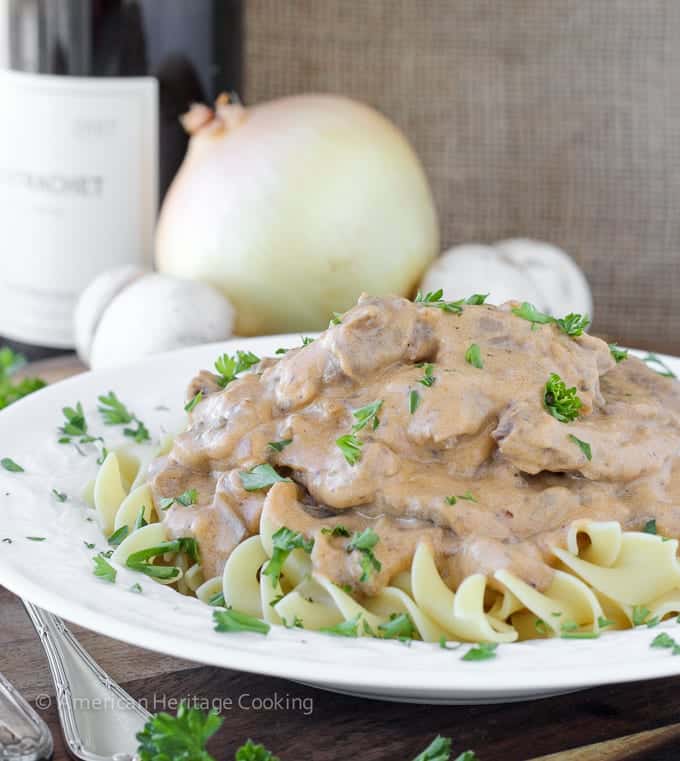 This recipe is very easy, but it does require constant attention especially because I've reduced the sautéing oil to a bare minimum. Without a lot of oil or butter, the onions and garlic and sauce can easily burn. I think a bit of attention is worth the reduction in fat! And like we know from my Best French Onion Soup recipe, good things come to those who wait!
The sauce tastes positively decadent, which is perfect for a special occasion like a birthday but also easy enough for a weekly date-night or family meal!
Even the leftovers were outstanding!
On a side note, I have made beef stroganoff with light sour cream and it doesn't taste the same. It just didn't have the same creamy, sinful mouthfeel as the original. For the same reasons I wouldn't recommend using fat free Greek yogurt or regular, non-Greek, yogurt. I prefer the taste and thickness of Fage 2%, and that is what I used to develop this recipe.
Kitchen Tip: What to do with the rest of the can of tomato paste when a recipe, like this one, only uses 1 tablespoon? You could freeze it all in a plastic baggie or in a Tupperware container, but then you have to thaw the whole thing to get a tablespoon. I like to drop the remaining tomato paste by the tablespoon, drop cookie style, on a piece of wax paper in two rows. Place the wax paper on a cookie sheet and freeze for 2 hours. Place another piece of wax paper on top and press gently to flatten. Cut the paper so that you have two tomato paste disks in each paper strip; stack them inside a ziptop plastic baggie; label; and freeze! I don't usually even bother to thaw the disks before using.
Healthier Beef Stroganoff
Healthy Beef Stroganoff: All of the familiar flavor with none of the guilt! Beef and mushrooms come together in a creamy wine sauce that tastes 100% decadent!
Ingredients
1

pound

sirloin steak

cut into thin strips against the grain

1

tablespoon

flour

½

teaspoon

kosher salt

¼

teaspoon

black pepper

2

tablespoons

olive oil

10

ounces

mushrooms

chopped

½

cup

yellow onion

finely chopped

1

clove

garlic

minced

¼

cup

dry white wine

divided

1

tablespoon

butter

2-3

tablespoons

flour

1

tablespoon

tomato paste

2 ½

cups

beef broth

Homemade or Reduced Fat Organic

1

cup

2% Greek yogurt

room temperature. Don't use fat free. I use Fage

12

oz

Hot egg noodles

cooked according to package directions
Instructions
Add the beef broth to a small saucepan and reduce, uncovered, over high heat until it is approximately ¾ cup. I do this while I chop my onions and prep the rest of the ingredients. This recipe works best when all ingredients have been pre-measured and are ready to add!

In a medium bowl, whisk together the flour, salt and pepper. Toss the sliced steak in the flour to coat.

Heat a large pan or Dutch oven over medium heat until hot but not smoking hot. Brown the meat in several batches on both sides. Be careful not to crowd the pan or the meat will steam instead of brown. By the time I am done placing all the meat in the pan, I start flipping the first pieces. Once the meat is brown, remove it from the pan and place it on a plate, cover to keep warm. Set aside.

In the same pan add a few teaspoons more oil if necessary and sauté the onions until they begin to release their juices then add the garlic, stirring frequently to keep from burning. Once the onions are translucent, add the mushrooms and continue to cook until they are tender and have reduced in size.

Deglaze the pan with 2 tablespoons of the white wine, stirring and scraping the bottom to get all the browned bits. Reduce the heat to low.

Add the butter and stir until it is melted. Next add the 2 tablespoons of flour to the mushroom mixture. I used 3 tablespoons of flour but I like my stroganoff thick. Your call. Stir to incorporate all the flour.

Add the tomato paste and reduced beef broth and remaining 2 tablespoons white wine to the mushroom mixture. Stir to mix. Continue to cook over low heat, stirring continuously until thickened. Cook at least 3 minutes to eliminate the flour taste. Add the browned meat back into the skillet with any accumulated juices. Stir to incorporate.

Remove pan from heat and stir in the yogurt. Place back over the heat and continue stirring until the stroganoff has warmed and the sauce has thickened to your liking.

Serve immediately over hot egg noodles.
Nutrition
Calories:
461
kcal
|
Carbohydrates:
51
g
|
Protein:
31
g
|
Fat:
14
g
|
Saturated Fat:
4
g
|
Polyunsaturated Fat:
2
g
|
Monounsaturated Fat:
6
g
|
Trans Fat:
1
g
|
Cholesterol:
101
mg
|
Sodium:
672
mg
|
Potassium:
663
mg
|
Fiber:
3
g
|
Sugar:
6
g
|
Vitamin A:
160
IU
|
Vitamin C:
3
mg
|
Calcium:
94
mg
|
Iron:
3
mg
Like this? Leave a comment below!