In this Roast Beef Swiss Melt crusty bread surrounds juicy roast beef au jus with a perfectly melted layer of Swiss cheese. Coarse grained Dijon mustard and horseradish perfectly compliment the roast beef.
Perfection if I do say so myself.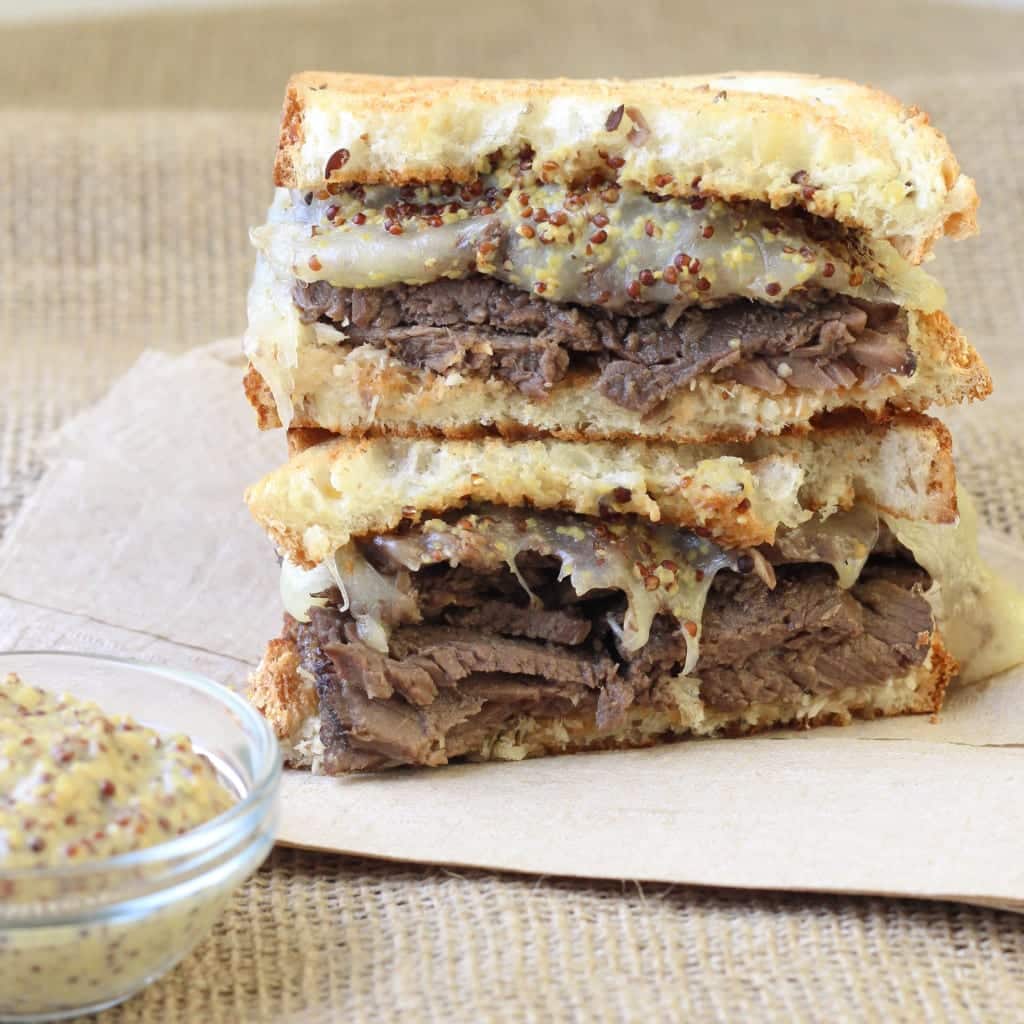 When I proposed this sandwich using the left over roast beef from this Pot Roast my Husband got really excited. I've never seen my husband get so excited about a sandwich!
Wait for it...
That cheese dripping in the bottom right hand corner tells you it's going to be good!
All that was standing between us and my vision of the perfect roast beef Swiss melt was horseradish.
My husband offered to run to the store. He braved the most recent Atlanta Snowpocalypse just get some horseradish. You see what I mean?
Excited. About a sandwich.
But not just any sandwich. A Roast Beef Swiss Melt made with the most delicious roast beef I've ever had.
This sandwich is similar to a French dip, except the thinly sliced roast beef is tossed in the thickened braising liquid prior to building the sandwich. I really don't like French Dips. I think they're gross: the bland sandwich get dipped into the jus, which adds some much needed flavor at the expense of the crusty bread.
Soggy mess.
Not my thing.
Not in my creation. No soggy bread and no lack of flavor!
This Roast Beef Swiss Melt was hands down the best roast beef sandwich I've ever had. Crazy good.

I'd like to thank my Husband for being my hand model for these photos. No one models melty cheese better than him! 🙂
Recipe
Roast Beef Swiss Melt
Thinly sliced roast beef au jus is layered with coarse grained mustard, horseradish and smothered in melted Swiss cheese in this sensational sandwich!
Instructions
Thinly slice your roast beef and toss in the thickened braising liquid. I just warmed the sliced roast beef in the original Dutch oven over medium heat; stirring frequently.

Line a baking sheet with aluminum foil and preheat your broiler.

Toast two pieces of bread and spread a thin layer of horseradish on one side. Place the toasted bread horseradish side up on your baking sheet.

Layer sliced roast beef onto horseradish to your desired height.

Place a slice of Swiss cheese on top of each open-faced sandwich and place under the broiler until the cheese is melted.

While the sandwich is broiling, toast two more slices of bread and spread a thin layer of coarse grained mustard on one side of each.

Remove sandwiches from the oven and top with second slice of bread, cut in half, and serve immediately.
Notes
Yield: 2 Sandwiches
If you are not fortunate enough to have left over pot roast sitting around, you can use sliced deli roast beef. It will still be delicious.