This Bourbon Pecan Pie is rich, smooth and not too sweet. The flaky vodka pie crust balances the sweet filling and gives it a buttery base. The alcohol bakes out and leaves all the delicious whiskey flavors behind!
Why You Will Love this Bourbon Pecan Pie
Balanced Bourbon flavor. There is just enough bourbon in the pie filling to enhance the flavor but not overpower the brown sugar pecans.
Secret tip for a perfect, never runny, filling. I am giving you my professional pastry chef tip for a filling guaranteed never to be runny!
Easy pie filling. Use pre-chopped pecans and a store-bought crust to make this the easiest pie you'll make this year!
Less sweet than other pecan pies. This recipe uses dark brown sugar and light corn syrup rather than dark corn syrup. Light corn syrup is less sweet than the dark variety and keeps the pie from becoming cloying. Bourbon and a little kosher salt also round out the flavors.
Professional Tips for Making Bourbon Pecan Pie
Add the pecans right before baking. I add the pecans to the filling right before baking so they don't get soft but be sure they are coated in the filling for the perfect top. There is something special about that little bit of sugar that caramelizes on the top of pecan pie.
Partially bake the pie crust. I know a lot of recipes say you don't have to but if you want to be guaranteed a flaky, crispy crust that stays that way after baking, you must par-bake the pie crust. This also free you to bake the pie at the ideal temperature for the filling, which is 275°F.
Pre-cook the filling. Pre-cooking your filling gently to 130°F before baking not only speeds up the baking process but makes the filling thicker, creamier and richer tasting! You can also bake this pie 100% in the oven to the same effect but it will take longer.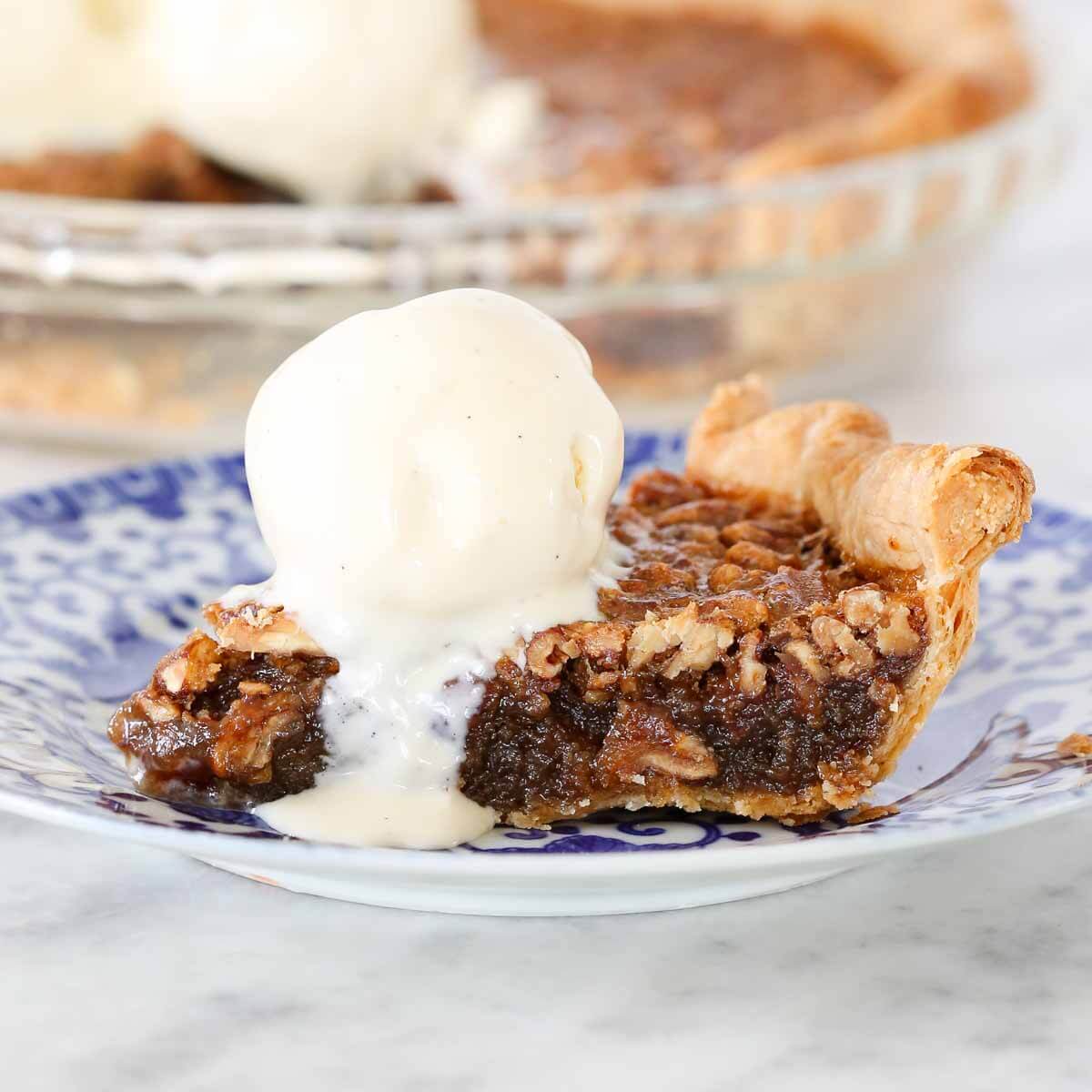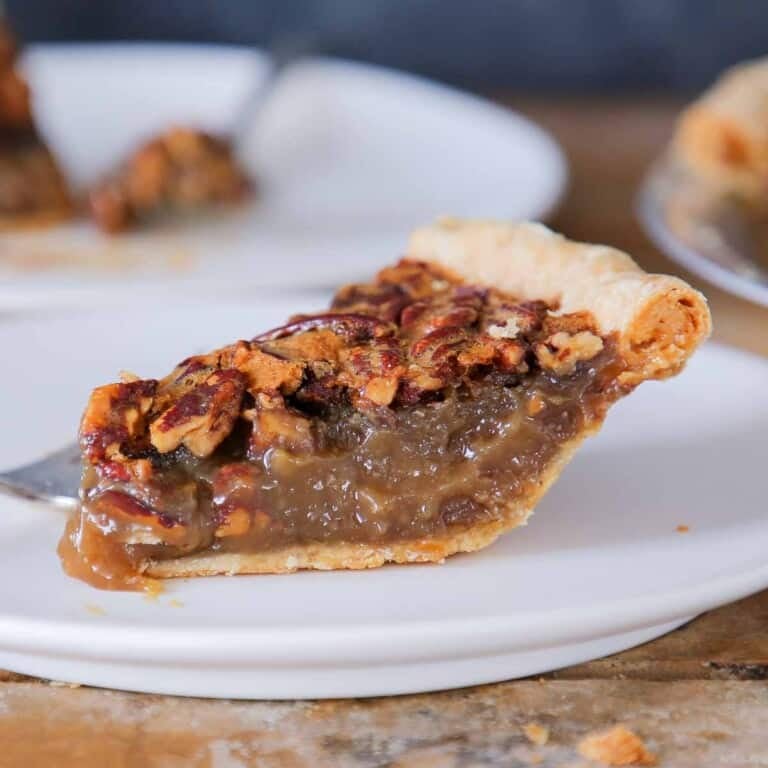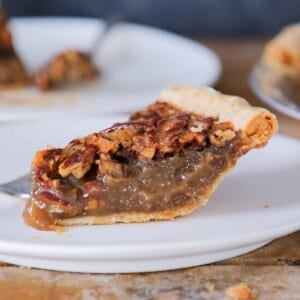 Ingredients Needed
Butter: I use unsalted butter in pies to ensure the perfect balance of flavors.
Dark Brown Sugar: Using dark brown sugar adds sweetness along with a nice, rich molasses flavor.
Kosher Salt: Kosher salt is less salty than table salt and a teaspoon weighs less than other finer ground varieties. It will keep your pie from tasting dull or flat and helps dampen the sweetness.
Whole Egg: The egg in a baked custard like buttermilk pie or pumpkin pie is integral to thickening the custard.
Light Corn Syrup: The corn syrup is here to thicken the pie filling. You can substitute the light corn syrup with glucose, golden syrup, or omit it completely. If you omit the corn syrup, you run a greater risk of the pecan pie filling being runny.
Vanilla Extract
Pecans: I use toasted, chopped pecans. Toasting them heightens the nutty flavor and balances out the sweet filling. Chopping them (or buying them chopped) means you can slice the pie easier and the pecans are more evenly distributed.
Pie Dough: You will either need a store-bought pie crust or enough dough to make a single crust pie. I love the flavors of this all butter pie crust or my vodka pie crust with this pie. The all butter crust balances the sweetness of the filling for the perfect bite. Plus the soft filling contrasts with the flaky pie crust on the bottom and the toasted pecans on the top. Perfection.
Bourbon whiskey: You can use any Bourbon or whiskey that you enjoy. While the alcohol bakes out, you will still taste the whiskey, so choosing one with a flavor or aroma that you like will ensure the best tasting pie. You can omit the bourbon and make the best pecan pie instead!
See the recipe card for full information on ingredients and quantities.
Variations & Substitutions
Add chocolate: Add up to a ½ cup chopped chocolate or chocolate chips to the filling for a classic Derby Pie! You can also pour salted caramel on top like I did with my chocolate pecan pie or bake it into a tart like this chocolate bourbon pecan tart.
Light corn syrup: You can substitute glucose syrup or golden syrup for the light corn syrup in pecan pie. You can also omit the corn syrup entirely but your filling will be looser. Some people add a few tablespoons of flour or cornstarch to the filling as a thickener, but the problem is that pecan pie filling should not boil so you will absolutely taste the raw starch flavor and the real thickening power of the cornstarch will be lost.
Try other nuts! Did you know that other nuts taste great in pie?! Try toasted walnuts, hazelnuts or macadamia nuts, or do a mix of your favorite! I do recommend chopping any and all other nuts for the best results.
Try it with maple syrup: Substitute ½ cup maple syrup for the corn syrup like I do in my pecan pie bars.
How to Make Bourbon Pecan Pie
Use these instructions to make perfect whiskey pecan pie every time! Further details and measurements can be found in the recipe card below.
Par-Bake your pie crust:
Step 1: Preheat oven to 350°F convection or 375°F conventional. If using homemade pie dough, roll out one portion of pie dough on a lightly floured surface until about 1/8th inch thick. Chill 30 minutes flat on a baking sheet.
Step 2: Place chilled dough on top of a 9 inch pie dish or tin. Allow to warm up just enough to be workable. Lift up the edges and allow it to settle on the bottom. Gently press the sides to fit the dish allowing the edges to overhang the dish. Start on one side and roll the edges under towards the dish. Roll until you reach the dish then gently press it down on the dish to seal. Repeat with the rest of the crust.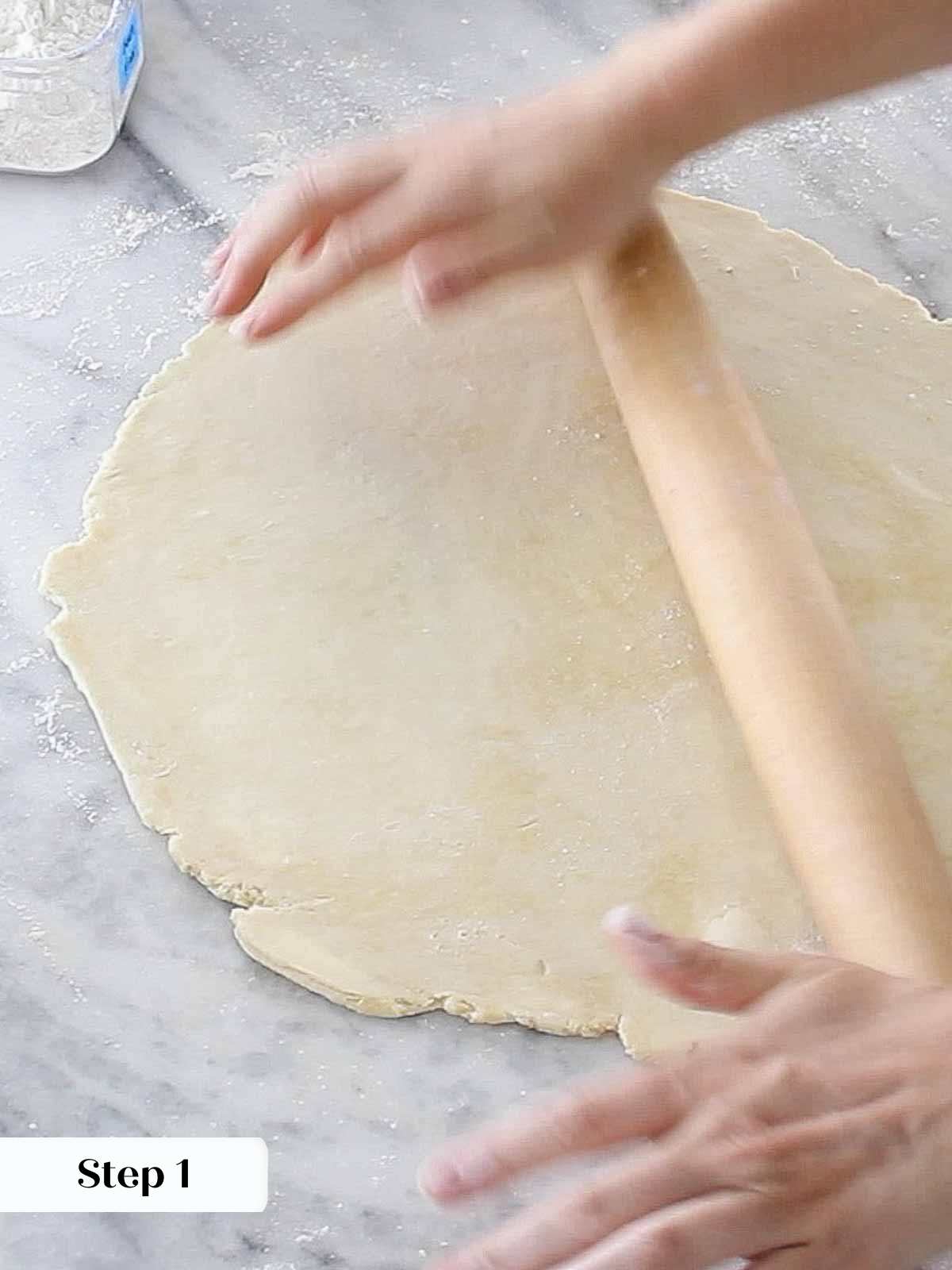 Step 3: Flute the edges by pressing one knuckle on the outside and two knuckles around it from the inside of the crust. Chill for 10-30 minutes depending on how warm it got.
I always crumple my parchment paper into a tight ball and then unroll it before lining my pie crusts for par baking. This softens the paper and allows it to form to the shape of the crust without poking it or allowing huge gaps.
Step 4: Line the inside of the chilled crust with parchment. Fill with pie weights, beans or rice. I find beans work best. Bake crust 15-20 minutes and then remove the weights and parchment. I remove the parchment and weights when the crust has just begun to brown and doesn't look raw anymore. Find more instructions and tips in this tutorial on how to blind bake pie crust.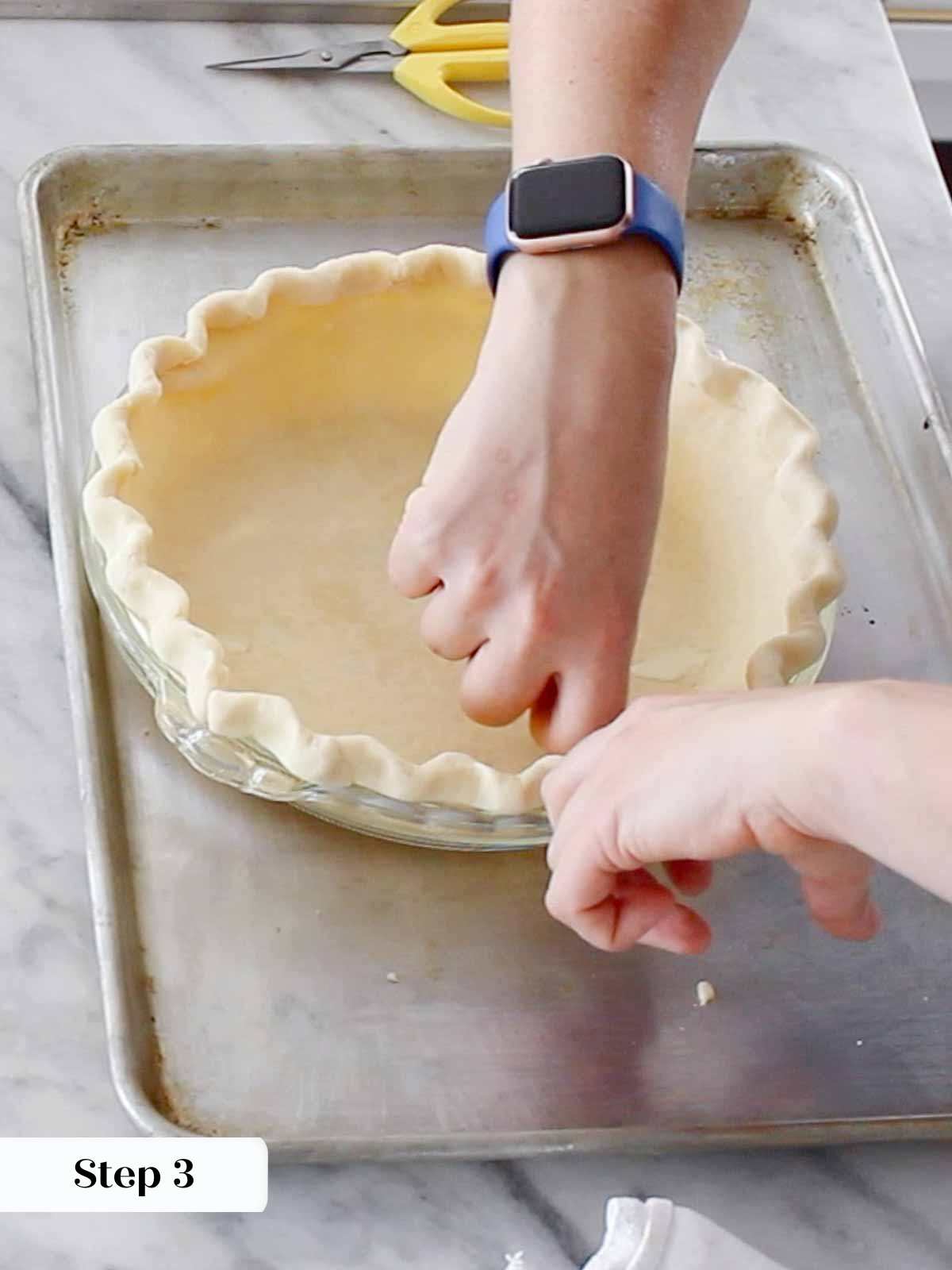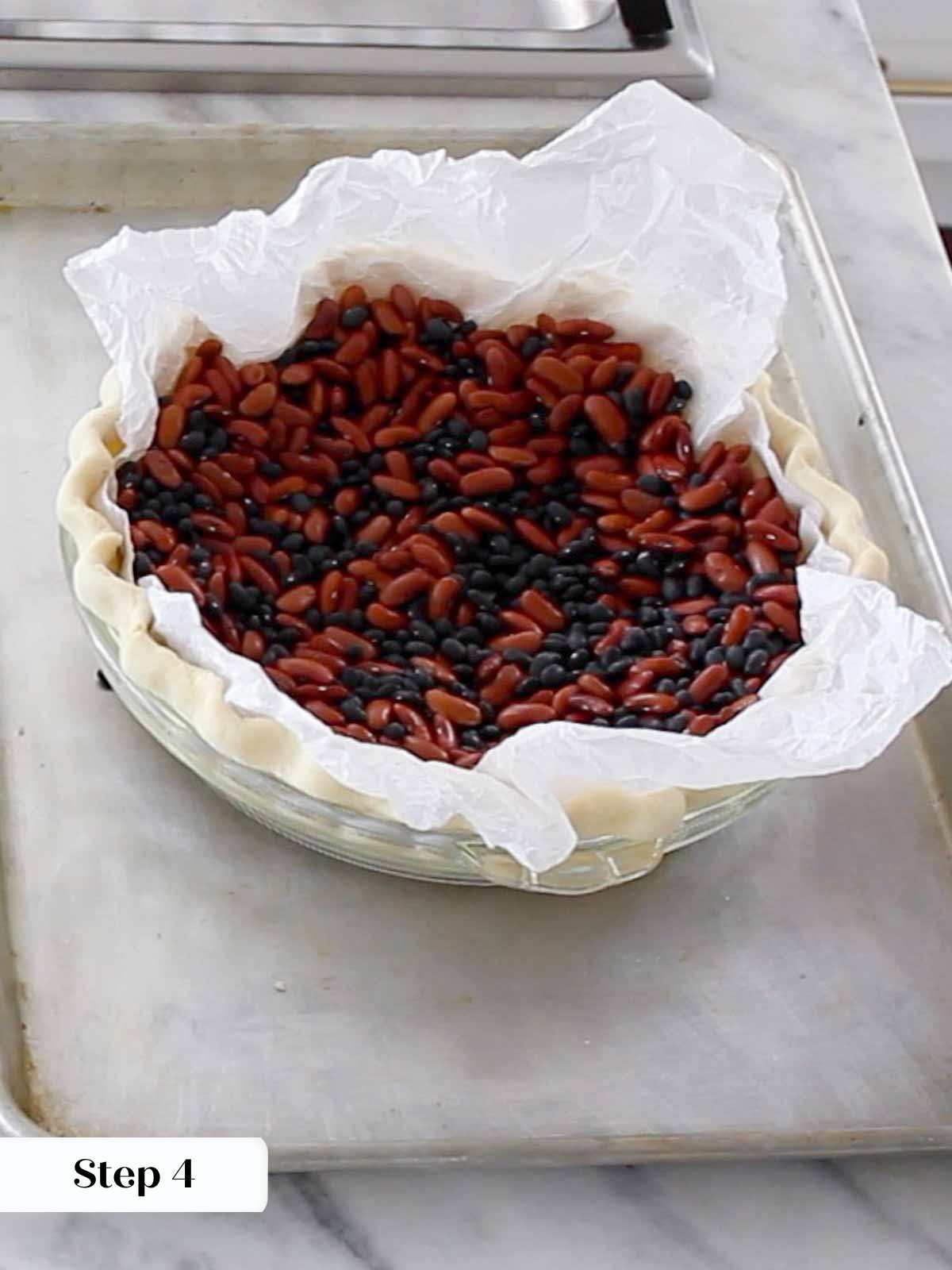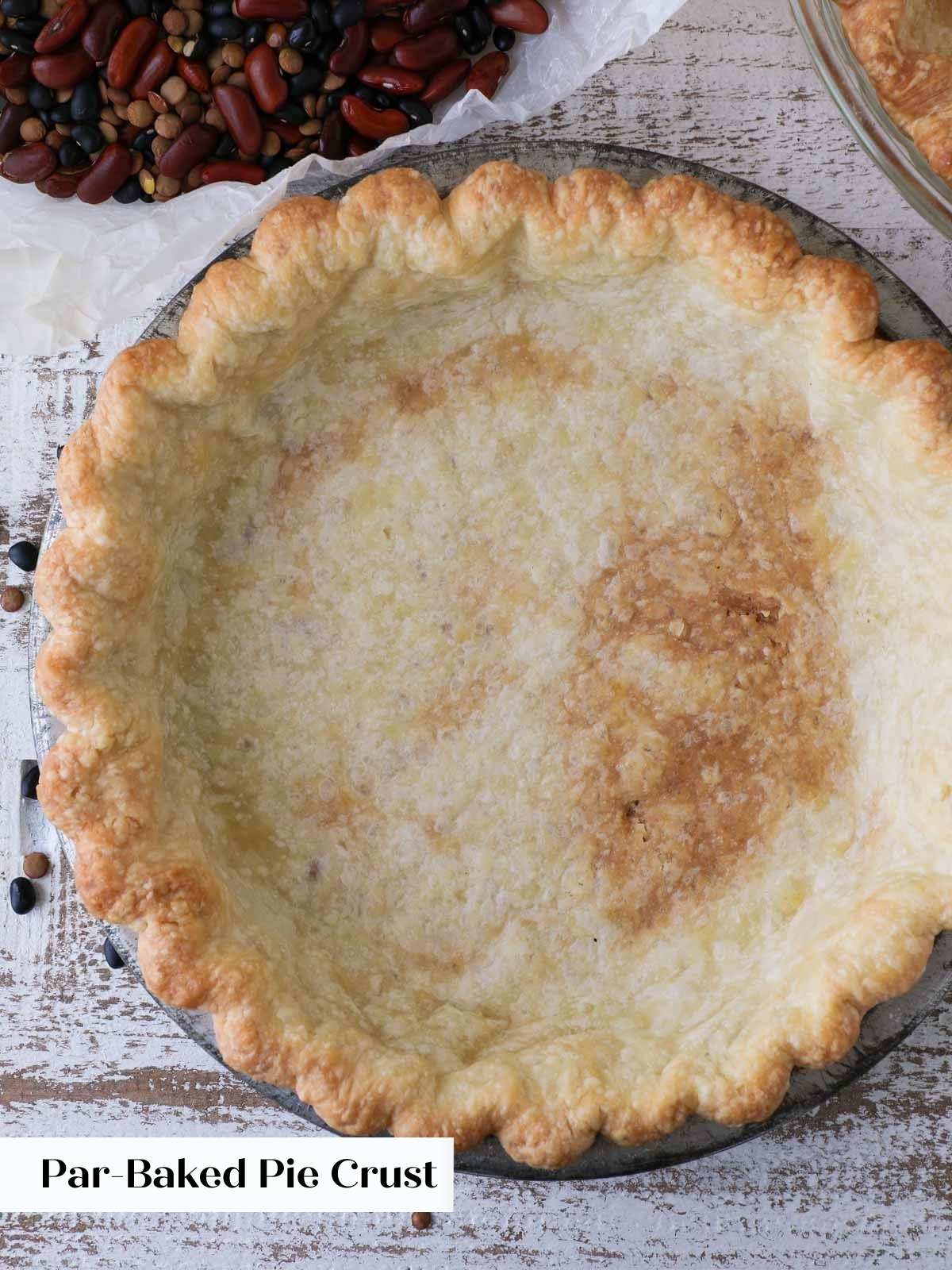 I prepare my pecan pie filling while my crust is baking. The crust can also be par-baked 3 days in advance.
Make & bake the pie:
Step 5: In a medium, heat-proof bowl positioned over a simmering double boiler, melt the butter. Remove the bowl from the heat and stir in the sugar and salt until they are completely absorbed into the butter. It will look like an emulsified bread batter.
Step 6: Whisk in eggs, then the corn syrup, Bourbon and vanilla until smooth.
Step 7: Return the bowl to the double boiler and stir until a thermometer reads 130°F or the mixture is shiny and hot to the touch. Remove from the heat and stir in pecans.
Remember that this step is optional. If you skip pre-cooking the filling, then your final bake time will be closer to 1 ¼ hours.
Step 8: Pour pecan mixture into the partially baked crust. Bake until the filling looks set but yields like Jell-O when gently pressed with the back of the spoon or your fingers.
Chef Lindsey's Recipe Tip
Let pie cool complete on a wire rack before cutting. This will make the perfect slice!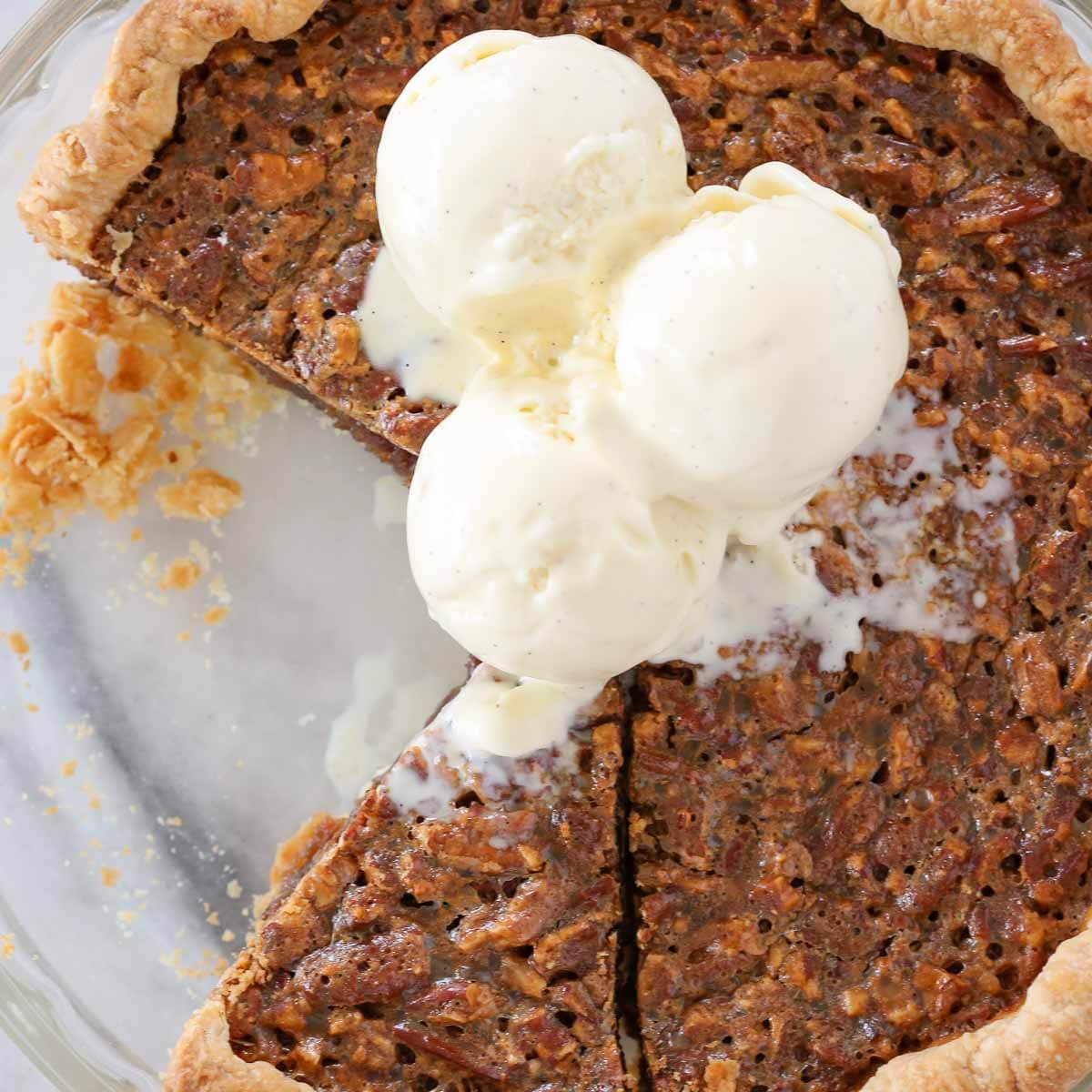 Frequently Asked Questions
How to store Bourbon pecan pie?
Store Bourbon pecan pie for up to 5 days at room temperature, 10 days in the refrigerator or 3 months frozen. It tastes good room temperature, refrigerated or even frozen!
What is the best bourbon for pecan pie?
You will taste it in the baked pie, so choose a bourbon that you enjoy. If you don't like the taste of straight whiskey, find one that has a pleasant aroma. This will be similar to the flavors in the final pie.
What does bourbon pecan pie taste like?
Bourbon pecan pie tastes like a less sweet pecan pie. The whiskey is mellow and enhances the flavors of the pecans and brown sugar filling.
Does the alcohol cook out of pie?
The alcohol does bake out of pie, but there are always trace amounts that remain even after a prolonged bake. If that is not desired, simply omit the alcohol.
How do you make pecan pie crust not soggy?
I partially bake my pie crust to keep it from getting soggy. I know a lot of recipes say you don't have to but if you want to be guaranteed a flaky, crispy crust that stays that way after baking, you must par-bake the pie crust. Pecan pie filling does not like a hot oven and it will separate and curdle, so I take the time to bake the crust separately for the perfect pie.
If you tried this recipe and loved it please leave a 🌟 star rating and let me know how it goes in the comments below. I love hearing from you; your comments make my day!
Bourbon Pecan Pie
This Bourbon Pecan Pie is creamy, rich and nutty! My vodka all butter pie crust adds the perfect flaky, buttery base for the pecan pie of your dreams!
Instructions
Par Bake Crust:
Preheat oven to 350°F.

Roll chilled pie dough to a little less than ¼ inch thick. Place in pie dish 9-9.5". Chill completely, approximately 30-45 minutes.

Trim any excess dough that hangs over the edge more than ½ inch. Roll under and crimp decoratively. Chill completely.

Line with parchment, fill with baking beans or pie weights, bake 15 minutes before removing the parchment and weights. Continue baking until the bottom is golden brown.
Make Pie Filling:
Prepare filling while crust is resting prior to baking. In a medium bowl melt butter and whisk in sugar and salt. Add eggs. Whisk to incorporate.

Whisk in syrup, vanilla, and bourbon.

Cook over a double boiler (a bowl set over a pot filled with simmering water) until 130°F. Add nuts.

Pour into prepared, par-baked crust.

Bake at 275° until done. Approximately 40 minutes.
Notes
Yield: 1, 9-inch pie. For a deep dish, I recommend multiplying the filling by 1.5.
Technique – Pre-cooking the filling is optional but it allows you to bake the pie at a lower temperature and reduces the bake time by half.
Variations – Try adding up to ½ cup chocolate chips to the filling or use a different nut like walnuts!
Storage – Store pecan pie for up to 5 days at room temperature, 10 days in the refrigerator or 3 months frozen.
Nutrition
Calories:
294
kcal
|
Carbohydrates:
31
g
|
Protein:
3
g
|
Fat:
19
g
|
Saturated Fat:
5
g
|
Polyunsaturated Fat:
4
g
|
Monounsaturated Fat:
9
g
|
Trans Fat:
1
g
|
Cholesterol:
56
mg
|
Sodium:
268
mg
|
Potassium:
112
mg
|
Fiber:
2
g
|
Sugar:
29
g
|
Vitamin A:
244
IU
|
Vitamin C:
1
mg
|
Calcium:
37
mg
|
Iron:
1
mg
Like this? Leave a comment below!