This Classic Pecan Pie in a flakey fool-proof pie crust is rich, thick and seductively delicious. The filling is silky smooth and just sweet enough!
My Dad's favorite pie has always been Pecan Pie, and after tasting this classic recipe, I can understand why. It was just the right level of sweet, the filling tasted almost caramelized and set perfectly, the topping was crunchy and bursting with toasted pecan flavor. It was worth waiting until 10 PM to take our first bite.
How could we possibly have waited so long? Do we have that much self-control or did we eat that much stuffing?! Well it's kind of a funny story, or at least it may be a funny story in 10 years…
I am a bit of an obsessive organizer anyways but you can bet that when the new in-laws are coming into town for my first time ever hosting Thanksgiving, I am going to kick the obsessiveness up a notch.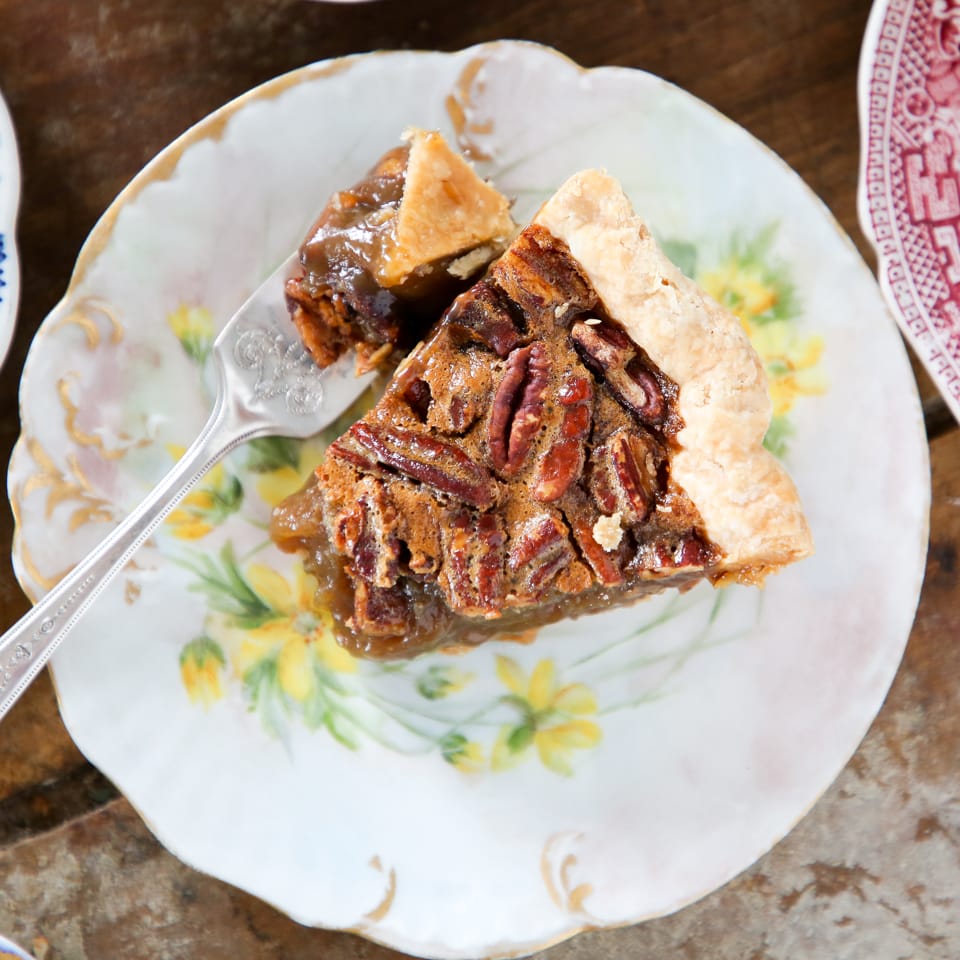 Two days before Thanksgiving I made my cranberry chutney, my pie-crusts, my homemade chicken stock. The day before I rolled out my crusts, baked my pumpkin pie, prepped all the ingredients for the stuffing, made the dough for the rolls and nestled them in their baking dish, readied my turkey for the oven, and reviewed my master timeline to make sure I hadn't forgotten anything (I hadn't).
I had the day-of cooking and preparation timed down to the minute. I had a timeline of events by Preparation, Oven, and Stovetop so that the kitchen would run like a well-orchestrated theater production.
So when I pulled my pre-baked piecrust out of the oven for my pecan pie at 10:00 AM and saw that the crust had shrunken excessively and looked too greasy, I almost lost it. I can make this piecrust recipe in my sleep! How could this have happened on Thanksgiving of all days? This was unacceptable. The piecrust and the pies would have to be remade. I don't tolerate subpar pie-crusts. Must. Not. Panic.
I shoved the turkey in the oven and set to re-making all the pie-crusts. This particular vodka crust needs to spend at least 5 hours, preferably overnight, in the refrigerator before you can roll it but we would have to make do. As soon as the last side dish came out of the oven, the pumpkin pie was shoved in. As soon as the pumpkin pie was safely cooling on a rack, in went the pecan pie.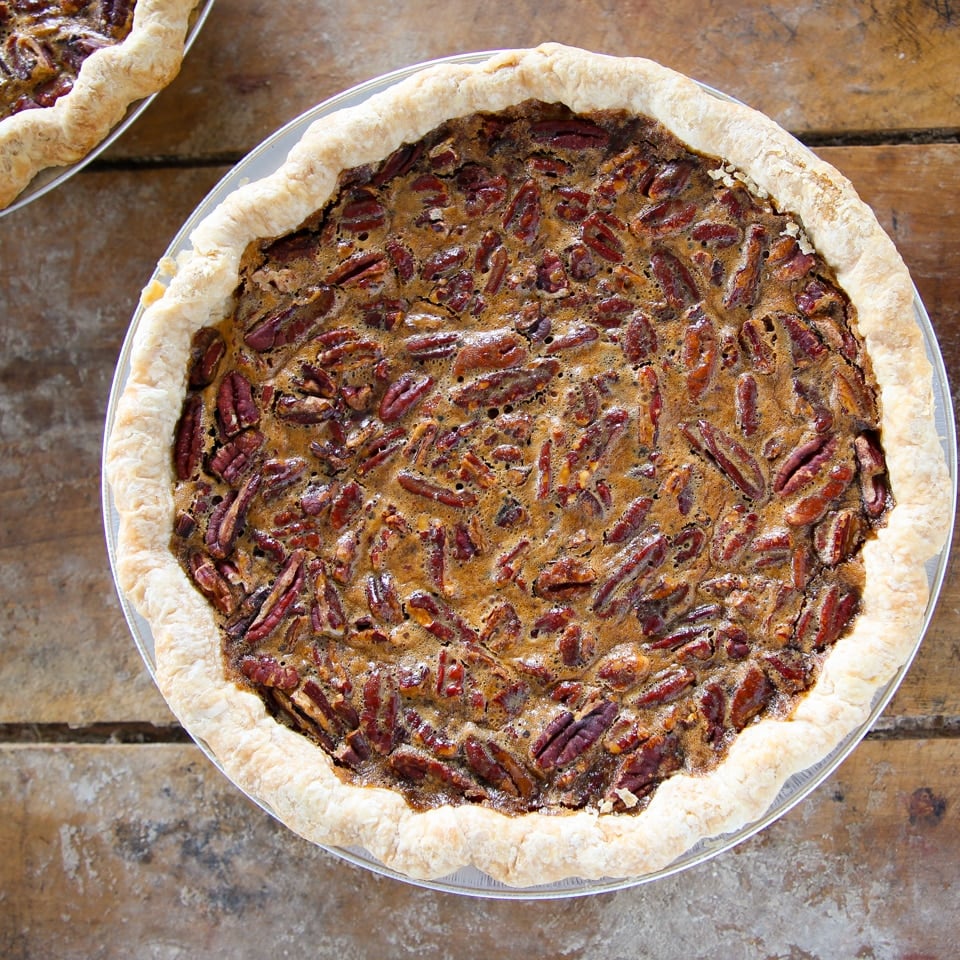 I shouldn't have worried because the crust is not the star of this pecan pie. The filling is so sensational that you hardly care if there is crust. Here the perfectly flakey crust becomes a backdrop for the main event.
Because of the Epic Piecrust Disaster the pecan pie filling sat over a simmering double boiler for 10 hours waiting for a crust. I think it might have actually made it better. I might make it that far in advance every time.
It should be noted that the piecrust recipe really is foolproof unless you forget to triple just one of the ingredients!
Recipe
Classic Pecan Pie
This Classic Pecan Pie in a flakey fool-proof pie crust is rich, thick and seductively delicious. The filling is silky smooth and just sweet enough!
Ingredients
1 partially baked deep-dish piecrust (Click here for instructions on how to pre-bake a piecrust, and here for my absolute favorite, no fail piecrust recipe!)
Makes:
9
inch
9
x
9
inch
round
Instructions
After you partially bake the crust, reduce the oven temperature to 275°F. The crust must still be warm or hot when you fill it, in order to ensure a crispy crust.

In a medium, heat-proof bowl positioned over a simmering double boiler, melt the butter. Remove the bowl from the heat and stir in the sugar and salt until they are completely absorbed into the butter. Whisk in eggs, then the corn syrup and vanilla until smooth.

Return the bowl to the double boiler and stir until a thermometer reads 130°F or the mixture is shiny and hot to the touch.

Remove from the heat and stir in pecans.

Pour pecan mixture into the warm, partially baked crust. Bake until the filling looks set but yields like Jell-O when gently pressed with the back of the spoon.

Let pie cool complete on a wire rack before cutting.
Notes
Per my experiences this Thanksgiving, you can make this filling several hours ahead through step 4 and then keep it warm over the gently simmering water until it is needed. I stirred the filling ever hour or so until my crust was ready. Simply pick up the instructions right back at #5 when you are ready.