Cherry Orange Molasses Cookies are chewy and flavored with dried tart cherries, orange zest, candied orange and pecans! Every bite is full of flavor.
Day 12 of the annual 12 Days of Christmas Cookies 2022!
These Chewy Cherry Orange Molasses Cookies are soft molasses cookies spiced with ginger and cinnamon. The spiced dough is flavored with orange zest for an orange spiced aroma and flavor. I've added chopped pecans for a little crunch, dried tart cherries for a balancing tart note and candied orange zest for more orange flavor! These cookies make excellent holiday cookies and are a fun way to mix up the usual chewy Molasses Cookies!
I candied my own orange zest for these delicious cookies but you could also use store-bought. Serve or send them alongside My Grandmother's Sugar Cookies, Browned Butter Cardamom Snickerdoodles, and traditional Raspberry Linzer Cookies for a well-balanced cookie tin!
Table of Contents
What type of molasses should you use for cherry orange molasses cookies?
I generally use unsulphered molasses. It has a lighter, milder flavor. This adds all the warm, winter notes without the bite of blackstrap molasses.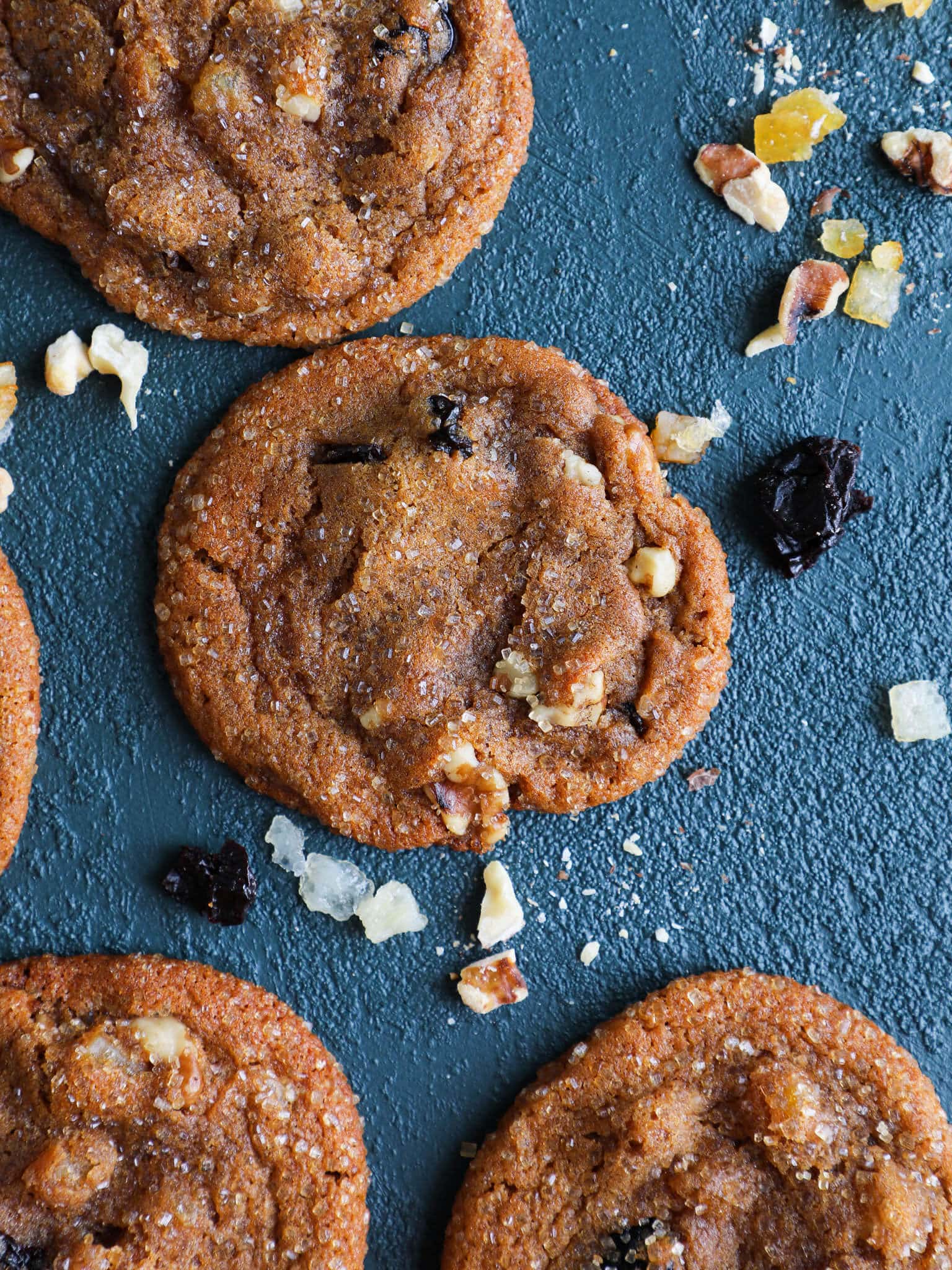 Cherry Orange Molasses Cookies Ingredients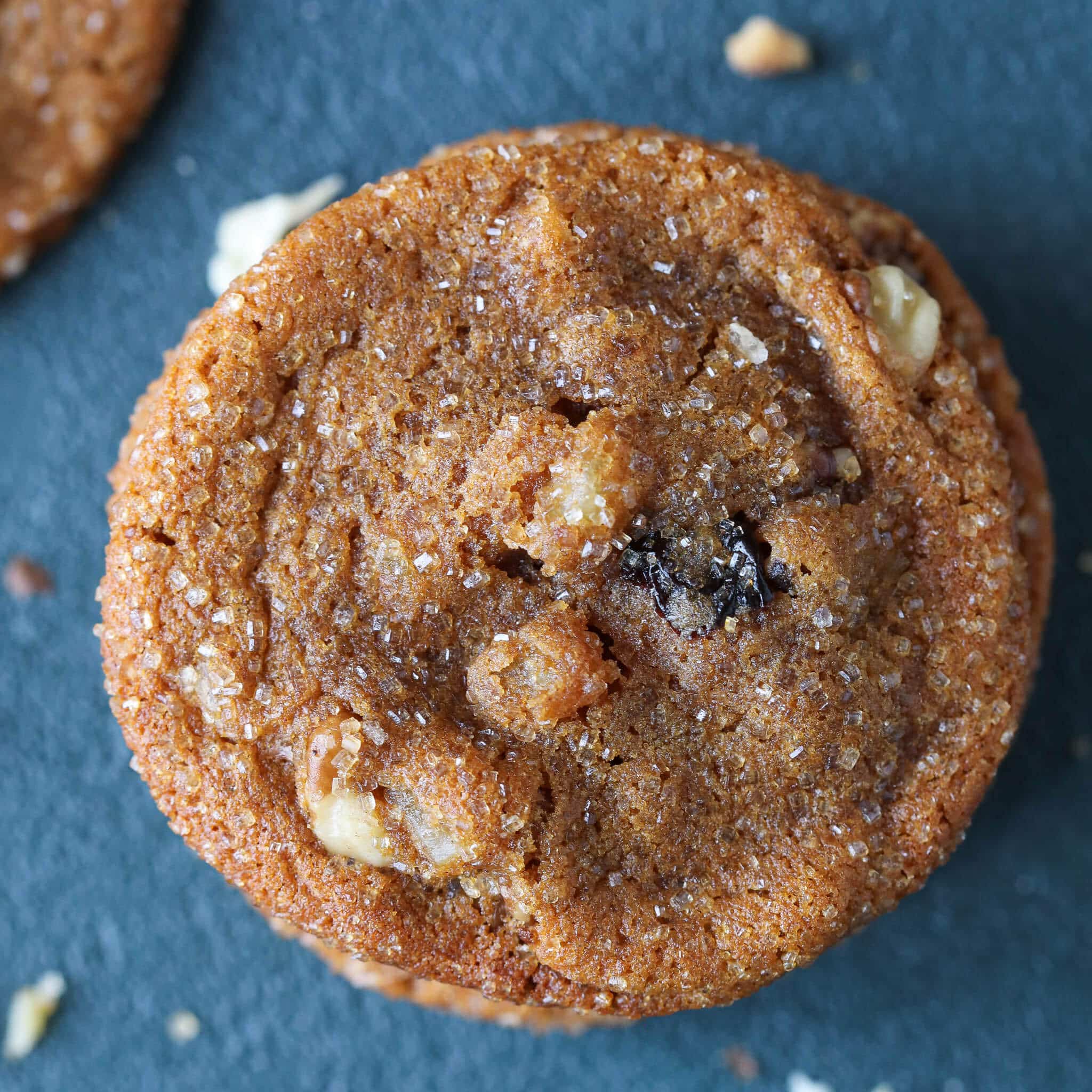 Substitutions
Nuts: I use chopped pecans but you could use any nut that you like. Walnuts would also be delightful.
Lemon: Flavor the cookie with lemon instead! Use fresh lemon zest to flavor the cookie dough and then mix in candied lemon zest instead. You could also use orange and lemon zest together.
Dress them Up: Instead of rolling the cookies in plain granulated sugar use green or red sanding sugar, or a mixture of both. You could also roll them in festive sprinkles or sparking sugar for extra holiday flair!
Frequently Asked Questions
How do you store cherry orange molasses sugar cookies?
I store them in an airtight container at room temperature or frozen. When they are stored in an airtight container, they will lose a bit of the crispness around the edge. You could leave a corner cracked but they will dry out faster.
How long will these cookies keep?
These cherry orange molasses sugar cookies will keep up to 10 days at room temperature or several months frozen.
Can you freeze these cherry orange molasses cookies?
You can freeze the baked cookies for up to 2 months, or freeze the cookie dough balls. Then you can bake them fresh at any time.
How do you bake these molasses cookies from frozen?
Roll the frozen cookie dough balls in granulated sugar right before baking. Bake at 350°F for 10-14 minutes straight from frozen! Bake until the edges have begun to brown, the centers are puffed, and the outside has begun to crack. The center should look matte rather than shiny.
Will these cookies ship?
These cookies ship wonderfully. Package in a decorative tin or just place in a zip-top bag in a mailer box. They keep for 10 days and they stay chewy for almost as long. The larger the cookie, the longer they stay chewy!
Will the recipe multiply?
You can make as large a batch of these chewy cherry orange molasses sugar cookies as you would like. A version of these were in the first Christmas Cookie Tin that my online pastry shop sold back in 2019, so I have made batches of thousands of these cookies. You are only limited by the size of your mixer.
Do I need to chill the cookie dough?
Since the butter and shortening were melted, these cookies do need to chill at least 2 hours before baking. Otherwise they will spread too much and they will not be chewy. Chilling the dough before baking will create thicker, chewier cookies. You can also freeze the dough.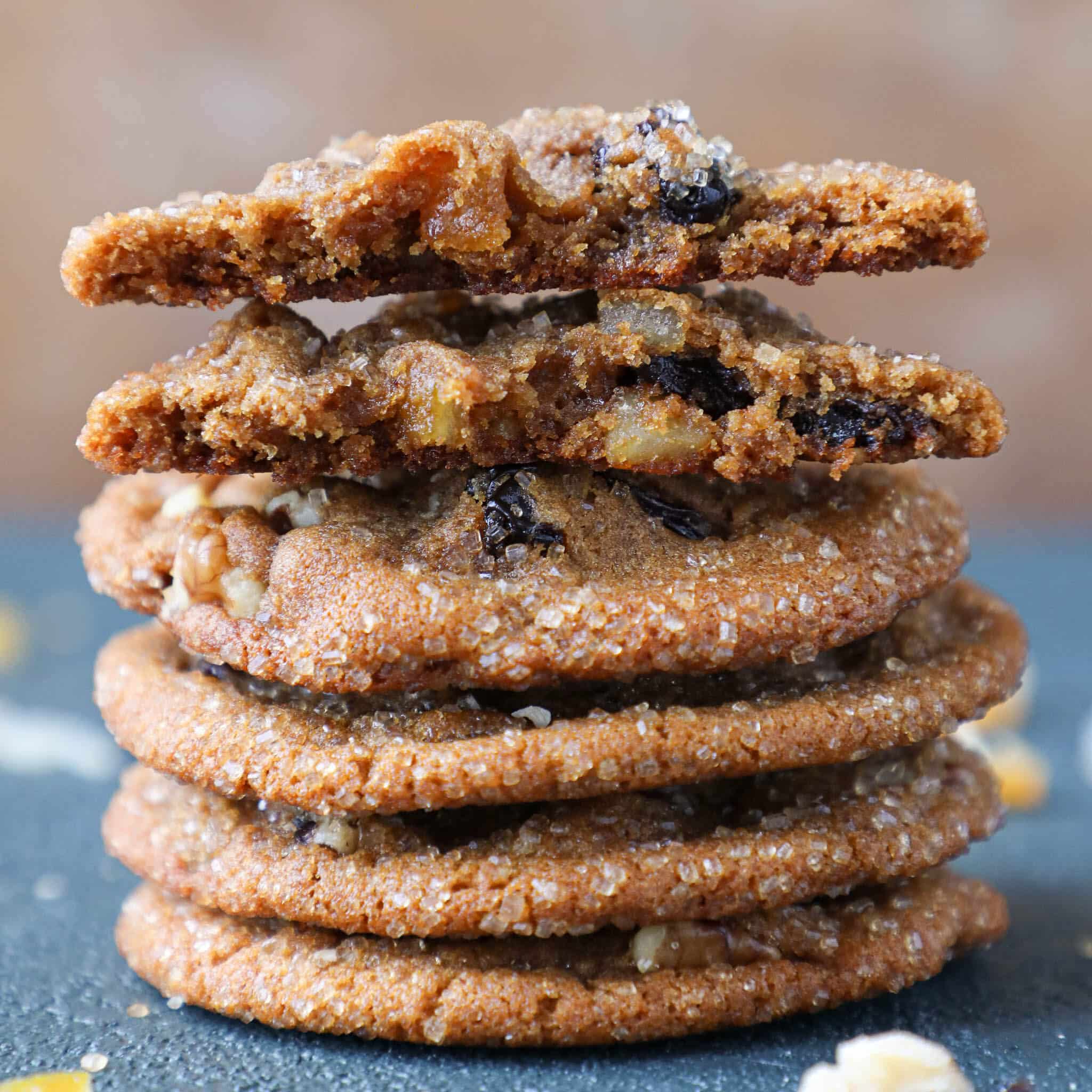 Chef Lindsey's Recipe Tips
For an extra boost of orange flavor, combine the orange zest with the granulated sugar for at least an hour before mixing the batter. The sugar pulls out the moisture and oils from the zest and flavors the sugar itself. I zest directly into the sugar and the massage the zest into the sugar to distribute it and get the process started.
Recipe
Cherry Orange Molasses Cookies
Cherry Orange Molasses Cookies are chewy and flavored with dried tart cherries, orange zest, candied orange and pecans! Every bite is full of flavor.
Instructions
Combine orange zest with sugar and allow to infuse while you measure and start the dough.

Melt shortening and butter together in a pan on low heat.

While the butter and shortening melt, sift together flour, soda, ginger, cinnamon and salt; whisk to evenly distribute spices and soda. Set aside.

In another large bowl add sugar, molasses and butter/shorting mixture; beat well with a hand mixer. Add eggs and beat well.

In two additions, add the flour mixture to the sugar mixture and stir on low speed. Add cherries, pecans and candied orange zest.

Chill until firm, at least 2 hours.

Preheat oven to 350°F and line two baking sheets with parchment.

Roll into balls approximately 1 ½ inches across, roll in sugar and place 2 inches apart on your prepared cookie sheet.

Bake in preheated oven 8-10 minutes. For mostly soft, chewy cookies, bake until the edges are brown and cracked but the centers are not. For crispy outsides and soft centers bake at least 10 minutes until the centers have started to crack.
Before You Go!
Check out our other delicious, chef-developed recipes for Cookies!