Chewy Browned Butter Cardamom Snickerdoodles are lightly seasoned with ground cardamom inside the cookie and in the classic snickerdoodle sugar coating. The browned butter gives them a faintly nutty taste and the perfect chewy, thick texture!
Day 11 of the annual 12 Days of Christmas Cookies 2022!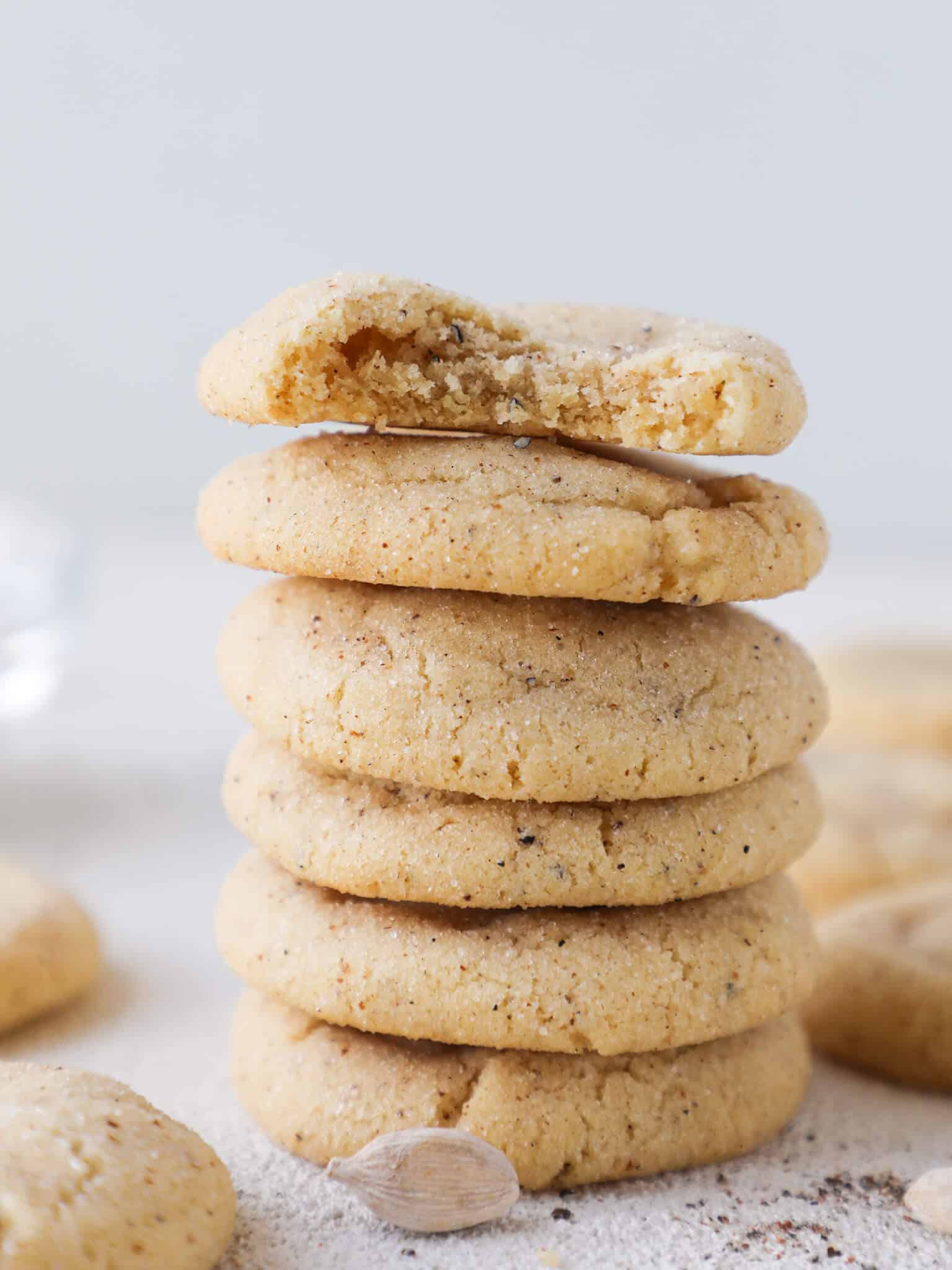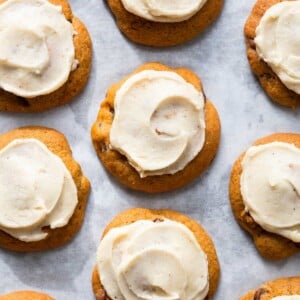 These Browned Butter Cardamom Snickerdoodles are a delicious flavorful twist on traditional snickerdoodle cookies. There is a touch of ground cardamom in the dough and in the sugar coating. This recipe calls for browning the butter and then allowing it to re-solidify for a light nutty flavor without affecting the classic chewy texture you want from snickerdoodles. Don't skip this step or they won't be this chewy!
I couldn't resist using my favorite spice in one of my favorite chewy cookies of all time! These would be a great addition to any cookie tray with Raspberry Linzer Cookies but also in an assortment of other cardamom-flavored favorites like my Rum Refrigerator Cookies, Cardamom Walnut Snowballs or Cardamom Crescent Cookies. I love a good themed cookie tray! Throw in some homemade speculoos cookies just for fun because they have a healthy dose of cardamom in the speculaas spice mix!
What kind of cardamom is used for baking?
The standard ground cardamom sold in stores is ground from the seeds of green cardamom pods. I also love the flavor of the seeds in white cardamom pods, but I find the flavor of those in black cardamom pods to be off-putting in baking. You could use it successfully as an infusion in savory applications.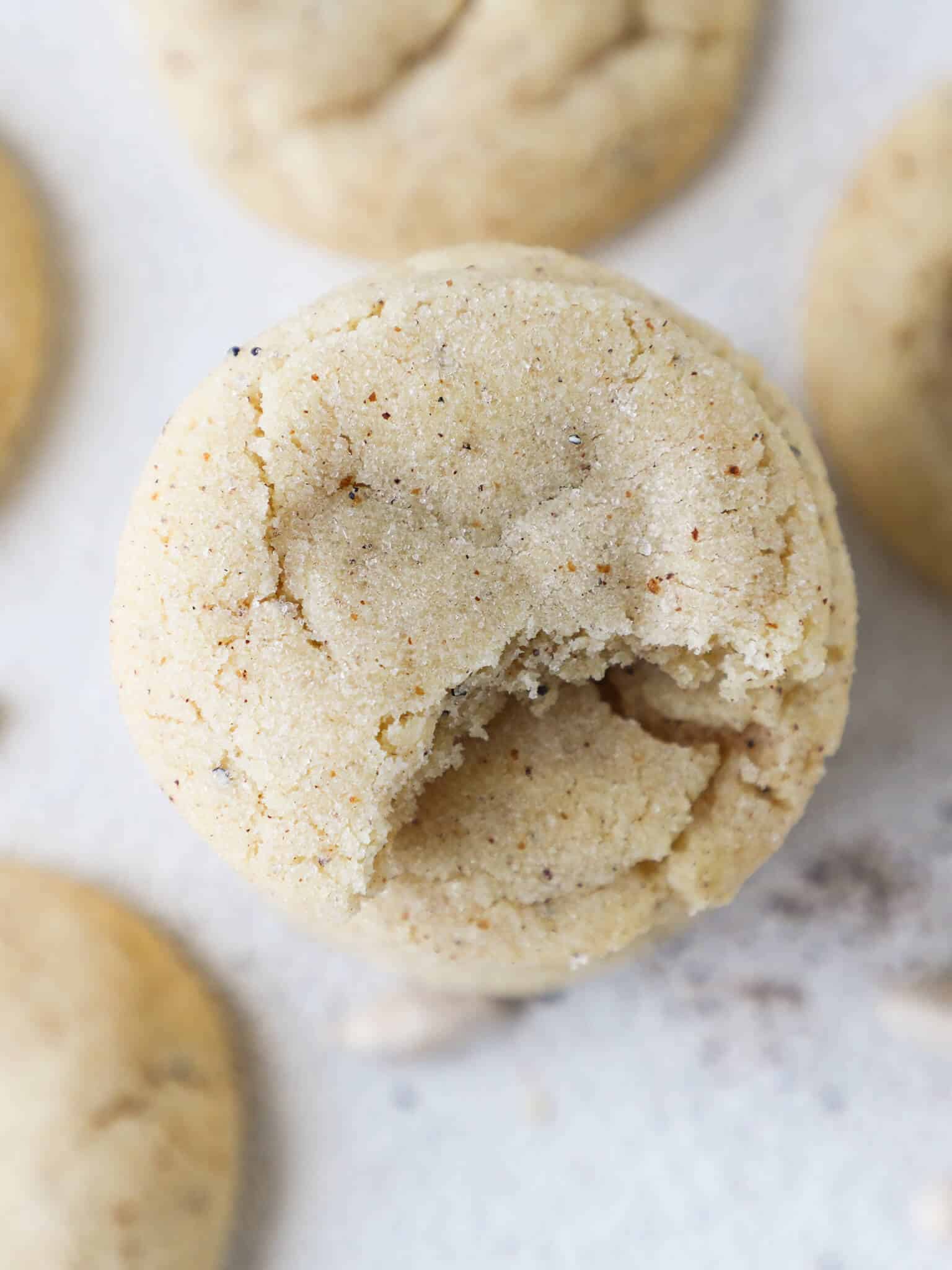 Can I substitute cardamom pods for ground cardamom?
If you cannot find ground cardamom, you can buy cardamom seeds or you can buy cardamom pods. Before grinding the cardamom pods, you must remove the pod and separate the seeds. This can be a bit tedious but it is better than substituting a different spice entirely.
Browned Butter Cardamom Snickerdoodle Ingredients
Butter: I use unsalted butter for baking, because you want to control the amount of salt you are adding.
Whole Egg: The eggs are here to add fat, moisture and leavening. Beating in the eggs just enough will add a little or a lot of leavening depending on the desired texture. Eggs also emulsify the batter and keep everything texturally perfect.
Baking Soda: Baking soda reacts with an acid, cream of tartar in this instance, to leaven the cookies. It reacts more powerfully than baking powder and will create a more dramatic rise, but will not continue to react in the heat of the oven or without the presence of an acid.
Granulated Sugar: Granulated sugar is here for sweetness, but if you add too much in proportion to the butter and flour, the cookies will spread rather than stay tall and chewy.
Vanilla Extract: Vanilla Extract adds a beautiful flavor itself but it also boosts the flavor of other ingredients.
Cream of Tartar: Cream of tartar is a byproduct of wine making and is very acidic. It adds that characteristic tanginess to the dough and also reacts with the baking soda for the dramatic pillowy texture I adore in my snickerdoodle recipes!
Ground Cardamom: I prefer to purchase cardamom seeds and grind them in smaller batches]. Recipes typically call for small amounts and pre-ground cardamom will lose its unique aroma and flavor over time. Sometimes pre-ground cardamom smells a little soapy whereas freshly ground cardamom is floral with citrus notes.
Kosher Salt: Kosher salt is lass salty than table salt and a teaspoon weighs less than other finer ground varieties. It heightens the flavor and will keep cookies from tasting dull or flat.
All-purpose flour: All-purpose flour has just the right amount of gluten to make soft, chewy cookies.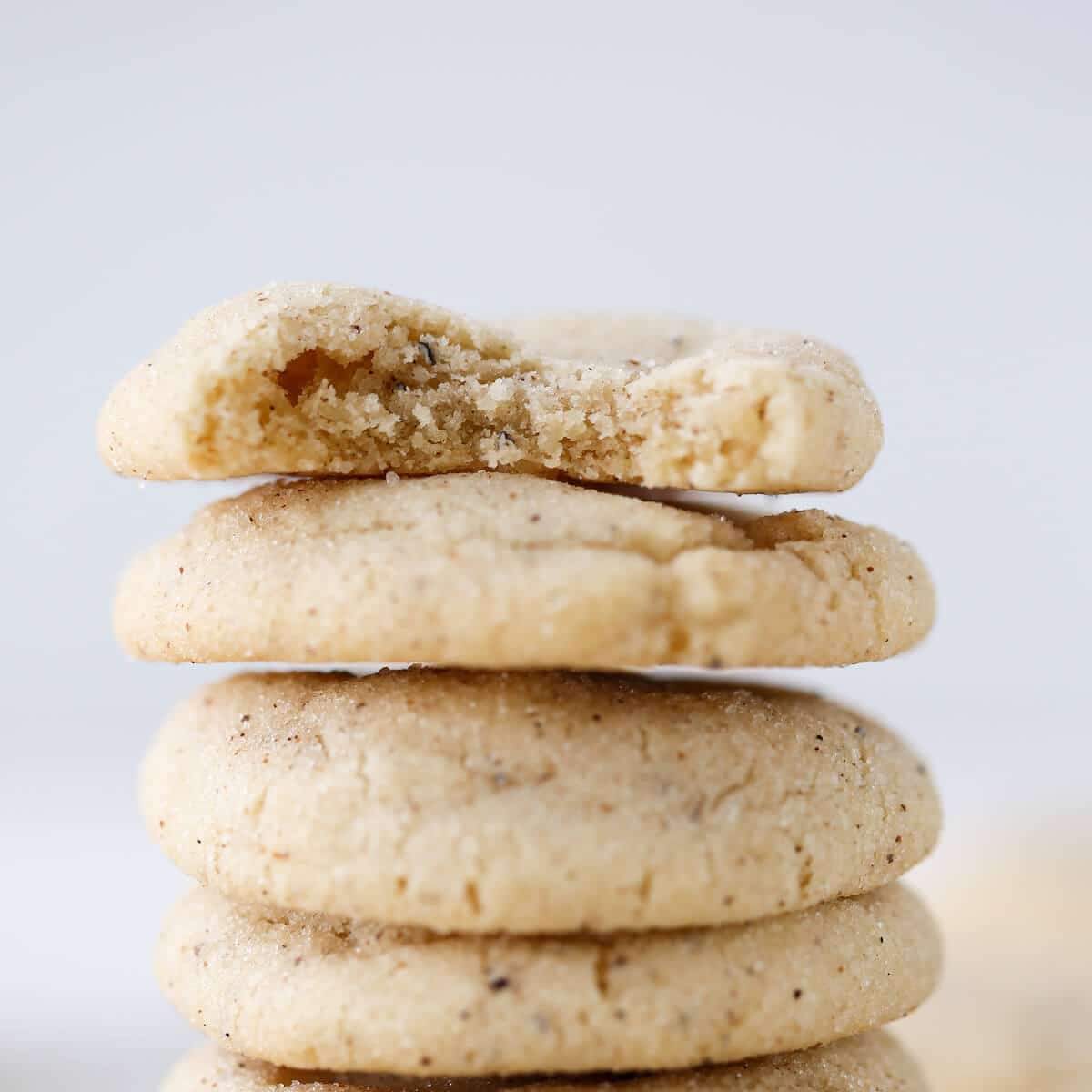 If you like cardamom, you will also love this cardamom pear crisp and this pear upside down cake!
Substitutions
Browned Butter: You do not have to brown your butter if you don't want to take the extra step; however, browned butter does have less moisture than regular butter. I would suggest adding 1 teaspoon ground cardamom to my Classic Chewy Snickerdoodles recipe rather than making this recipe with standard butter.
Cream of Tartar: Cream of tartar is what gives snickerdoodles that little bit of tang and contributes to the chewy texture. There is no substitute for it, sadly.
Spices: If you aren't into cardamom but you want a spiced snickerdoodle, then substitute pumpkin pie spice or apple pie spice. If using a spice mix instead, increase the amount from ¼ teaspoon to 1 teaspoon in the dry ingredients.
Frequently Asked Questions about Browned Butter Cardamom Snickerdoodles
How should I store these snickerdoodle cookies?
I store them in an airtight container at room temperature or frozen. When they are stored in an airtight container, they will lose a bit of the crispness around the edge. You could leave a corner cracked but they will dry out faster.
How long will homemade snickerdoodles keep?
These browned butter cardamom snickerdoodles will keep up to 10 days at room temperature or several months frozen.
Is it possible to freeze browned butter cardamom snickerdoodles?
You can freeze the baked cookies for up to 2 months, or freeze the cookie dough balls/logs. Then you can bake them fresh at any time.
Can I make larger batches of snickerdoodle cookies by multiplying the recipe?
You can make as large a batch of these browned butter cardamom snickerdoodles as you would like. You are only limited by the size of your mixer.
Can I bake snickerdoodles from frozen?
Roll the frozen cookie dough balls in granulated sugar right before baking. Bake at 350°F for 10-14 minutes straight from frozen! Bake until the edges have begun to brown, the centers are puffed and the outside has begun to crack. The center should look matte rather than shiny.
How do I ship snickerdoodle cookies?
These cookies ship wonderfully. Package in a decorative tin or just place in a zip-top bag in a mailer box. They keep for 10 days and they stay chewy for almost as long. The larger the cookie, the longer they stay chewy!
Do I have to chill snickerdoodle cookie dough before baking?
Chilling the dough before baking will create thicker, chewier cookies.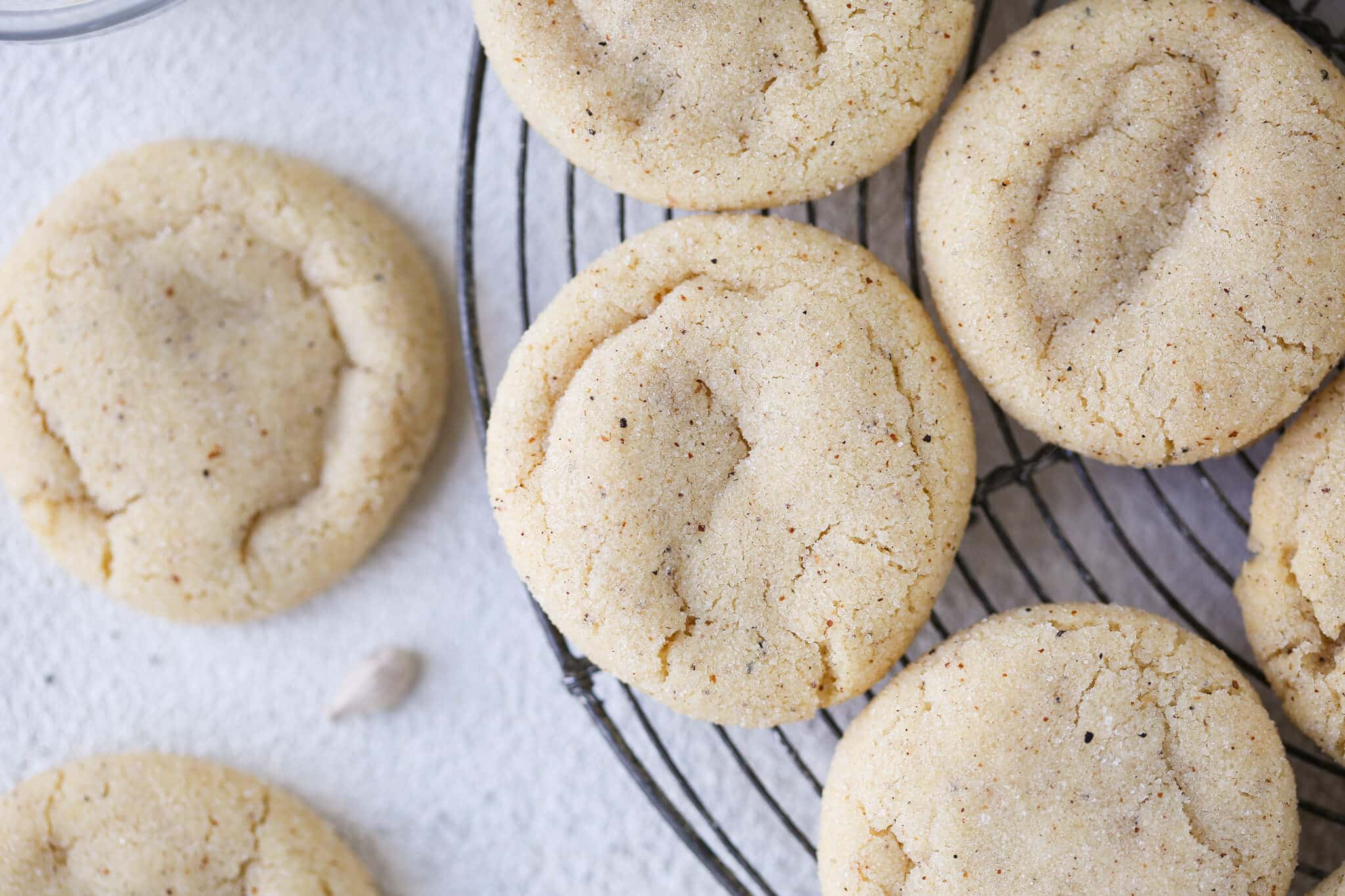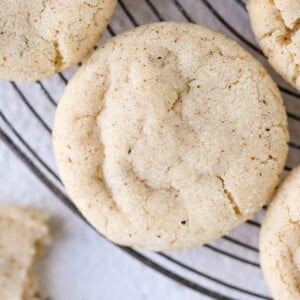 Browned Butter Cardamom Snickerdoodles
Chewy Browned Butter Cardamom Snickerdoodles are lightly seasoned with ground cardamom inside the cookie and in the classic snickerdoodle sugar coating. The browned butter gives them a faintly nutty taste and the perfect chewy, thick texture!
Instructions
Brown the Butter:
In a small saucepot, heat the butter over medium heat until it begins to brown. Stir the cooking butter occasionally to help it brown evenly. The butter is done when it smells nutty (like toasted hazelnuts) and is a light golden brown. Pour it out into a bowl to stop the cooking. Refrigerate until it has solidified but is still softened. You can make this ahead and refrigerate until completely hardened, but it will need to be softened like regular butter before mixing the cookie dough.
Mix the Dough:
In a medium bowl whisk together cream of tartar, baking soda, cardamom, salt and all-purpose flour. Set aside.

In the bowl of a stand mixer fitted with the paddle attachment or in a bowl with a hand mixer, cream softened browned butter and granulated sugar until combined. It should look like a paste.

Beat in the egg and vanilla extract.

Reduce mixer speed to low and add the dry ingredients in several additions, waiting to add more until the previous addition has almost been incorporated.

Scoop into balls about 1 inch across. Refrigerate 30 minutes to overnight for tall, chewy cookies.
Bake Cookies:
Preheat oven to 325°F convection or 350°F regular. Line two baking sheets with parchment paper.

In a small bowl, whisk together ground cardamom and granulated sugar for coating.

Working in batches, roll several chilled dough balls in the sugar mixture and place about 2 inches apart on baking sheets. Repeat with all the cookies.

Bake in preheated oven for about 9 minutes. They will puff and crack on top. The cookies will fall as they cool.
Nutrition
Calories:
82
kcal
|
Carbohydrates:
12
g
|
Protein:
1
g
|
Fat:
4
g
|
Saturated Fat:
2
g
|
Polyunsaturated Fat:
0.2
g
|
Monounsaturated Fat:
1
g
|
Trans Fat:
0.1
g
|
Cholesterol:
15
mg
|
Sodium:
45
mg
|
Potassium:
20
mg
|
Fiber:
0.2
g
|
Sugar:
7
g
|
Vitamin A:
114
IU
|
Vitamin C:
0.01
mg
|
Calcium:
3
mg
|
Iron:
0.3
mg
Like this? Leave a comment below!
Before You Go!
Check out our other delicious, chef-developed recipes for Cookies!