These chocolate tarts are incredibly easy and perfect for entertaining. The tender almond crust is filled with an irresistibly silky chocolate ganache!
You know 2020 has been a hot mess when an impending hurricane just feels kinda whatever! I can assure you these mini salted chocolate tarts are anything but whatever. In fact they have been known to make mundane evenings feel like Christmas.
Or at least that has been my own personal experience.
You can use any tart crust recipe for these but I love this almond tart crust recipe, because it adds a nice contrast to the richness of the chocolate ganache!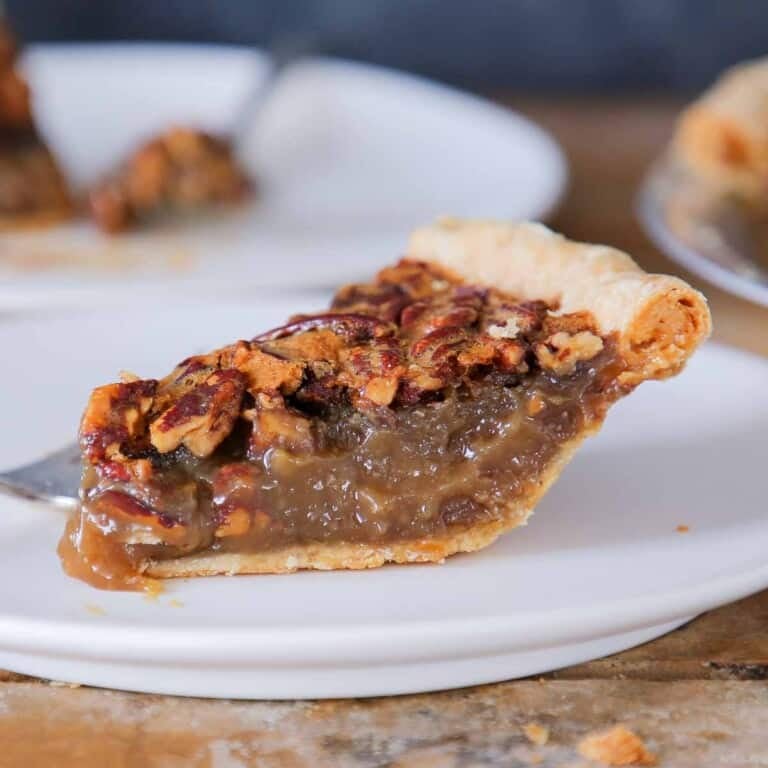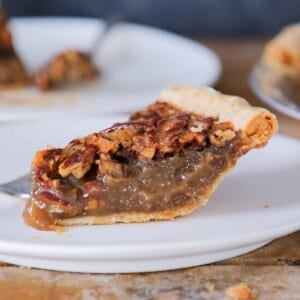 I used a 54% chocolate because that is what I have on hand. You can use any semi-sweet chocolate that you want (or whatever you dig out of your chocolate drawer).
A small digression: You cannot be a true, card-carrying chocoholic without at least one chocolate drawer. As the daughter of a real chocoholic, there were always several chocolate stashes growing up.
There was the everyday kitchen chocolate drawer, which housed the baking-type chocolate and impulse-purchased snacking chocolate bars. Then there was the harder to find chocolate truffle drawer, which was my favorite and that is where you could find all the good stuff.
And then…then, there was the "break in case of emergency" chocolate stash. Now this was not the best chocolate but it was just in case all the other stashes were empty and you NEEDED to get your chocolate fix. It was usually in the basement freezer, which as a pastry chef, I now know is the worst place for it, but it didn't matter. If you were busting into that stash, it was a desperate situation.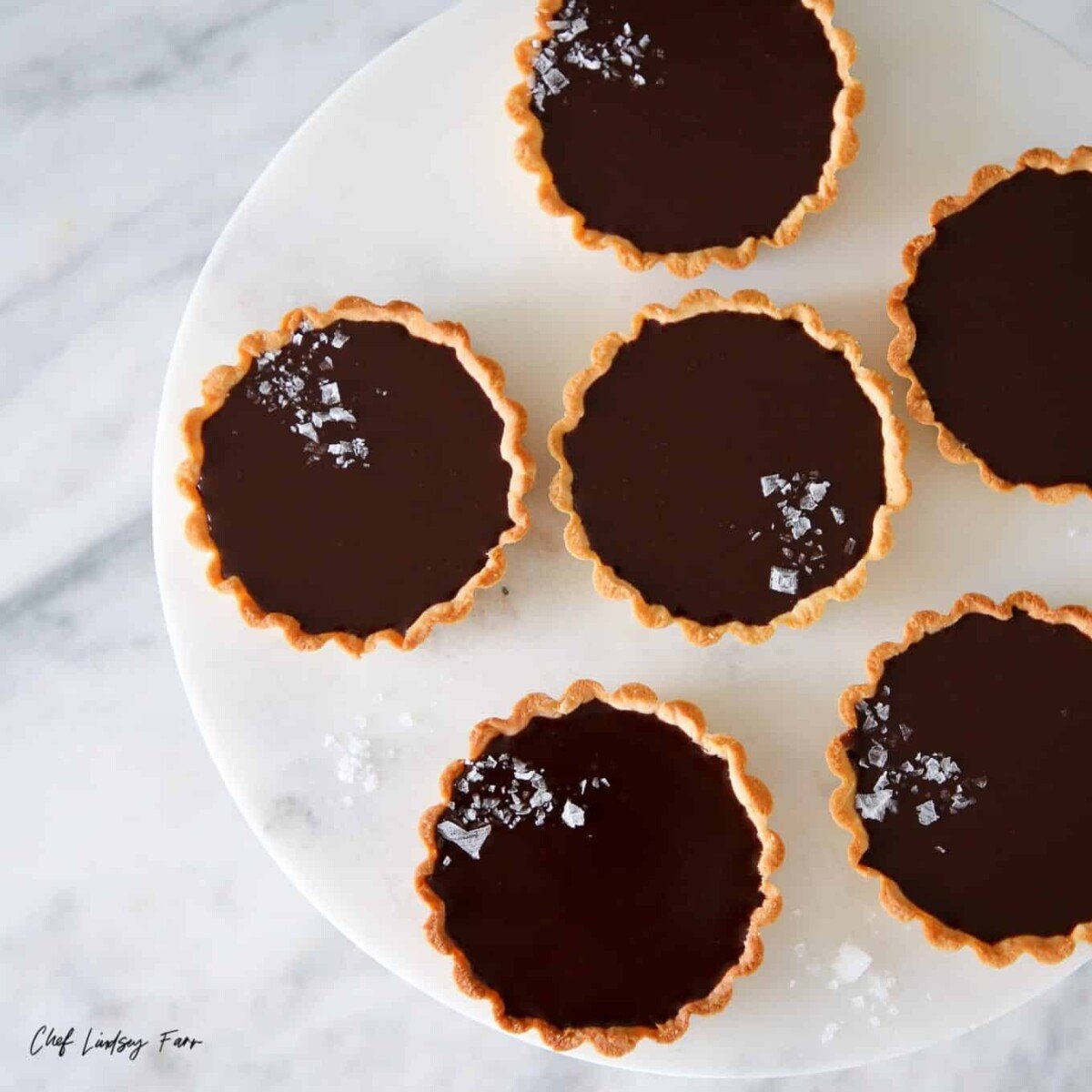 You know normally I have a million cautionary tales or long lists of additional information. However this filling is just a basic ganache and even I don't have much to say!
Just to head off any comments from haters: you can omit the corn syrup. ? But don't. It makes it just a little bit softer and shinier! Oh hello, gorgeous! That luster tho ?
And do remember that ganache is simple but it is still an emulsion and it can break. Then the texture just won't be as divine. Sadness. We don't do sadness here. So in the event that you get a little aggressive with the whisking or the cream isn't behaving, pour a bit of cold cream into the ganache and whisk gently to re-emulsify. It isn't going to fix itself and a hail-Mary isn't going to make it any worse.
So break into your chocolate drawer and make these tarts tonight. I promise it will be worth it! Read further details on how to blind bake pie crust here for these tarts!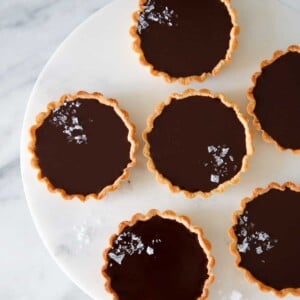 Mini Salted Chocolate Tarts
These mini salted chocolate tarts are incredibly easy and perfect for entertaining. The tender almond crust is filled with an irresistibly silky chocolate ganache!
Instructions
For the Crusts:
Preheat oven to 350°F convection or 375°F standard.

Roll out chilled dough to about 1/8 inch thick. Cut out circles using a ring cutter or glass a little larger than your tart shells.

Place each circle in one mini tart shell. Carefully line each mold while trying to pull the dough.

Chill.

Line each with parchment and add some beans or pie weights.

Bake in preheated oven about 15 minutes or until the bottoms stop looking like raw dough.

Remove parchment and beans. Continue baking until the bottoms are a golden brown. Cool.
For the Ganache Filling:
In a medium heat-proof bowl add chocolate, corn syrup, and salt.

Pour heavy cream into small saucepot and bring just to a boil. Pour over chocolate and allow to sit for about a minute.

Begin whisking in the center, gently and slowly, until an emulsion begins to form. The chocolate will look shiny and smooth. Then slowly begin to work your way out to the edges while whisking slowly, emulsifying all the chocolate and cream. When it is smooth and homogenous, whisk in the vanilla followed by the butter.

If the ganache looks broken, pour a small amount of cold whipping cream into the ganache and whisk gently. You can continue to add up to about ¼ cup, but you shouldn't need to.

Tap the bowl on a folded towel to remove any large bubbles.

Pour into pre-baked tart shells. You can quickly hit the top with a kitchen torch to remove any surface bubbles if so desired.

Refrigerate until set. Top with flakey sea salt if desired.
Notes
This make 1 large tart or 10, 2.5 inch mini tarts.
Nutrition
Calories:
251
kcal
|
Carbohydrates:
13
g
|
Protein:
2
g
|
Fat:
22
g
|
Saturated Fat:
13
g
|
Polyunsaturated Fat:
1
g
|
Monounsaturated Fat:
6
g
|
Trans Fat:
1
g
|
Cholesterol:
43
mg
|
Sodium:
124
mg
|
Potassium:
140
mg
|
Fiber:
2
g
|
Sugar:
10
g
|
Vitamin A:
532
IU
|
Vitamin C:
1
mg
|
Calcium:
31
mg
|
Iron:
1
mg
Like this? Leave a comment below!