This Pumpkin Spice Bundt Cake has a light, tender texture and is deeply flavored with pumpkin pie spice. It is topped with a maple glaze but would also be delightful dusted with spiced confectioner's sugar.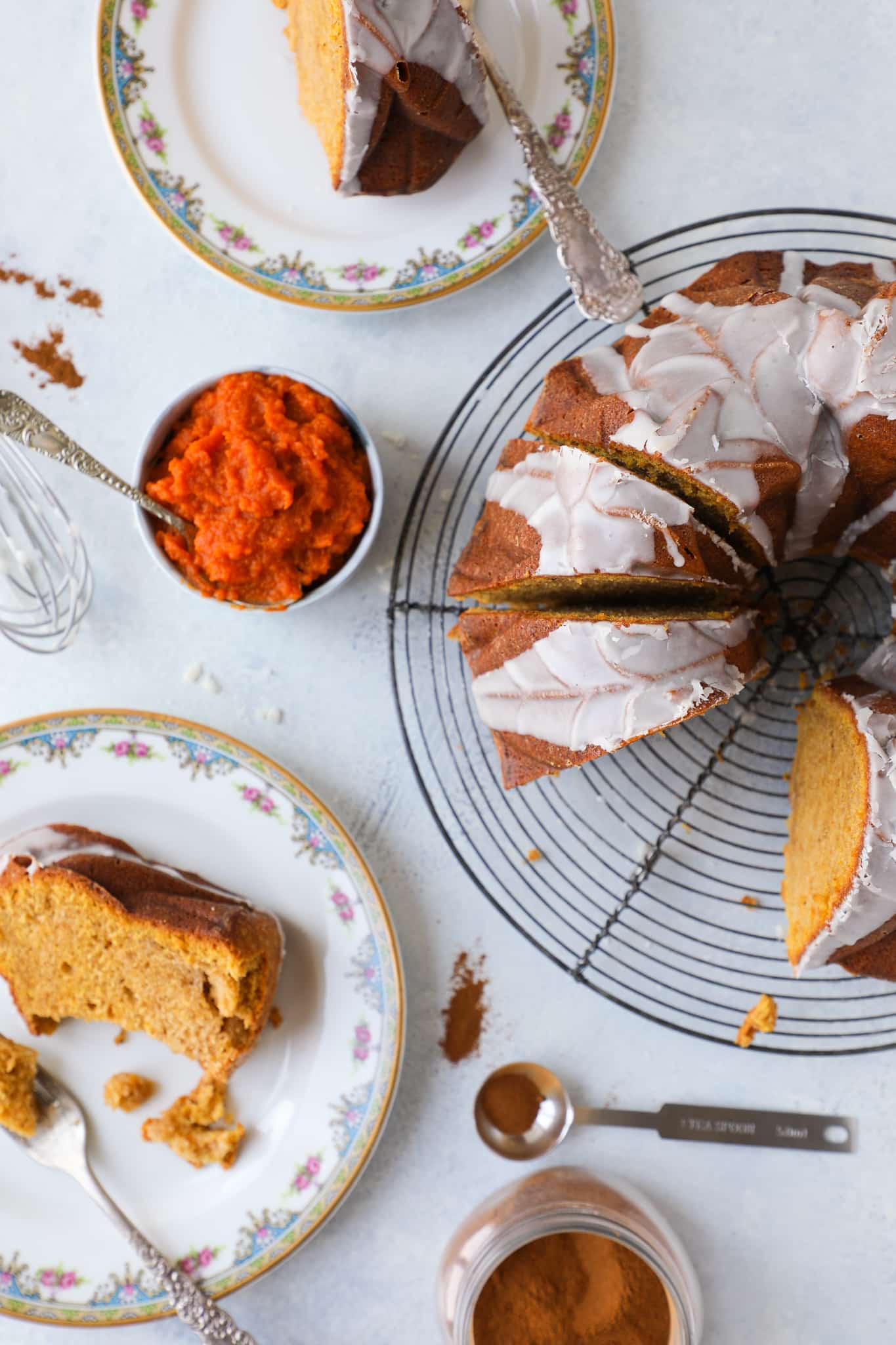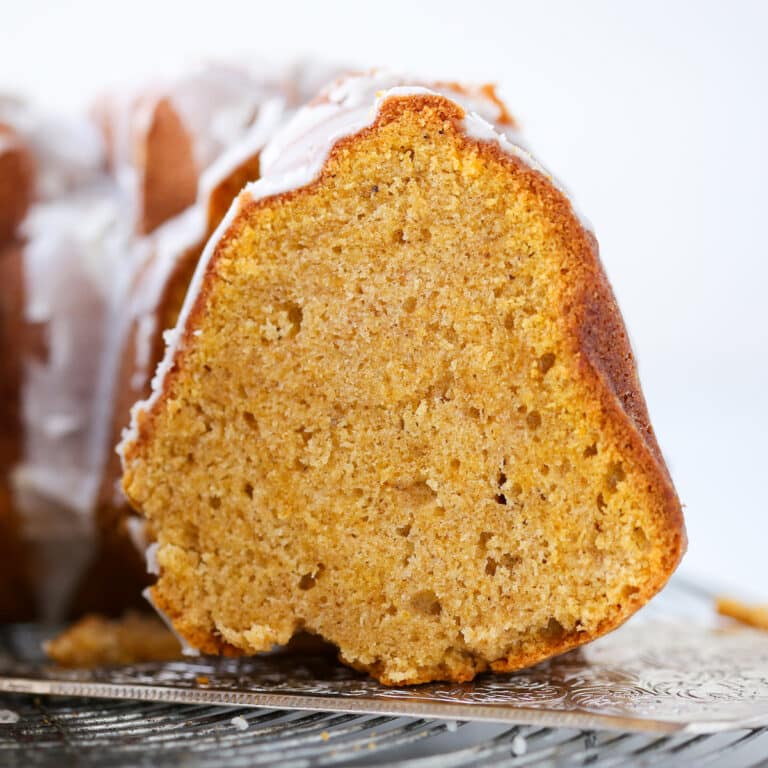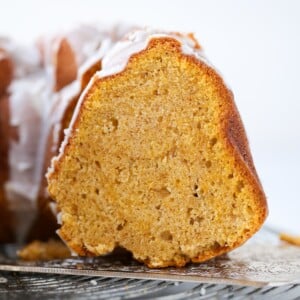 Allow me to be the first to welcome you to Pumpkin Spice Season with my 25 Best Pumpkin Recipes for Fall! Fair enough, Starbucks did that weeks ago, but this pumpkin spice bundt cake gives you all the right Fall feelings! It is generously spiced with my pumpkin spice recipe and has just enough pumpkin for that beautiful color and light pumpkin flavor. The texture is moist, tender and delicate. Plus, how gorgeous is she?!?
Full disclosure I have been eating pumpkin spice for months now. I don't know why but I have just been craving pumpkin bread, my pumpkin bran muffins and gluten free pumpkin bars. But now that it is fully Fall, I say bring on the pumpkin cakes, pumpkin rolls and pumpkin cream cheese muffins.
How to prepare a Bundt pan for cake?
Lightly spray the pan with nonstick cooking spray or brush room temperature butter into every nook and cranny. Don't forget the center tube! Add some all-purpose flour to the pan and tap it around so that it coats the whole surface. Depending on the design, you might need to tap in the opposite direction as well. Turn it over and lightly tap out most of the flour. I keep this flour in a separate container for bench flour so as not to waste it! Bang the pan firmly on a towel to get out all the remaining extra flour.
How to keep a Bundt cake from sticking?
The best way to keep a Bundt cake from sticking is to prepare it properly by spraying a light coating of nonstick cooking spray and then coating the entire pan with flour. Be sure to bang out the flour so just a light dusting remains. I let Bundt cakes cool 20 minutes prior to turning them out. Lastly, be sure your Bundt pan's nonstick coating hasn't been scratched. This will cause the cake to stick in places.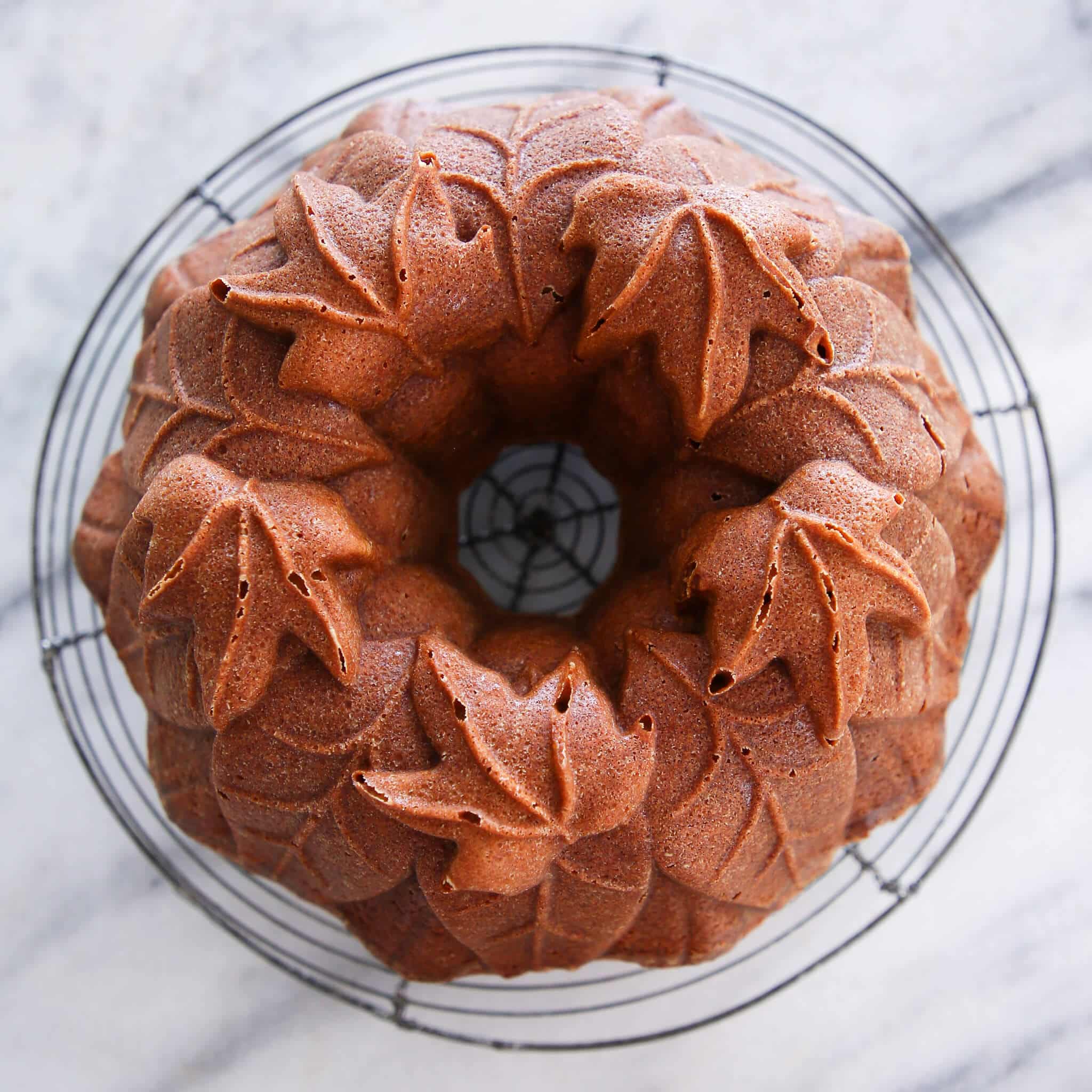 Ingredients
Butter: I use unsalted butter for baking, because you want to control the amount of salt you are adding. Every brand is different and it makes adjusting the recipe a challenge.
Sugar: I use granulated sugar in this cake. It is here for the more obvious flavor reasons, but also to aid in leavening, moisture, texture and stability.
Eggs: Whole eggs allow you to emulsify all that oil into the batter, resulting in a moist, not greasy, cake. They also help with leavening by trapping air with the sugar.
Vanilla Extract: Vanilla Extract adds a beautiful flavor itself but it also boosts the flavor of other ingredients around it.
All-purpose flour: All-purpose flour has just the right amount of gluten to make a tender cake that is still flexible enough to roll.
Kosher Salt: Kosher salt is less salty than table salt and a teaspoon weighs less than other finer ground varieties. It heightens the flavor here and will keep your cakes from tasting dull or flat.
Baking Soda: Do check the freshness of your baking soda! It does lose potency over time.
Pumpkin Pie Spice Mix : My personal pumpkin spice mix recipe. I suggest making a whole batch, because I fine-tuned this mix to work in pumpkin pie as well as it does in biscotti, oatmeal, cookies, and clearly cake!
Pumpkin Puree: I use Libby's pumpkin puree because it is consistent and that is what I use to develop all my recipes. Use whichever brand you prefer. Just be sure to grab pure pumpkin puree and not pumpkin pie mix!
Sour Cream: Sour cream is essential for the dense texture of the best pumpkin bundt cake. It has just enough moisture to hydrate the flour and fat to inhibit the gluten formation. It also adds a beautiful flavor.
Variations on Pumpkin Spice Bundt Cake
Cream Cheese Swirl: Mix a little confectioner's sugar with an 8 oz package of softened cream cheese and swirl it into the batter. No egg necessary.
Cream Cheese Frosting: Or just generously frost the cake with the best cream cheese buttercream!!
Substitutions
Sour Cream: I almost always bake with full-fat dairy because the fat adds to the texture and intensity of flavor, but low fat versions or even Greek yogurt can be substituted in most cases. Lower fat sour cream also breaks easier than the full-fat varieties when heated or an acid is added. This is generally not catastrophic but it will impact the final texture in a subtle way.
Pumpkin Puree: There are no substitutions here but it is worth reiterating that this is just plain puree and not pumpkin pie mix. You can make your own puree but the water content varies greatly and you might end up with a dry or gummy cake. The water content of canned puree has been adjusted by the manufacturer, thus taking some of the guess work out.
Cake Flour: You could certainly substitute cake flour for the all-purpose flour but the resulting texture will be ever so slightly lighter. Be sure to sift it!
Frequently Asked Questions
How do you store Pumpkin Spice Bundt Cake?
Store pound cakes well wrapped in plastic wrap at room temperature, refrigerated or frozen.
How long will Pumpkin Spice Bundt Cake keep?
Pound cakes will keep 5 days at room temperature, two weeks refrigerated or 3 months frozen. For optimal freshness, serve within 2 days of baking or freeze for longer term storage.
Can you freeze Pumpkin Spice Bundt Cake?
Pound cakes freeze beautifully. This is the best way to preserve the moisture and texture of a freshly baked cake. I like to pre-slice them before freezing if I am not planning on serving the whole cake.
Can you make Pumpkin Spice Bundt Cake ahead?
You can make the batter up to one day ahead or bake, cool and freeze the cake for serving at a later date.
Will the recipe multiply?
You can make as large a batch of pound cake as you would like. You are only limited by the capacity of your stand mixer.
How to thaw Pumpkin Spice Bundt Cake?
Thaw covered at room temperature or in the refrigerator.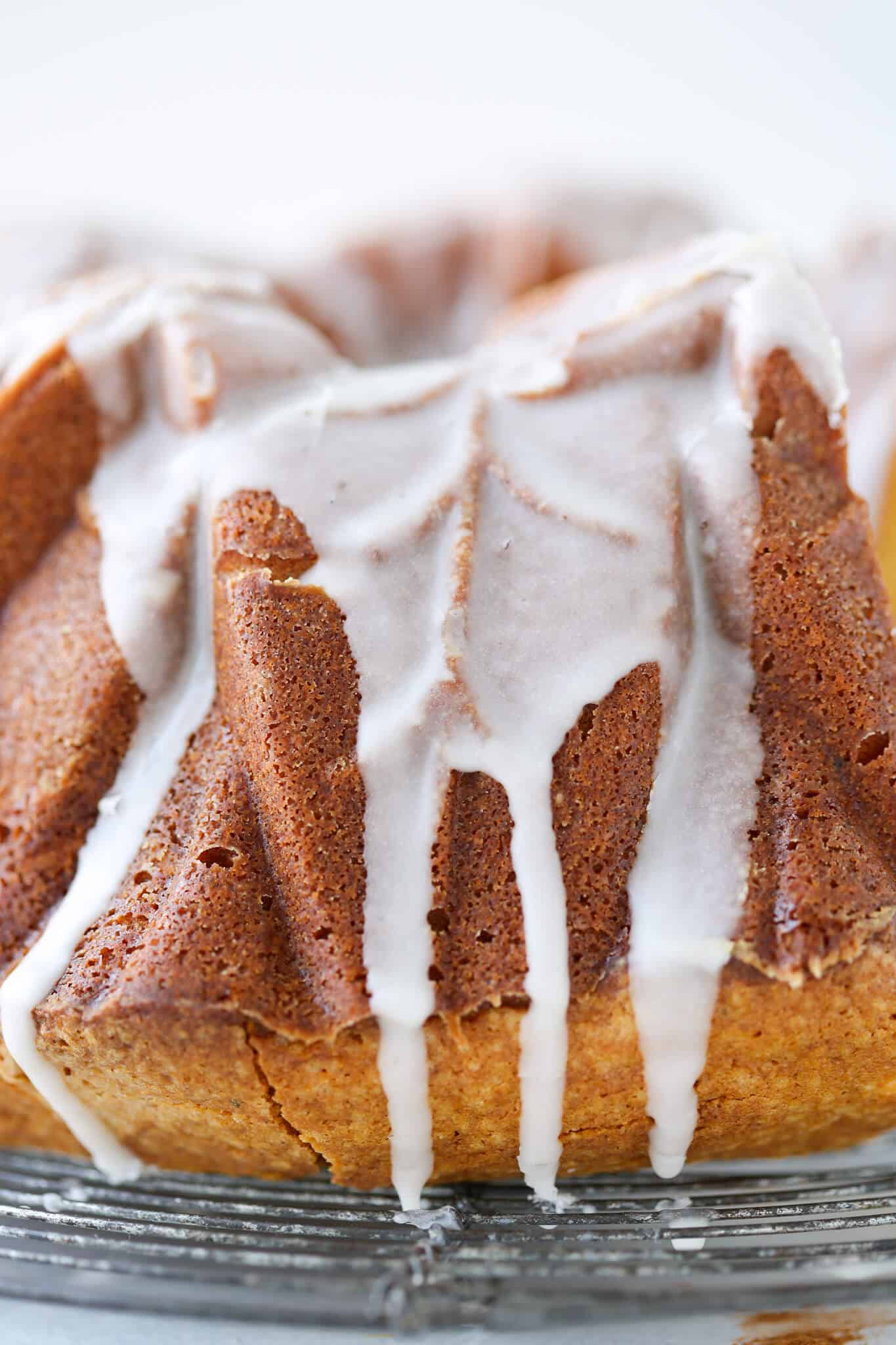 How to serve Pumpkin Spice Bundt Cake
This cake is soft, tender and moist and delicious on its own, but a generous scoop of vanilla bean ice cream never hurt anyone! It is also beautiful with vanilla bean anglaise. The spices meld with the vanilla bean and the creamy custard accentuates the texture and flavor of the cake. It's magical that way.
You could also serve it with a salted caramel sauce because caramel and pumpkin spice are best friends, or lean into Fall flavors and pair it with a maple caramel sauce. Welcome to fall baking taken up a notch.
A crunchy component is never remiss so sprinkle on some pumpkin seed brittle, pumpkin spice granola or candied pecans.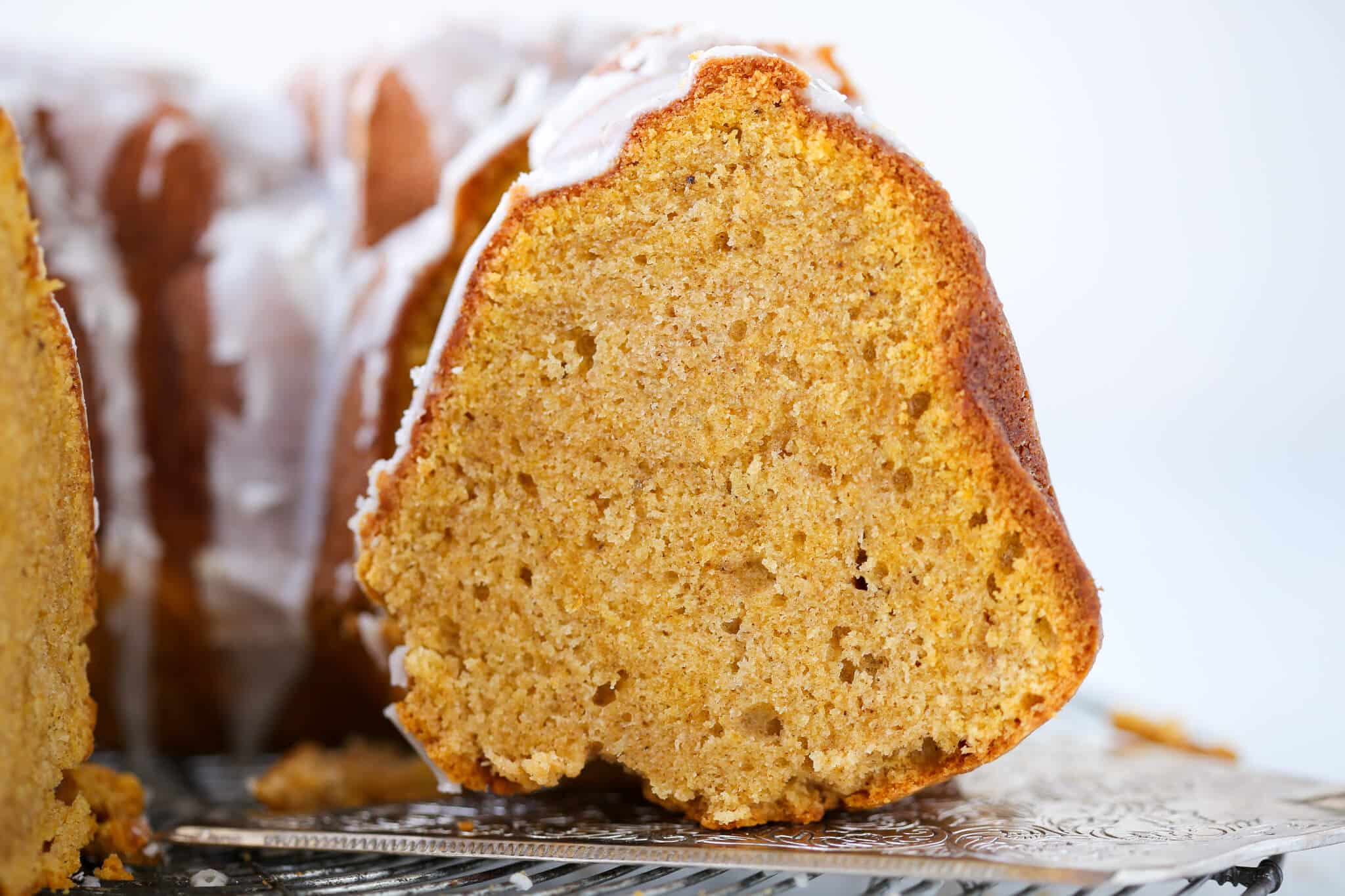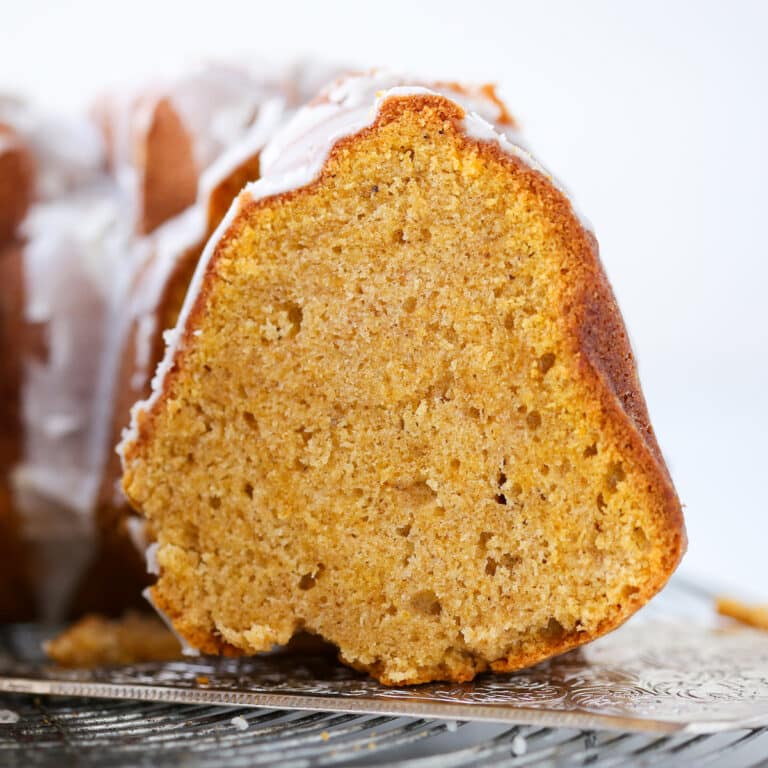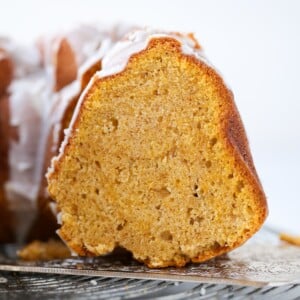 Pumpkin Spice Bundt Cake
This Pumpkin Spice Bundt Cake has a light, tender texture and is deeply flavored with pumpkin pie spice. It is topped with a maple glaze but would also be delightful dusted with spiced confectioner's sugar.
Instructions
Preheat oven to 325°F convection.
Prep your Pan:
I sprayed my pan with cooking spray and then floured it. Tap the flour around until every inch is covered. Tap out the extra flour onto a piece of parchment on the counter. You should be left with a perfectly floured pan.
Make the Cake:
Whisk together flour, spices, salt and baking soda. Set aside. See note below for the individual spice measurements for just this cake.

Whisk together the sour cream and pumpkin.

In the bowl of a stand mixer fitted with the paddle attachment, beat butter and sugars just until a thick paste forms. Beat in the eggs one at a time, scraping down the sides of the bowl after every two eggs or so. Add the vanilla extract with the last egg.

Switch the mixer to low and then alternately add the flour and sour cream mixture. I don't wait until all the flour has incorporated until I add the next batch. I just keep adding with two hands. Pro-style. I do stop the mixer to add the last of the sour cream mixture because I like to scrape it all out with a rubber spatula.

You should have a silky, smooth batter.

Pour into prepared pan and smooth the top with the back of a spoon.

Bake in preheated oven until a cake tester comes out with a few clinging crumbs. This will take about 60-85 minutes depending on your oven. Mine baked for 70 minutes. If you overbake it will be dry. Even that much butter, sugar and sour cream can't over compensate for overbaking. Just sayin'.

Let her COOL 20 minutes and then loosen the edges with a paring knife and then turn it out onto a rack. Allow to cool completely.

Dust with spiced powdered sugar or make a maple glaze.
Make the maple glaze:
In a small bowl whisk together all ingredients for the glaze. Loosen with additional milk or maple syrup until desired consistency is reached. I made mine on the thinner side so that the beautiful details of the bundt pan showed through.
Notes
The bundt pan that I used is 12 cups.
Yield: 1, 10-12 cup bundt cake
If you want just enough pumpkin spice mix for this recipe then add the following spices to the flour: 4 teaspoon cinnamon, 1 tablespoon ground ginger, ¾ teaspoon cloves, rounded ¼ teaspoon nutmeg, and rounded 1/8 teaspoon allspice.
Nutrition
Calories:
635
kcal
|
Carbohydrates:
87
g
|
Protein:
8
g
|
Fat:
30
g
|
Saturated Fat:
17
g
|
Polyunsaturated Fat:
2
g
|
Monounsaturated Fat:
8
g
|
Trans Fat:
1
g
|
Cholesterol:
154
mg
|
Sodium:
487
mg
|
Potassium:
149
mg
|
Fiber:
2
g
|
Sugar:
57
g
|
Vitamin A:
3336
IU
|
Vitamin C:
1
mg
|
Calcium:
62
mg
|
Iron:
3
mg
Like this? Leave a comment below!
Before You Go!
Check out our other delicious, chef-developed recipes for Cakes!