This easy Red Velvet Raspberry Trifle recipe is a showstopping dessert that can be made in 10 minutes!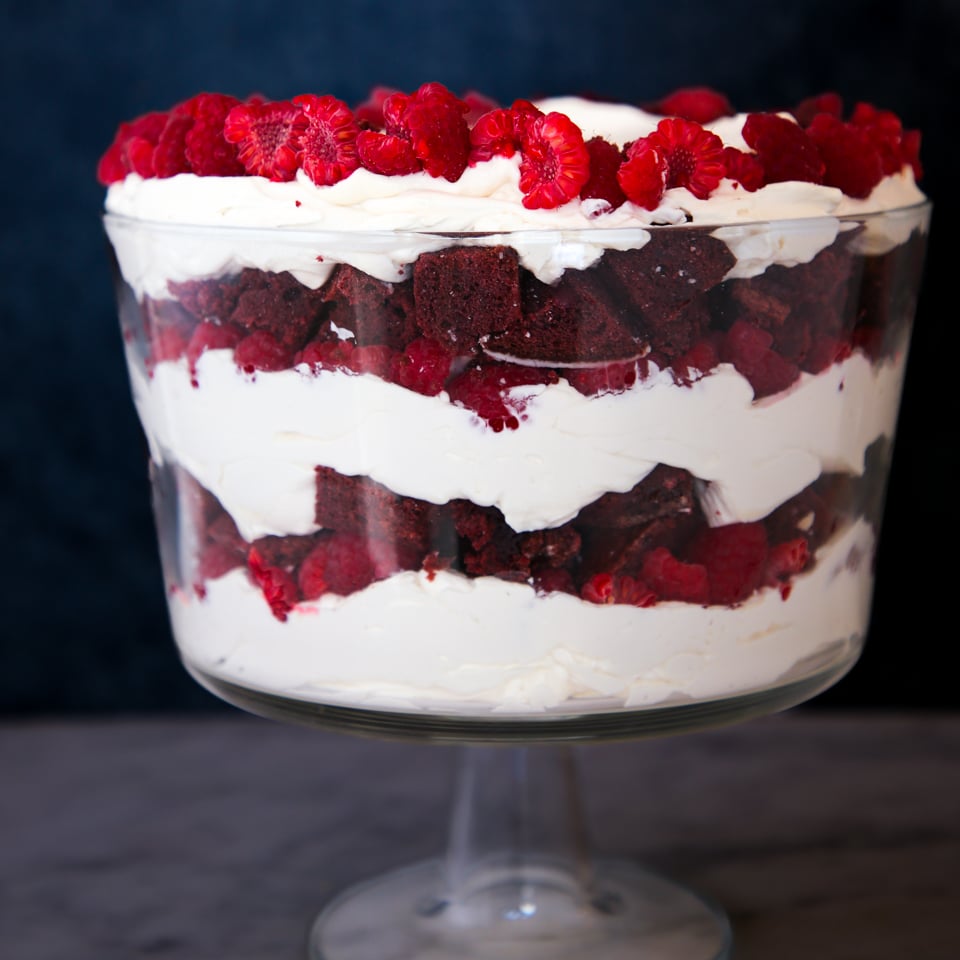 I love the layers of red raspberries and red velvet cake offset by the fluffy cream cheese whipped cream! It is so simple but looks elegant!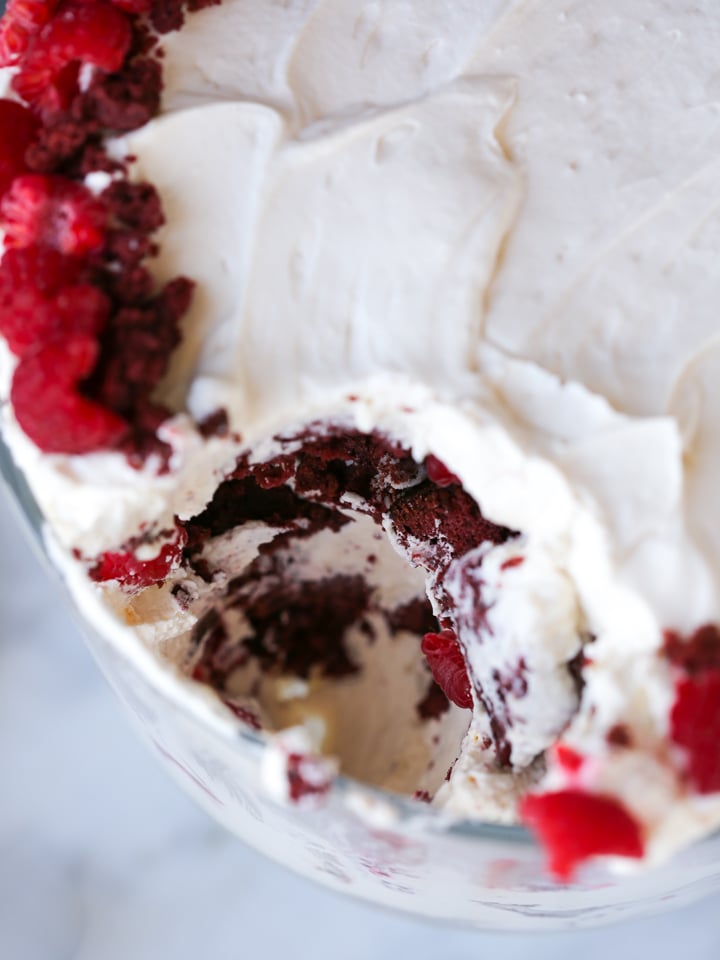 I layered it all the red velvet raspberry trifle in one large trifle dish but you could layer them in small dishes with a similar effect!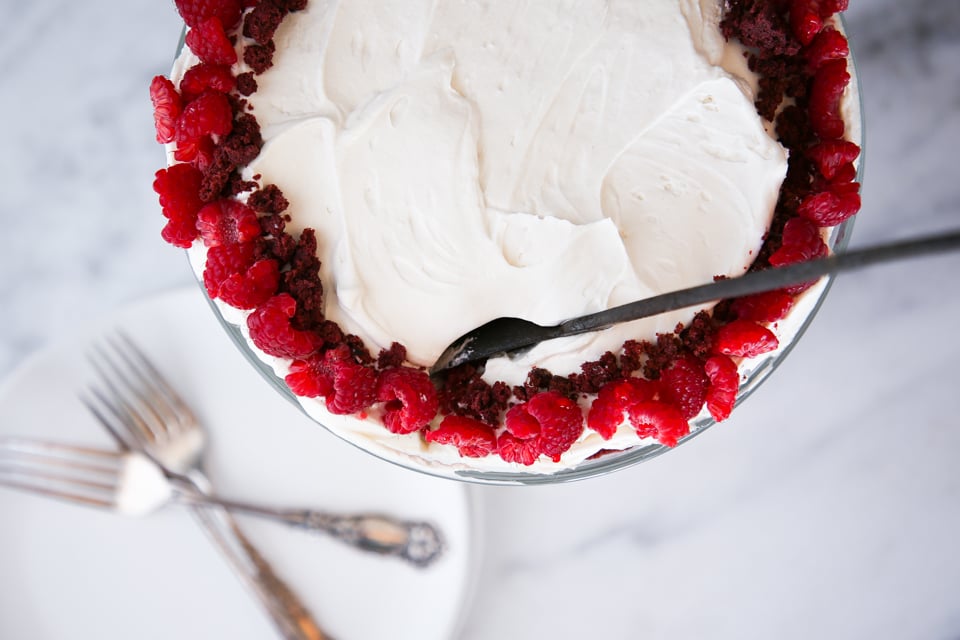 Happily, I made this with the leftovers from my Red Velvet Pound Cake but you could just as easily use store bought. I wouldn't suggest using regular red velvet cake, or you might just end up with mush! You need the structure of the pound cake.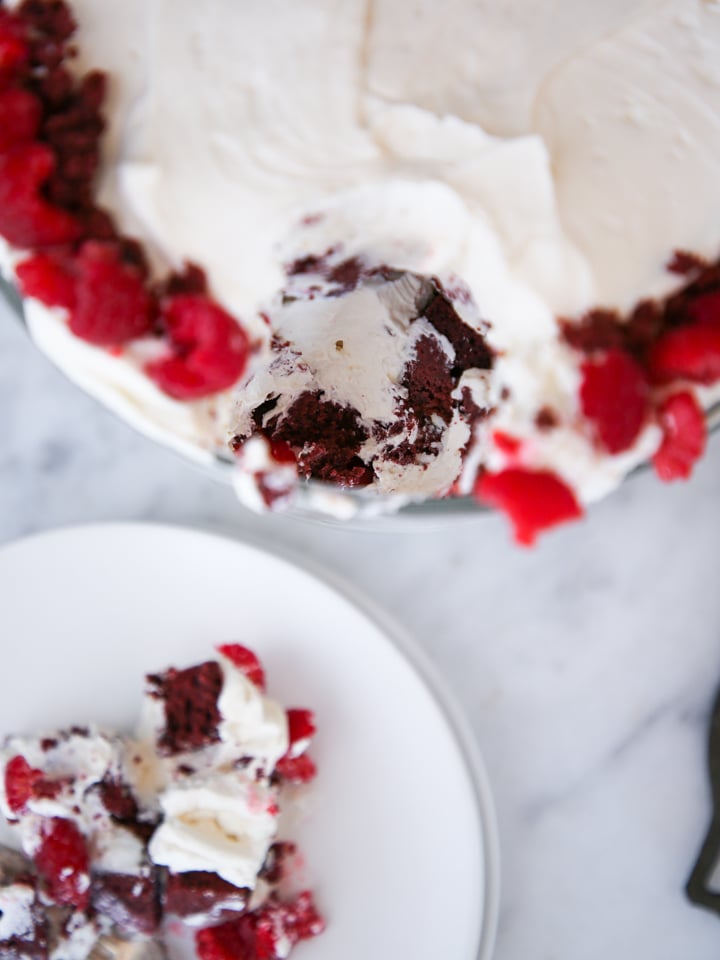 I am a lover of Pound Cake; an aficionado if you will. At Starbucks their lemon pound cake is my weakness. While their scones are sad and dry (Mine aren't!), their pound cake is dense, moist and flavorful. As it should be.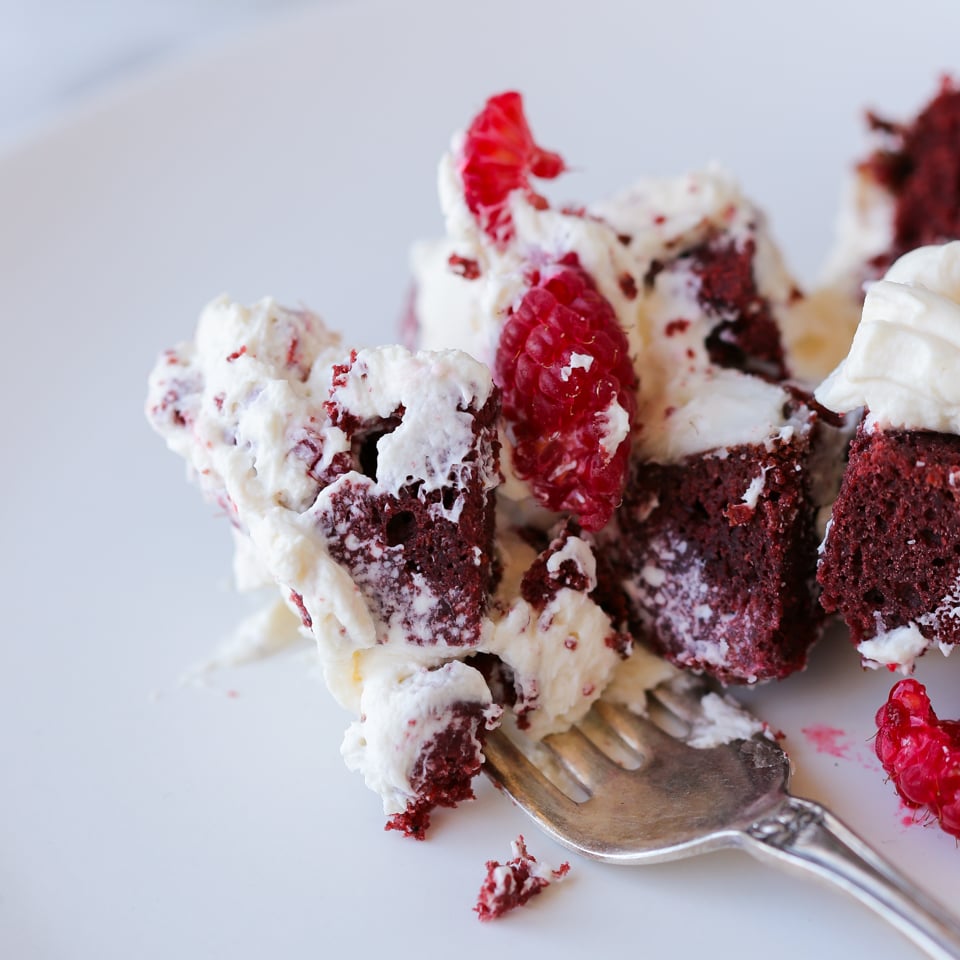 Fun fact: I tried to find a word other than "dense" to describe the perfect pound cake, but I came up with nada. A couple months ago, me and my partner in business and in baking-nerdom tried out different words in search of a better descriptor. After 8 minutes of mostly laughter, we finally settled back on "dense." ??‍♀️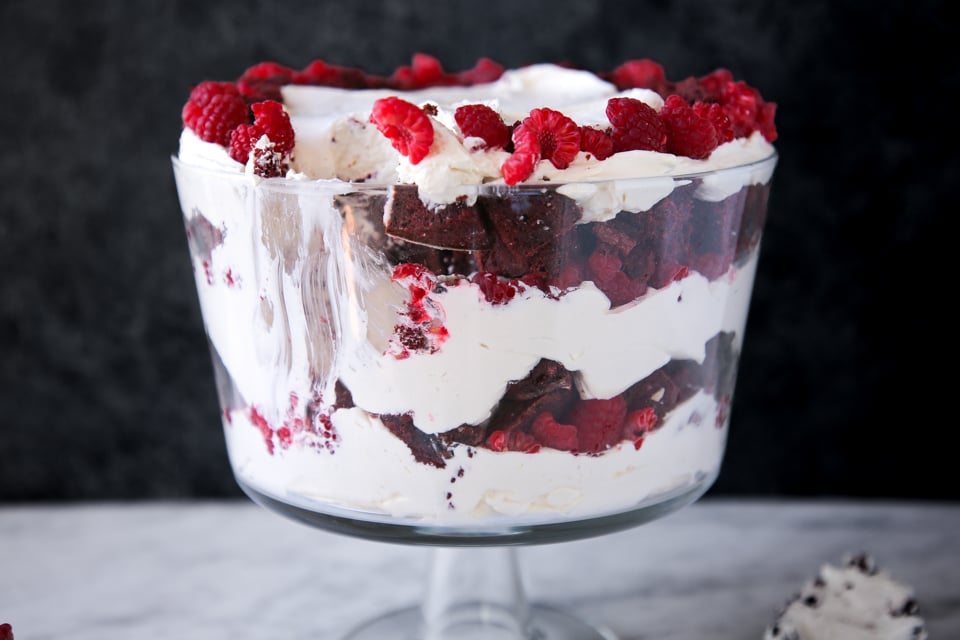 Red Velvet Raspberry Trifle
This easy Red Velvet Raspberry Trifle recipe is a showstopping dessert that can be made in 10 minutes!
Ingredients
½-1

Red Velvet Pound Cake

(or store bought!)

2

cups

Red Raspberries

1

quart

Heavy whipping cream

8

oz

Cream Cheese

(I prefer the flavor of Philadelphia full fat)

¾

cup

Light brown sugar
Instructions
To prepare the whipped cream:

In a large bowl, combine all ingredients and immersion blend. You can also do this in the blender or use room temperature cream cheese and omit this step.

In the bowl of a stand mixer or with a hand mixer fitted with the whisk attachment, beat the mixture until soft peaks form. Soft peaks are when the whisk is removed from the bowl and the cream stays on the whisk and forms a peak but the tip falls over. The cream cheese whipped cream will firm up as it chills, so you want to be sure to not over whip it.

Cut your cake into cubes (ish). I use about ½ inch cubes for a large trifle but I cut them half the size for individual trifles.

Layer Up!: Start with a layer of the whipped cream, followed by raspberries and the cake cubes. Repeat until the reach the top! I like to end with whipped cream and decorate with torn raspberries and cake crumbs!

Refrigerate until ready to serve. Trifles are best served the day after they are made, which gives the flavors time to meld.