This Sour Cream Pound Cake is moist, dense and super tender. It truly is the perfect pound cake recipe.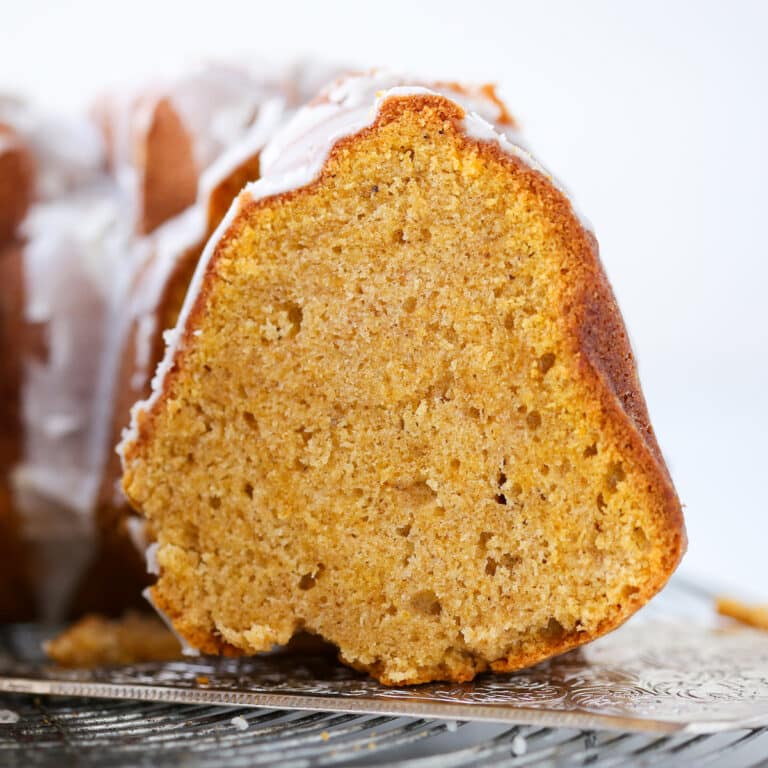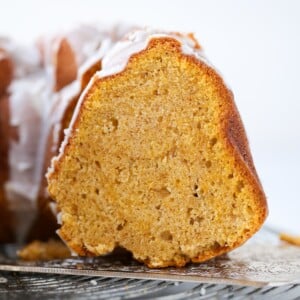 I am a lover of Pound Cake; an aficionado if you will. At Starbucks their lemon pound cake is my weakness. While their scones are sad and dry, their pound cake is dense, moist and flavorful. As it should be.
Fun fact: I tried to find a word other than "dense" to describe the perfect pound cake, but I came up with nada. When I was filming the video for this pound cake, me and my partner in business and in baking-nerdom tried out different words in search of a better descriptor. After 8 minutes of mostly laughter, we finally settled back on "dense."
Why spend all that time? Because to me the texture of the perfect pound cake is so much more than "dense." Sure, it is dense in comparison to an angel food cake or a sponge cake, but it isn't dense like a dry, unleavened bread.
This pound cake has a tight-crumb yet still melts in your mouth. It keeps you wanting more. One more bite just to make sure it is just as awesome as you first thought.
Be sure to try this apricot brandy pound cake, which is where my obsession with the perfect texture started. Then you can join me in my bundt journey with chocolate pound cake, this red velvet pound cake that will change your life, and this cherry almond pound cake.
Obviously I opted to highlight the shape of this fabulous cake with a plain dusting of confectioner's sugar but you can make a quick glaze of confectioner's sugar, vanilla (or any extract), and milk. Use booze instead of milk and you've got yourself a bomb dessert!
You can also leave it unadorned. If ever there were a cake that was made to be naked, it would be a pound cake. Think of it as the OG Naked Cake.
But, like, we came here for the nerdy deets, Lindsey.
I see you! ?
What makes this The BEST Sour Cream Pound Cake:
Sour Cream: The extra fat and the low liquid content help add flavor, lock in moisture, lower gluten and add to that dense, moist texture. It hydrates the flour but the fat shortens the gluten strands. This keeps it moist and tender. It adds to the tight crumb structure.
Hello Butter ?: The butter to sugar ratio is key here. I have found that a 1:1 ratio actually produces a lighter cake than more sugar to butter. There is a serious amount of sugar in this recipe. That is intentional. It adds to the flavor but also helps keep a tight crumb that still melts in your mouth. Too much butter and it can just be heavy.
Creamed Just Right: Technically this is the creaming method; however, you want to beat the butter and sugar just until the point when they form a paste. If you keep beating, then you will begin to trap air between the sugar and fat molecules. This is how cakes and other baked goods get that light, airy texture without a ton of leavening. That's not our goal. Turn off that mixer. Don't be overzealous; you're good.
What Leavening?: ¼ teaspoon of baking soda? Is that a joke? Nope. I never joke about pastries. I know it might seem odd but just a tiny bit of baking soda will immediately react with the acid in the sour cream and will add just enough leavening to your pound cake. You guessed it! That adds to the tight crumb and dense texture that still melts in your mouth. Nothing by accident, my friends.
Liquids: As in, just enough but not too much. This is a silky, thick batter. You will gaze at it in wonder—so luscious, so smooth. The brandy is no accident either. The booze hydrates the flour differently much like the vodka in my favorite pie crust. Also, flavor.
Flour that Pan, Peeps: Do not underestimate the power of a well-greased and floured pan. It is especially key with a detailed bundt pan like the one I used. No cake left behind! I actually added my flour back to the pan and then tapped it around a second time to get every millimeter of the surface. Then tap that out. No weird patches of flour on the outside of your cake. For shame. Plus it is soooo satisfying.
Let her cool: It's the hardest part of the whole process, but it's so important. I am the queen of impatience but I also know that a bundt cake turned out too soon will end in disaster. And sadness. You know we don't do that here. Also cake that is cut when it is still too warm will turn into a gloppy, dense cake situation. Trust me here. The crumb hasn't set and it will be compressed by the cutting process. This is the bad kind of dense. ?
Can I just say that, while pound cake is simple at a glance, it is a delicate balance of ingredients? I highly suggest weighing your ingredients. Eggs vary in sizes and a cup of flour can vary by 50 grams. If you do measure by volume, fluff your flour in the bag then spoon it into the cup, mounding it on the top. Use a knife to slice off the excess but don't tap or compress it. Ok? Just remember too much flour = dry, flavorless cake. That's it for today's soapbox.
Sour Cream Pound Cake
This Sour Cream Pound Cake is moist, dense and super tender. It truly is the perfect pound cake recipe.
Instructions
Preheat oven to 325°F convection.

Prep your Pan: I sprayed my pan with cooking spray and then floured it. Tap the flour around until every inch is covered. Tap out the extra flour onto a piece of parchment on the counter. You should be left with a perfectly floured pan.

Whisk together flour, salt and baking soda. Set aside.

In the bowl of a stand mixer fitted with the paddle attachment, beat butter and sugar just until a thick paste forms. Beat in the eggs one at a time, scraping down the sides of the bowl after every two eggs or so.

Switch the mixer to low and then alternately add the flour and sour cream. I don't wait until all the flour has incorporated until I add the next batch. I just keep adding with two hands. Pro-style. I do stop the mixer to add the last of the sour cream because I like to scrape it all out with a rubber spatula.

Once you have added your last bit of flour, add the brandy and vanilla. Turn the mixer up to quickly incorporate. You should have a silky, smooth batter.

Pour into prepared pan and smooth the top.

Bake in preheated oven until a cake tester comes out with a few clinging crumbs. This will take about 60-85 minutes depending on your oven. Mine baked for 70 minutes. If you over bake it will be dry. Even that much butter, sugar and sour cream can't compensate for overbaking. Just sayin'.

Let her COOL COMPLETELY. I know it's a big ask. You can do it!

Loosen the edges with a paring knife and then turn it out onto a plate or cake stand of your choice. I chose to level it with a serrated knife just a smidge for the photos. Don't worry, the cake scraps did not go to waste!

Dust with powdered sugar, drowned in glaze or just slice it right up!
Nutrition
Calories:
444
kcal
|
Carbohydrates:
56
g
|
Protein:
5
g
|
Fat:
22
g
|
Saturated Fat:
13
g
|
Polyunsaturated Fat:
1
g
|
Monounsaturated Fat:
6
g
|
Trans Fat:
1
g
|
Cholesterol:
116
mg
|
Sodium:
328
mg
|
Potassium:
73
mg
|
Fiber:
1
g
|
Sugar:
38
g
|
Vitamin A:
710
IU
|
Vitamin C:
1
mg
|
Calcium:
33
mg
|
Iron:
1
mg
Like this? Leave a comment below!