This is The Best Chocolate Pound Cake! It has a rich and decadent flavor with a perfectly dense, tender and moist crumb.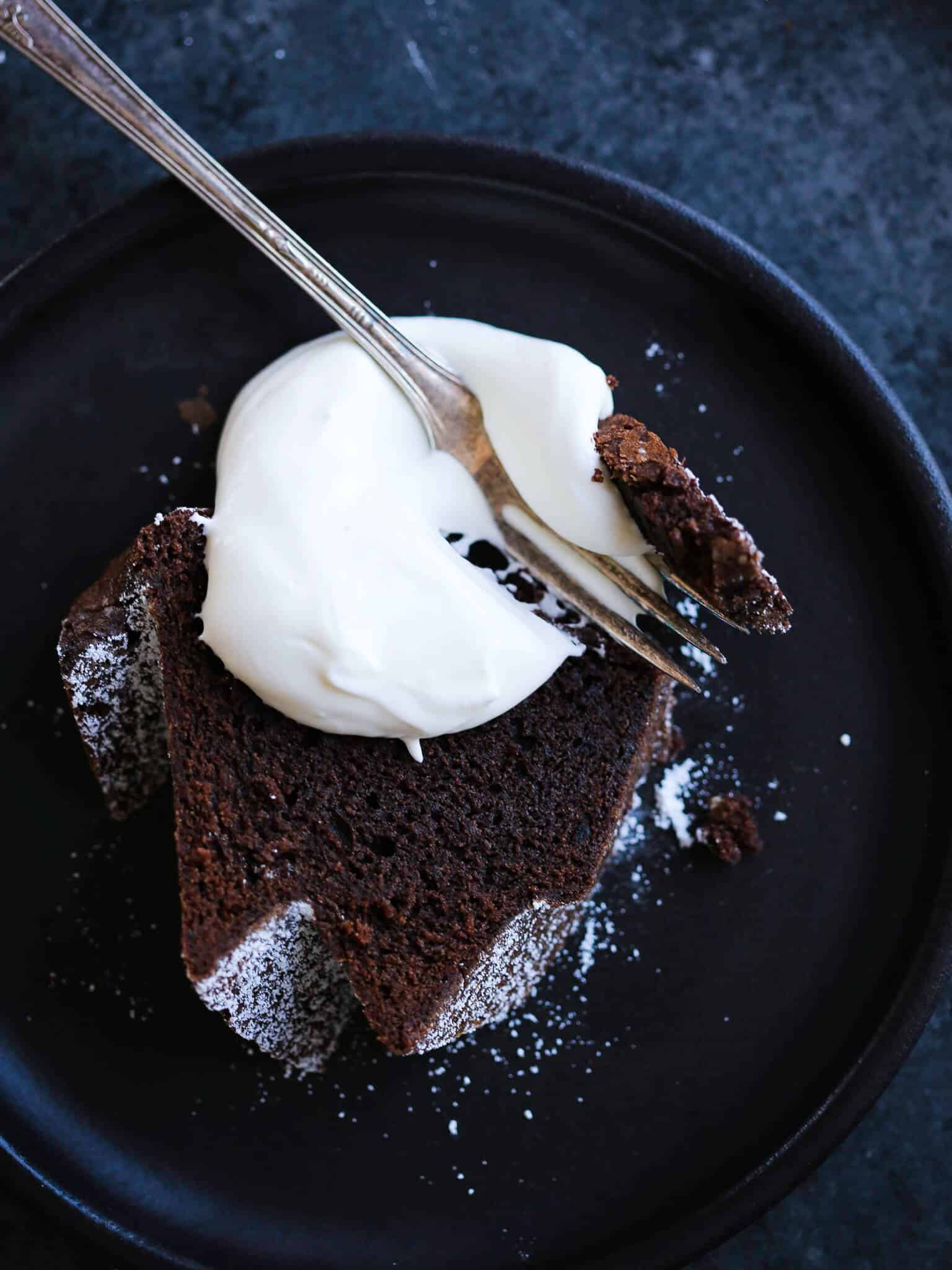 It took some trial and error, but I bring you (proudly) the Best Chocolate Pound Cake. She has a deep chocolate flavor from an epic amount of cocoa powder plus the perfect pound cake texture. If you've been around here before, then you know I am positively persnickety about my pound cakes. You also know that I am currently obsessed.
I have developed the perfect recipe for Cherry Almond Pound Cake, Maple Pound Cake, Red Velvet Pound Cake, Lemon Pound Cake and so many more it's almost obscene! But this is my first foray into the land of chocolate pound cakes. Odd for a chocoholic to be sure.
The Best Chocolate Pound Cake is rich and decadent and I think best adorned only with a sexy dusting of confectioner's sugar. I suggest a scoop vanilla bean ice cream, a spoonful of crème anglaise, or a generous dollop of crème fraîche whipped cream to really bring out the chocolate notes.
Table of Contents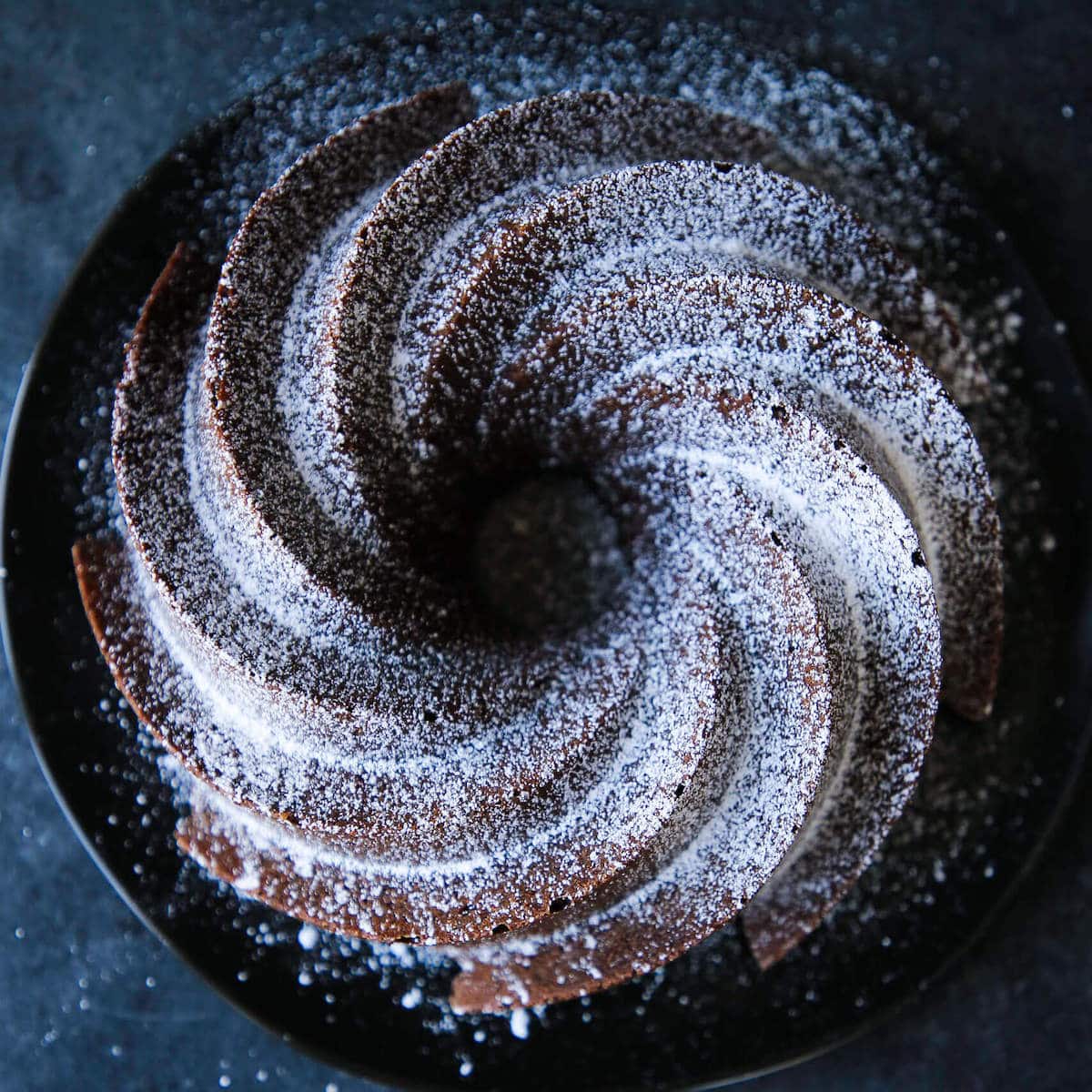 Why use sour cream in pound cake?
The extra fat and the low liquid content in sour cream help add flavor, lock in moisture, lower gluten and add to that dense, moist texture. It hydrates the flour but the fat shortens the gluten strands. This keeps it moist and tender. It adds to the tight crumb structure.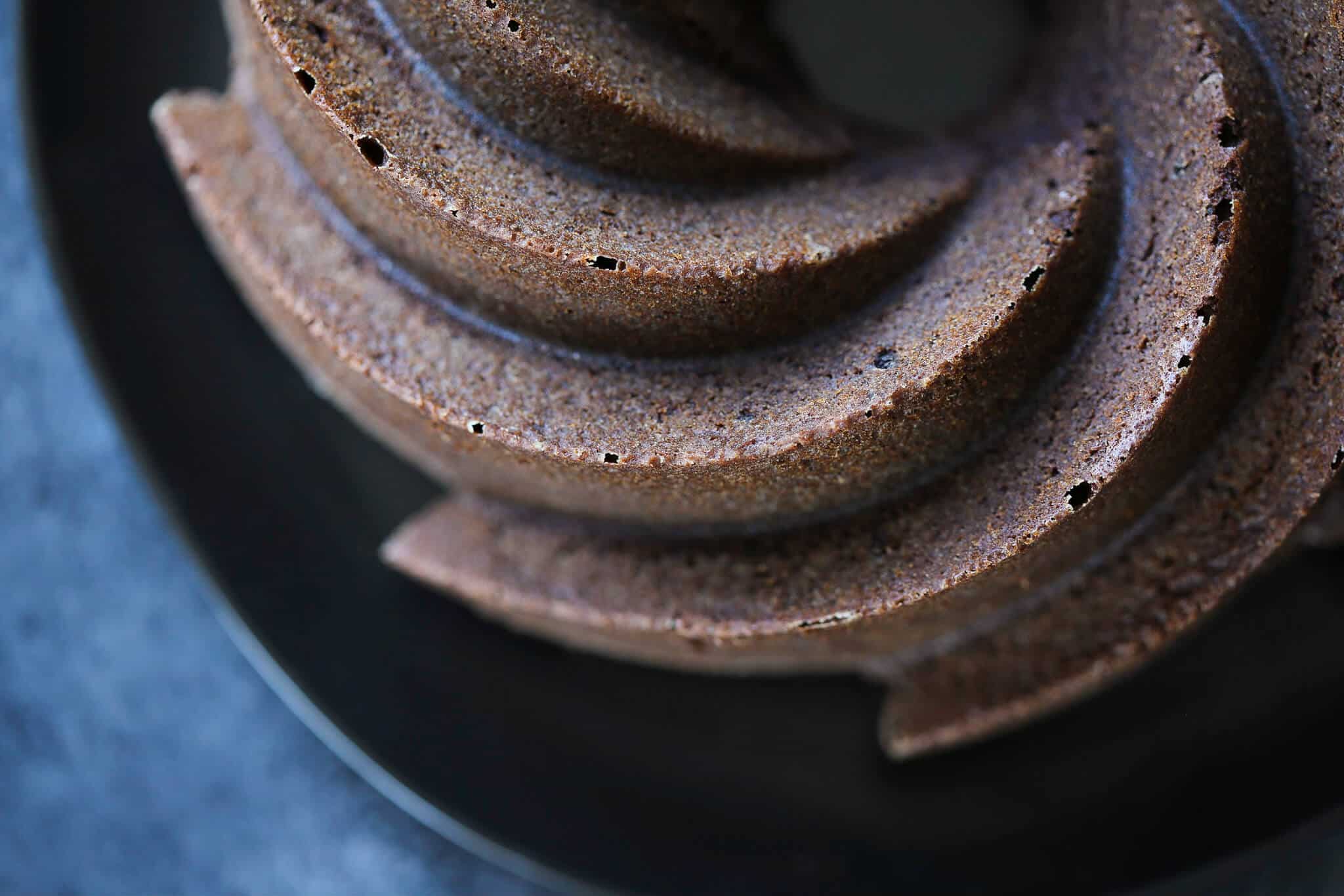 How to make a dense chocolate pound cake?
Butter Ratio: The butter to sugar ratio is key here. I have found that a 1:1 ratio actually produces a lighter cake than more sugar to butter. There is a serious amount of sugar in this recipe. That is intentional. It adds to the flavor but also helps keep a tight crumb that still melts in your mouth. The sugar also highlights the cocoa flavor and balances it. No one came for a bitter cake.
Creamed Just Right: Technically this is the creaming method; however, you want to beat the butter and sugar just until the point when they form a paste. If you keep beating, then you will begin to trap air between the sugar and fat molecules. This is how cakes and other baked goods get that light, airy texture without a ton of leavening. That's not our goal. Turn off that mixer. Don't be overzealous; you're good.
Barely any leavening: ¼ teaspoon of baking soda? Is that a joke? Nope. I never joke about pastries. I know it might seem odd but just a tiny bit of baking soda will immediately react with the acid in the sour cream and will add just enough leavening to the best chocolate pound cake. You guessed it! That adds to the tight crumb and dense texture that still melts in your mouth. Nothing by accident, my friends.
Not much Liquid: Just enough but not too much. This is a silky, thick batter. You will gaze at it in wonder—so luscious, so smooth. The lower liquid content in the sour cream also adds to the rich, dense texture.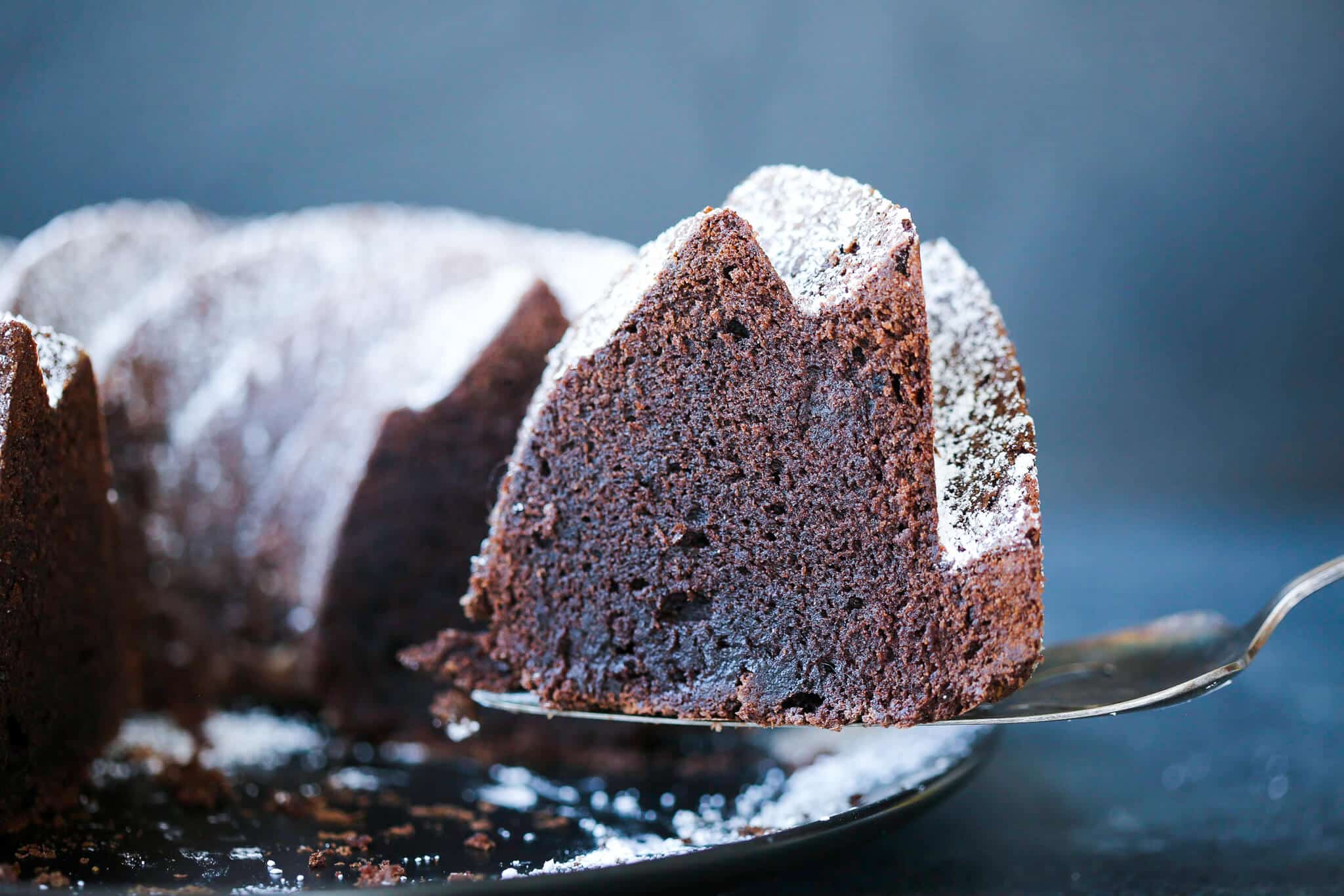 How to get a cake to come out of a Bundt pan?
Flour that Pan: Do not underestimate the power of a well-greased and floured pan. It is especially key with a detailed Bundt pan like the pan that I used. I actually added my flour back to the pan and then tapped it around a second time in the opposite direction to get every millimeter of the surface. Then tap that out. No weird patches of flour on the outside of your cake. For shame. Plus it is soooo satisfying.
Let her cool: It's the hardest part of the whole process, but it's so important. I am the queen of impatience but I also know that a Bundt cake turned out too soon will end in disaster even the best chocolate pound cake. I turn my Bundt cakes out after 20 minutes of cooling. You still have to let it cool completely on a baking rack. Sorry. Cake that is cut when it is still too warm will turn into a gloppy, dense cake situation. Trust me here. The crumb hasn't set and it will be compressed by the cutting process. This is the bad kind of dense. ?
Ingredients for the Best Chocolate Pound Cake
Butter: I use unsalted butter for baking, because you want to control the amount of salt you are adding. Every brand is different and it makes adjusting the recipe a challenge.
Granulated Sugar: Granulated sugar is obviously here for sweetness, but it also helps create that tight crumb and dense, moist pound cake
Light Brown Sugar: Using light brown sugar adds sweetness along with a little moisture. This will keep the best chocolate pound cake softer while adding a nice, rich molasses flavor.
Whole Egg: The eggs are here to add fat, moisture and leavening. The fat from the yolk adds richness and helps keep the pound cake moist. Beating in the eggs just enough will add a little or a lot of leavening depending on the desired texture. Eggs also emulsify the batter and keep everything texturally perfect.
Vanilla Extract: Vanilla Extract adds a beautiful flavor itself but it also boosts the flavor of other ingredients around it like chocolate and brown sugar.
All-purpose flour: All-purpose flour has just the right amount of gluten to make a dense, tender pound cake. Care must be taken to not overmix while adding the wet and dry ingredients.
Cocoa Powder: I use dutch processed cocoa powder, which just means it has been treated with an alkaline solution. This neutralizes the acidity, which means it will not react with baking soda or baking powder. It has a rich, deep flavor and a darker color.
Kosher Salt: Kosher salt is less salty than table salt and a teaspoon weighs less than other finer ground varieties. It heightens the flavor here and will keep your cakes from tasting dull or flat.
Baking Soda: Do check the freshness of your baking soda! It does lose potency over time. If it's not fresh, send it to the back of the refrigerator to absorb some odors, or clean your marble countertops with it!
Sour Cream: Sour cream is essential for the dense texture of the best chocolate pound cake. It has just enough moisture to hydrate the flour and cocoa powder and fat to inhibit the gluten formation. I also adds a beautiful flavor.
Water: Water is here for just a little bit more moisture.
Substitutions for The Best Chocolate Pound Cake
Cocoa Powder: You could substitute standard cocoa powder for the Dutch processed cocoa powder. The flavor will be slightly more acidic and the color will be lighter and have a reddish tint.
Sour Cream: I almost always bake with full-fat dairy because the fat adds to the texture and intensity of flavor, but low fat versions or even Greek yogurt can be substituted in most cases. Lower fat sour cream also breaks easier than the full-fat varieties when heated or an acid is added. This is generally not catastrophic but it will impact the final texture in a subtle way.
Cake Flour: You could certainly substitute cake flour for the all-purpose flour but the resulting texture will be ever so slightly lighter. Be sure to sift it!
Pastry Chef Tip:
The biggest secret to baking the best chocolate pound cake is to not over-cream the butter and sugar. I use butter that is softened but still cool to the touch, then I cream the butter and sugars just until a paste forms. This will beat in a little air but it will keep the crumb tight even after beating in the eggs.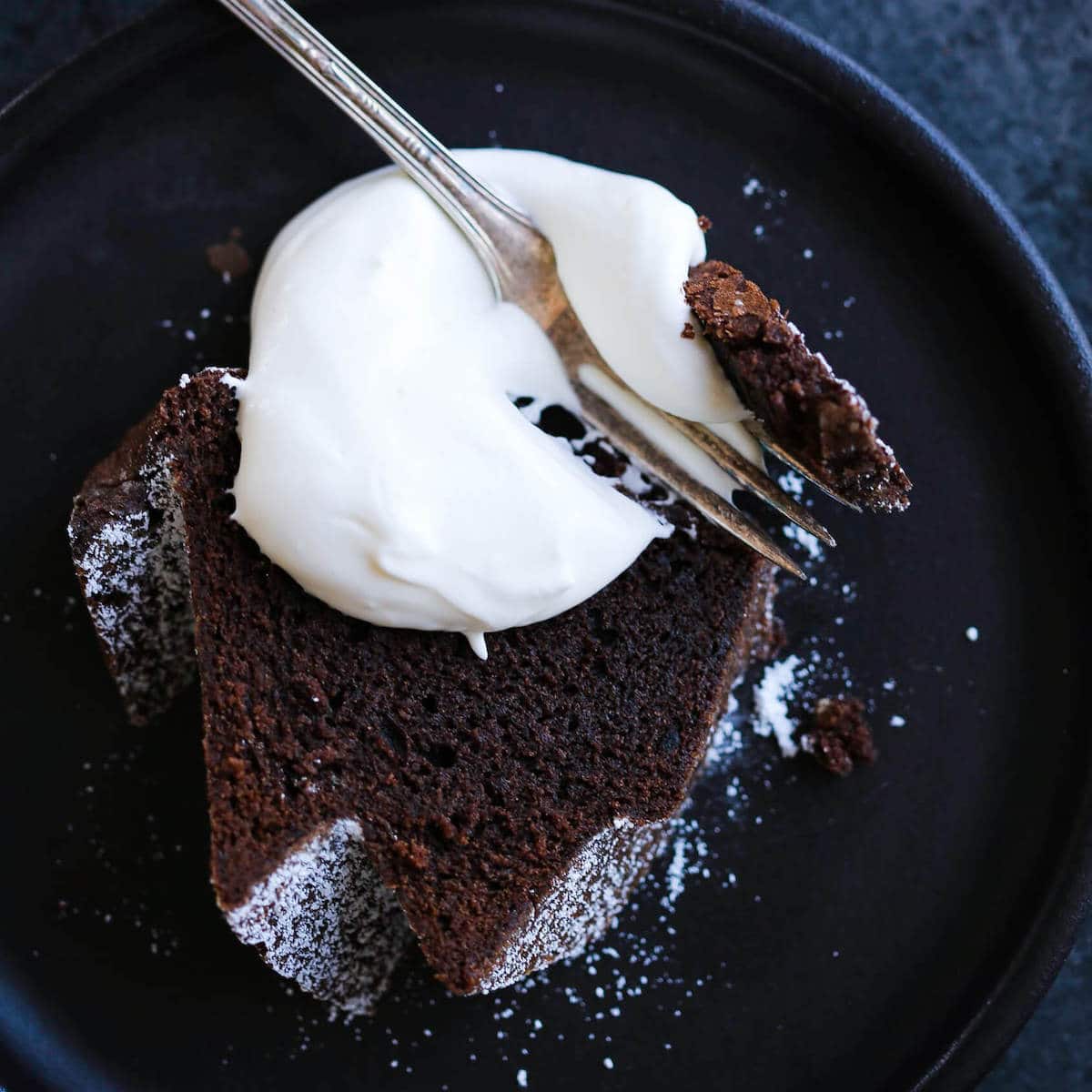 Recipe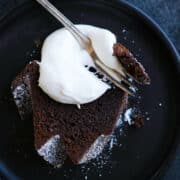 The Best Chocolate Pound Cake
This is The Best Chocolate Pound Cake! It uses an epic amount of cocoa powder for an extra rich and decadent flavor.
Instructions
Preheat oven to 325°F convection or 325°F conventional.
Prep your Pan:
I sprayed my pan with cooking spray and then floured it. Tap the flour around until every inch is covered. Tap out the extra flour onto a piece of parchment on the counter. You should be left with a perfectly floured pan. I have found that coating the pan with cocoa powder causes more detailed molds to stick and I'm not about that added stress.
Make the Cake:
Whisk together flour, cocoa powder, salt and baking soda. Set aside.

Whisk together the sour cream and water.

In the bowl of a stand mixer fitted with the paddle attachment, beat butter and sugars just until a thick paste forms. Beat in the eggs one at a time, scraping down the sides of the bowl after every two eggs or so. Add the vanilla extract with the last egg.

Switch the mixer to low and then alternately add the flour and sour cream mixture. I don't wait until all the flour has incorporated until I add the next batch. I just keep adding with two hands. Pro-style. I do stop the mixer to add the last of the sour cream mixture because I like to scrape it all out with a rubber spatula.

You should have a silky, smooth batter.

Pour into prepared pan and smooth the top with the back of a spoon.

Bake in preheated oven until a cake tester comes out with a few clinging crumbs. This will take about 60-85 minutes depending on your oven. Mine baked for 70 minutes. If you overbake it will be dry. Even that much butter, sugar and sour cream can't over compensate for overbaking. Just sayin'.

Let her COOL 20 minutes and then loosen the edges with a paring knife and then turn it out onto a rack. Allow to cool completely.

Dust with powdered sugar or make a simple glaze. You could also cover it with ganache!
Notes
The bundt pan that I used is 10 cups.
Yield: 1, 10-12 cup bundt cake