This Easy Carrot Cake Roll is made using my one bowl carrot cake recipe. It is moist, tender and flavored with cinnamon, carrots, raisins and walnuts. The soft cake is rolled up with my Favorite Cream Cheese Buttercream!
I feel like pumpkin rolls get all the glory but there is something just as spectacular about a carrot cake rolled up with a silky cream cheese buttercream. The majestic Carrot Cake Roll. Plus then you get to throw around fancy French words like "roulade" and feel all kinds of smart. I don't know about you but there is something so satisfying about casually tossing in a French word into everyday conversation. Pure sophistication 😉
There are no shortage of carrot cake recipes on CLF. It is one of those cakes that just instantly transports me to Spring. There is my ultimate Carrot Cake, which is a little more involved and a touch tricky to bake, but this carrot cake roll can be made in one bowl! The hardest part is waiting for it to set before cutting!
If you watched the carrot cake roll video, then you already know the secret to this cake…BOURBON. Yes, I soaked this whole cake in a Bourbon simple syrup. That marked the day that I learned what every Southerner probably already knew: that Bourbon and carrot cake belong together.
I am not often surprised with pastry anymore, but the electricity of that combination absolutely knocked my off my feet. Almost quite literally.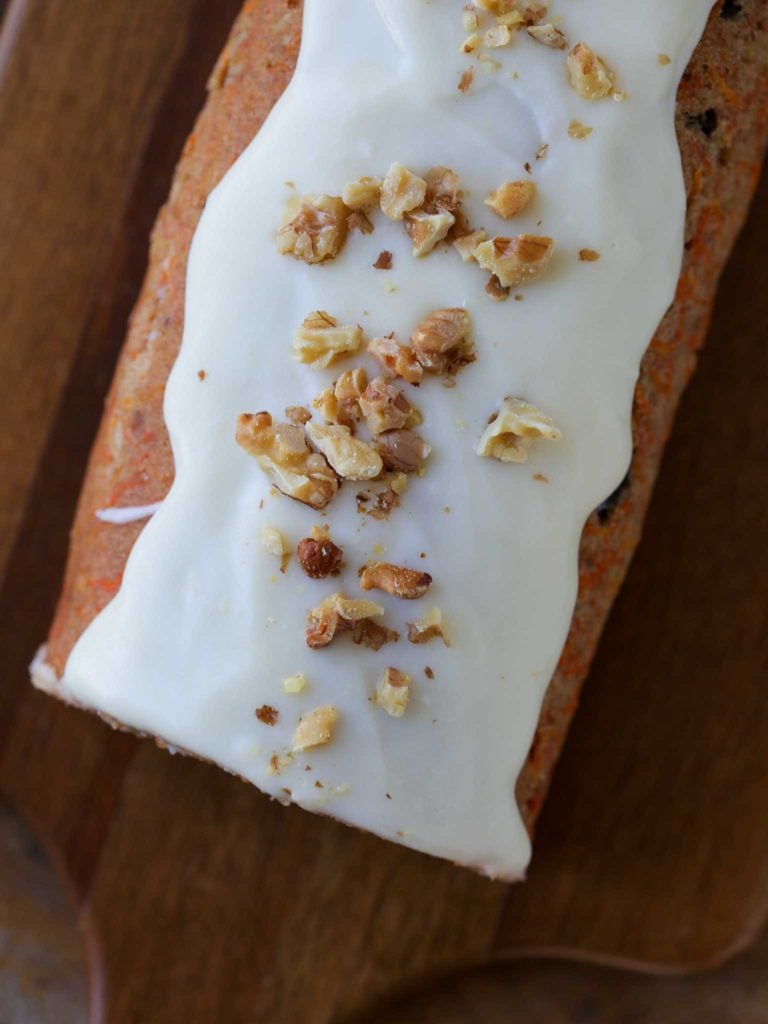 Tips for making the perfect Easy Carrot Cake Roll!
Mixing method. Emulsification: It's not magic, it's science.
Carrot Cake Roll Secrets: You cannot substitute for freshly shredded carrots that you squeeze of excess moisture. I use cheesecloth or a tea-towel in a pinch. You can use pre-grated carrots but they will be fatter and have variable amounts of moisture.
Chiefly, bake your cake right, mmkay?
Unfortunately, an over-baked cake will be dry and have a tendency to crack. Fix it by making a quick bourbon simple syrup (equal parts sugar and water brought to a boil and mixed with bourbon) and brushing the cake with the syrup prior to rolling.
An under-baked cake is possibly worse because it will be sticky and gooey and it will stick to the towel and to you and to basically everything you don't want it to stick to. Just like plastic wrap (grrr)
Cooling: Cool the cake in a towel really does make a world of difference! It also keeps your cake moist. Pre-roll your roulade before adding the buttercream, and let it cool almost all the way. Add your buttercream and the cake will be trained to want to be in the rolled shape for the REAL ROLL round. Winning.
Chill your cake well before slicing and slice with a sharp knife or a serrated knife!
Bonus points: Soak your carrot cake roll in Bourbon Simple syrup. It's a certainly revelation!
Hate mess? One bowl magic.
Could I make this roll in one bowl? (Ooooh that rhymes!) There is an important distinction between "can" and "should" in pastry. Can you mix this all in one bowl, yes. Should you mix it all in one bowl, perhaps not. Pre-whisking together the dry ingredients has two benefits: distributing the leavening and spices in the flour, and allowing for the fastest incorporation with the wet ingredient. Mixing it all in one bowl can more easily lead to an overmixed cake, which will create tunnels in your carrot cake roll and a tough, chewy texture. How sad, and no sadness allowed here at CLF.
Easy Carrot Cake Roll
This Easy Carrot Cake Roll is made using my one bowl carrot cake recipe. It is moist, tender and flavored with cinnamon, carrots, raisins and walnuts. The soft cake is rolled up with my Favorite Cream Cheese Buttercream!
Ingredients
For the Simple Syrup:
½

cup

Water

½

cup

Sugar

2

tablespoons

Bourbon whiskey
Instructions
Preheat oven to 325°F. Spray and line a half sheet pan or large jelly roll pan with parchment paper.

In a bowl whisk together flour, baking powder, cinnamon and salt. Set aside.

In a large bowl whisk eggs until smooth. Slowly whisk in the oil to emulsify. They should be pale and voluminous.

Whisk in the sugar then fold in the dry ingredients.

Fold in carrots, walnuts and raisins.

Pour batter into the prepared baking sheet and bake in preheated oven 8-10 minutes or until there is a slight resistance and spring-back when touched lightly in the center. The top will begin to brown slightly.

Allow to cool in pan 5 minutes then turn out onto a tea towel. Pre-roll the cake to accustom it to it's new, not flat shape. Allow to cool most of the way in the towel and then unroll and cool completely. This will help it not crack.

While the cake cools make the simple syrup and buttercream. To make the simple: stir together water and sugar in a small pot. Bring just to a boil then remove from heat and cool completely. Refrigerate. Mix about ¼ cup of the simple with 2 tablespoons of bourbon (more or less to taste).

Once cool, soak lightly with the simple syrup and spread a ⅛ thick layer of buttercream on the inside, leaving about ½ inch space at the end that is frosting free. Roll tightly starting from the center and then top with more buttercream, dust with powdered sugar or a cream cheese glaze.

For easiest slicing, chill completely before serving.
Video Instructions
Notes
Yields: 1,  12 inch Roll Cake