These Carrot Cake Scones have a tender scone texture with all the flavor of carrot cake down to the cream cheese glaze!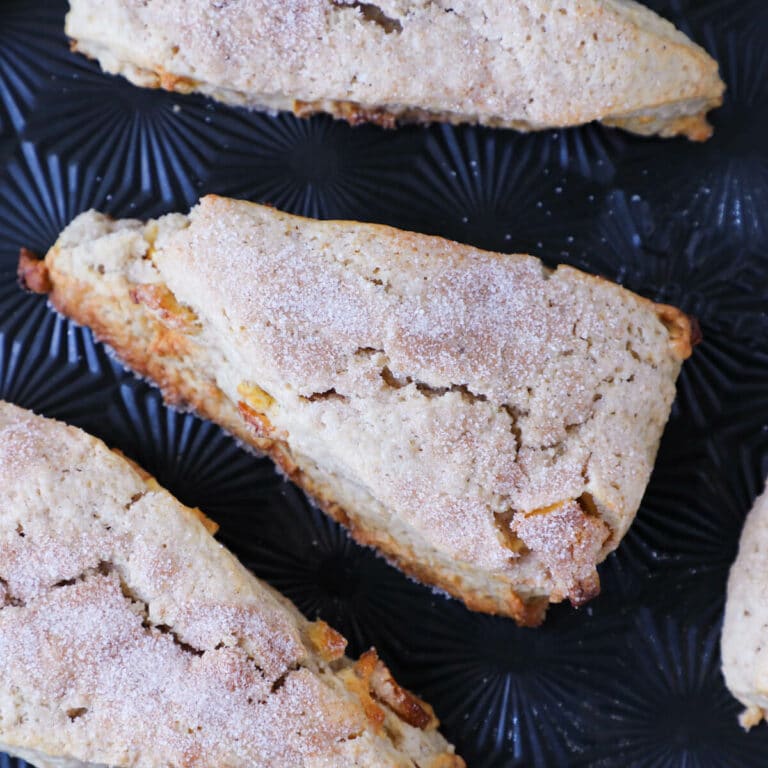 I had a bit of a carrot cake moment this year. I'd like to think the inspo for these carrot cake scones was that carrot cake is my husband's favorite! But, if I'm being honest, it probably has more to do with wanting to eat cake for breakfast. Plus these scones serve you that without the side of guilt!
Like my Chocolate Chip Scones or blueberry scones, these have what I like to consider my signature scone texture. Meaning they are soft, tender and moist, but the perfect amount of dense. Never cakey!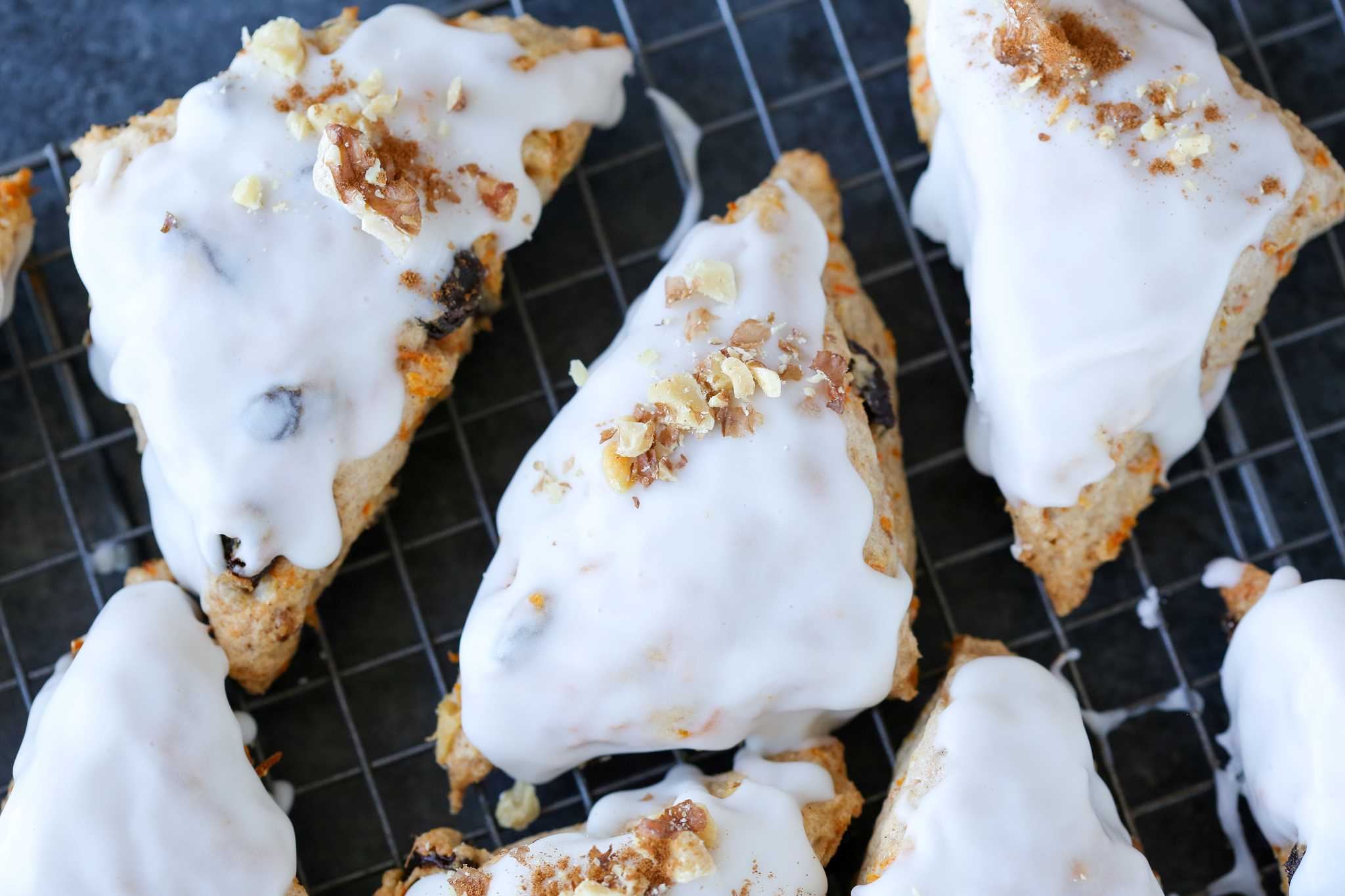 Tips for Flawless Carrot Cake Scones
Cut the butter into the dry ingredients completely! I know this goes against what all the other people say but years of testing and making giant batches at the restaurants has proven to me that this makes the most tender and moist scones. It means you need fewer wet ingredients to make a cohesive dough, which means less gluten! No tough, sad scones here!
Whisk together all the carrot cake scones' wet ingredients. In large batches I use an immersion blender but a whisk does the job just fine here! Because you have whisked the eggs into the cream, it means you don't have to mix your dough while the eggs incorporate. Less mixing after the addition of wet ingredients means more tender baked goods!
Make the dough in the mixer but finish the dough and fold the carrots in by hand. A stand mixer will make a more tender scone but finishing by hand gives you the control to incorporate just enough without over mixing. It also gives you the control to get the carrots all in the dough without overworking it. No uneven carrot distributions in these carrot cake scones! The horror!
Carrot cake is one of those cakes that instantly transports me to Spring. Don't miss the best carrot cake, these carrot cake cupcakes from culinary school, or my easy carrot layer cake. My carrot cake roll can also be made in one bowl!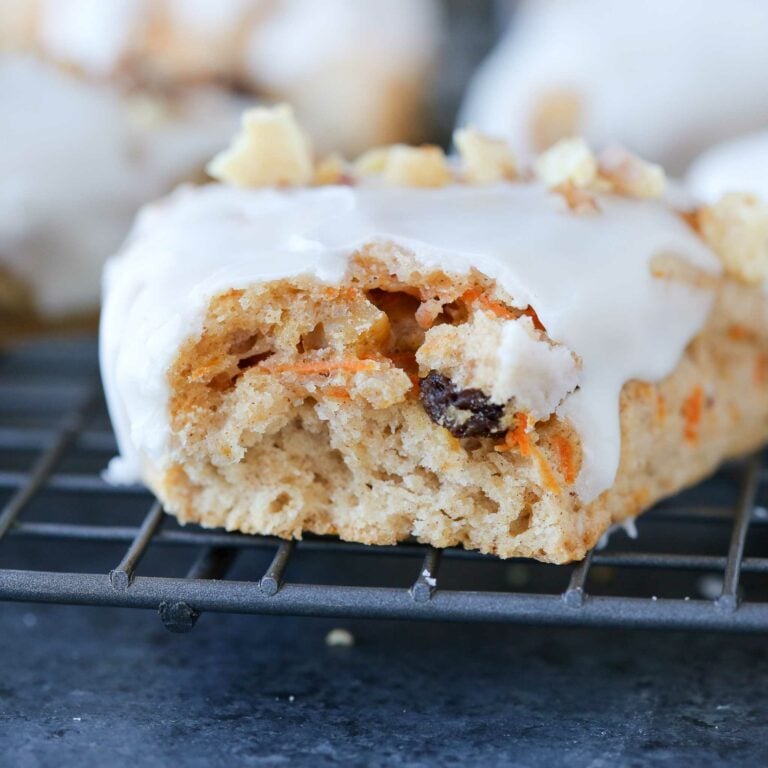 Carrot Cake Scones
These Carrot Cake Scones have a tender scone texture with all the flavor of carrot cake down to the cream cheese glaze!
Instructions
Preheat oven to 325°F

In the bowl of a stand mixer fitted with the paddle attachment, add the flour, sugars, salt, cinnamon, and baking powder. Mix with paddle (by hand) just to distribute ingredients. Add butter and mix on low to cut in the butter until the butter is no longer visible and it resembles wet sand.

While this is mixing combine the vanilla, eggs and cream with an immersion blender or whisk and blend until smooth.

With the mixer running on low, slowly pour in the cream mixture and mix until almost incorporated.

Dump out mixture on a dry surface and knead dough together (gently, with love!). Do this until no visible dry spots remain.

Be sure you've squeezed our your carrots before you add them! Add the carrots, walnuts, and raisins and gently fold them in.

Roll to about an inch thick. Cut into 3.5in strips and then cut each strip into squares and then cut each square in half on a diagonal to form a triangle. Place triangles onto parchment lined baking sheet. Refrigerate at least 30 minutes

Brush scones with heavy cream to lock in the moisture.

Bake in preheated oven on HIGH fan for 18-20 minutes (for 3 1/2-inch scones) or until golden brown and puffed.

Cool completely on baking sheets.
For the Glaze:
Whisk all ingredients together, cover with plastic wrap until ready to use.
Assembly:
Glaze your (mostly) cooled scones with your newly made glaze and enjoy! I only say 'mostly' because I have a lack of self control around these scones!
Notes
Presentation
– Get a beautiful finish to your scones and lock in their moisture by brushing them with heavy cream just prior to baking. Have fun while glazing–you can make precise wavy lines, swirls, or just coat them in sugary goodness. You can even add a little bit of extra crunch on top after glazing by adorning with some walnuts. 
Flavor Tips
– Avoid gummy pockets in your scones by thoroughly squeezing out your carrots prior to adding them. 
Technique
– Cutting cold, cubed butter completely into the dry ingredients will cut the gluten strands and limit their ability to create a strong network. A strong gluten network will make a tough scone. I mix all the wet ingredients before adding them to the dough. This allows for a quick incorporation and will make tender carrot cake. I also finish mixing with a delicate hand.
Helpful Tools
– I like to use an immersion blender to mix my wet ingredients to be sure they are thoroughly incorporated before I add them to my flour mixture–this keeps me from needing to overwork the gluten in my flour. However, you could get by without a blender if you incorporate well without one.
Variations
– If you're not a fan of raisins or walnuts you can omit them or replace them with other dried fruits and nuts. 
Storage
– Store baked, unglazed scones in an air-tight container at room temperature, refrigerated or frozen. Zip-top plastic bags also work nicely. Scones are best the day they are baked, so I prefer to freeze the cut dough and bake them as they are needed. Alternately scones will keep 3 days at room temperature, 7 days in the refrigerator or 3 months pre-baked and frozen.
Yield: 12, 3.5" Triangles
Nutrition
Calories:
635
kcal
|
Carbohydrates:
95
g
|
Protein:
8
g
|
Fat:
26
g
|
Saturated Fat:
14
g
|
Polyunsaturated Fat:
4
g
|
Monounsaturated Fat:
6
g
|
Trans Fat:
1
g
|
Cholesterol:
97
mg
|
Sodium:
316
mg
|
Potassium:
284
mg
|
Fiber:
3
g
|
Sugar:
52
g
|
Vitamin A:
6097
IU
|
Vitamin C:
2
mg
|
Calcium:
94
mg
|
Iron:
3
mg
Like this? Leave a comment below!