These soft, chewy sugar cookies are soft and chewy inside but still delightfully crunchy outside!
Many tests and a lot of sugar went into developing the perfectly sweet chewy sugar cookie recipe: not too cakey, not too flat with correspondingly the right level of sweetness. For years at work I pushed myself to think of new fun spins on classic desserts (Fruit Cake Cookies anyone?) or an unexpected twist (Classic Pumpkin Pie with a twist is one of my faves).

However, recently I have taken a lot of joy in perfecting the simple childhood classics. No twists, no turns, just damn good dessert. These sugar cookies share that ongoing journey with The Best Snickerdoodles and Thick Chewy Chocolate Chip Cookies.
These cookies make great ice cream sandwiches with my double chocolate caramel ice cream, or use them as the base for these ice cream cookie stacks!
What makes sugar cookies chewy?
There are three main things that make sugar cookies chewy and soft:
There is a high ratio of sugar to butter. Too much sugar will cause the cookies to spread and be crispy, but the perfect ratio will retain moisture and keep them soft and chewy.
Under-creaming the butter and the sugar will prevent too much air from being trapped in between the particles, thus creating a thicker, chewier cookie. Beat just until a paste forms.
The perfect ratio of flour to butter and sugar. Too much flour will make cakey cookies, and too little will cause excessive spreading.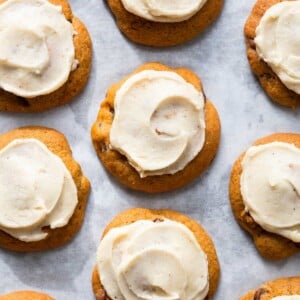 How to keep sugar cookies soft for days?
So you've baked the perfect chewy sugar cookies! Now the trick is storing them to keep the cookies soft for days. Store chewy cookies in an airtight container in the freezer for the best storage. This will keep them soft, chewy and flavorful for up to a month! You can also store them in an airtight container at room temperature for up to a week, but they will gradually lose their chewiness.
Chewy Sugar Cookie Recipe Ingredients
Granulated Sugar: Granulated sugar is obviously here for sweetness, but if you add too much in proportion to the butter and flour, the cookies will spread rather than stay tall and chewy.
Butter: I use unsalted butter for baking, because you want to control the amount of salt you are adding. Every brand is different and it makes adjusting the recipe a challenge.
Whole Egg: The egg is here to add fat, moisture and leavening. The fat from the yolk adds richness and helps keep the cookies chewy. Beating in the egg just enough will add a little or a lot of leavening depending on the desired texture. Egg also emulsifies the batter and keep everything texturally perfect.
Whole Milk: There is just the right amount of milk to pull the dough together but not so much to make the cookies tough. The addition of a liquid means we have to be extra careful not to overmix the dough and activate the gluten in the flour.
Vanilla Extract: Vanilla Extract adds a beautiful flavor to these chewy sugar cookies.
All-purpose flour: All-purpose flour has just the right amount of gluten to make soft chewy cookies.
Baking Powder: Double acting baking powder will react instantly when it is mixed with an acid and then again when it is heated.
Kosher Salt: Kosher salt is lass salty than table salt and a teaspoon weighs less than other finer ground varieties. It heightens the flavor here and will keep your chewy sugar cookies from tasting dull or flat.
Chewy Sugar Cookie Recipe Frequently Asked Questions
Can I roll these sugar cookies in extra sugar?
I initially rolled these in extra sugar but I found that to be just a bit too far! Yes, there can be too much sugar!
How long will these cookies keep?
These chewy sugar cookies will keep up to 10 days at room temperature or several months frozen.
Can you freeze these cookies?
You can freeze the baked cookies for up to 2 months, or freeze the cookie dough balls. Then you can bake them fresh at any time.
How do you bake these sugar cookies from frozen?
Bake at 350°F for 10-12 minutes straight from frozen! Bake until the edges have begun to brown, the centers are puffed and the outside has begun to crack. The center should look matte rather than shiny.
Will these cookies ship?
These cookies ship wonderfully. Package in a decorative tin or just place in a zip-top bag in a mailer box. They keep for 10 days and they stay chewy for almost as long. The larger the cookie, the longer they stay chewy!
Will the recipe multiply?
You can make as large a batch of these chewy sugar cookies as you would like. You are only limited by the size of your mixer.
Do I need to chill the cookie dough?
Since the butter was softened, these cookies do need to chill at least 2 hours before baking. Otherwise they will spread too much and they will not be chewy. Chilling the dough before baking will create thicker, chewier cookies.
Chewy Sugar Cookies
A pastry chef perfects Chewy Sugar Cookies! They are soft and chewy inside but still delightfully crunchy outside!
Instructions
Preheat oven to 325°F convection

Cream butter and sugar in the bowl of a stand mixer fitted with the paddle attachment until light and fluffy. Add egg and beat well.

Add milk and vanilla and beat well.

Whisk together flour, baking powder and salt. Reduce mixer to low and add dry ingredients in three additions, waiting until almost all the flour has been incorporated before adding the next.

Scoop with a large cookie scoop or roll in to balls about ¼ cup size. Chill dough before baking.

Place on cookie sheet lined with parchment paper and bake in preheated oven 10-12 minutes until the edges are a nice golden brown, the centers have puffed and the surface looks matte not shiny.
Notes
Yield: 13, 45g cookies
Cool completely. Store in a sealed container at room temperature for up to 7 days. They will gradually lose their moisture.
Nutrition
Calories:
235
kcal
|
Carbohydrates:
40
g
|
Protein:
3
g
|
Fat:
8
g
|
Saturated Fat:
5
g
|
Polyunsaturated Fat:
0.4
g
|
Monounsaturated Fat:
2
g
|
Trans Fat:
0.3
g
|
Cholesterol:
31
mg
|
Sodium:
115
mg
|
Potassium:
30
mg
|
Fiber:
1
g
|
Sugar:
25
g
|
Vitamin A:
238
IU
|
Calcium:
13
mg
|
Iron:
1
mg
Like this? Leave a comment below!
Before You Go!
Check out our other delicious, chef-developed Cookie Recipes!