This is the best Snickerdoodle Cookie Recipe! It is the softest, chewiest snickerdoodle you'll ever have with the perfect cinnamon sugar coating.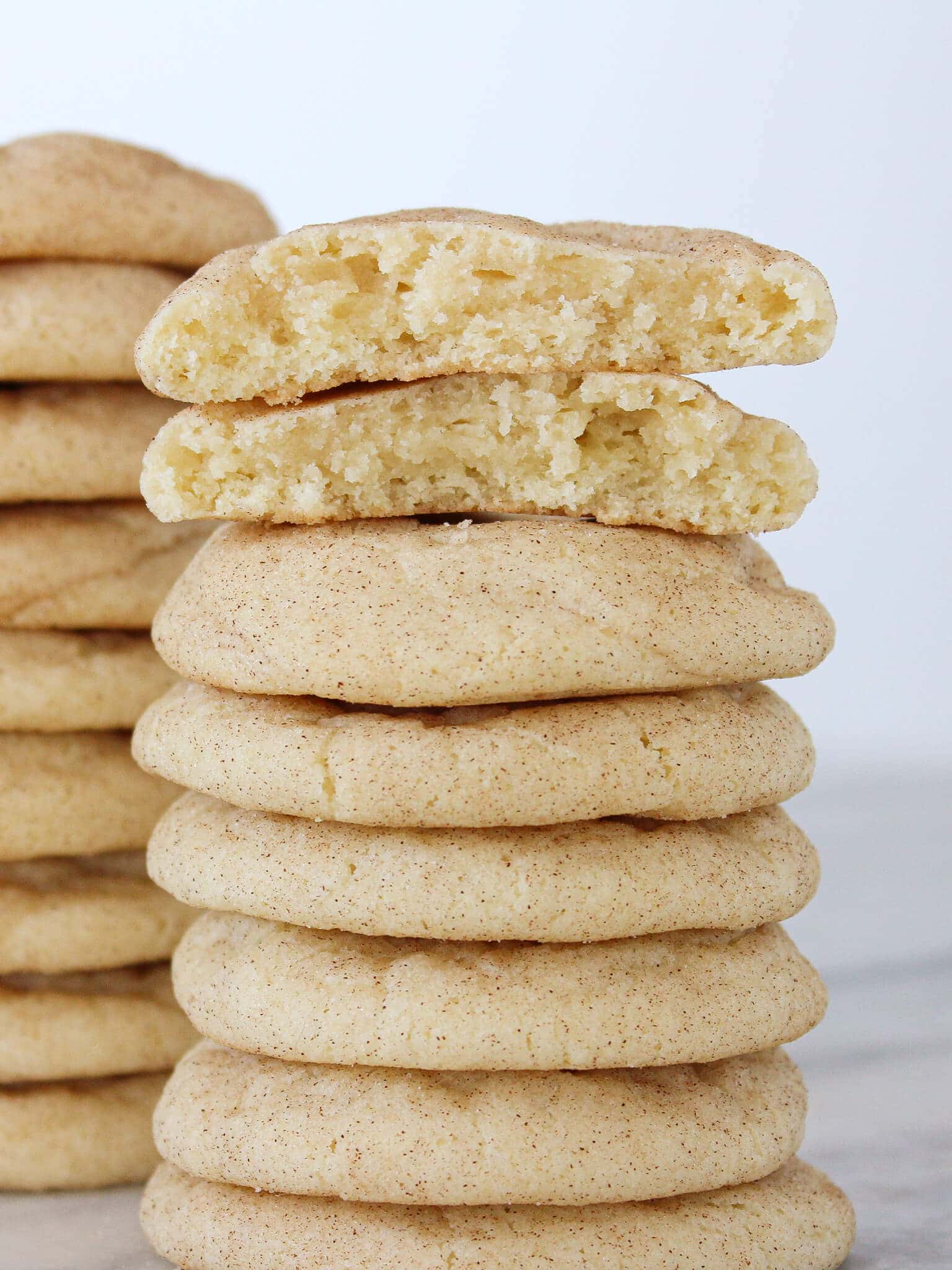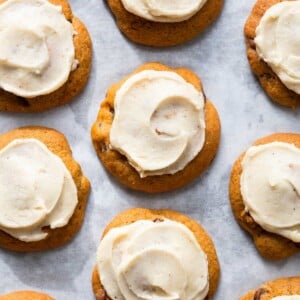 The best snickerdoodle cookie recipe makes 'doodles that are soft and chewy with that characteristic 'doodle tang. The cinnamon sugar is just a touch crunchy and adds a little extra sweetness. They also come together in under 30 minutes. You don't even have to chill them! You should, and it would be better if you did, but you don't have to.
In my professional pastry chef life I have a habit of testing and tweaking every single recipe until I deem it perfect. Then as a bonus I get to share it with you! I used the same regimented magic on these sugar cookies, peanut butter chocolate chip cookies, and triple chocolate cookies.
I even went through a phase where I was obsessed with perfecting yellow cake, classic white cake and a one bowl chocolate cake.
What makes it a Snickerdoodle Cookie?
What makes a 'doodle a 'doodle? Two things my friends.
True snickerdoodles must have cream of tartar in the dough and a beautiful coating of cinnamon sugar on the outside. It is also my personal opinion that there is no cinnamon in the dough itself, but that is a much debated opinion.
What makes this the Best Snickerdoodle Cookie Recipe?
All the Sugar: The high ratio of sugar to flour makes these tender and chewy. It is high in proportion to other cookies but not as high as my chewy sugar cookies. Those have more sugar than flour! That extra sugar causes them to spread more rather than be pillowy like the best snickerdoodle cookie recipe.
Milk: Just the right amount of milk to pull the dough together but not so much to make them tough. The addition of a liquid means we have to be extra careful not to over mix the dough and activate the gluten in the flour.
Baking Soda: The baking soda reacts with the acid in the cream of tartar to help the cookies rise fast and stay tall. For this reason, this dough does not sit well over long periods of time. It will eventually not rise at all in the oven. Trust me, I learned that the hard way on a large scale.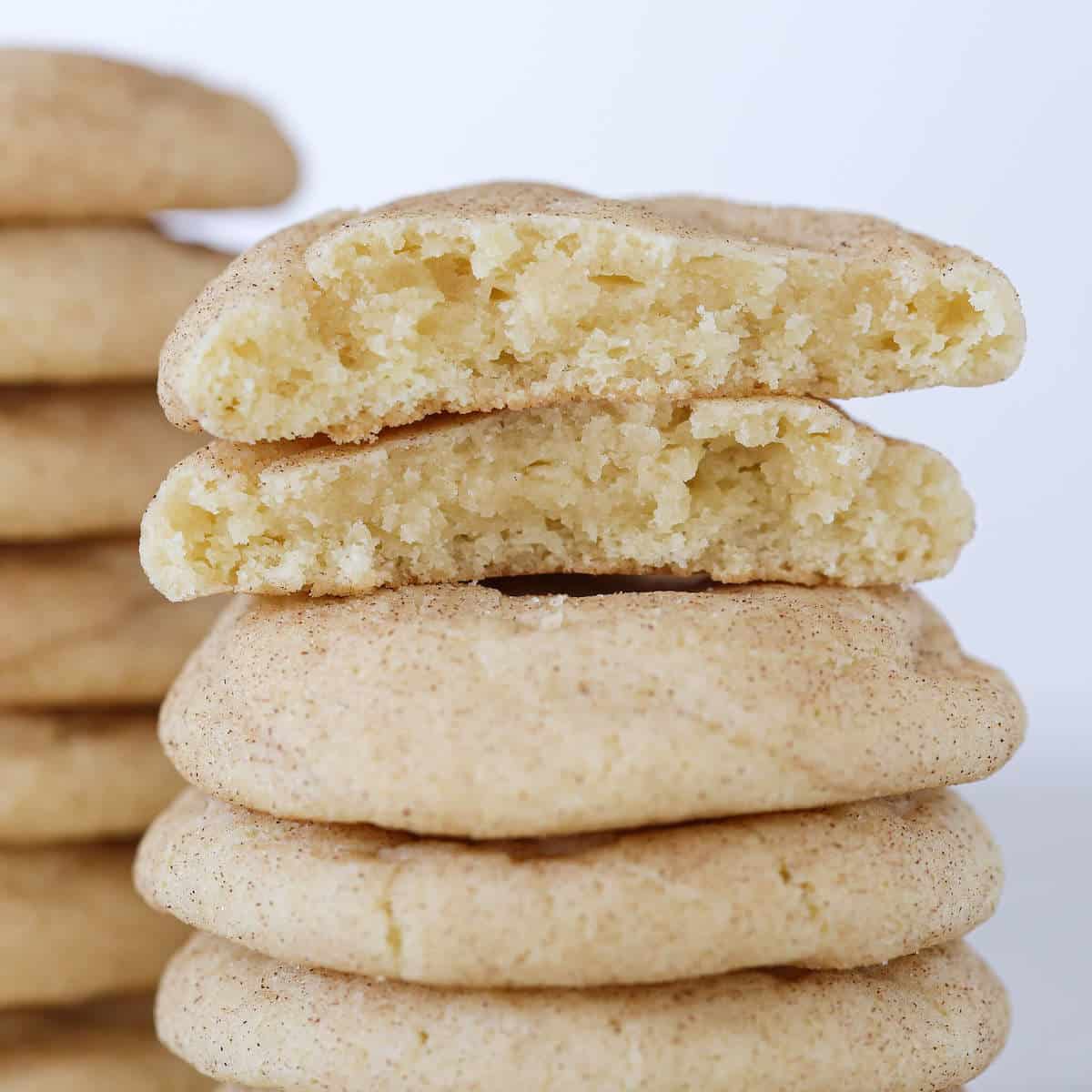 What makes soft, pillowy Snickerdoodles?
The addition of milk after creaming the butter and sugar adds just enough extra moisture to the dough to create extra soft, pillowy snickerdoodle cookies. The high ratio of the flour and sugar to butter also contribute to the thickness. Lastly the cream of tartar and the baking soda react more intensely than baking powder, giving you that tall, puffed cookie! The best snickerdoodle cookies indeed!
Ingredients Needed
Granulated Sugar: Granulated sugar is obviously here for sweetness, but if you add too much in proportion to the butter and flour, the cookies will spread rather than stay tall and chewy.
Butter: I use unsalted butter for baking, because you want to control the amount of salt you are adding. Every brand is different and it makes adjusting the recipe a challenge.
Whole Egg: The eggs are here to add fat, moisture and leavening. The fat from the yolk adds richness and helps keep the cookies chewy. Beating in the eggs just enough will add a little or a lot of leavening depending on the desired texture. Eggs also emulsify the batter and keep everything texturally perfect.
Milk: Just the right amount of whole milk pulls the dough together but not so much to make them tough. The addition of a liquid means we have to be extra careful not to over mix the dough and activate the gluten in the flour.
Vanilla Extract: Vanilla Extract adds a beautiful flavor itself but it also boosts the flavor of other ingredients around it.
All-purpose flour: All-purpose flour has just the right amount of gluten to make the best snickerdoodle cookie that is soft, chewy and thick.
Cream of Tartar: Cream of tartar is a bi-product of wine making and is very acidic. It adds that characteristic tanginess to the dough and also reacts with the baking soda for the dramatic pillowy texture!
Baking Soda: Baking soda reacts with an acid, cream of tartar in this instance, to leaven the cookies. It reacts more powerfully than baking powder and will create a more dramatic rise, but will not continue to react in the heat of the oven or without the presence of an acid.
Kosher Salt: Kosher salt is lass salty than table salt and a teaspoon weighs less than other finer ground varieties. . It heightens the flavor here and will keep your cookies from tasting dull or flat.
Cinnamon Sugar: Cinnamon sugar is essential for snickerdoodles. The dough is rolled in the sugar mixture just prior to baking.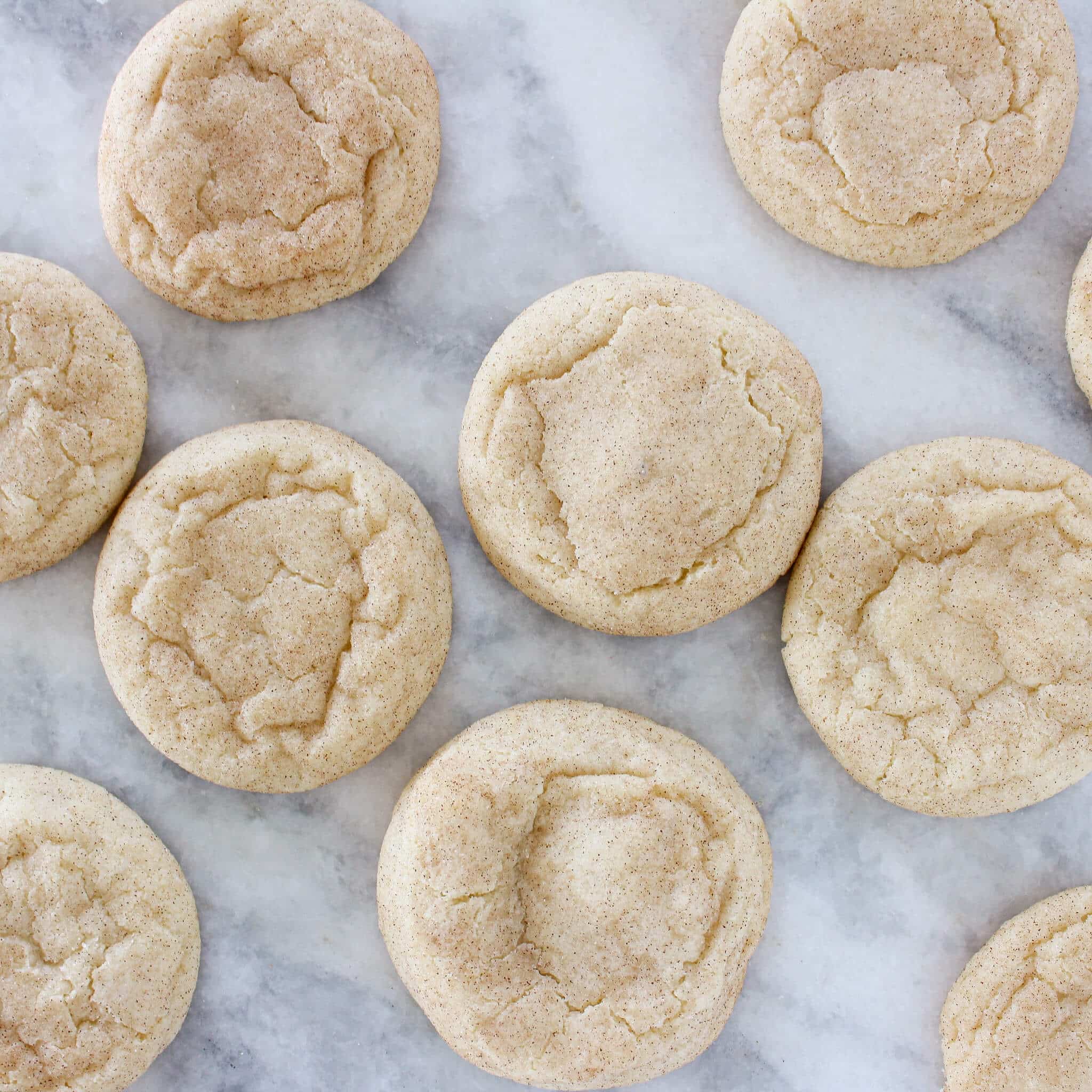 Variations on the Snickerdoodle
Mix up the Mix: use a different spice mix like my pumpkin pie spice mix or speculoos spice mix with the exterior sugar coating for a different twist!
Triple Cinnamon: Add 1 teaspoon of cinnamon to the dough and toss in some cinnamon chips for a cinnamon party!
Stuffed Snickerdoodles: Wrap the dough around a dollop of cream cheese or a caramel candy for an easy stuffed cookie!
Pastry Chef Tip
It's a little unconventional but be sure to follow the order of mixing. Add the milk with the vanilla extract before the dry ingredient mixture. This will ensure pillowy, soft cookies rather than tough cookies. We are here for the best snickerdoodle cookie after all, am I right?!
The Best Snickerdoodle Cookie
The BEST Snickerdoodle Cookie is here! It is the softest, chewiest snickerdoodle you'll ever have. An easy, fast cookie for any occasion!
Instructions
Preheat oven to 325°F convection.

Whisk together flour, baking soda, cream of tartar, and salt; set aside.

Cream butter and sugar until light and fluffy. Add eggs one at a time.

Add milk and vanilla and beat to combine.

Reduce mixer speed to low and slowly add dry ingredients until just incorporated.

Scoop with a medium cookie scoop or roll about 2T sized bits of dough into balls. Chill completely (about 30 minutes or wrap and chill overnight).

In a small bowl, whisk together the cinnamon and sugar. Roll the chilled dough in the cinnamon sugar and place on parchment-lined baking sheet.

Bake in preheated oven about 10 minutes or until puffed and set around the edges.

Cool and eat!
Notes
Yield: 36 cookies
In the video I made a half batch. You can also freeze the cookie dough and bake from frozen.
Store extra cinnamon sugar in a sealed container and add to oatmeal or save for more cookies!
Nutrition
Calories:
321
kcal
|
Carbohydrates:
53
g
|
Protein:
4
g
|
Fat:
11
g
|
Saturated Fat:
7
g
|
Polyunsaturated Fat:
1
g
|
Monounsaturated Fat:
3
g
|
Trans Fat:
1
g
|
Cholesterol:
46
mg
|
Sodium:
217
mg
|
Potassium:
67
mg
|
Fiber:
1
g
|
Sugar:
31
g
|
Vitamin A:
346
IU
|
Vitamin C:
1
mg
|
Calcium:
17
mg
|
Iron:
1
mg
Like this? Leave a comment below!