This three ingredient, homemade whipped cream is rich, silky smooth and perfectly sweetened. Make this easy homemade whipped cream recipe with an electric mixer or by hand in under 5 minutes!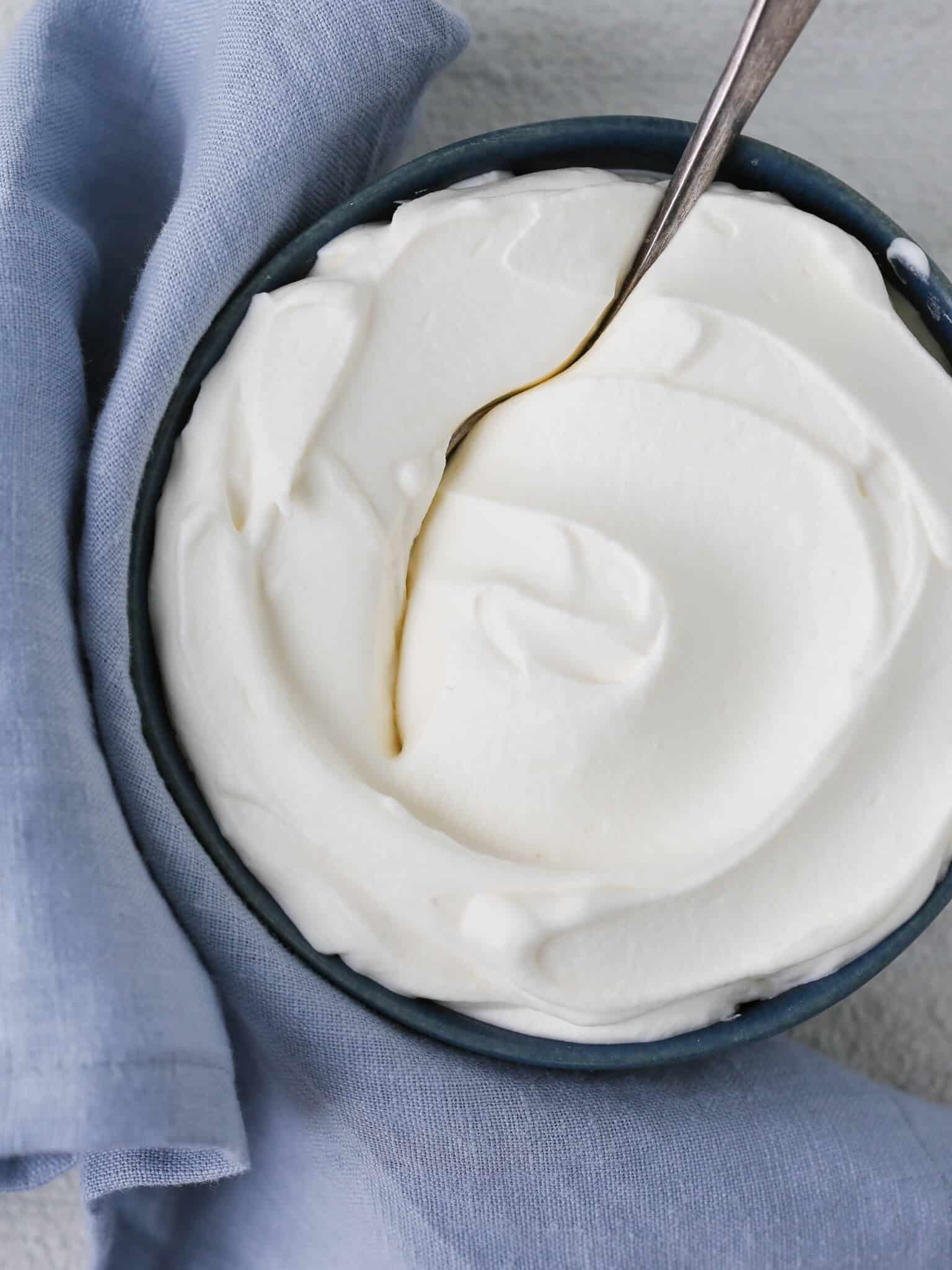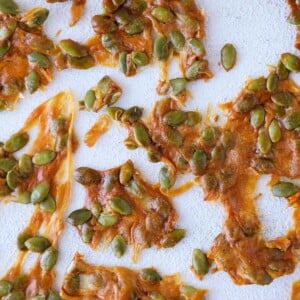 Homemade whipped cream is the nude patent-leather pumps of the dessert world. It pulls together almost any dessert with very little effort and compliments, rather than competes, with most flavors. A pillowy cloud of whipped cream will make even plain sliced strawberries seem like a novel dessert.
In my professional life as pastry chef, I like to balance desserts not only individually but as a whole. Some desserts pair better with an double ice cream, gelato or sorbet and some, on the other hand, best pair with a whipped cream. Sometimes it is just a simple whipped cream that is needed but other desserts call for a lemon whipped cream or a crème fraîche whipped cream. Bonus points for adding a brown sugar streusel or pumpkin seed brittle to the top for a little crunch!
How to use Homemade Whipped Cream?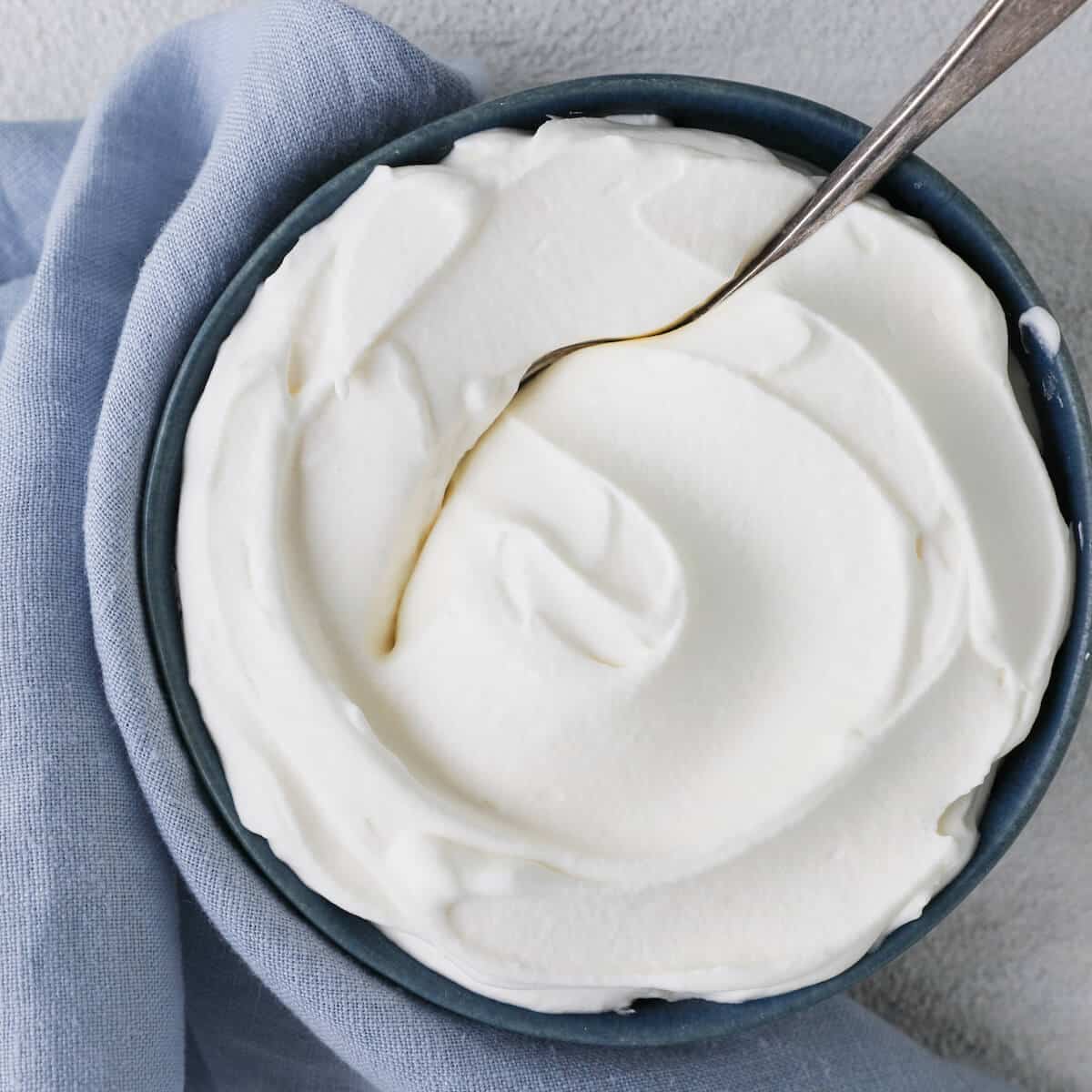 Ingredients Needed:
Heavy Cream: Use full fat heavy cream, sometimes called heavy whipping cream. Light whipping cream will in fact not whip the same. It will over whip easily and not be as smooth.
Powdered Sugar: I use Powdered sugar or confectioner's sugar to add sweetness, but incorporates easily into homemade whipped creams for a silky, smooth texture. Powdered sugar is sweeter by volume and weight than granulated, so use a light hand.
Vanilla Extract: Vanilla Extract adds a beautiful flavor itself and together with the heavy cream is reminiscent of ice cream.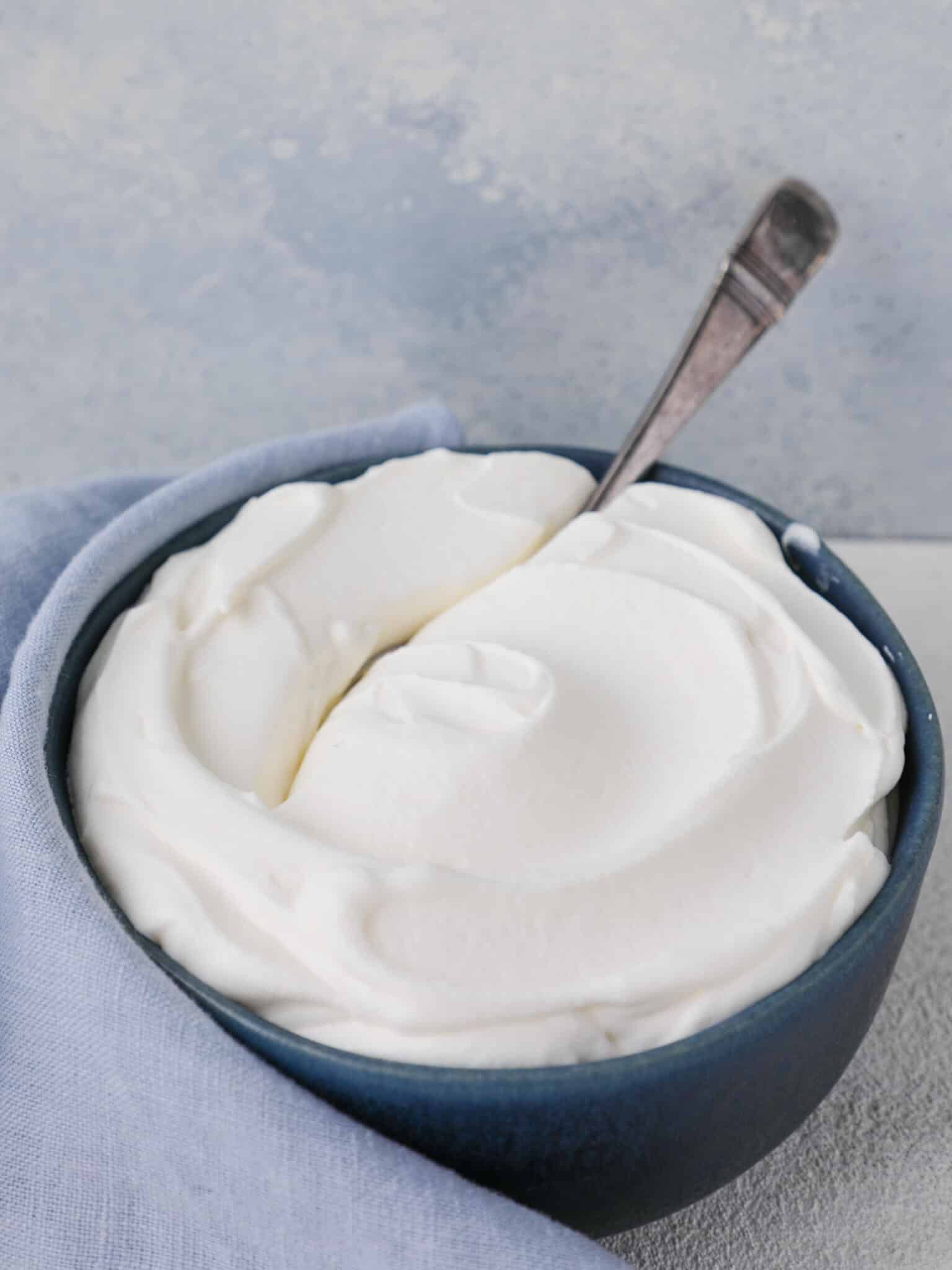 Can you over whip cream?
Absolutely! Over whipped cream will look like cottage cheese or curdled milk. It is best to stop frequently and check the stiffness. Remember that any sort of agitation of the cream will continue to "whip" it. Piping whipped cream or even swirling it on a pudding, pie or cake can overwork it and it will also begin to look curdled. The best thing is to just stop.
How to make perfect homemade whipped cream?
Start with cold heavy whipping cream. Light cream will not do! Use the whisk attachment on a stand mixer or whisk by hand in a large bowl. Choosing a larger bowl than you need with help get more volume and will whip faster. For the most stable, thick whipped cream either whip by hand or use a stand mixer on medium to medium-low speed. It will take longer but the results will be thicker, richer, and hold longer even when refrigerated.
Frequently Asked Questions
How to fix over whipped cream?
Add some cold heavy cream to the over whipped cream and whisk gently until it reaches the desired stage of stiffness. This works best with only slightly over whipped cream. If it is gone too far, then there really is nothing to do but start again.
Why is my cream not whipping?
The most common reason heavy cream isn't whipping up is because it is too warm. Start with very cold heavy whipping cream and a cold bowl and whisk can also help especially if your room is warm. The other reason could be the fat content is too low. Double check that it is 36-40% fat and not light whipping cream.
How to store whipped cream?
Store whipped cream in a clean air tight container in the refrigerator.
How long will homemade whipped cream keep?
Homemade whipped cream will keep for 3 days in the refrigerator. It will then begin to weep (leak liquid). I can be rewhipped and used for up to a week. A contaminated container or utensils, a warmer refrigerator or older cream will spoil faster.
Can you freeze homemade whipped cream?
Sadly, no, you cannot freeze and thaw homemade whipped cream. If you would like to eat it frozen, then it can be frozen as part of an ice box dessert, no-churn ice cream, or semi-freddo. Once it thaws it will begin to weep.
Can you make homemade whipped cream ahead?
Homemade whipped cream can be made up to three days ahead. It can be piped or spread on a finished dessert or stored in an airtight container.
Can you double or triple this recipe for homemade whipped cream?
Absolutely! You are only limited by the capacity of your mixer or the size of your bowl!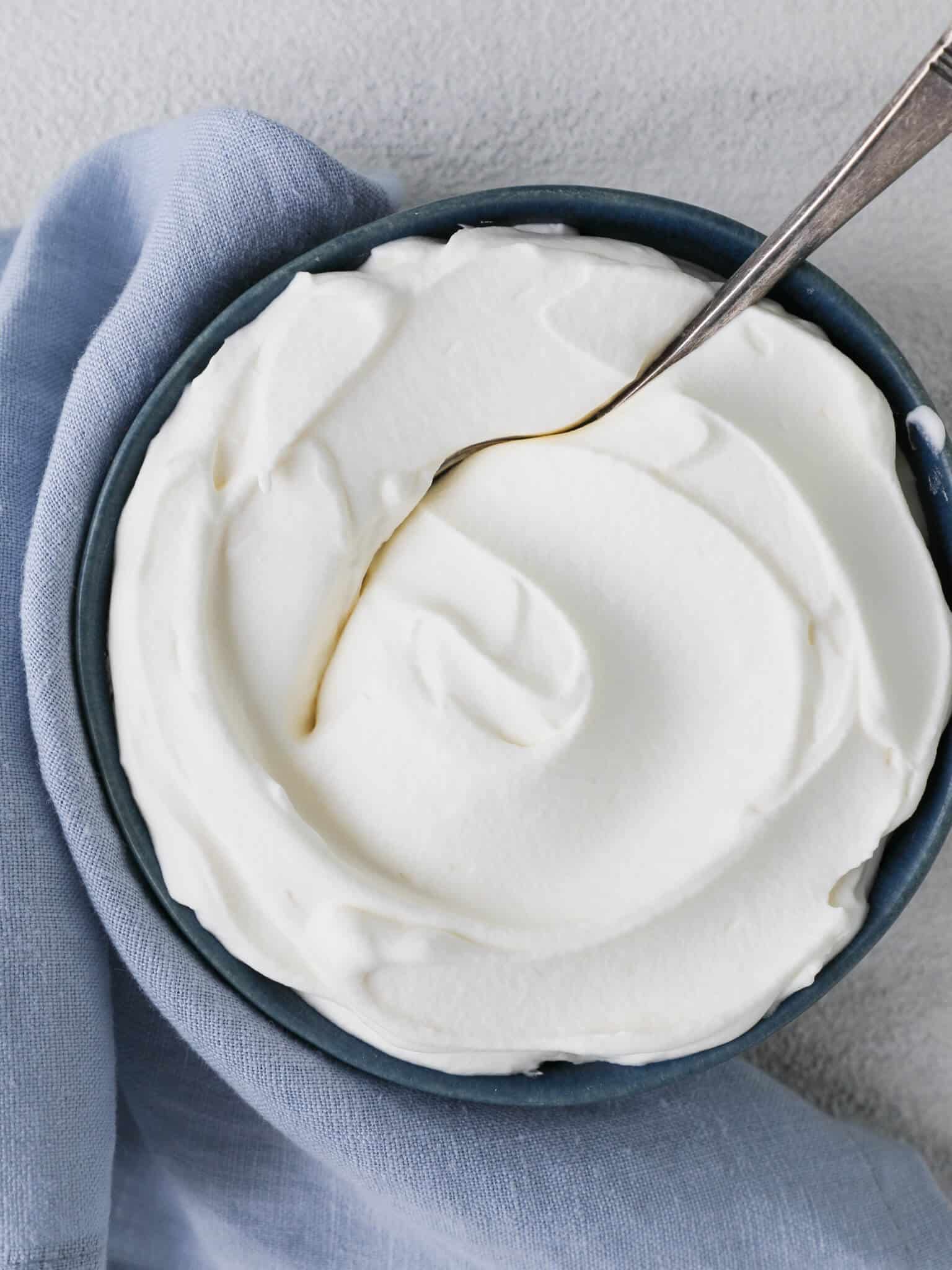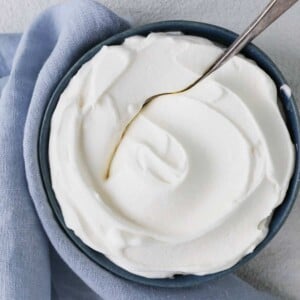 Homemade Whipped Cream
This three ingredient, homemade whipped cream is rich, silky smooth and perfectly sweetened. This easy homemade whipped cream recipe can be made with an electric mixer or by hand in just 5 minutes!
Instructions
In the bowl of a stand mixer fitted with the whisk attachment or in a large mixing bowl, whisk together all the ingredients. If your confectioner's sugar is a little lumpy, I strongly suggest sifting it into the cream. Otherwise, sifting isn't necessary.

Whisk on medium to medium low speed in the stand mixer or whisk by hand. Whisking on a lower speed will take longer but will result in a more stable, thick whipped cream. For this reason I don't use a hand mixer to whip cream. It is too forceful even on a low setting. This is not to say it cannot be done, because it absolutely can. I just find it to be less stable and faster to separate when sitting. It is also much easier to overwhip.

Whisk until desired stiffness is reached. Soft peaks is when the whisk is removed from the whipped cream, inverted and the cream forms a peak that droops over itself. Stiff peaks is when the same process is done but the cream forms a peak that remains vertical and doesn't droop. Usually just a few vigorous whisks stand between soft and stiff peaks.

Use as desired.
Nutrition
Calories:
211
kcal
|
Carbohydrates:
4
g
|
Protein:
2
g
|
Fat:
21
g
|
Saturated Fat:
14
g
|
Polyunsaturated Fat:
1
g
|
Monounsaturated Fat:
5
g
|
Cholesterol:
67
mg
|
Sodium:
16
mg
|
Potassium:
57
mg
|
Sugar:
4
g
|
Vitamin A:
875
IU
|
Vitamin C:
0.4
mg
|
Calcium:
39
mg
|
Iron:
0.1
mg
Like this? Leave a comment below!
Before You Go!
Check out our other delicious, chef-developed recipes for Desserts!