This Lemon Meringue Cheesecake is a creamy lemon cheesecake that is tart and refreshing. I piled that tart cheesecake high with an Italian meringue for an epic dessert!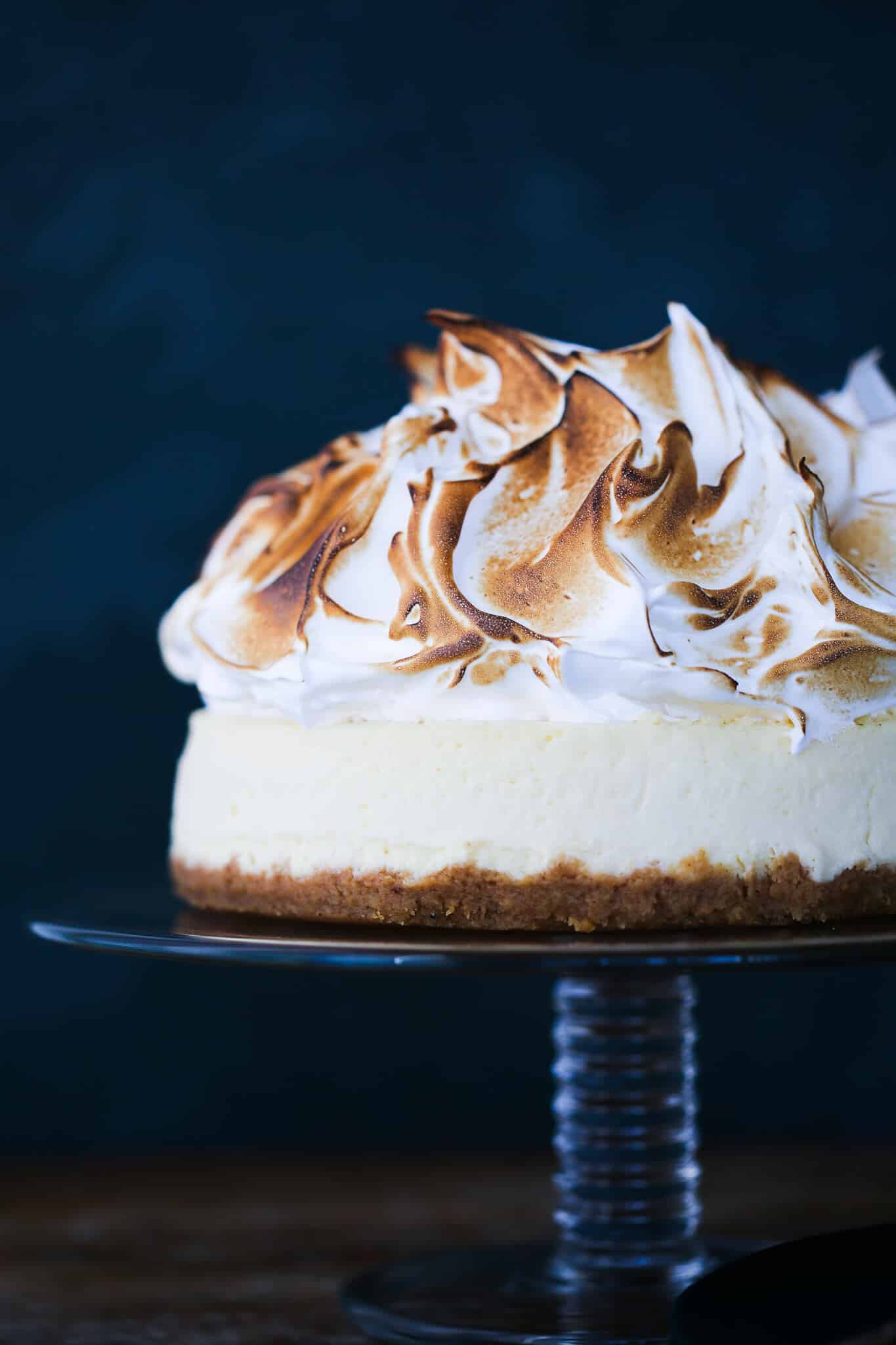 This Lemon Meringue Cheesecake is a go-to crowd pleaser. The cheesecake is melt-in-your-mouth creamy and it is perfectly tart. I basically tried to see how much fresh lemon juice I could get in a cheesecake without breaking the cream cheese or making it too loose. The sour cream adds to the tanginess! It is perfect unadorned or even with a simple blueberry sauce, but the absolutely epic mound of meringue topping is overwhelming in the best way.
This cheesecake is unabashedly lemon. She is bright and tangy and refreshing. Much like my perfect lemon bars and the best lemon curd, this lemon cheesecake is the perfect balance of tart and sweet.
Table of Contents
How to bake a cheesecake without cracks?
The surest way to bake a cheesecake without cracks is to bake it in a water bath. This allows for a slow, even heating process, which keeps the custard from boiling. The eggs will set the custard without needing high heat.
Why did my lemon cheesecake curdle?
The trick to making a cheesecake with acidic ingredients like lemon juice or passionfruit juice is to use cold cream cheese. Room temperature cream cheese breaks more easily and you could end up with a broken, soupy custard instead of a beautiful, sliceable cheesecake.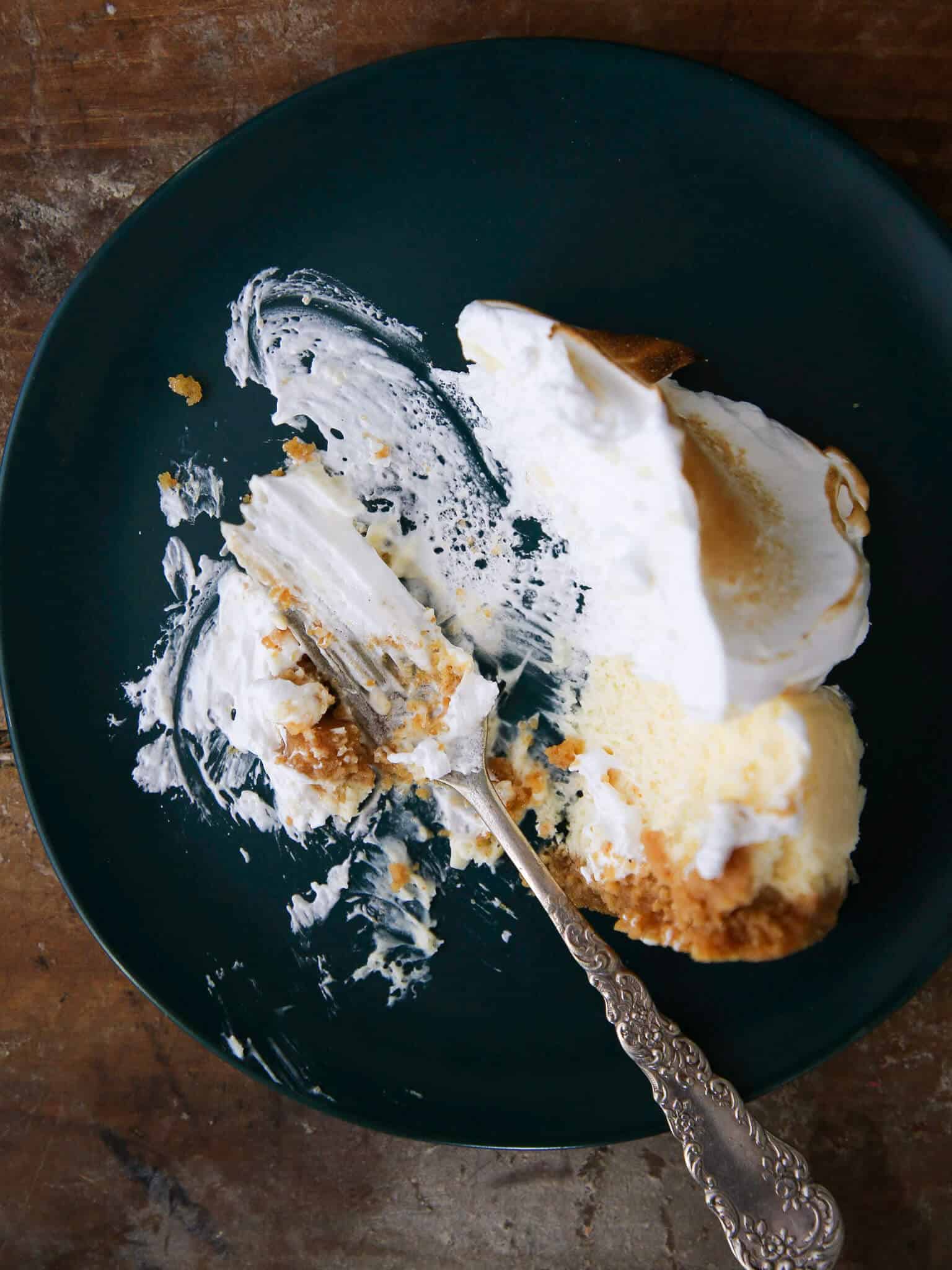 Ingredients for Lemon Meringue Cheesecake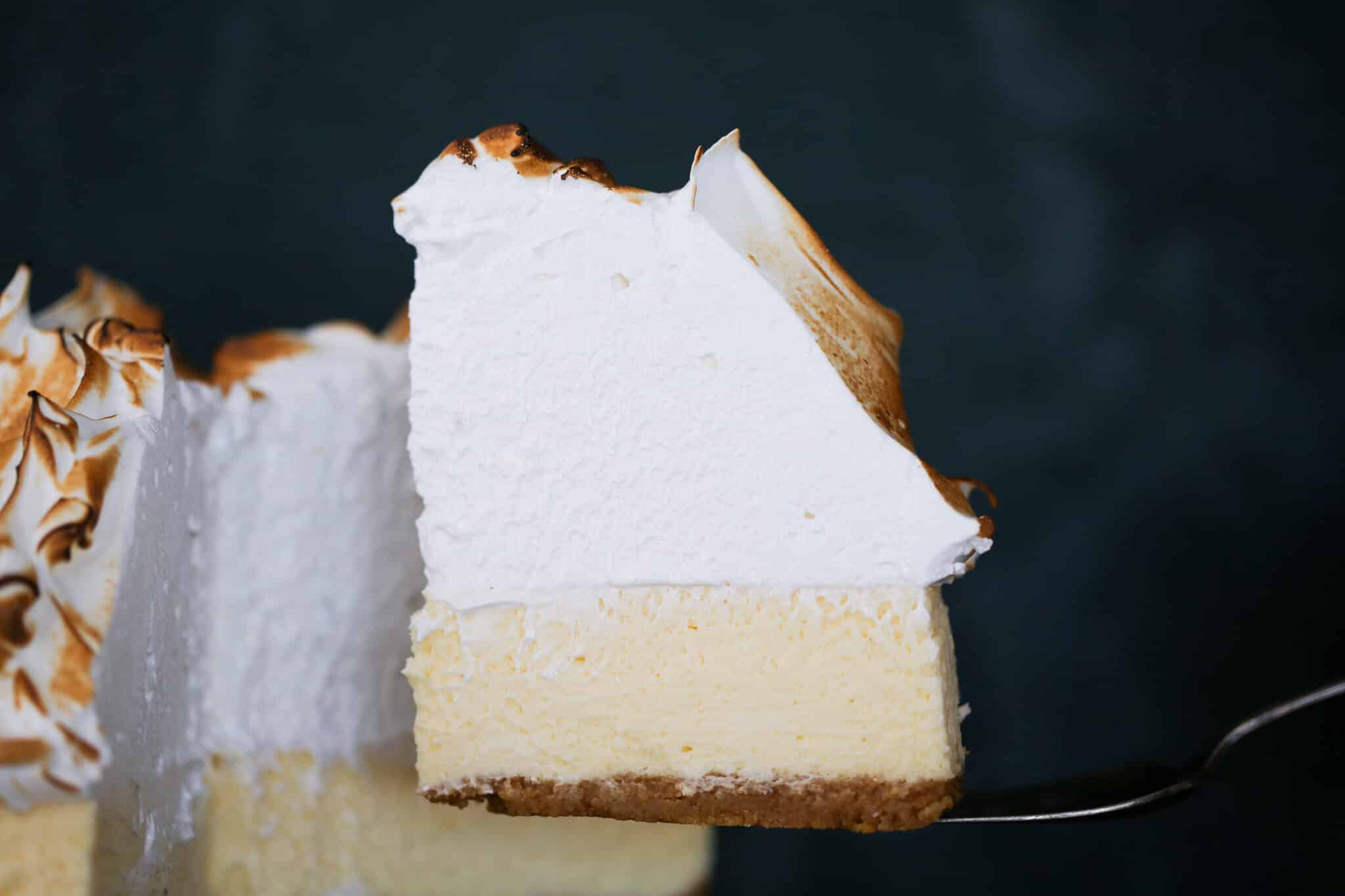 Frequently Asked Questions
How do you tell when a cheesecake is done?
A cheesecake is done when it jiggles like Jello when shaken gently. The whole cheesecake should appear to move together when gently shaken. If the center still looks like ripples in a pond or doesn't move with the sides, then it is not done.
How to serve Lemon Meringue Cheesecake
She can stand on her own as the perfect dessert but it would also be delightful with a simple blueberry sauce or my quick strawberry jam. You could lean into the lemon and serve it with a swoosh of lemon curd and fresh berries for a bright summer flavor, or with pomegranate arils for a tart winter dessert.
How to store lemon meringue cheesecake?
The finished cheesecake can be stored in the refrigerator for up to 4 days before the meringue will begin to weep. It will weep sooner if it is untoasted. The cheesecake can be made in advance. It can be stored, well wrapped, for 7 days in the refrigerator or up to 3 months in the freezer. Simply thaw, unwrapped in the refrigerator. Top with the meringue and serve!
Possible Substitutions
Heavy Cream: You can use Half and half but the resulting cheesecake will be less dense. However, even whole milk is too liquid without additional fat and the custard could break and will not set.
Cream Cheese: I also use full fat cream cheese. You can substitute reduced fat but not whipped cream cheese. For a dense, set cheesecake you need the texture and fat of regular cream cheese to help stabilize the rest of the ingredients.
Sour Cream: You can substitute low fat sour cream, but the resulting cheesecake will not be as firm. Different brands of sour cream vary in thickness. I choose a thick, rich sour cream to really nail that perfect texture.
Crust Swap: Feel free to use your favorite crust here. A oreo cookie crust would be delightful as would a lemon oreo crust!
Chef Lindsey's Recipe Tips
The key to the best texture in this cheesecake is to use cold cream cheese. My New York Style cheese cake calls for all the ingredients to be room temperature, but the acidity of the lemon juice will break the batter and the texture will remain broken when baked. It is lighter in texture than a NY Cheesecake but is just as silky smooth.
Recipe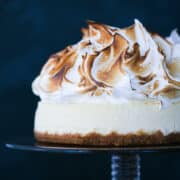 Lemon Meringue Cheesecake
This Lemon Meringue Cheesecake is a creamy, tart lemon cheesecake that is piled high with an Italian meringue for an epic dessert!
Ingredients
Makes:
9
inch
9
x
9
inch
round
Instructions
Prepare the crust:
Wrap the whole pan in aluminum foil so that no water can enter.

In a small pot melt the butter and continue to cook, stirring occasionally, until the butter has browned and smells nutty like hazelnuts.

Combine all ingredients for the crust and mix well. Press into the bottom of the springform pan.

Bake in preheated oven for 5 minutes. Cool completely.
Prepare the filling:
In a small bowl, whisk together the sour cream and heavy cream.

In the bowl of a stand mixer fitted with the paddle attachment, beat the cream cheese until silky, creamy and smooth. Beat in vanilla extract.

Add the sugar and beat until no granules are visible. It will begin to look shiny.

Add the eggs and egg yolk one at a time and beat after each addition.

Add the sour cream mixture and beat to combine.

Reduce mixer speed to low and slowly add the lemon juice. Increase mixer speed to incorporate well. The mixture will be looser so be careful not to turn it up too high.

Pour into prepared crust. Place pan in a large roasting dish and place in the preheated oven. Pour hot water into the pan approximately halfway up the sides of the pan.

Bake for for 1 hour and 40 minutes or until set but still wobbly. The top will puff a little and the whole cheesecake will move in one motion rather than like ripples of liquid.
Assembly:
Allow to cool completely before wrapping and refrigerating at least 4 hours or overnight.

Top with Fluffy White Frosting, which is just a simple Italian Meringue.

Torch using a kitchen torch or under the broiler. If using a broiler, work quickly and move frequently to avoid burning or over softening of the cheesecake.
Notes
Yield: 1, 9 inch cheesecake
Before You Go!
Check out all our delicious, pastry chef-created recipes for Cakes!