This Easy Peach Cake is moist, tender and bursting with fresh peach flavor! I've topped it with an easy almond glaze and dried peaches for a beautiful presentation. The cake is mixed in one bowl for a simple, delicious dessert.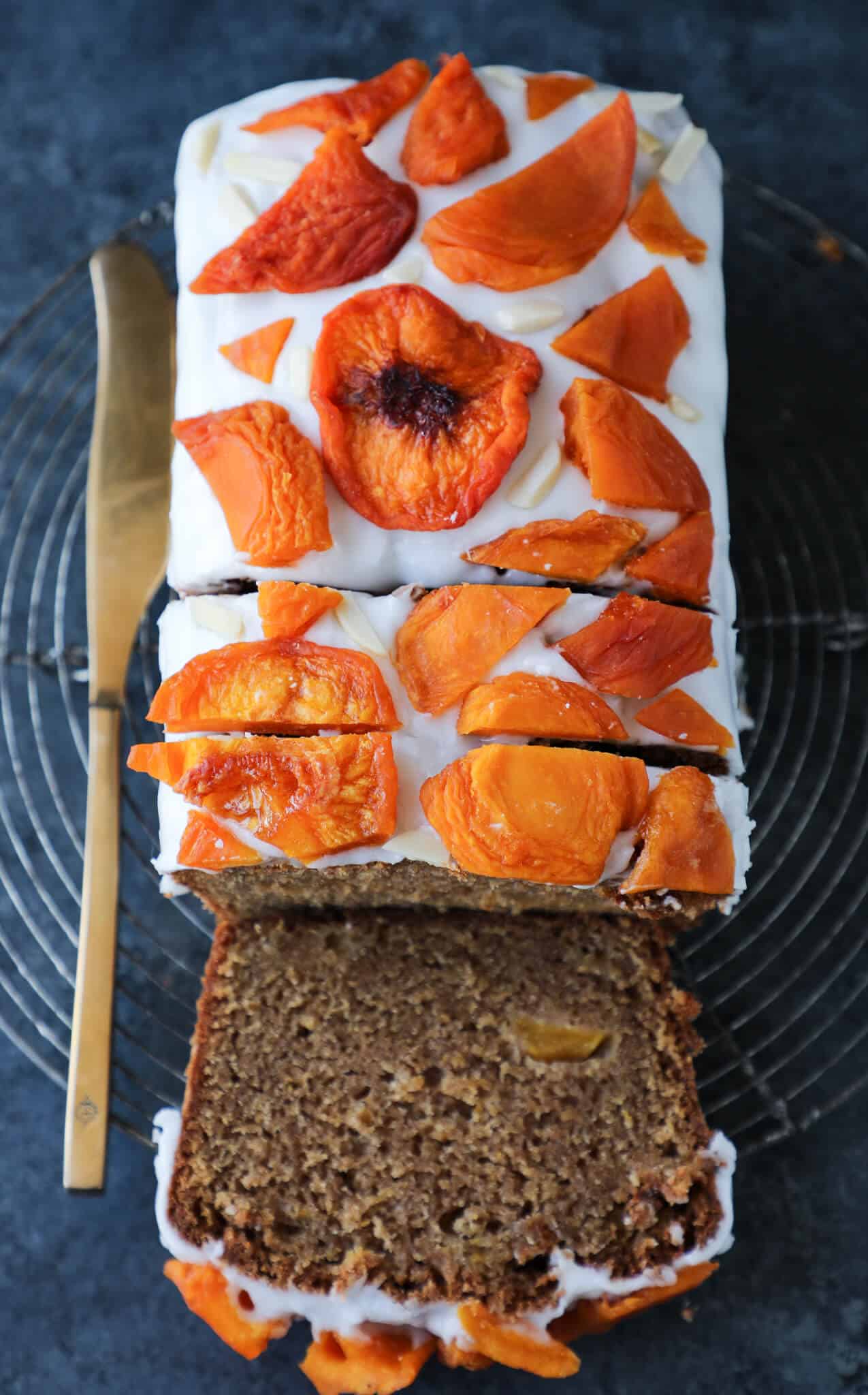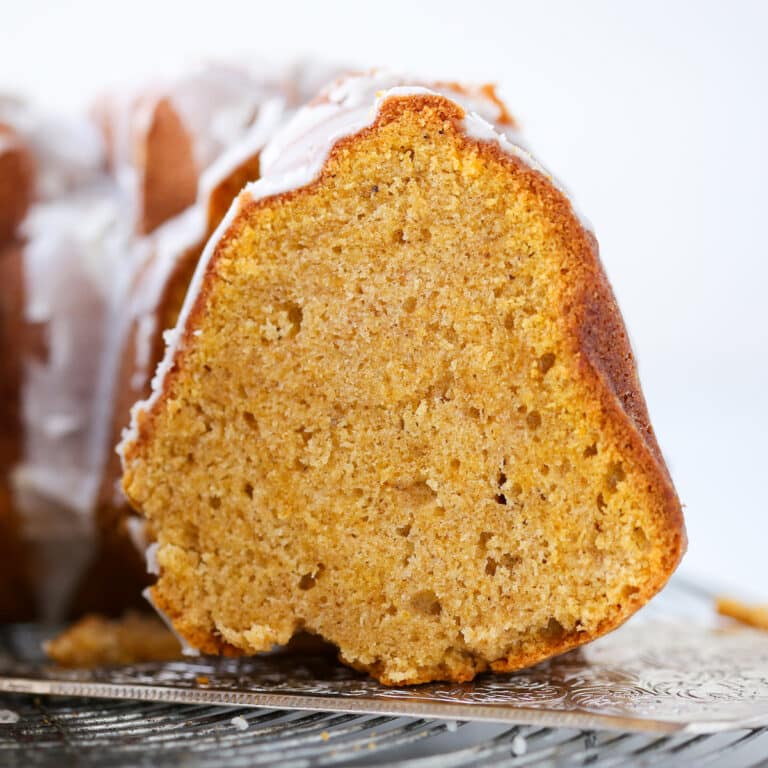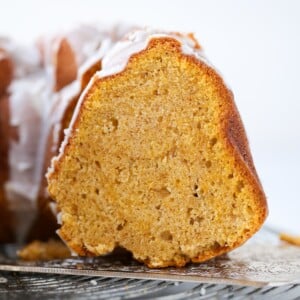 This peach cake is delightful on its own with afternoon tea or coffee or serve it as a dessert with a scoop of vanilla ice cream, a generous dollop of lemon curd whipped cream, or a spoonful of vanilla bean anglaise. The creamy adornments allow the peaches to be the star of the show.
It is so easy it made the list of 20 Easy Summer Desserts! Bake it in cake pans, a loaf pan or even cupcake tins! Then top it with this easy almond glaze, the best cream cheese buttercream, or even an easy vanilla buttercream for a stunning dessert.
You could also top the cake with a brown sugar streusel for an extra decadent dessert or snack.
Fresh or Frozen Peaches?
I love this peach loaf cake best with fresh, ripe peaches, but it could certainly also be made with frozen peaches. When you've had your fill of peach pie, peach cobbler and galettes, whip up this easy cake as a show-stopping dessert.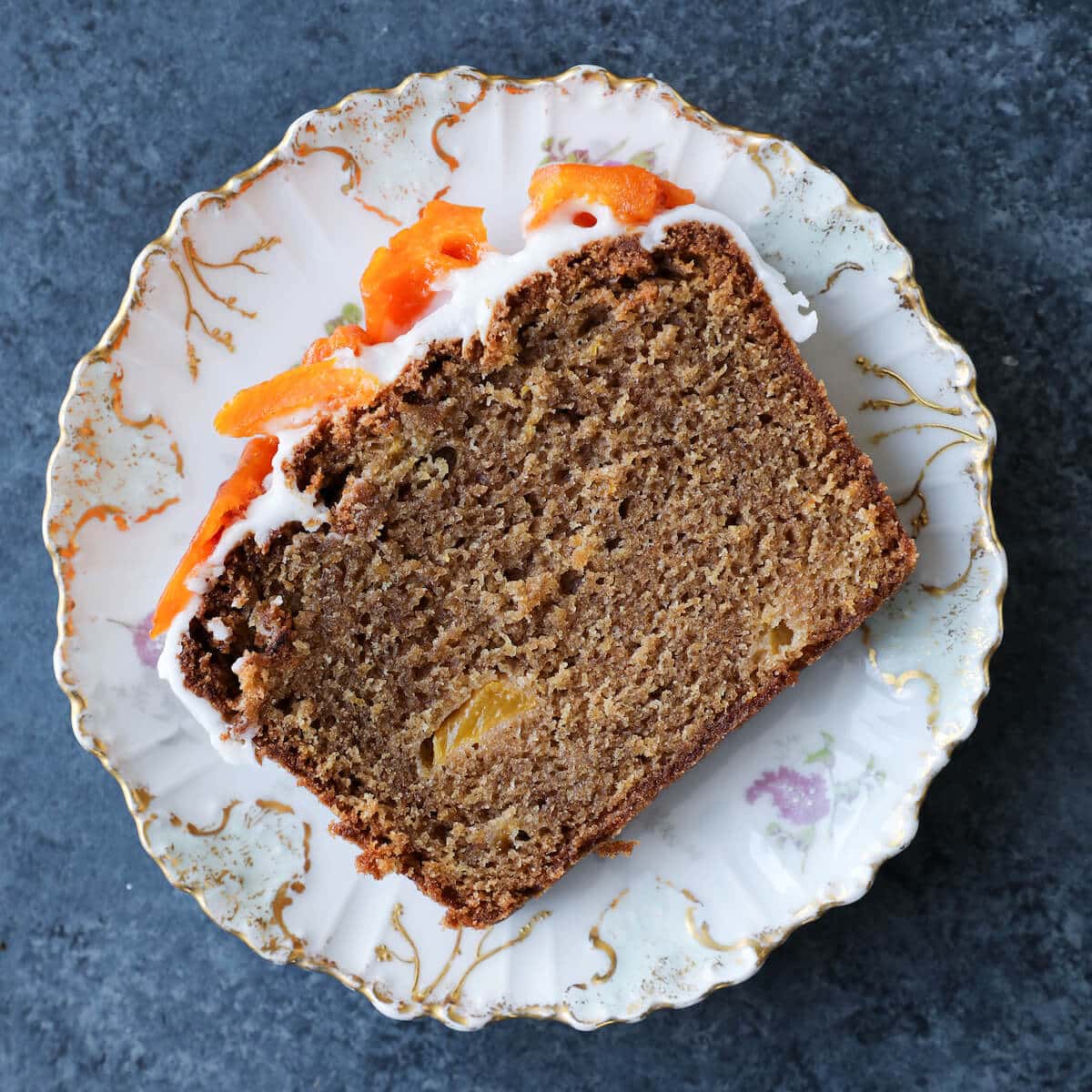 Ingredients for Peach Loaf Cake
All-purpose flour: All-purpose flour has just the right amount of gluten to hold all the sugar, oil and peaches without making a chewy, tough cake.
Cinnamon: I use Saigon cinnamon but any cinnamon will do.
Baking Soda: Do check the freshness of your baking soda! It does lose potency over time.
Kosher Salt: Kosher salt is lass salty than table salt and a teaspoon weighs less than other finer ground varieties.
Eggs: Whole eggs allow you to emulsify all that oil into the batter, resulting in moist, not greasy, cake.
Sugar: There is a considerable amount of granulated sugar in this recipe. Let's call a spade a spade or in this case, cake, and just enjoy those Summer peaches!
Vegetable Oil: Oil makes this cake exceptionally moist. I emulsify them into the sugar and eggs to make the batter extra moist.
Peaches: Use the best you can find. Ripe and in season peaches make the best muffins. Frozen are fine but they never taste very "peachy". Your cake will reflect that.
See peach loaf cake recipe card for quantities.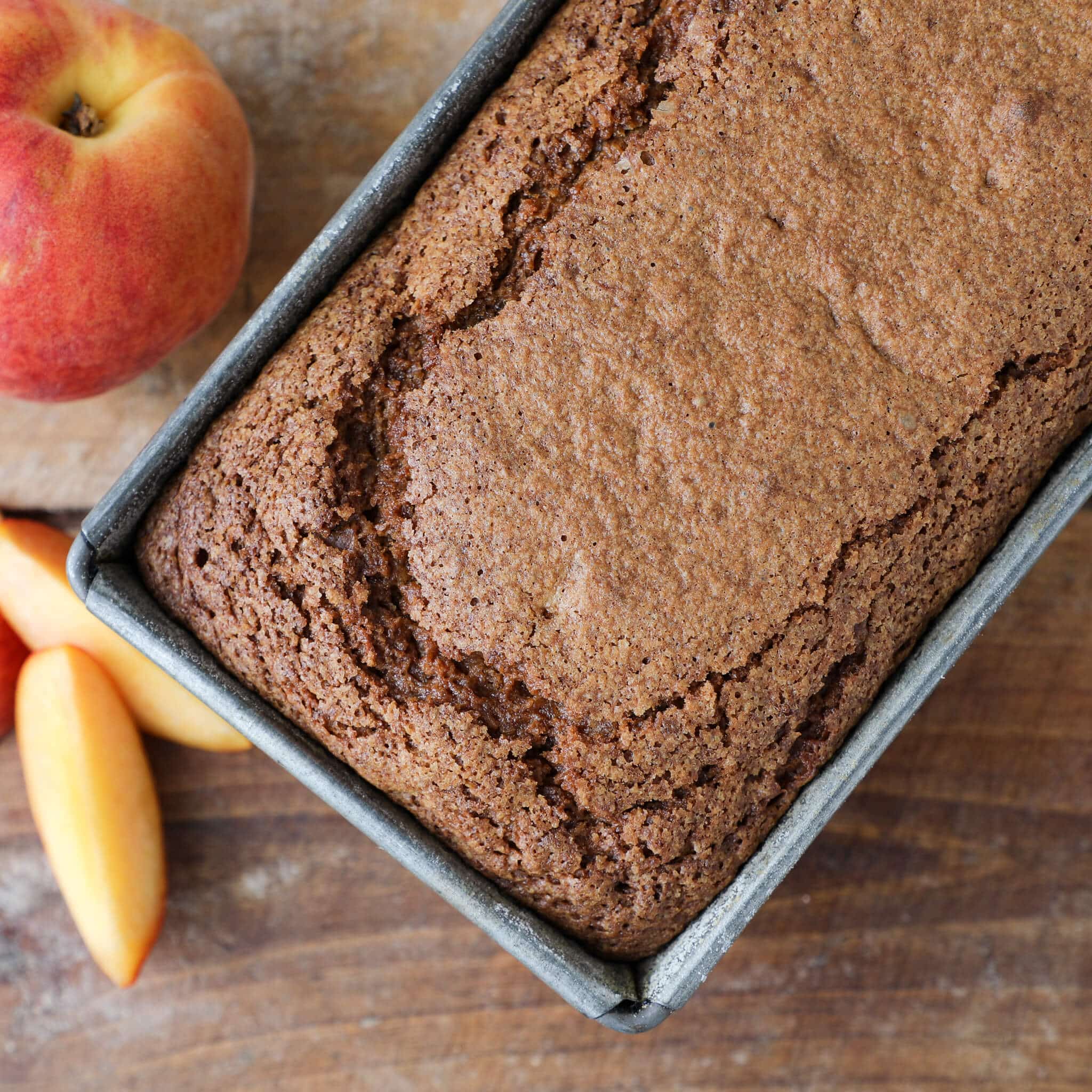 Variations
Alternative Oils: You can certainly use any oil you would like here including melted, but not hot coconut oil. Be aware that they will impart a flavor depending on the variety you choose.
Lower Sugar: You can reduce the sugar here by half, but you didn't hear it from me.
Frosting: This cake is amazing with the best cream cheese buttercream. Just frost it like you would a carrot cake!
Substitutions
Nectarine: Substitute all or part of the peaches for nectarines or a combination of different stone fruits.
Spices: Substitute another spice for the cinnamon or eliminate it entirely.
Baking Soda: If you find yourself without baking soda, you can substitute baking powder. Baking soda is about 3 times as potent as baking powder. It is not the same because it will not rise as fast, but it works in a pinch! In this recipe that would be 1 tablespoon of baking powder.
Granulated Sugar: You can also use granulated sugar in place of the light brown sugar with no adjustment to the quantity. I almost prefer the granulated sugar because it really highlights the peach flavor.
How to Make the Best Peach Cake with Fresh Peaches!
Start with the best, ripest peaches you can find. The flavor really shines through in this recipe and you want to show it off!
Emulsify the eggs and the oil: Add the oil slowly so that it emulsifies into the eggs and creates one beautiful base for the rest of the ingredients. This keeps the fat from separating and creates a moist rather than greasy muffins.
Glaze or Streusel: Top with an easy glaze or streusel for a finished dessert.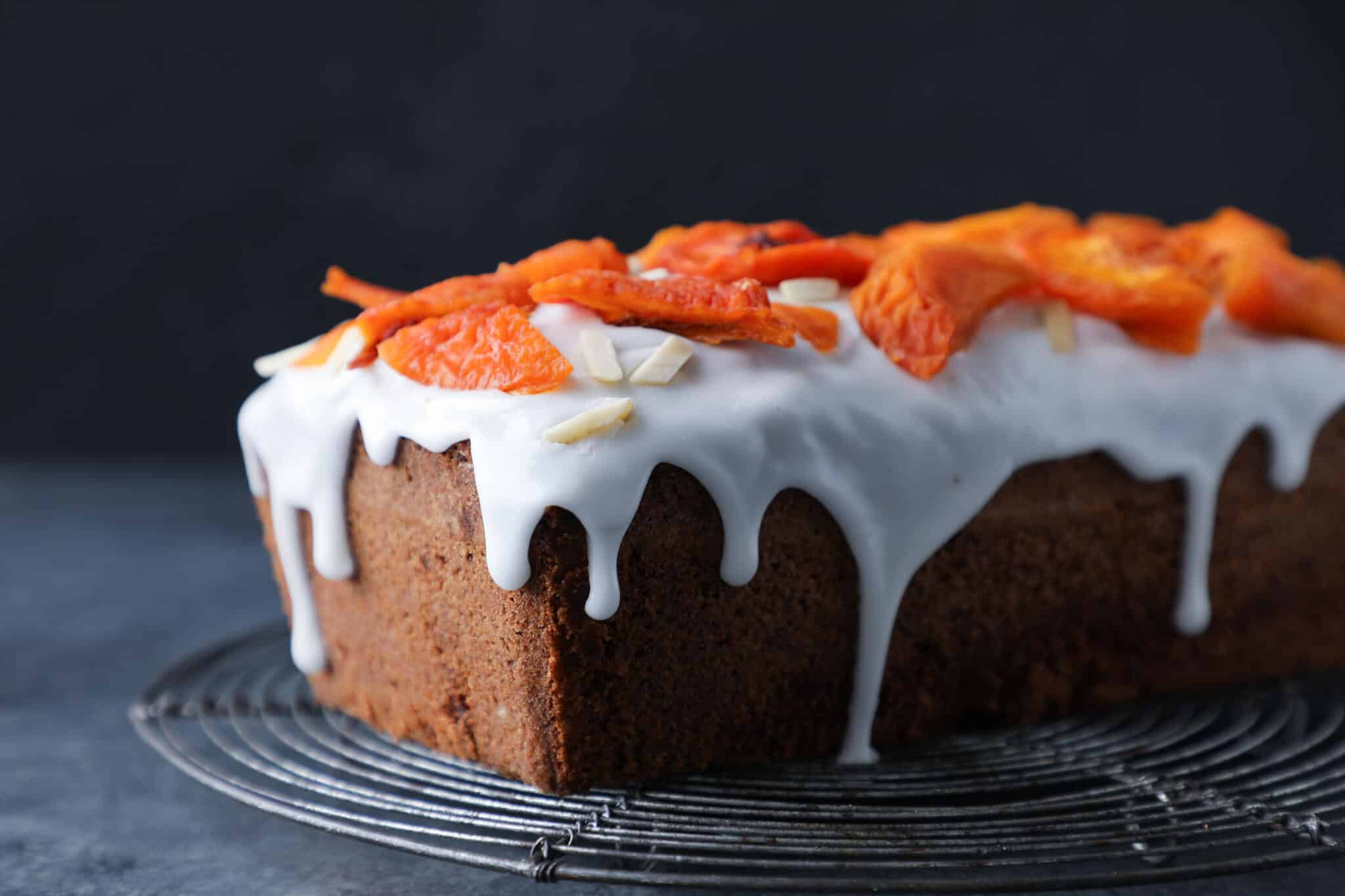 How to Store Peach Loaf Cake
For optimal freshness, consume or freeze within two days. I find it easier to pre-slice before wrapping and freezing. That way I can take out as many or as few slices as I want!
Pastry Chef Tip
The key to a moist, not greasy cake is creating an emulsion with the eggs, sugar and oil. Whisking first the eggs and sugar until no streaks of eggs remain, and then slowly whisking in the oil a little at a time until no unincorporated oil is left.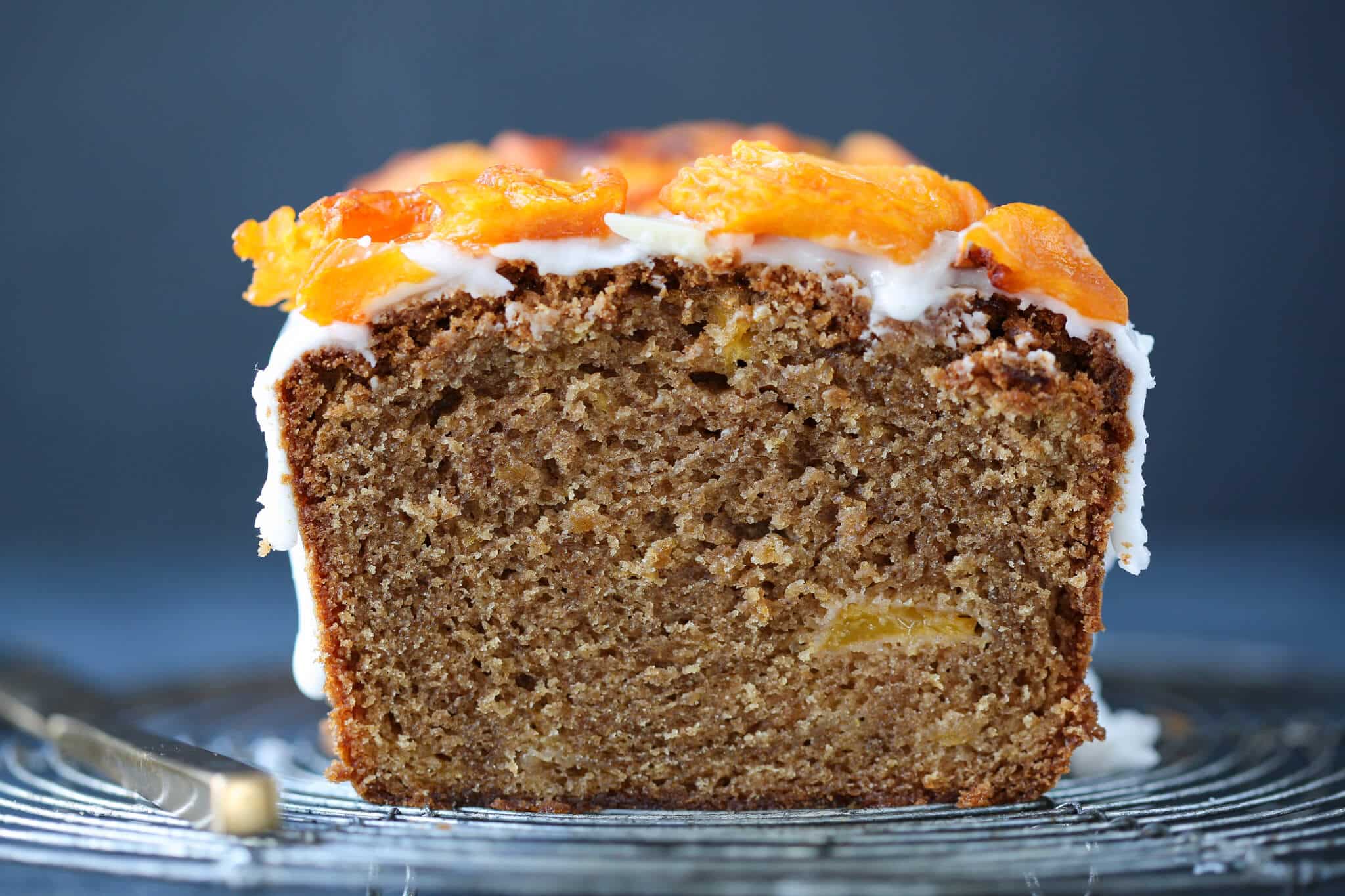 Peach Loaf Cake
This easy Peach Loaf Cake is moist, tender and bursting with fresh peach flavor! I've topped it with an easy almond glaze and dried peaches for a beautiful presentation. The cake is mixed in one bowl for a simple, delicious dessert.
Instructions
Prepare Cake Batter:
Preheat oven to 325°F convection or 350°F regular. Spray a loaf pan (9 x 5 inches) with nonstick cooking spray.

Using a hand-held immersion blender or in a blender or food processor, pulse the peaches so that you have some small pieces and some medium pieces. I like to have visible pieces of peaches in my batter so I don't blend it into a purée. The recipe will absolutely work with puree though.

In a medium bowl, whisk together flour, cinnamon, soda and salt.

In a large bowl whisk eggs until smooth and there are no visible whites.

Add sugar and whisk until smooth and incorporated.

Slowly whisk in the oil to emulsify the oil into the egg mixture. Continue until all the oil has been incorporated and none is visible.

Whisk or fold in the dry ingredient mixture until just incorporated. Fold in the peaches.

Scoop or spoon into prepared cake dish.

Bake in preheated oven until a cake tester inserted in the center comes out clean or with only a few clinging crumbs. This will be about 1 hour.

Allow to cool 10 minutes in the tins and then remove to cool completely on a wire rack.
Prepare Glaze:
In a medium bowl, whisk together all ingredients until smooth. If your powdered sugar is particularly lumpy, you might want to sift it.

Cover surface directly with plastic wrap until ready to use.

Glaze your loaf cake once cooled, and enjoy!
Notes
Yield: 1, 9×5 inch loaf Pan
Nutrition
Calories:
569
kcal
|
Carbohydrates:
82
g
|
Protein:
4
g
|
Fat:
26
g
|
Saturated Fat:
4
g
|
Polyunsaturated Fat:
14
g
|
Monounsaturated Fat:
6
g
|
Trans Fat:
0.2
g
|
Cholesterol:
37
mg
|
Sodium:
313
mg
|
Potassium:
118
mg
|
Fiber:
1
g
|
Sugar:
60
g
|
Vitamin A:
118
IU
|
Vitamin C:
1
mg
|
Calcium:
48
mg
|
Iron:
2
mg
Like this? Leave a comment below!