This French Silk Pie is light, silky smooth and rich. There is a flakey vodka pie crust, a decadent chocolate filling and a lightly sweetened whipped cream on top. The chocolate mousse filling is cooked so it is safe for everyone!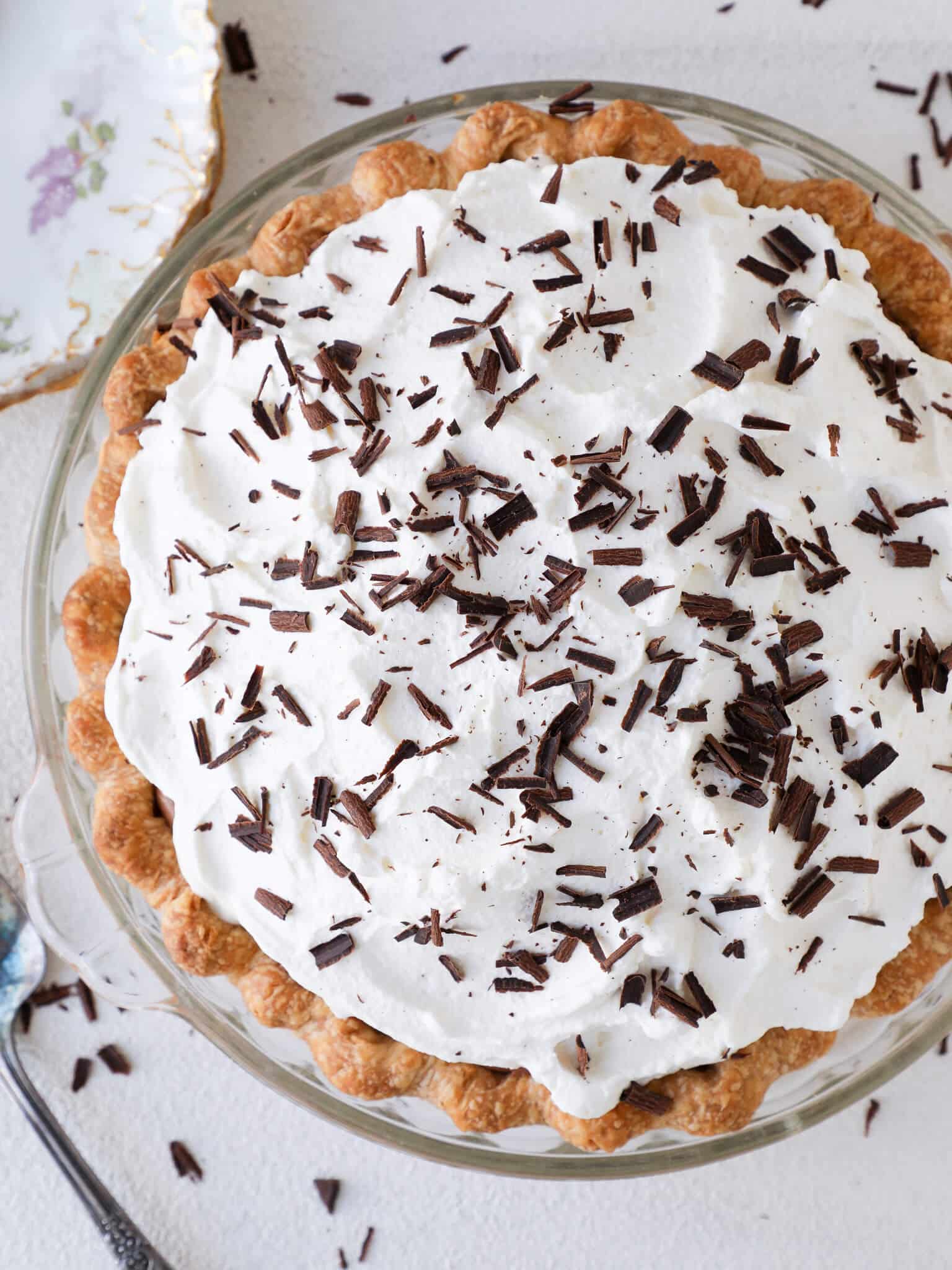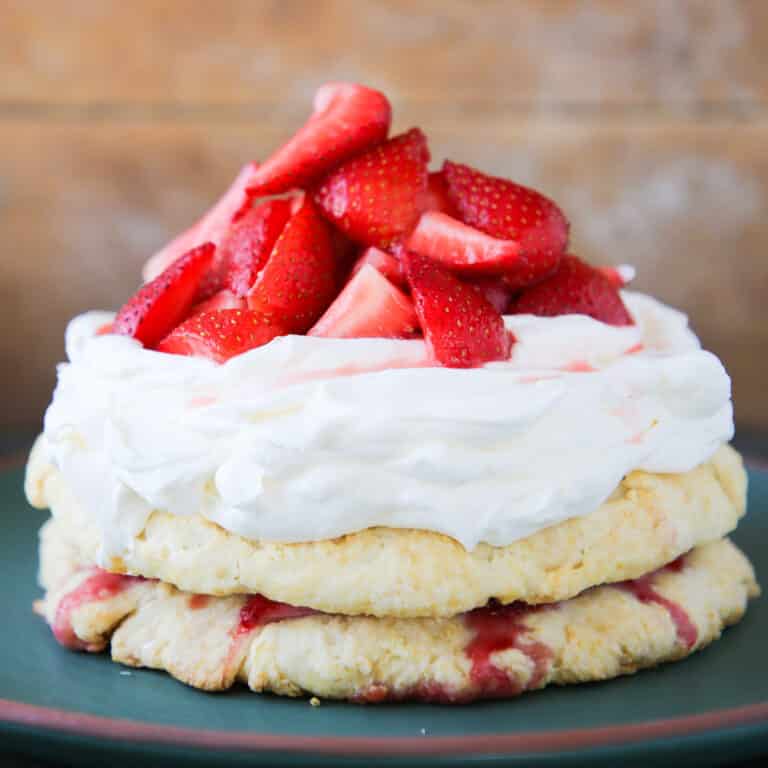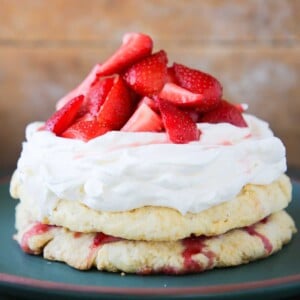 As a former President of the Chocoholics Club, it is shocking that this was my first foray into French silk pie. I would gravitate towards a Devil's Food Cake, an Easy Chocolate Pie or even a one bowl chocolate cake instead. I just didn't know what I was missing. Now I know and I will never casually dismiss this majestic pie again.
You know I don't mess around with my chocolate desserts. I work to perfect that balance of sweet and salty, like in my dark chocolate pudding, and I will not rest until the flavor is impactfully chocolate. Look for no more proof than my Triple Chocolate Chip Cookies or The Best Chocolate Ice Cream. I tested and retested this French Silk Pie until the chocolate mousse was deeply chocolatey but not too sweet. I use 100% unsweetened chocolate to control the sweetness. Topping it with a lightly sweetened whipped cream and using a savory all-butter pie crust further balance the flavor and texture.
What is French Silk Pie?
This pie starts with a flakey, all-butter pie crust blind-baked to perfection. The crust is filled with a thick layer of dark chocolate mousse and finished with a lightly sweetened homemade whipped cream.
Why this is the best French Silk Pie Recipe?
This recipe calls for 100% unsweetened chocolate, which give it a deep chocolate flavor without being overpoweringly sweet.
The eggs are cooked to 160°F in the chocolate mousse filling, which obviously makes it safe to eat but also creates extra volume. This is part of what makes it the lightest, silkiest filling.
When folding in the whipped cream, I sacrifice a little of the whipped cream by folding it aggressively into the chocolate mixture. This helps loosen the chocolate mixture thereby making it easier to fold in the remaining whipped cream and achieve the lightest texture.
The texture of the flakey, all-butter pie crust contrasts the soft filling and it balances the sweetness and richness of the chocolate mousse.
Ingredients
What crust to use for a French Silk Pie?
You can use any crust you'd like for a French Silk Pie. I used a pâte brisée but you could also use a pâte sucrée, pâte sablée, baked graham cracker crust, or oreo cookie crust!
Frequently Asked Questions for French Silk Pie
Is this French Silk Pie safe to eat during pregnancy?
This French Silk Pie is safe to eat during pregnancy because the eggs are cooked to 160°F.
How do you store French Silk Pie?
Store French Silk Pie in the refrigerator covered with plastic wrap for up to a week.
How long will this pie keep?
French Silk Pie will keep up to one week refrigerated or 2 months frozen.
Can you freeze French Silk Pie?
French Silk Pie freezes magnificently. I would suggest freezing just the chocolate mousse in the crust and then adding the homemade whipped cream before serving. You could also use cool whip topping instead of the whipped cream, which does freeze and thaw well.
How to thaw French Silk Pie?
Thaw French Silk pie uncovered in the refrigerator. This will keep the condensation from making the crust soggy and accumulating moisture on the filling.
Can you make this pie ahead?
You can pre-bake the crust up to 3 days in advance. The crust can be filled and refrigerated for a week before serving. I prefer to add the whipped cream topping the day before or the day the pie is served for the best texture, flavor, and presentation.
Will this recipe multiply?
You can double this recipe, though I would caution against a larger batch than that because of the difficulty of whipping the eggs and sugar. Though in reality you are only limited by the capacity of your mixer.
Do I need to Dock the crust for a French Silk Pie?
For the most even baking, you should dock the crust for this French Silk Pie. See my tutorial about how and when to dock a pie crust for more details!
What to eat with French Silk Pie?
French Silk Pie is a complete and satisfying dessert on its own, but a bit of chocolate fudge sauce never hurt anyone! We came for the chocolate after all! I shaved a chocolate bar over the top because my kitchen was actually too hot to temper chocolate! If you would like to make more elaborate chocolate décor, I have a phenomenal post on how to temper dark chocolate with the ice bath method on the blog and a tempering chocolate YouTube tutorial as well.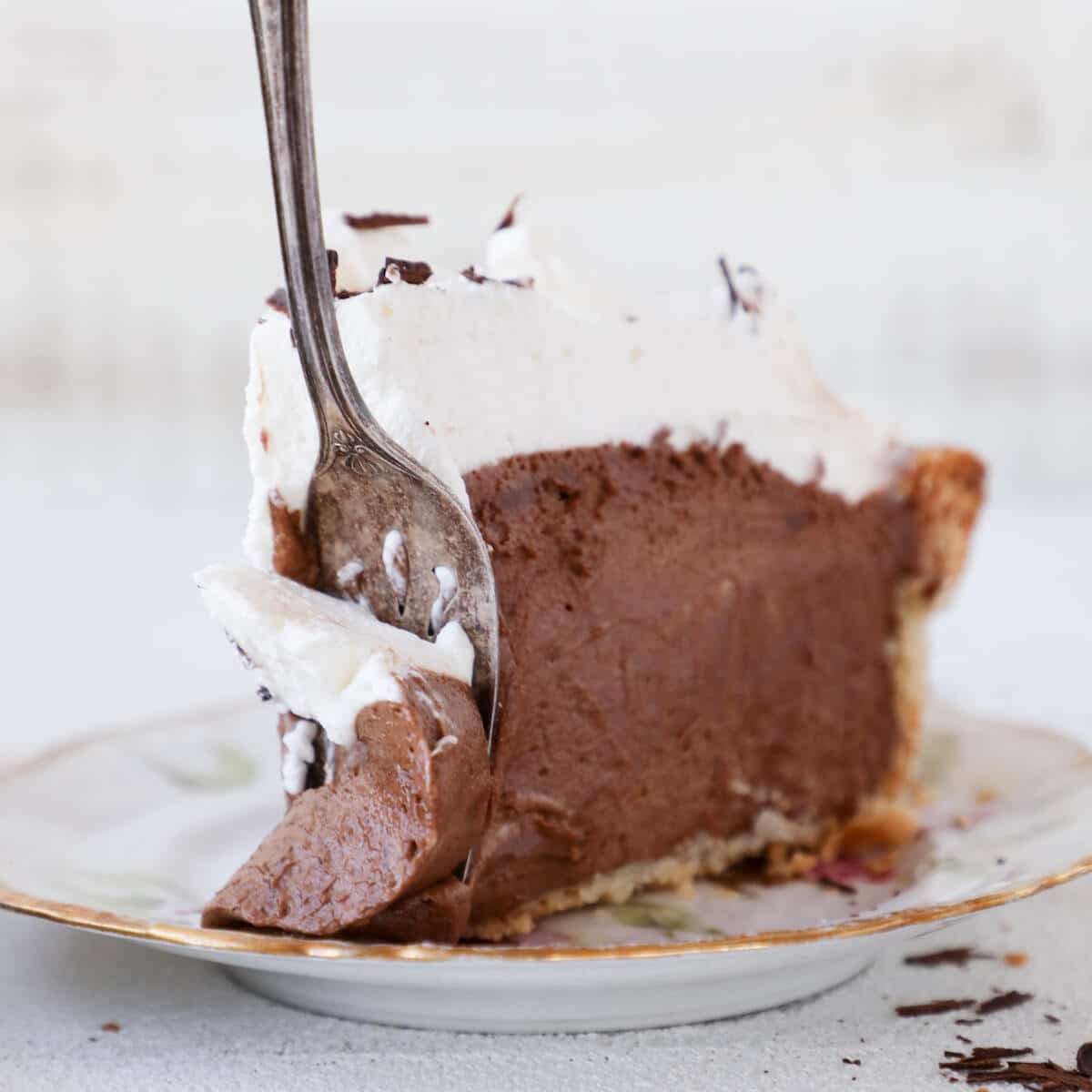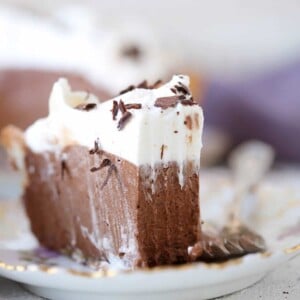 French Silk Pie
This French Silk Pie is light, silky smooth and rich. There is a flakey pie crust, a decadent chocolate filling and a lightly sweetened whipped cream on top. The chocolate mousse filling is cooked so it is safe for everyone!
Ingredients
1 All-Butter Pie Crust, blind baked:
1 ⅛

cups

pastry flour

measured by fluffing the flour then spooning it in, ⅛ cup = 2 Tablespoons

½

teaspoon

kosher salt

½

teaspoon

sugar

4 ½

tbsp

cold butter

cubed into ½ inch cubes

1 ⅛

oz

cold water

or as much or as little as needed
Instructions
Make the all-butter pie crust:
Whisk together pastry flour, salt and sugar. Using your preferred method cut in the butter until you have pea sized pieces. If you are using a bench scraper, pastry blender or two knives, you will chop the butter into the flour using an up and down motion, corralling the flour back into the center occasionally. If you are using the stand mixer or food processor, leave slightly larger pieces. When using a food processor to cut in butter use the pulse option and watch it like a hawk. Like a HAWK!

Slowly begin to add your ice water a tablespoon at a time. If making it by hand, pour into the center of the flour and gently toss the flour into the water with the bench scraper, knife or a fork until you have a crumbly mixture. At this point be very careful with the amount of water that you add because it only needs a few teaspoons more.

When your dough is shaggy, which means it looks like shards or strands of pastry, and there is still some loose flour, turn out your dough from the mixer or food processor and work the dough together by gathering it and pressing away from you with the heal of your hand. Do this JUST until it comes together. If it is crumbling, then dip your hand in a little ice water and pat it on the pastry dough. Seriously, that's it. Remember the gluten!

Press into a disk. Wrap in plastic wrap and chill for 2 hours or overnight. If you chill your dough overnight, you will need to let it rest a bit before rolling or it will be too cold and it will crack.
Blind bake the pie crust:
Preheat the oven to 350°F convection or 375°F conventional.

Line a pie tin with your favorite pie crust. I prefer to use an all-butter pie crust. Dock the dough by pressing a fork into the dough about 1 inch apart across the whole bottom.

Chill the dough thoroughly before baking.

When ready to bake line the inside of the crust with parchment paper and then fill with pie weights or beans. Bake 20 minutes with the weight and then remove the weight and continue baking until the bottom crust has browned.

Allow to cool before assembling the pie.
To make the filling:
In a large heat-proof bowl, whisk together the eggs and sugar. Place bowl over a pot of simmering water being sure that the water does not touch the bottom of the bowl. Whisk constantly until the mixture reaches 160°F.

Remove from heat and add chopped chocolate and vanilla extract. Cool, stirring occasionally to 90°F. When not stirring, keep a piece of plastic wrap on the surface to prevent a skin from forming.

Once chocolate mixture has cooled, beat butter in the bowl of a stand mixer fitted with the paddle attachment until smooth. Add the chocolate mixture and beat until smooth and incorporated.

Whisk heavy cream (for the filling) to medium soft peaks either in the bowl of a stand mixer fitted with the whisk attachment or in a large bowl by hand. Medium soft peaks are when the whisk is removed from the cream and inverted and the peak formed flops over considerable. Not just the tip but about half of the peak falls to one side.

Add no more than ¼ of the whipped cream to the chocolate mixture and mix it in aggressively. This is called sacrificing because you are sacrificing all of the volume whipped into the cream to get the chocolate mixture to a lighter consistency. This will make it easier to fold the remaining cream into the chocolate.

Fold remaining cream into the chocolate mixture.

Pour into baked crust. Chill 3 hours.
Make the Topping:
In the bowl of a stand mixer or a large bowl, combine heavy cream (for the topping), confectioner's sugar, and vanilla extract. Whip to stiff peaks either in the stand mixer fitted with the whisk attachment or by hand with a whisk or hand mixer.

Mound the whipped cream on top of the chocolate filling and finish with decorative swooshes or swirls. I used the back of a spoon to make the ones pictured.

Shave with chocolate or decorate with chocolate décor.
Notes
Yield: 1, 9 or 10-inch Pie
Nutrition
Calories:
759
kcal
|
Carbohydrates:
60
g
|
Protein:
10
g
|
Fat:
58
g
|
Saturated Fat:
36
g
|
Polyunsaturated Fat:
3
g
|
Monounsaturated Fat:
16
g
|
Trans Fat:
1
g
|
Cholesterol:
213
mg
|
Sodium:
490
mg
|
Potassium:
343
mg
|
Fiber:
5
g
|
Sugar:
42
g
|
Vitamin A:
1765
IU
|
Vitamin C:
0.4
mg
|
Calcium:
94
mg
|
Iron:
5
mg
Like this? Leave a comment below!
Before You Go!
Check out our other delicious, chef-developed Pie Recipes!