Rich and chocolatey! This is the World's Best Hot Fudge Sauce! Use it to top EVERYTHING.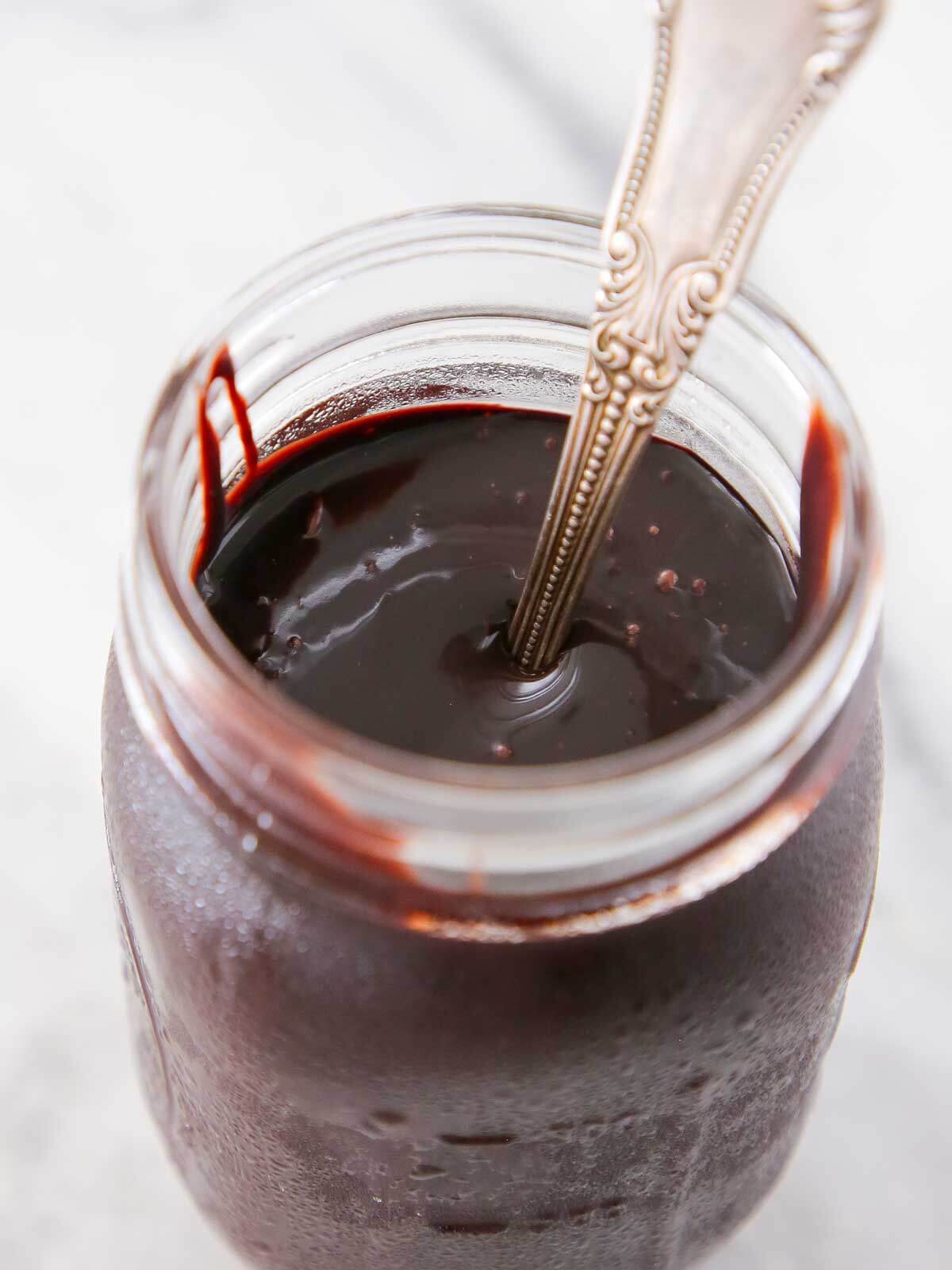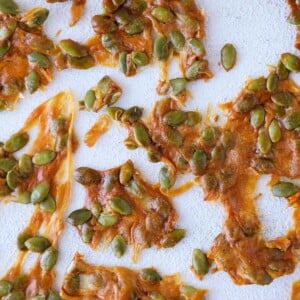 Yesterday was the kind of day that reminds me why I live in Atlanta: 80° and sunny with blue skies studded with puffy cumulous clouds. The only thing that yesterday needed was chocolate. Yes, chocolate would make it perfect. Luckily on a book buying binge in St Louis (I have a problem. It's okay. I can talk about it.) I purchased Maida Heatter's Book of Great Chocolate Desserts the 1980 edition!
For all those who are not familiar, Maida Heatter is an iconic American chocolate pastry chef, and I would argue that she is the Julia Child of Chocolate. Strong words. But well deserved I assure you. In the introduction Maida says, "I come from a long line of chocolate-lovers…We understand each other, chocolate and I. My husband says that I can hear chocolate. " It was then that I knew – Maida and I would get along just fine.
Even my craving for a chocolate confection could not induce me to take a trip to the grocery store, so I took a peek in my cupboards and saw all the makings of hot fudge! Maida's recipe claims to be the "world's best hot fudge", and it absolutely lives up to the name. So amazing. I vow to never make another hot fudge recipe ever again. It was so easy but perfectly rich and velvety and bursting with chocolate flavor!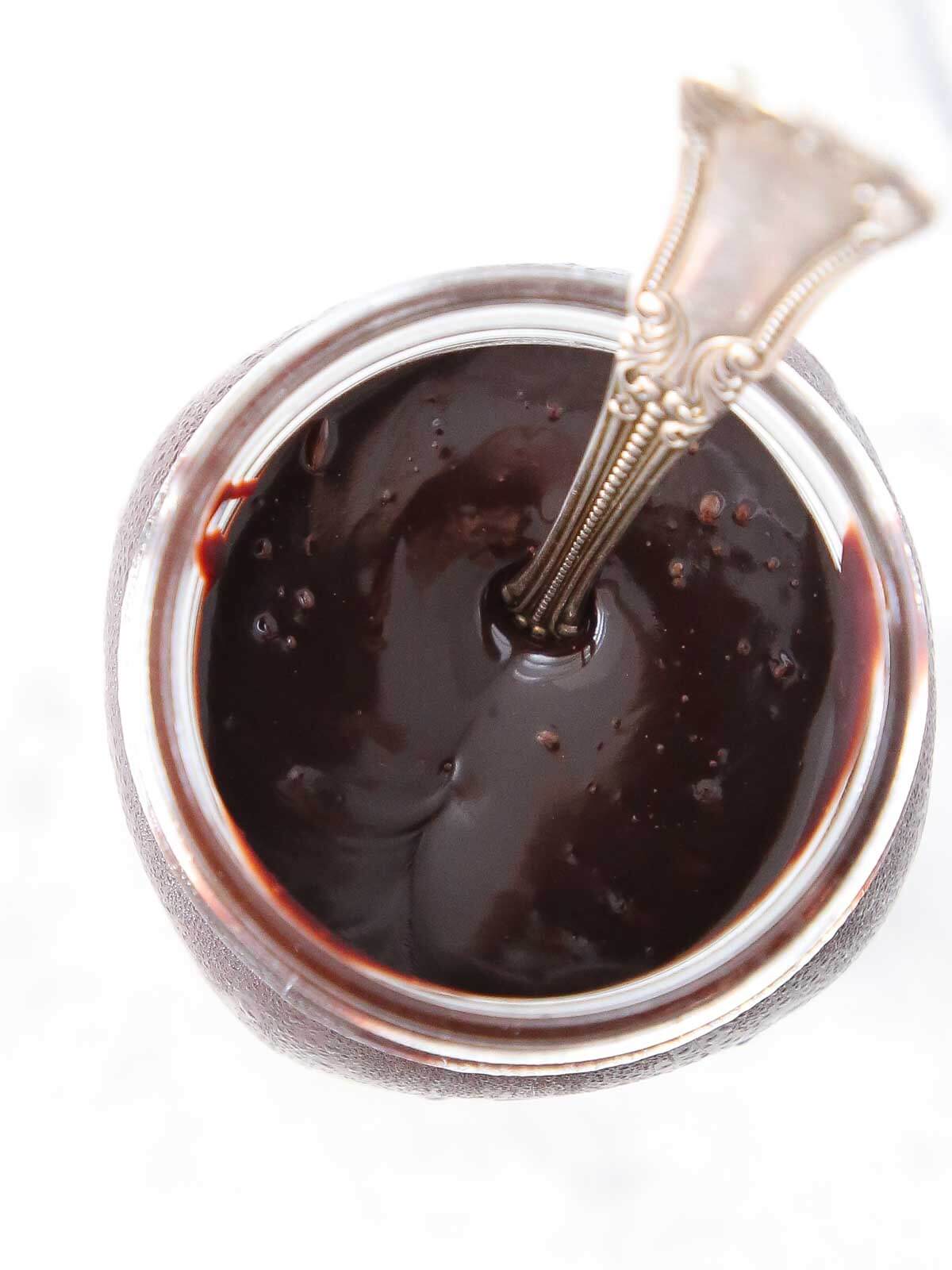 My Dad is going to be very jealous because the only thing he loves more than barbeque sauce is hot fudge smothered vanilla ice cream. Not on the menu? Doesn't matter, he'll ask anyway. Bold man! This recipe is for you, Dad!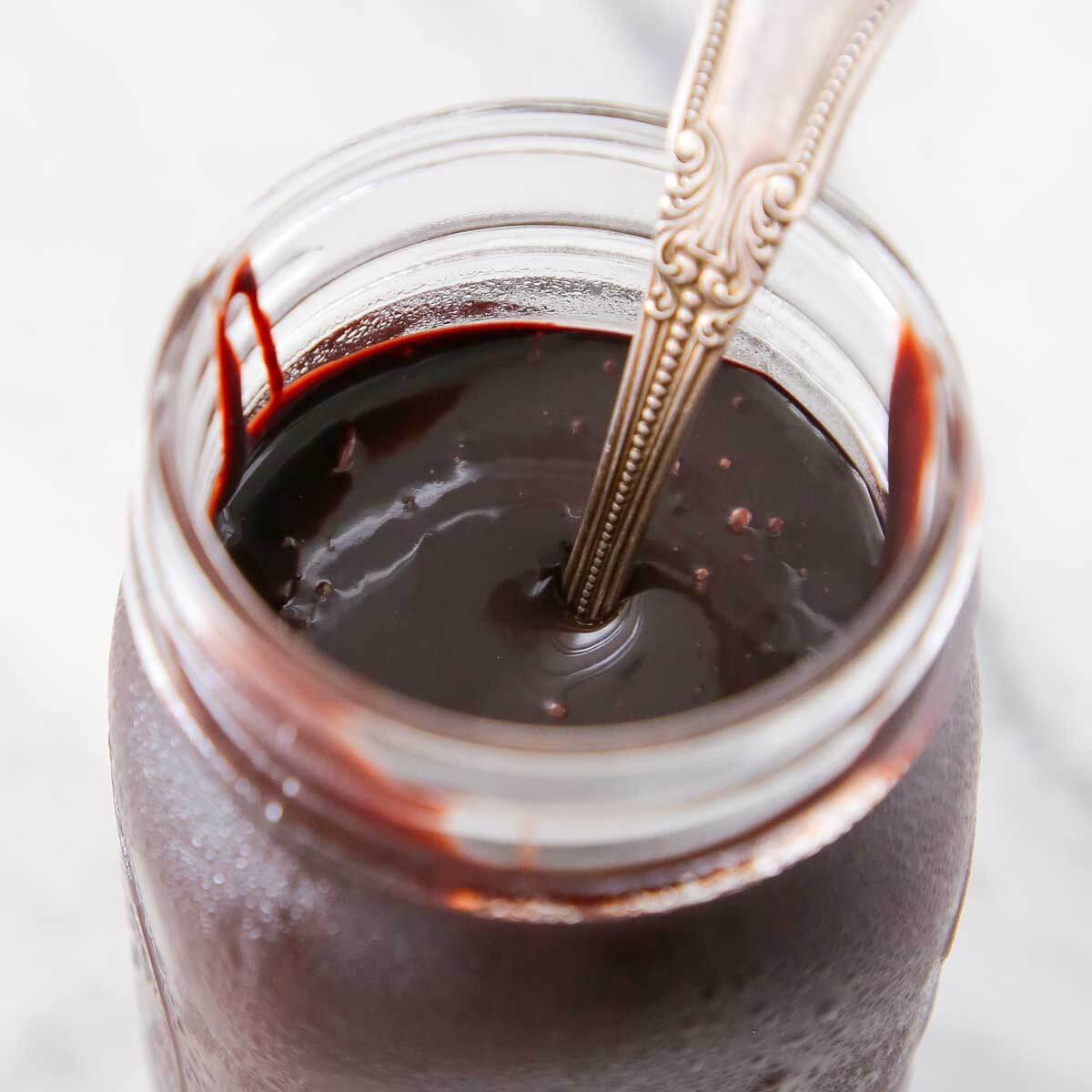 If the simplicity cannot induce you to make this dessert your next chocolate indulgence, then the sigh-of-contentment chocolate flavor should. I am officially a card-carrying member of the Maida Haetter Fan Club. On a side note: I first learned about Maida Haetter from Mad About Maida. His blog is pretty amazing and he provides step-by-step, stupid proof instructions. Love.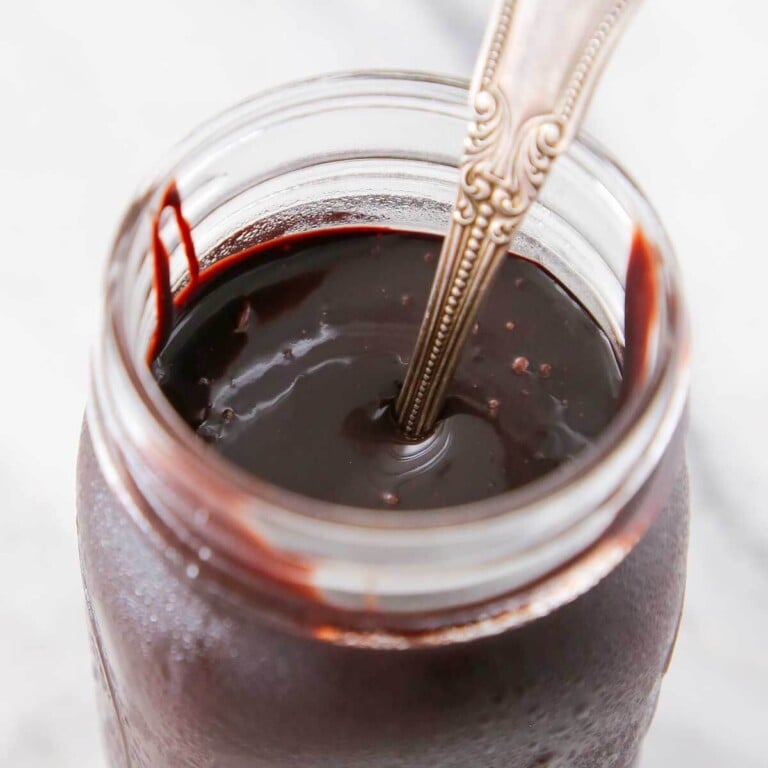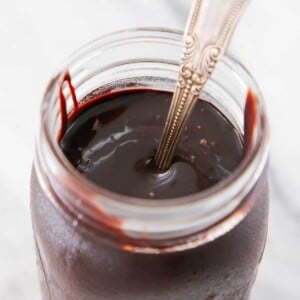 The World's Best Hot Fudge Sauce
Rich and chocolatey! This is the World's Best Hot Fudge Sauce! Use it to top EVERYTHING.
Ingredients
½

cup

heavy cream

3

tablespoons

sweet butter

unsalted, Dad, cut in small pieces

⅓

cup

granulated sugar

⅓

cup

dark brown sugar

firmly packed

Pinch

of salt

½

cup

Dutch-process cocoa powder

sifted, Maida says, "It must be Dutch to have the right color and flavor"
Instructions
Heat cream and butter over moderate heat until the butter has melted and the cream just comes to a low boil. Add both sugars and stir for a few minutes until they are completely dissolved. Maida suggests that, "The surest test is to taste; cook and taste until you do not feel any undissolved granules in your mouth." I was completely on board with the taste test – delicious and effective! Reduce the heat and add the salt and cocoa powder; briskly stirring with a thin wire whisk until smooth. You can smash any rebellious lumps with a spatula.

Remove from heat and serve immediately.
Notes
Adapted from Maida Heatter's Book of Great Chocolate Desserts.
You may also store any leftovers in the refrigerator and reheat slowly in the top of a double boiler. The hot fudge sauce will become too thick to spoon out after refrigeration, so you should place the jar or glass storage dish in a bowl of hot water until enough melts to pour out.
Nutrition
Calories:
670
kcal
|
Carbohydrates:
83
g
|
Protein:
6
g
|
Fat:
42
g
|
Saturated Fat:
26
g
|
Polyunsaturated Fat:
2
g
|
Monounsaturated Fat:
11
g
|
Trans Fat:
1
g
|
Cholesterol:
112
mg
|
Sodium:
166
mg
|
Potassium:
438
mg
|
Fiber:
8
g
|
Sugar:
71
g
|
Vitamin A:
1399
IU
|
Vitamin C:
1
mg
|
Calcium:
103
mg
|
Iron:
3
mg
Like this? Leave a comment below!