These Fudgy Brownie Cookies are rich, chewy, and have the elusive flaky brownie top! Three types of chocolate and a no-chill dough combine to cure even the most intense chocolate craving.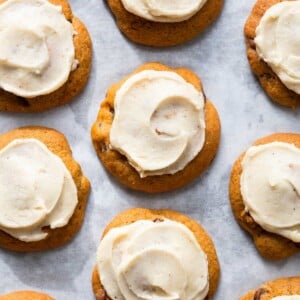 Have you ever eaten a chocolate chip cookie promising to be double chocolate only be left wondering, "yeah, but where's the chocolate?" Me too. It's one of life's great disappointments. These fudgy brownie cookies are NOT those cookies.
You know where the chocolate is at all times. Present and indeed accounted for. Explicitly in every bite. Melting on your tongue. Like a warm bath of chocolate heaven. Wait? Is that a touch of Maldon sea salt at the finish? Oh yeah. Bring it salted chocolate. Bring it.
What makes these the best Fudgy Brownie Cookies?
Triple Chocolate: Melted semi-sweet chocolate, cocoa powder and chocolate chips bring all that chocolate flavor.
Vanilla Extract: Vanilla extract not only rounds out the flavors but also amplifies the chocolate flavor.
Salt: A little kosher salt in the dough and a sprinkle of fleur de sel on top simultaneously boost and balance the chocolate. Salt is chocolate's best friend.
No Chill: That's right, these cookies have no chill in the best possible way! No long stint in the refrigerator stands between you and your chocolate craving cure.
Ingredients for Fudgy Brownie Cookies
All-purpose flour: Just like my brown butter brownies, these cookies also have just enough All-Purpose Flour to hold everything together.
Kosher Salt: Kosher salt enhances the chocolate flavor and balances the sweetness.
Baking Powder: Baking powder adds just a little bit of leavening. The main leavening comes from the eggs just like in this fudgy brownie recipe, which is what creates that crackled top.
Light Brown Sugar: Light brown sugar adds sweetness and depth from the molasses.
Granulated Sugar: I use extra-fine granulated sugar for these fudgy brownie cookies. The smaller granules dissolve faster and will consequently produce a more tender, delicate baked good.
Butter: I always use unsalted butter so that I can control the amount of salt. Every brand has a different amount of salt in their salted butter. If you only have salted butter, omit the kosher salt.
Eggs: I use whole eggs for the fat, leavening and a little bit of liquid. Along with the vanilla it is the only liquid in the cookies.
Egg yolk: The egg yolk adds a bit of extra fat and richness markedly without the added liquid.
Vanilla Extract: Vanilla extract enhances the flavor of chocolate and adds a depth to the fudgy brownie cookies.
Cocoa Powder: In this situation, I used Dutch processed cocoa powder for its rich flavor and dark color. You can certainly use regular cocoa powder in these cookies but it will slightly change the color and the flavor might be slightly more bitter.
Semi-sweet chocolate: I use semi-sweet chocolate chips or baking chocolate bars for the melted chocolate. It adds a little more sweetness. You could certainly use bittersweet chocolate instead for a more intense chocolate flavor.
Chocolate Chips: I use bittersweet chocolate chips for even more chocolate! Choose bittersweet to reduce the sweetness of the cookies.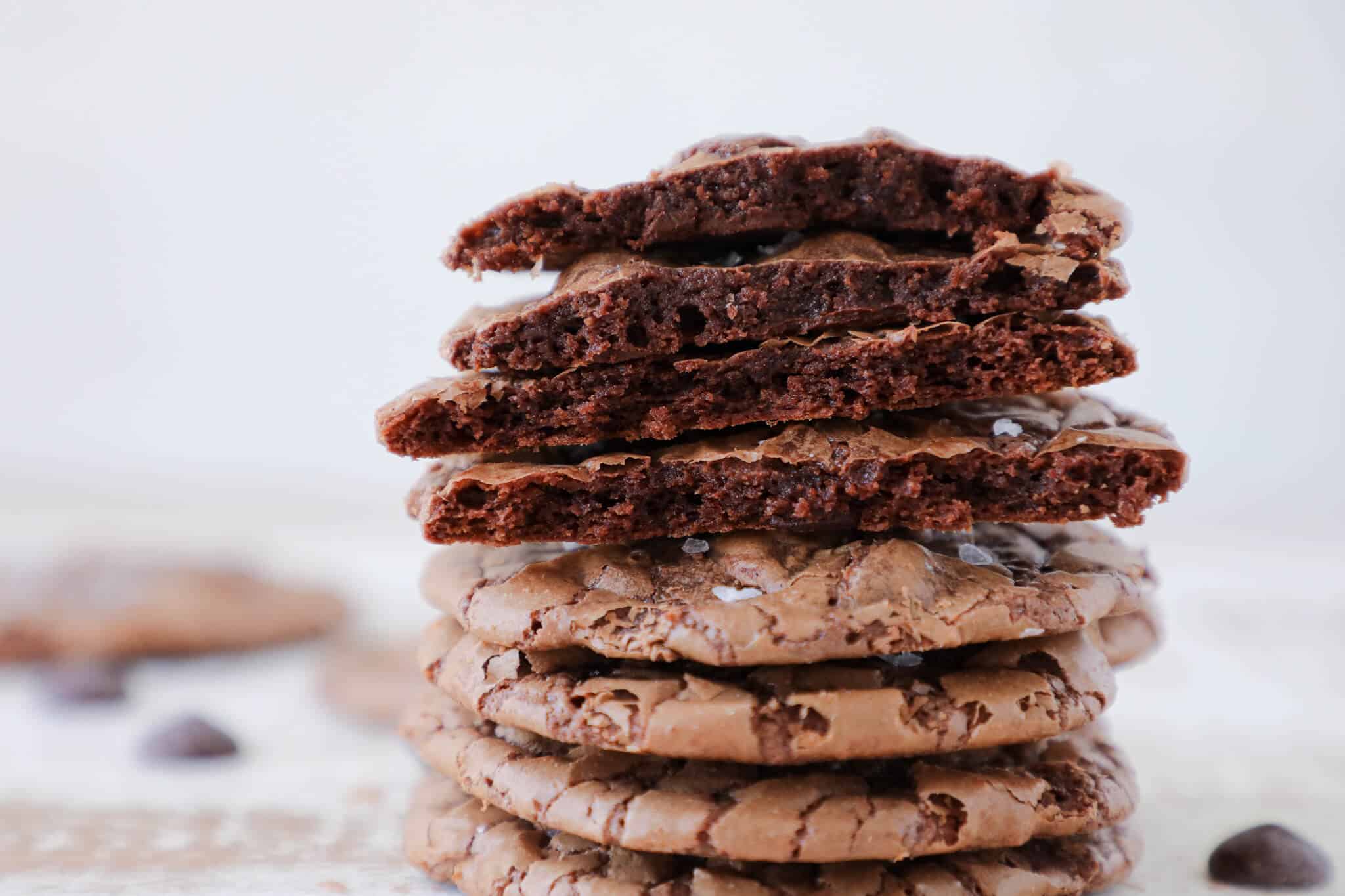 Possible Fudgy Brownie Cookie Substitutions
In case you find yourself in a pinch you can certainly substitute the following.
Dutch Processed Cocoa Powder: As a matter of fact, any cocoa powder will do in this instance. If you don't have any, then you can just add the same amount of flour. It will impact the flavor, but at least you'll still have cookies right?
Bittersweet Chocolate: Any chocolate chips will do, but I do find that bittersweet chocolate chips don't make these cookies overly sweet. Use what you have. That is my steadfast advice.
Light Brown Sugar: You can always substitute dark brown sugar. There will be a subtle flavor change but no one but you will know!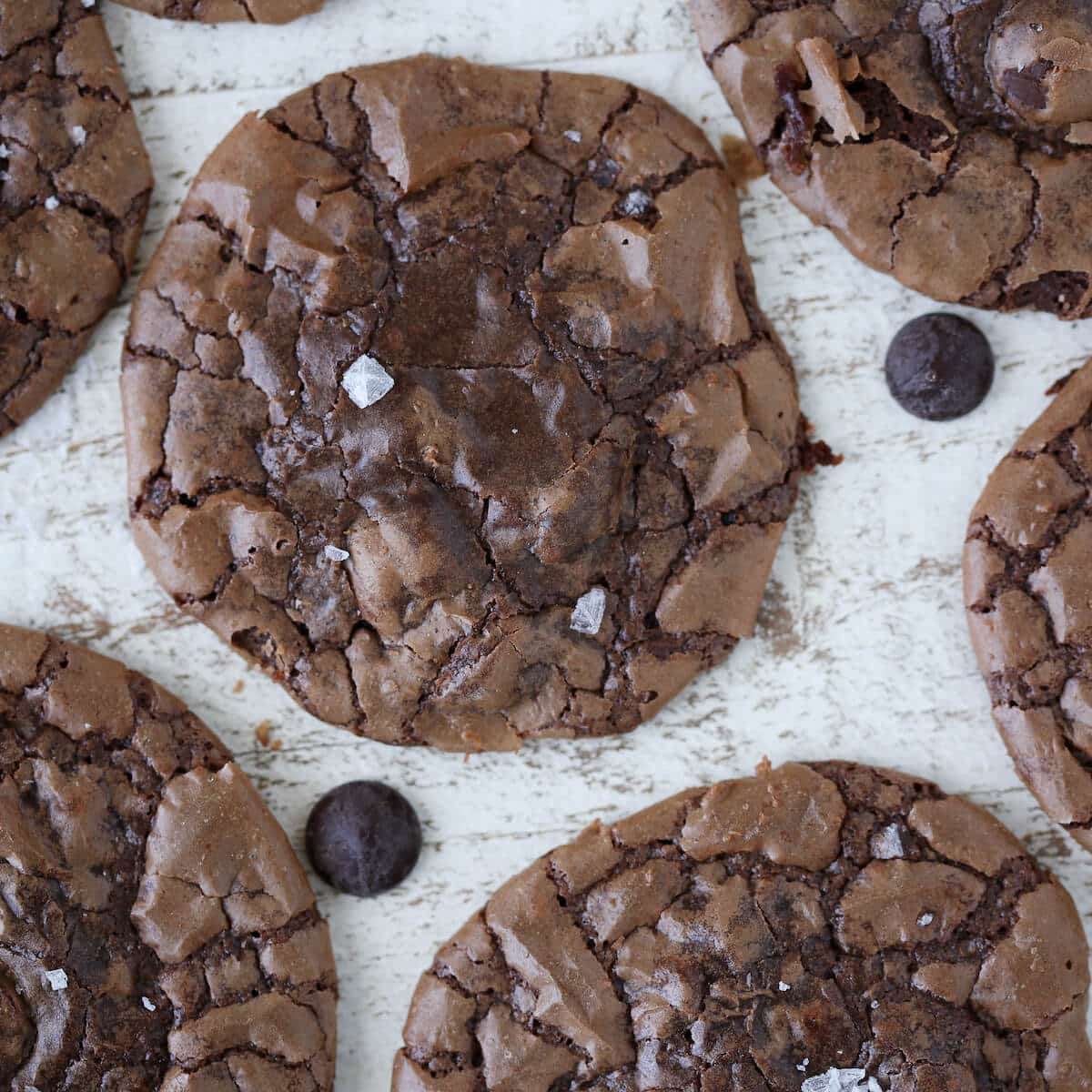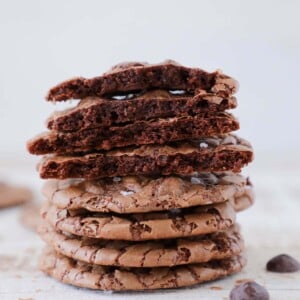 Fudgy Brownie Cookies
These Fudgy Brownie Cookies are rich, chewy, and have the elusive flaky brownie top! Three types of chocolate and a no-chill dough combine to cure even the most intense chocolate craving.
Instructions
Preheat oven to 350° F (not convection) & line two baking sheets with parchment paper or silicone mats.

In a medium bowl, whisk together flour, cocoa powder, salt and baking powder. Set aside.

In the bowl of a stand mixer, cream butter and both sugars until light and fluffy.

Beat in each egg one at a time, scraping down the sides and bottom of the bowl between each addition. Beat in the egg yolk and vanilla.

Pour all the melted chocolate in at once and beat in well. If your chocolate is too warm, then you will, sadly, have to chill the batter. This is what happened in the video – impatience got the best of me.

Reduce mixer speed to low and slowly add the dry ingredients.

Add the chocolate chips, mix until just incorporated.

Scoop onto prepared baking sheets, sprinkle with a touch of fleur de sel or flakey sea salt such as Maldon. If your dough looks more like batter, the chocolate was too warm, and you should just pop it in the fridge for 15 minutes.

Bake in preheated oven for 13-15 minutes or until the outsides are set, the tops are cracked and the centers no longer look like dough.

Cool on baking sheets.
Nutrition
Calories:
328
kcal
|
Carbohydrates:
40
g
|
Protein:
4
g
|
Fat:
17
g
|
Saturated Fat:
11
g
|
Polyunsaturated Fat:
1
g
|
Monounsaturated Fat:
4
g
|
Trans Fat:
0.2
g
|
Cholesterol:
55
mg
|
Sodium:
139
mg
|
Potassium:
246
mg
|
Fiber:
2
g
|
Sugar:
30
g
|
Vitamin A:
190
IU
|
Vitamin C:
0.1
mg
|
Calcium:
82
mg
|
Iron:
2
mg
Like this? Leave a comment below!
Before You Go!
Check out all our delicious, chef-created Cookie Recipes.