These Maple Pecan Caramel Blondies have my favorite browned butter blondie as the base. Then its piled high with salted maple caramel sauce and pecans!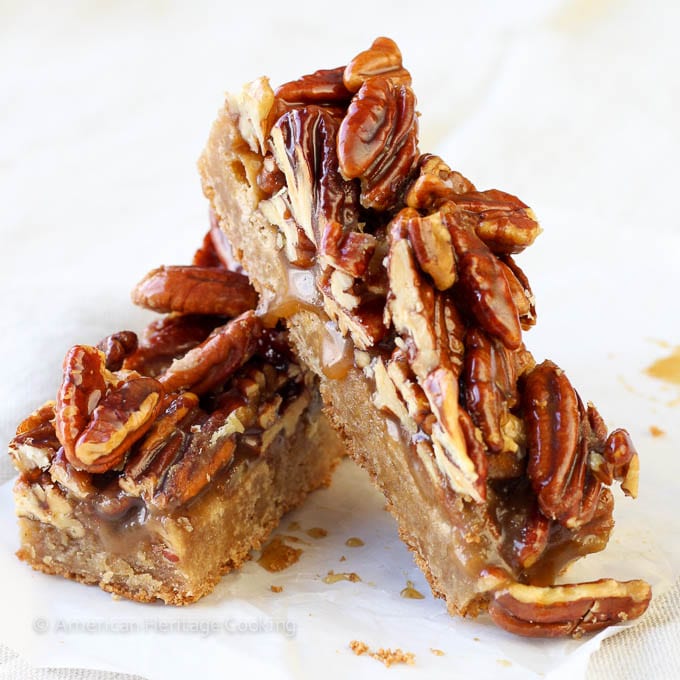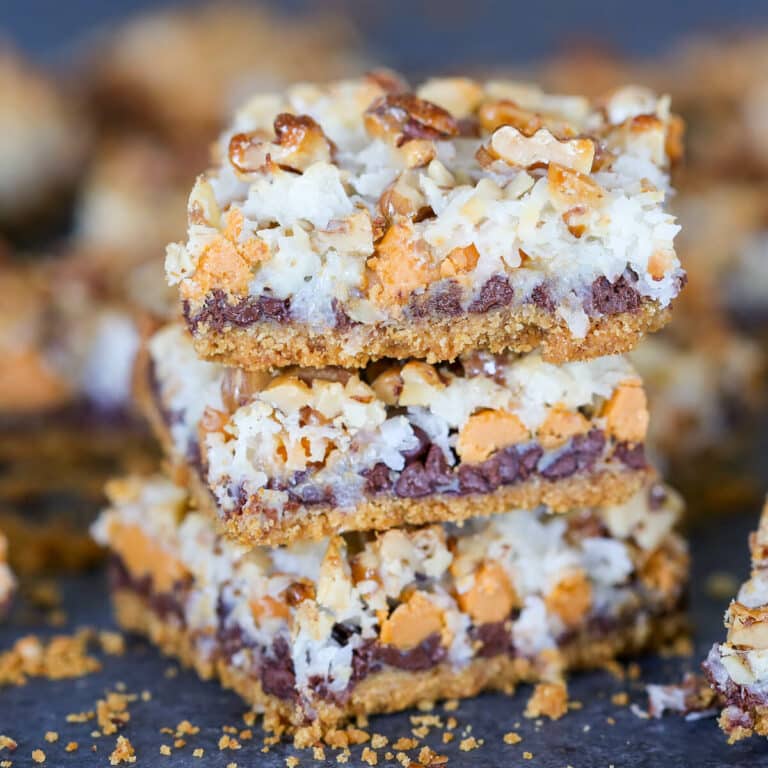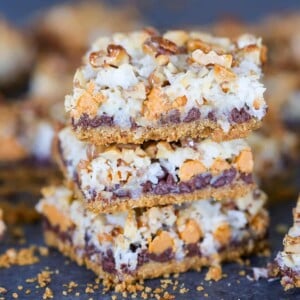 To me, Fall tastes like maple syrup. Perhaps that is because when I was little my Mom would make little maple candies with us after a crisp Fall afternoon of leaf gathering and apple picking, or perhaps I just have an unnatural obsession with the flavor.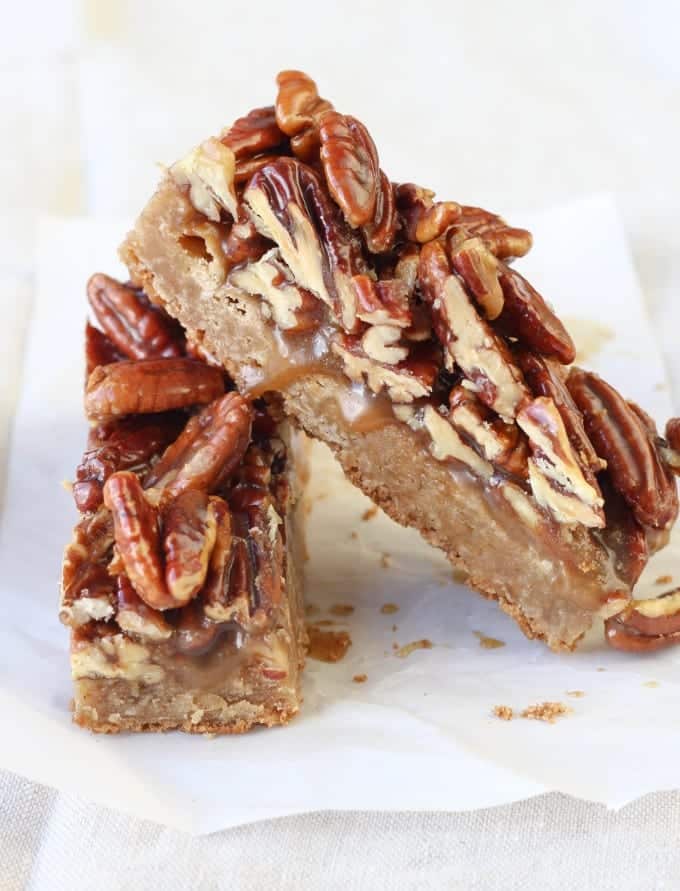 Regardless of the origin of said obsession, yesterday afternoon I was sitting at my desk staring off into space dreaming about blondies and maple syrup and how I could get a whopping maple flavor into a blondie when, out of nowhere, everyday genius struck! What if I made a "caramel" with maple syrup instead of sugar?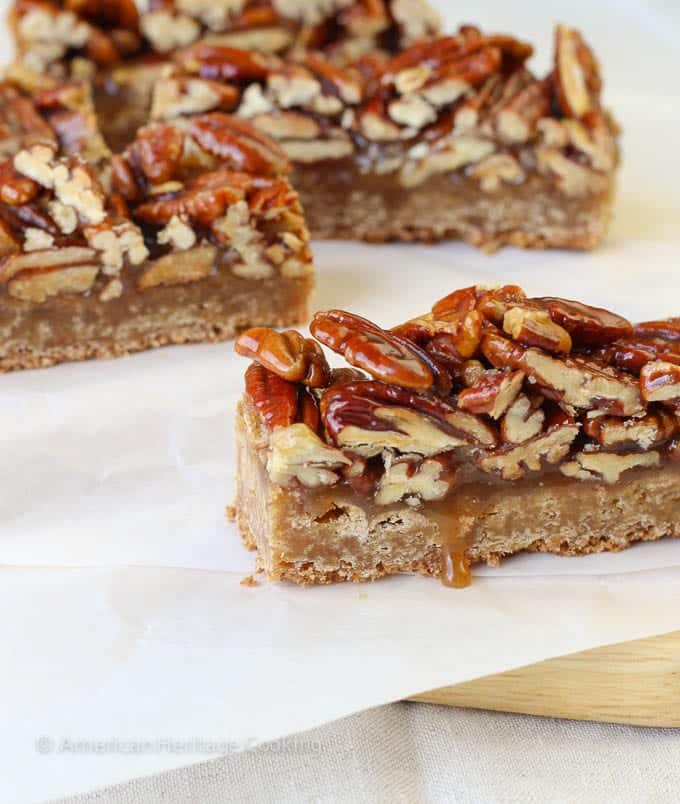 I'll tell you what happens. Magic. The result was sensational! It's like a good marriage: caramel and maple syrup combined and the result is even better than either was single. You pour maple caramel-coated pecans over this brown butter blondie and you have a dessert that people will be fighting over. Literally fighting.
Sprinkle fleur de sel on top and you have a flavor explosion that demands an ostentatious name like Maple Pecan Caramel Brown Butter Blondie.
Now the Brown Butter Blondie bar bottom deserves its own moment in the spotlight because it is spectacular! It blows every other blondie I've ever had out of the water.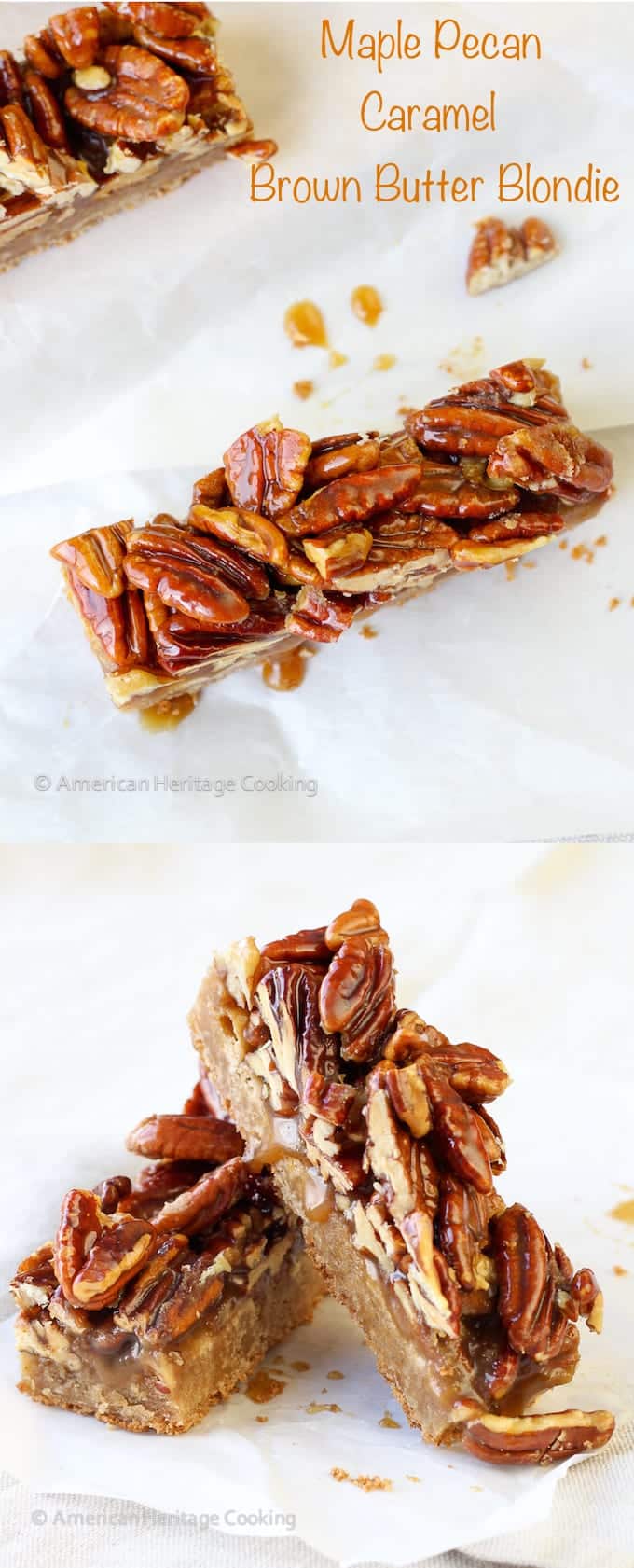 Yes, even this one. If you want an easy, one-pot butterscotch blondie that tastes amazing then this one is still fabulous, but if you don't mind a little extra time and muscle, then this new Brown Butter Blondie is dynamite. It's rich and chewy and has that je ne sais quoi that only brown butter can add.
It's my new favorite. Period.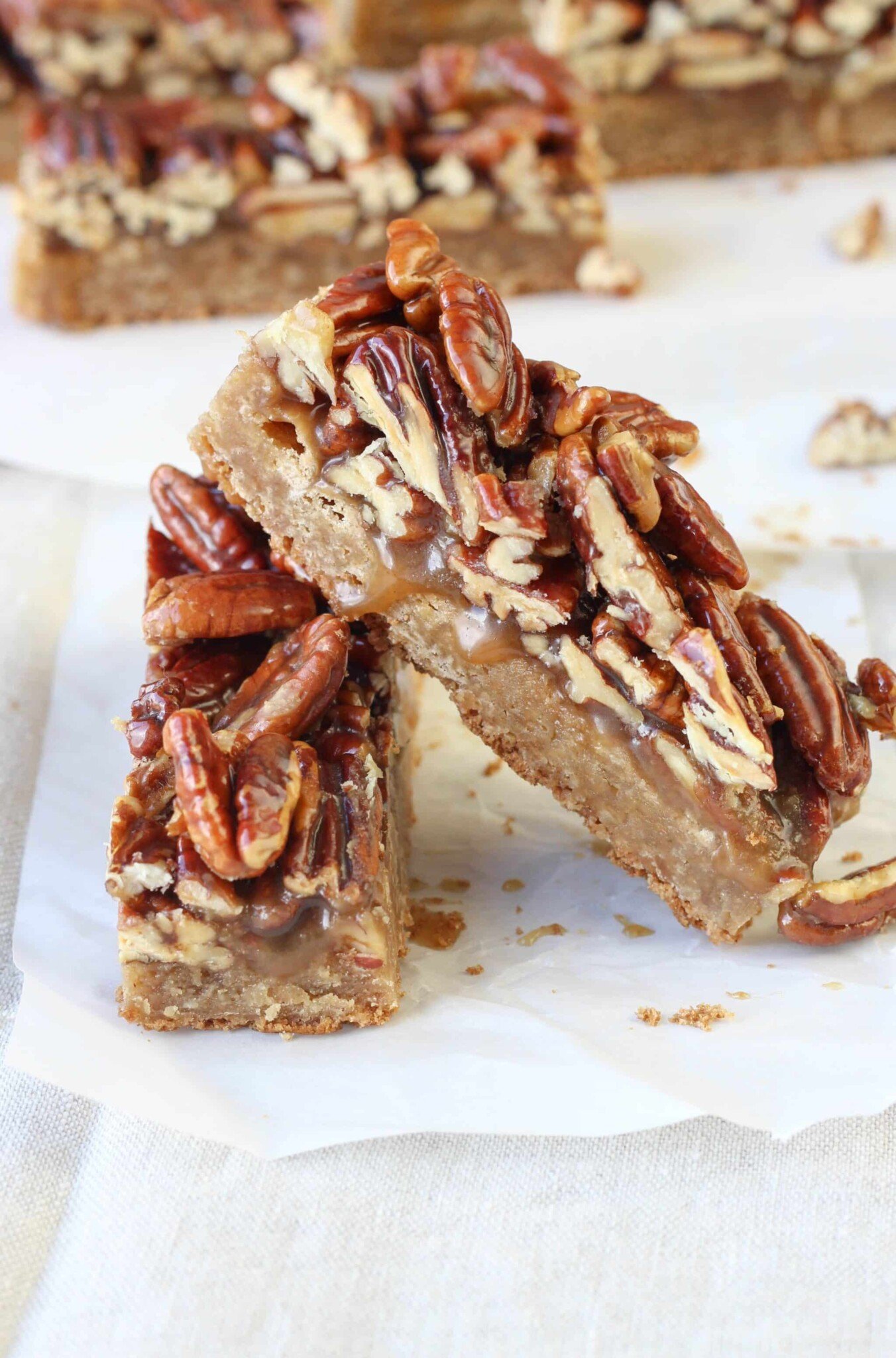 Just gaze at it a little. Dripping maple syrup caramel. Toasted Pecans. Chewy brown butter blondie. Irresistible.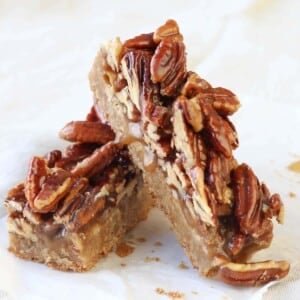 Maple Pecan Caramel Brown Butter Blondies
These Maple Pecan Caramel Brown Butter Blondies have my favorite browned butter blondie as the base. Then its piled high with salted maple caramel and pecans!
Ingredients
For the Maple Pecan "Caramel"
Makes:
9
inch
9
x
10
inch
rectangle
Instructions
To make the Blondie
Preheat oven to 350°F. Line 13x9x2 inch metal baking pan with parchment paper.

Whisk flour, baking powder, and salt in a medium bowl and set aside.

Melt butter in a medium skillet over medium heat, swirling several times a minute, until browned bits cling to the bottom of the pan and the butter takes on a slightly nutty aroma. Transfer brown butter to a medium bowl.

Add brown sugar and beat, with an electric mixer, until well combined and mixture resembles wet sand, 2-3 minutes.

Add eggs and vanilla; beat until fluffy, 2 minutes. Add dry ingredients and beat until smooth. The batter will be very thick.

Using an offset spatula, evenly spread batter in pan.

Bake blondie until golden brown or a tester inserted into the center comes out with a few moist crumbs attached, 20-25 minutes. Let cool completely in pan on a wire rack.
To make the Maple Pecan "Caramel"
Toast pecans in 350°F oven until the toasted nut aroma starts wafting through your kitchen, 10-12 minutes. Toss them about and check on them every several minutes. They will burn in a matter of minutes if you aren't careful.

Pour maple syrup in a deep pot with a thick bottom. Being to a boil over medium heat and let boil softly for ~15 minutes. Stir every few minutes with a heat proof spatula or spoon to reduce the bubbles. You will notice that the syrup will start to coat the outside of the spatula or spoon and will cool quickly into a caramel-like consistency. It will resemble candy at the softball stage.

Stir in the butter until it is completely melted and then add the cream, stirring constantly. It will not bubble up dangerously like caramel but it will still be very hot. Add the salt and then stir to mix.

Remove from heat and stir in pecans to coat. Pour over cooled blondie and spread evenly.

Refrigerate for 1 hour. Then remove from pan and cut into bars. Sprinkle with fleur de sel or sea salt.

Make ahead: you can store the bars in an airtight container in the fridge for up to a week. Let the bars come to room temperature before serving.
Notes
Blondie recipe from Bon Appétit Magazine, December 2011
Nutrition
Calories:
375
kcal
|
Carbohydrates:
45
g
|
Protein:
3
g
|
Fat:
22
g
|
Saturated Fat:
7
g
|
Polyunsaturated Fat:
4
g
|
Monounsaturated Fat:
9
g
|
Trans Fat:
1
g
|
Cholesterol:
40
mg
|
Sodium:
244
mg
|
Potassium:
173
mg
|
Fiber:
2
g
|
Sugar:
35
g
|
Vitamin A:
338
IU
|
Vitamin C:
1
mg
|
Calcium:
85
mg
|
Iron:
1
mg
Like this? Leave a comment below!