This Old Fashioned Almond Pie Crust is tender, with a delightfully sandy texture. It is quick and compliments any pie or even galette! The dough is a bit delicate but will still lattice with ease.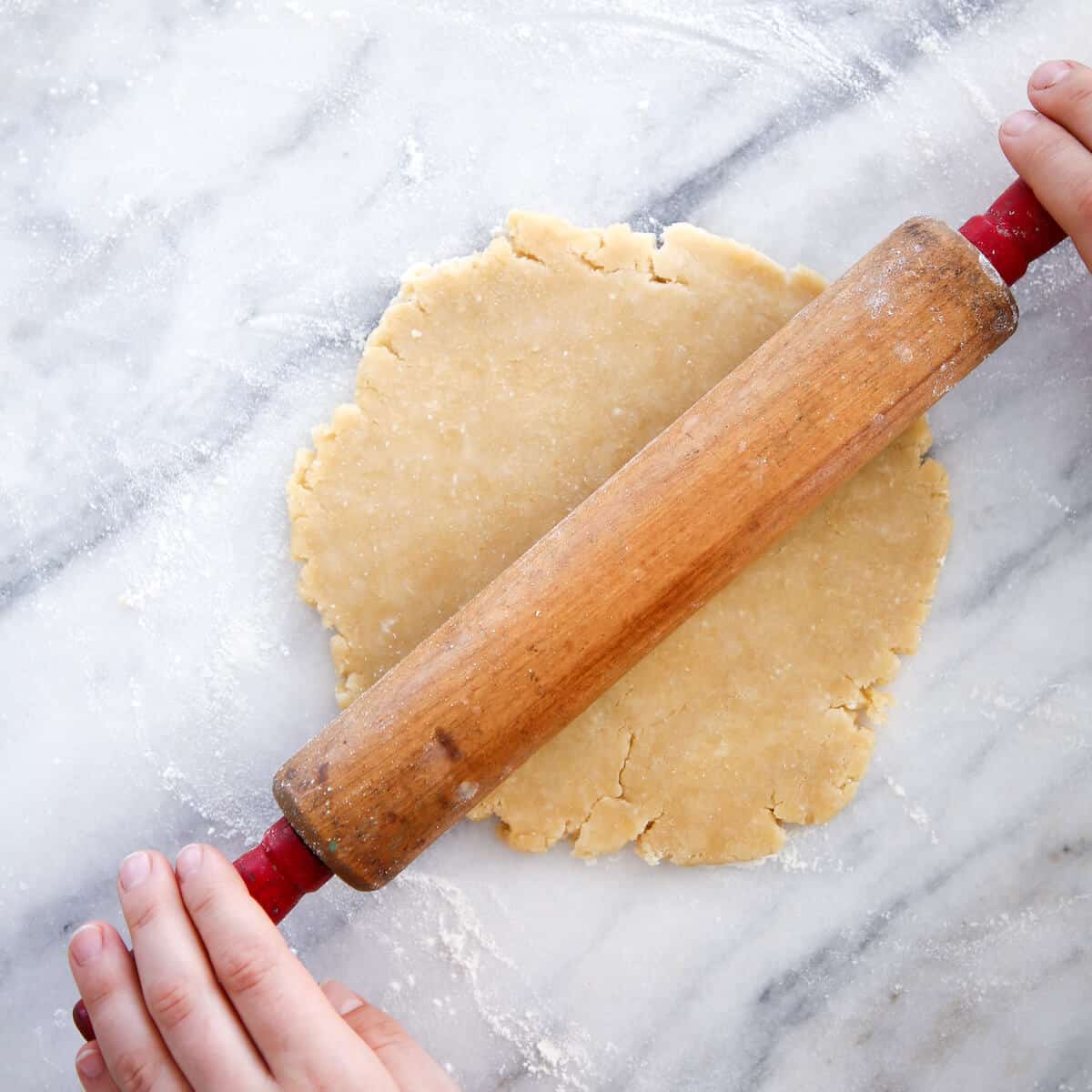 Whoever coined the phrase, "Easy as Pie" should be sent the Joy of Cooking's Strawberry Chiffon Pie recipe. Last night I diligently corrected all my errors that led to the strawberry soup disaster, but my pie still liquefied. I am at a loss. While the Strawberry Chiffon Pie may have been a failure, the Almond Pie Crust from the American Woman's Cookbook was delicious!
When I did yoga semi-regularly (shame on my current self!), during shavasana the teacher would instruct us to let our mind go and visualize a place that made us feel peaceful and relaxed. This may sound really odd coming from an almost 30 year old, but my place was my Mom's lap. When I was a little girl my Mom would sit me in her lap to read or to rock me to sleep. Then I got a little (and then lot) older and she would let me perch on her lap if I had a bad day and needed to cry or be comforted. Sometimes, even though we're the same size, she still lets me sit on her lap and she'll hug me just like when I was little, and I feel a peace and comfort that cannot be duplicated. I can only hope that when I have a little girl, she'll climb onto my lap and she'll feel the same love, support and caring that I felt.
I mulled over the perfect dish to make for my Mother's Day post for the past week. Nothing seemed right. It needed to be sweet, refined, beautiful, and anything but trite because it needed to be a reflection of her! I have never had a Strawberry Chiffon Pie nor have I made an Almond Pastry Crust, but the combination seemed perfect somehow (oh how wrong I was!). The strawberries are beautiful (and bountiful down here in Georgia); the custard seemed sweet and nostalgic yet refined; and the almond crust was a different twist.
This recipe for Strawberry Chiffon Pie comes from the 1st Edition of The Joy of Cooking and is truly old fashioned: there is no gelatin, no Jello, and no refrigeration. An extensive search on the Internet and in my vast Cookbook library turned up no other Strawberry Chiffon Pie recipes that omitted gelatin. Now we all know why.

Yesterday morning was the first time for a lot of culinary activities: I have never used whipped egg whites as a leavening agent; I have never made a custard; I have never pre-baked a pie crust; I have never made an almond crust. When the pie filling liquefied before my very eyes I persisted because my Mom has never given up, and how could I just throw in the towel on a pie? When it liquefied the second time, I rallied and scooped the filling from the crust and made my own "Strawberry Pie." It was delicious. (I am sure there is a metaphor for life's defeats in here somewhere!) So the thought of this light and sweet pie is for you Mom! I love you.
Recipe
Old Fashioned Almond Pie Crust
This Old Fashioned Almond Pie Crust is tender, with a delightfully sandy texture. It is quick and compliments any pie or even galette! The dough is a bit delicate but will still lattice with ease.
Ingredients
1 ½

cups

all purpose flour

3

tablespoons

almond flour or meal

(I used Bob's Red Mill Almond Flour)

3

tablespoons

sugar

½

teaspoon

salt

½

cup

shortening

(cut in small pieces)

1

egg

(well beaten)

Cold water
Instructions
Make sure all ingredients are either frozen or very, very cold. Mix dry ingredients and cut in shortening with a pastry blender until they are worked into the dry ingredients and are the size of peas. Be careful not to over work it because it is these chunks that give the pastry that flaky quality.

Add beaten egg with a fork just until incorporated. Add just enough water to hold dough together. I used 2 tablespoons but this will vary. You want the dough to stay in a ball, so if chunks are falling out, then add some more water. It doesn't take as much as you think! Roll into a ball, place on plastic wrap, and flatten into a disk. Refrigerator for several hours or over night.

Roll out to ¼ inch thick. This dough is more fragile than my other go-to crust, so I use the rolling pin method for transferring the dough to a pan. Gently roll the dough onto the pin and unroll it over your pie dish. Decoratively crimp the edges, place in the refrigerator for 20-30 minutes and then either add your filling or pre-bake the crust. If your pastry warms up too much prior to going in the oven then if will not be flakey, and we have had enough failure for one day.

Pre-baking a Pie Crust: Pre-heat your oven to 425F. Prior to adding the pastry to your dish, make a little mold out of aluminum foil. Cover pastry with this mold, making sure to curl the edges over the entire crust. Add pie weights if you wish. Then bake in pre-heated oven for 20 minutes. Remove aluminum foil and either cool or add filling to hot crust per your recipe instructions.
Notes
Recipe from American Woman's Cookbook
Yield: 1, single crust 9 inch pie