This Peach Blackberry Pie has a flaky, all butter pie crust with a juicy peach and blackberry filling. The fruit flavors are accentuated with a hint of lemon for the perfect bite of Summer! 
I lived in Atlanta for almost 8 years, so, to me, Summer is synonymous with "Peach Season".
The heat is turned up outside and I am immediately imagining all the peach pie, peach cobbler, peach ice cream, and peach salads. I also love blackberries and there is nothing better than a blackberry buckle or a mixed berry pie recipe to liven up even the most jaded palette.
I've strayed a bit from the Peach Motherland, but Jersey peaches are a close second. Since moving to NYC, I have loved going to Union Square Farmers Market and loading up on bushels of peak-season peaches.
This year this Peach Blackberry Pie was the first thing I baked up followed shortly by Peach Preserves, because I want the taste of ripe peaches in December! A girl cannot live on Pumpkin Pie alone! (Although Pumpkin Pie and all the rest of the 20 Best Thanksgiving Pie recipes I have on here do make life sweeter!)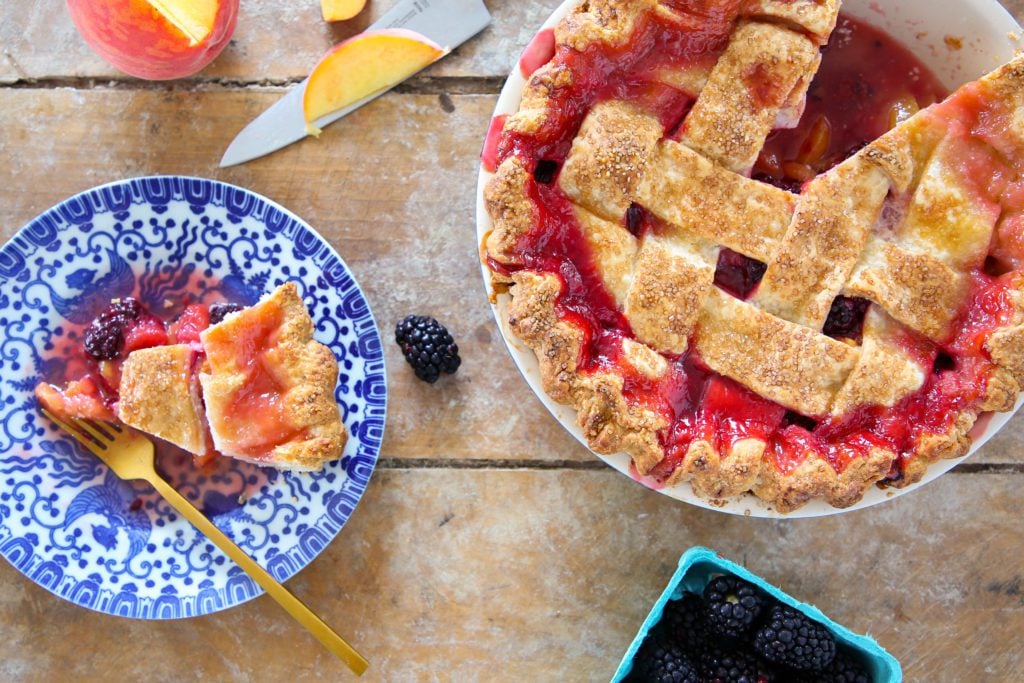 Secrets to the best Peach Blackberry Pie:
Peaches: It should go without saying but quality is everything. Sad peaches will make a sad pie. I don't mean "sad" as in bruised, because bruised, ripe peaches make bomb pie. Bonus points if you get your peaches in Georgia! (Yes, that was an unabashed Justin Bieber reference.)
Tapioca: I use tapioca to thicken my fruit pies. It thickens better than cornstarch and it doesn't have an off-putting flavor. If you are using pearls make sure they are small pearls and I usually grind them in a spice grinder to make them fine. Let the mixed filling sit for 30 minutes to allow the tapioca pearls to hydrate. You don't have to let tapioca flour sit before baking.
Pie Crust: I used my Vodka All Butter Pie Crust in this recipe but you can't go wrong with my Foolproof All Butter Pie Crust. I do love the buttery, flakey crust in contrast to the juicy filling. 
On that note, if you want a crisp bottom that you can pick up out of the pan, you must use a metal baking dish. The ceramic ones are beautiful but they just don't distribute heat the same way that metal does.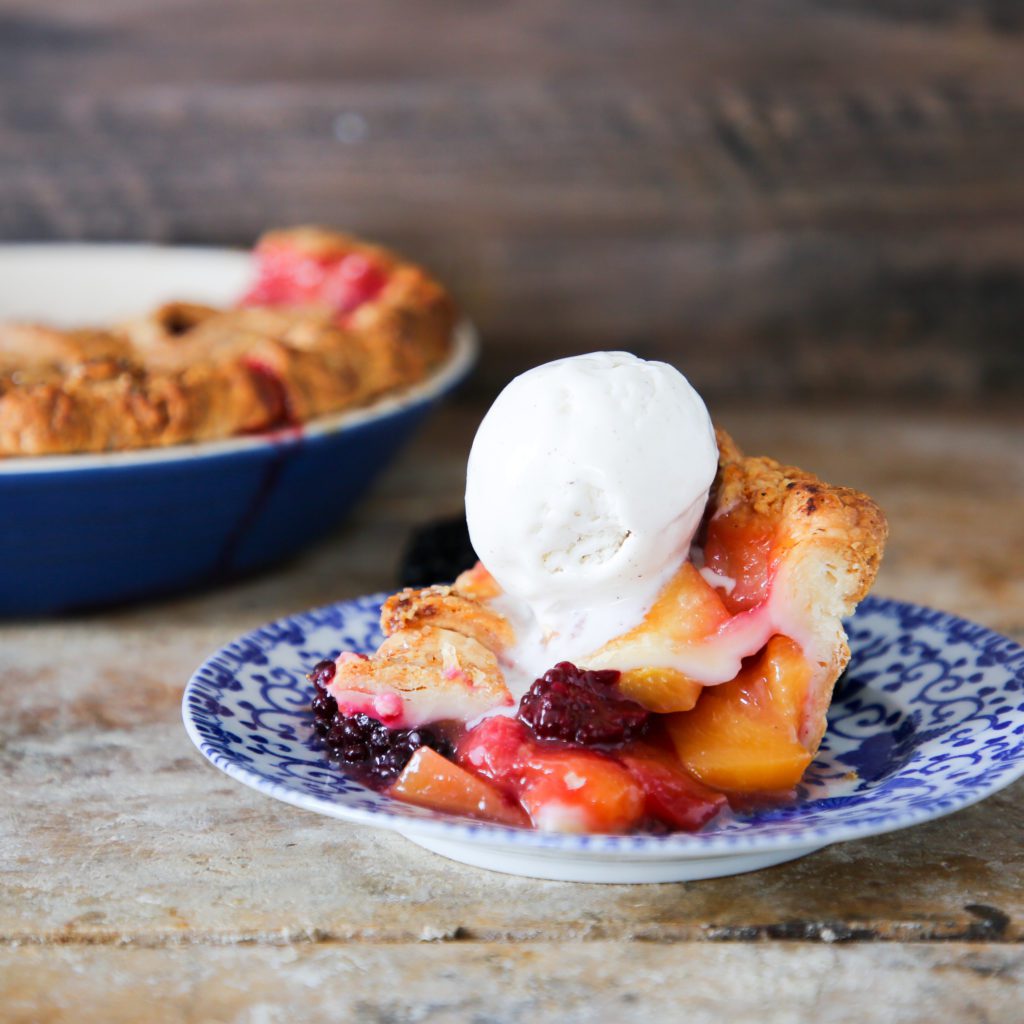 How do I make an extra thick pie filling?
If you want your fruit pie to be extra thick, you have to precook your filling. This adds an extra step and extra time to the process, because you also have to let the filling cool before adding it to the pastry. This is 100% necessary for apple pie but I don't mind a little juice with my peach blackberry pie. It's my personal preference.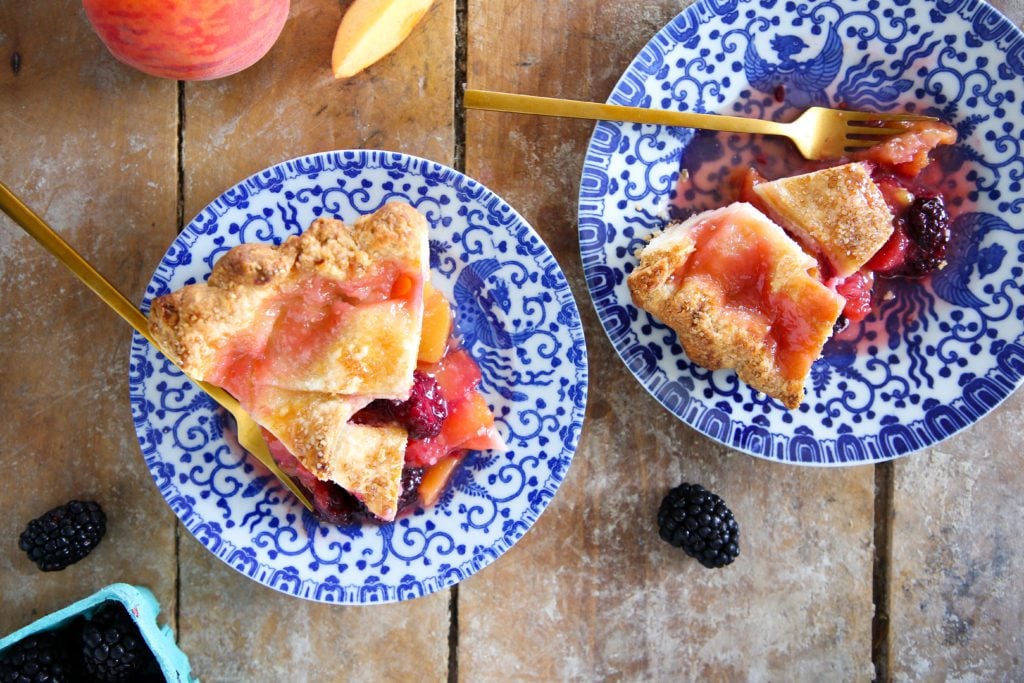 How to peel all the peaches for pie easily?
Did you just have a mini panic attack when I said, "A bushel of peaches?" I feel that but I have a tutorial on how to peel peaches three different ways on YouTube! Watch and breathe a sigh of relief.
Peach Blackberry Pie
This Peach Blackberry Pie has a flaky, buttery crust with a juicy peach and blackberry filling. The fruit flavors are accentuated with a hint of lemon for the perfect bite of Summer!
Ingredients
Makes:
9
inch
9
x
9
inch
round
Instructions
Preheat the oven to 350°F convection or regular.

Roll out your crusts to 1/8th inch. Put in the refrigerator to chill.

In a bowl combine all ingredients. If you are using tapioca pearls instead of tapioca flour, pulse in a spice grinder until they are finely ground. Allow the filling to sit for at least 30 minutes to hydrate the pearls. Tapioca flour doesn't need to hydrate.

For a thicker filling precook everything until thickened and then cool completely before proceeding to the next step.

Line your pie tin with the one of the pieces of pastry. If it is cold, let it sit at room temperature for a few moments before forcing it into the dish. No cracks!

Place the filling in the bottom pastry and top with the top pastry. Make a lattice if you wish or cut a few vents and call it a day!

Brush the top crust with heavy cream and sprinkle with turbinado sugar.

Bake in preheated oven for 45-60 minutes. Pies will take longer baking in a ceramic dish than a metal tin. My pie baked almost 75 minutes! It is crucial that the filling boils in the center and the crust is a dark golden brown.

Allow to cool completely at room temperature for maximum thickening. No judgement though if you want to pile it high with ice cream and just dig in!
Nutrition
Calories:
218
kcal
|
Carbohydrates:
33
g
|
Protein:
3
g
|
Fat:
9
g
|
Saturated Fat:
3
g
|
Polyunsaturated Fat:
1
g
|
Monounsaturated Fat:
4
g
|
Trans Fat:
1
g
|
Cholesterol:
4
mg
|
Sodium:
137
mg
|
Potassium:
141
mg
|
Fiber:
2
g
|
Sugar:
16
g
|
Vitamin A:
312
IU
|
Vitamin C:
6
mg
|
Calcium:
12
mg
|
Iron:
1
mg
Like this? Leave a comment below!