These fudgy Triple Chocolate Peanut Butter Banana Brownies are rich and chewy! Each bite has a triple dose of chocolate, a hint of banana and a swirl of peanut butter! Your new favorite way to use over-ripe bananas!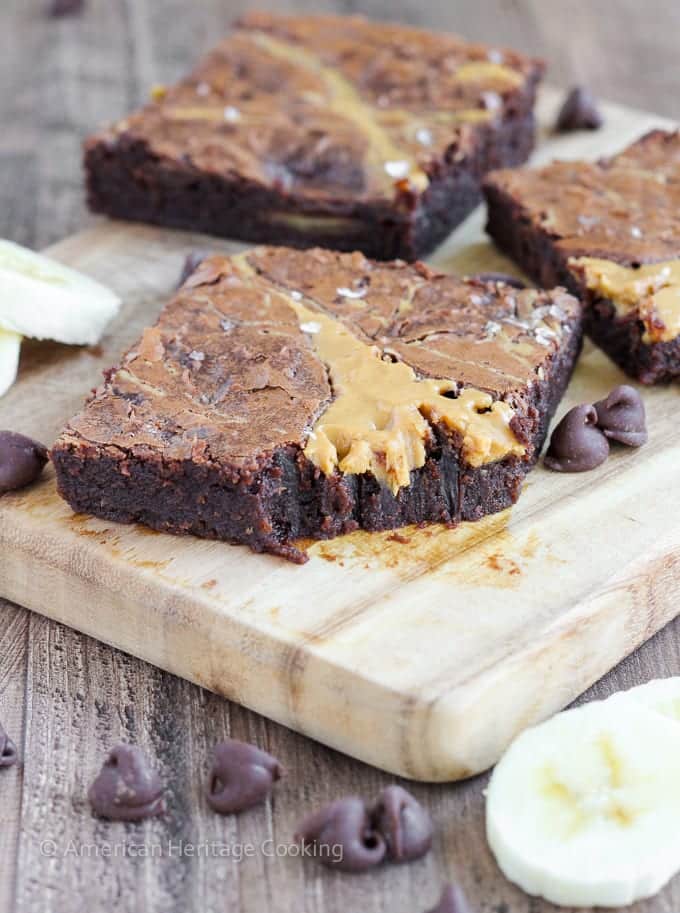 Raise your hand if you have some sad, spotty brown bananas at home.
Raise your hand if you are sick of moist banana bread.[Put your hand down! Unacceptable. Banana bread is life.]
Raise your hand if you already made banana bread with crumble, banana peanut butter stuffed chocolate cupcakes, banana pudding, classic banana cream pie and *still * have browning bananas way past their prime. [It's okay. This is a safe space. Me too. ]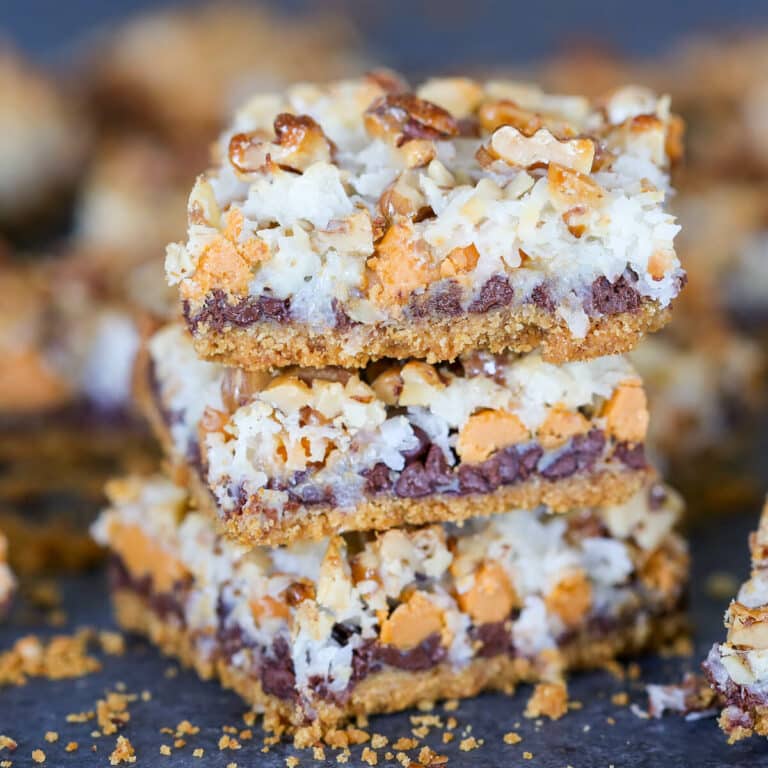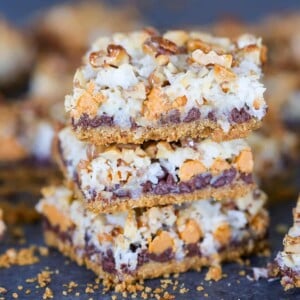 Enter Triple Chocolate Peanut Butter Banana Brownies!
Banana BROWNIES?!! Yeah.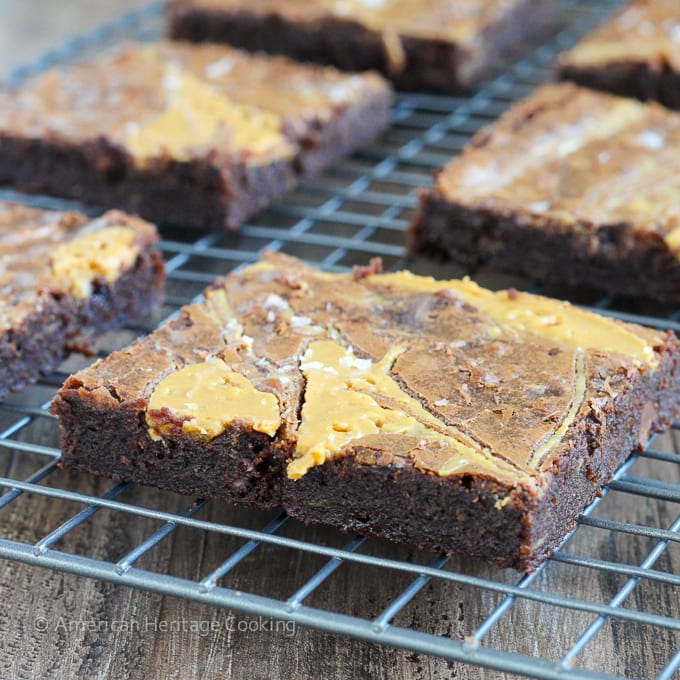 Chocolate; Peanut Butter; Banana: the trifecta of awesome.
I took one of my all time favorite combos and stuffed it into a brownie.
You're welcome.
These are rich, fudgy brownes. No light cakey stuff around here.
No ma'am.
The bananas make these extra moist and super fudgy. So much so they almost seem under-baked, but they aren't. They are just to die for chewy. And we all need some of that in our lives!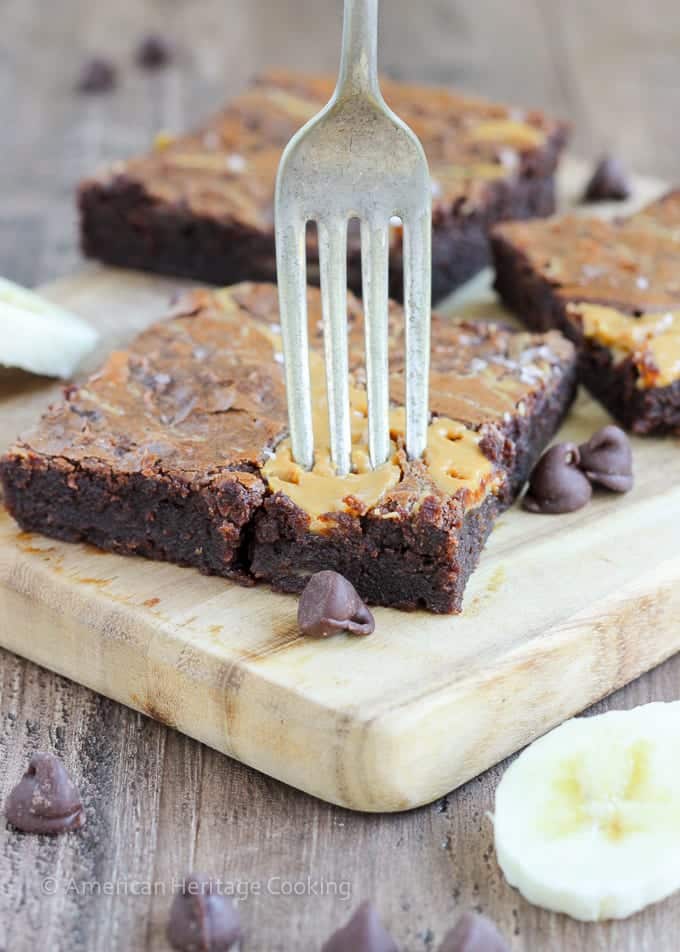 These brownies have that beautiful crispy top and soft, chewy interior. The swirls of peanut butter are the only interruption to the triple chocolate brownie perfection.
These decadent brownies have both cocoa powder and melted chocolate in the batter AND, in case that just wasn't chocolatey enough for you (when is it ever, honestly?), some extra chocolate chips are studded throughout.
The banana flavor is present but not overpowering. In each bite you get serious chocolate, banana and a little bit of the peanut butter swirl. Oh and a sprinkle of Maldon sea salt just to finish it off.
Salty, sweet, rich, chewy and creamy. Good stuff, guys. Good stuff.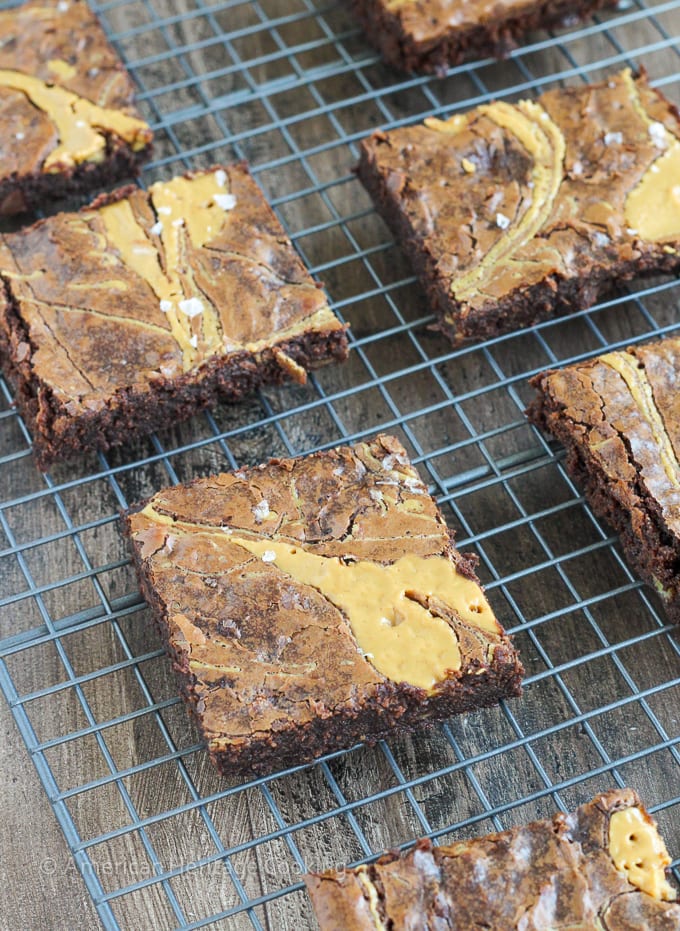 You know what else is kinda cool about these brownies? Eggs are the only leavening. It makes the combination method a little bit interesting, but the results are pure bliss.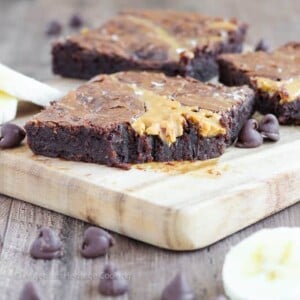 Triple Chocolate Peanut Butter Banana Brownies
These fudgy Triple Chocolate Peanut Butter Banana Brownies are rich and chewy! Each bite has a triple dose of chocolate, a hint of banana and peanut butter! Your new favorite way to use over-ripe bananas!
Instructions
Preheat oven to 350℉. Grease and line a 12-inch by 16-inch sheet pan with cooking spray or butter.

In a medium bowl combine flour, cocoa powder and salt; whisk to combine and set aside.

Combine chopped chocolate, butter and vanilla in a heat-proof bowl over a pot of simmering water; heat until just melt (you don't want it hot) and set aside. Do not begin the eggs until the chocolate is almost melted.

Add eggs and sugar to the bowl of a stand mixer fitted with the whisk attachment. Beat until pale and fluffy on medium-high speed. This is your leavening, so don't under beat them.

Turn off the mixer, removed the bowl, and pour the chocolate in all at once; fold in the chocolate with a large spatula. Fold in the bananas.

Sift the flour mixture into the bowl and fold into the egg mixture until it is still a little streaky.

Add the chocolate chips and fold to incorporate. Spread evenly in the prepared pan with an offset spatula.

Drop the peanut butter onto the batter and swirl with a skewer, toothpick, knife or your offset spatula.

Bake 30-40 minutes or until a toothpick comes out clean. Sprinkle with flaked sea salt and allow to cool before removing from the pan.
Notes
Presentation
–
Let the brownies cool completely before cutting for a clean edge! The flakey sea salt plus the peanut butter swirls is lovely, but feel free to get creative with your swirls, your salt, and maybe even some sprinkles. 
Flavor Tips
– Because chocolate is a star flavor in these brownies, you should use the highest quality chocolate you can find. Also,
in an ideal world, I choose bananas that are ripe but only just beginning to spot. I find this to be the peak banana flavor. 
Technique
–
It is important that the eggs and sugar are at the ribbon stage. This is the main leavening in the brownie and it will give you that chewy texture. You know you've reached the ribbon stage when you let the egg foam run off the whisk as you move it over the bowl and it sits on top of the rest of the batter briefly before disappearing back into the foam.
Helpful Tools
–
Lining your pan with parchment paper is a helpful trick for these, since it makes your brownies easy to take out of the pan! You can bake these in a metal 9×11 pan but they will take longer to bake.
Variations
–
You could also add any of the following frostings:
The Best Cream Cheese Buttercream
,
Chocolate Fudge Glaze
, or
Homemade Marshmallow Frosting
.
Storage
–
Store baked brownies in an air-tight container at room temperature, refrigerated or frozen. Zip-top plastic bags also work nicely. These brownies will keep 3 days at room temperature, a week in the refrigerator or 2 months frozen.
Yield:
20 Brownies
Nutrition
Calories:
597
kcal
|
Carbohydrates:
71
g
|
Protein:
9
g
|
Fat:
32
g
|
Saturated Fat:
17
g
|
Polyunsaturated Fat:
2
g
|
Monounsaturated Fat:
10
g
|
Trans Fat:
1
g
|
Cholesterol:
108
mg
|
Sodium:
342
mg
|
Potassium:
335
mg
|
Fiber:
4
g
|
Sugar:
49
g
|
Vitamin A:
530
IU
|
Vitamin C:
1
mg
|
Calcium:
42
mg
|
Iron:
3
mg
Like this? Leave a comment below!