This Banana Cream Pie has a silky and smooth vanilla pastry cream, with lots of ripe bananas, a sweet pastry crust and a generous amounts of whipped cream topping! This pie layered with flavors, and is perfect for your next barbecue, dinner party or potluck.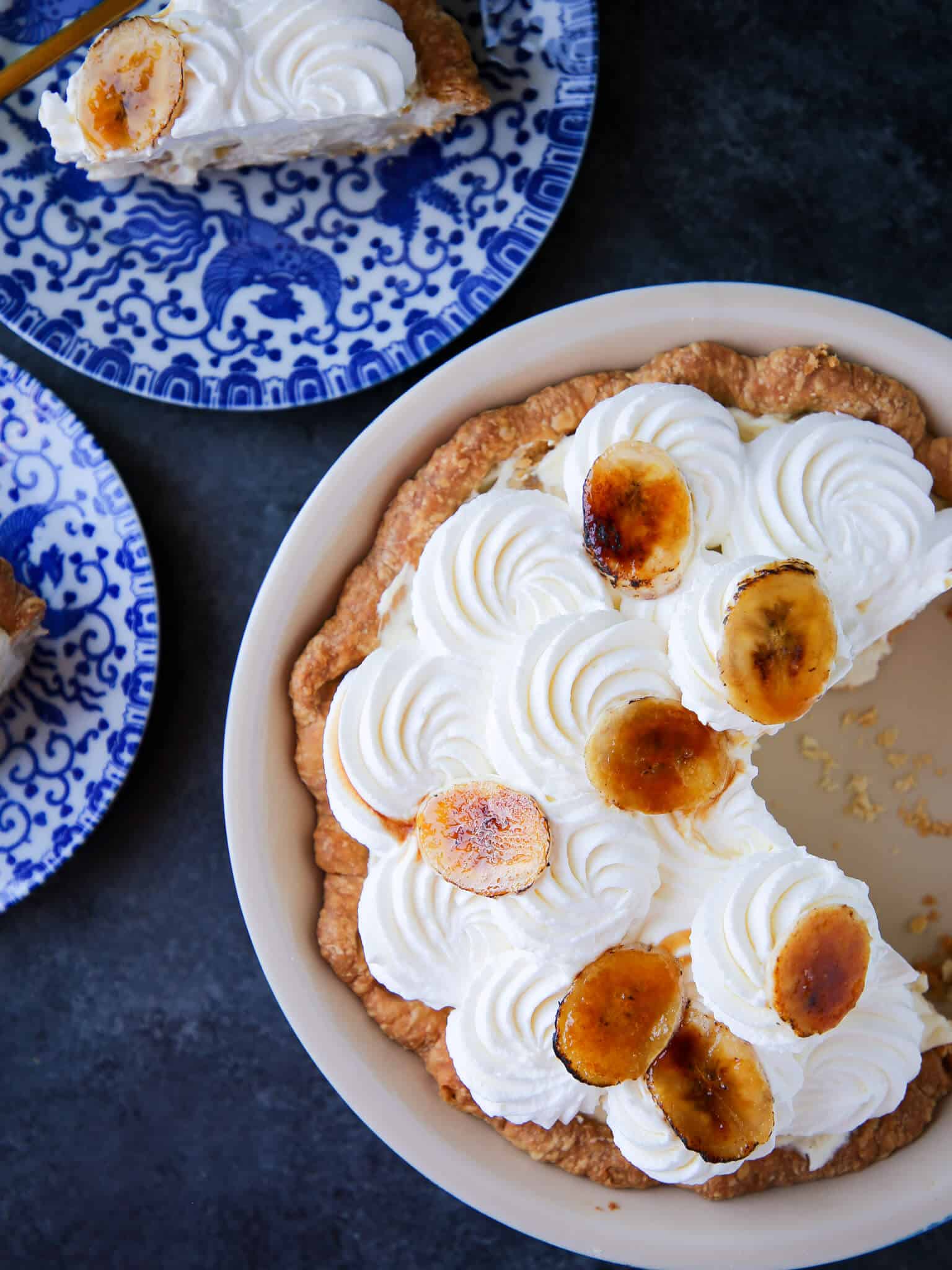 Truth be told, I never understood the hype behind banana cream pie until we made it in culinary school. I suppose it is just like the best carrot cake and I just needed to try the right one!
I like to use my sweet pastry crust recipe (pâte sûcrée) for banana cream pie but a flaky, vodka pie crust is also phenomenal. The buttery pâte brisée also adds a textural contrast and makes the dessert a lean a little more savory than sweet. No matter the crust you choose, you'll need to blind bake the crust and cool it before adding the filling. That is unless it is a no bake Graham Cracker crust!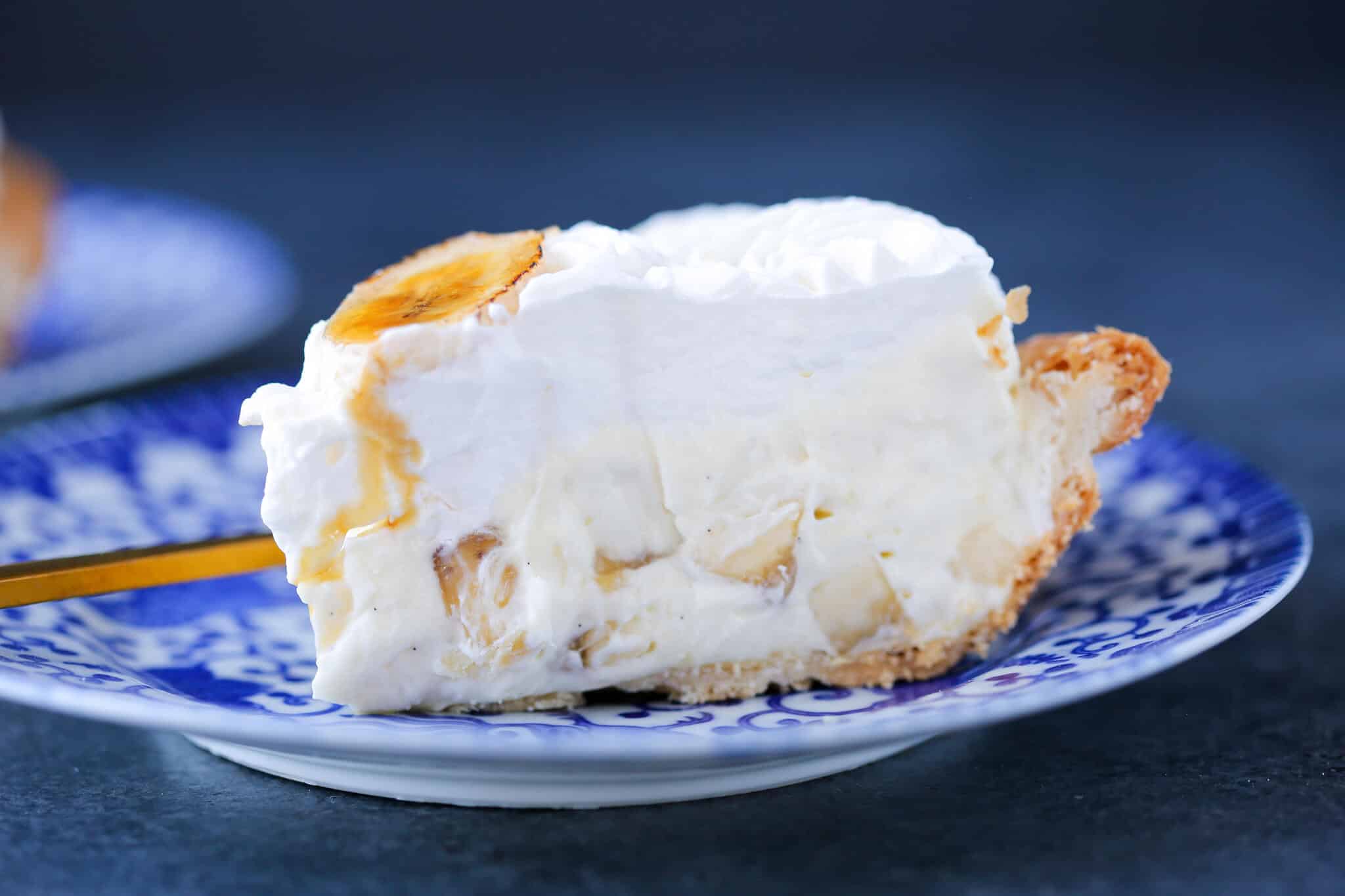 Frequently Asked Questions: Banana Cream Pie
What is Banana Cream Pie?
While some people make it with pudding, classic banana cream pie is actually made by lightening vanilla pastry cream with whipped cream. The resulting custard from this classic French technique is called Crème Légère. Fold diced bananas into this light, fluffy pastry cream then top with whipped cream.
Do I need to dock the crust for Banana Cream Pie?
You can dock the crust (poke it several times with a fork) to keep the crust from puffing in the oven. Docking allows the steam to escape from the baking crust, which allows for a more even rise and bake. If you forget, no biggie. It will still bake just fine. Leaving the pie weights in the blind baking crust just a little longer than normal will also help it bake evenly without puffing if you forget to dock.
Can I make Banana Cream Pie with pudding?
You can use pudding in banana cream pie but it is generally looser than those made with pastry cream. I would not suggest using instant pudding because it sets too loose. The vanilla pudding I use in my banana pudding recipe is a nice consistency. You can always add 1-2 teaspoons more cornstarch to make a thicker pudding that will stand up to slicing.
Why is my Banana Cream Pie runny?
Banana cream pie will be runny when made with instant pudding or with pudding or pastry cream that is not cooked long enough. Beating the pastry cream so long that it breaks down the starch binders will also cause a loose, runny banana cream pie. You could also look to the amount of cornstarch in either the pastry cream or pudding. Too much or too little will cause it to be runny. Pastry cream and pudding made with too much cornstarch will leach moisture faster that those made with less. Counterintuitive but true. A more obvious alternative solution is that the pastry cream or pudding was not completely cool before assembling.
How to keep bananas from turning brown in Banana Cream Pie?
You can toss them in a little lemon juice or water mixed with citric acid, but slicing them right before folding them into the filling will also keep them from browning. Bananas oxidize when exposed to air, so minimizing their exposure will keep them from browning without adding acid. Cover the filling with whipped cream to lock in those bananas and protect them from the air!
How to store Banana Cream Pie?
Banana cream pie should be stored in the refrigerator. This will keep the filling set and sliceable as well as fresh. It will keep 3-4 days, covered in the refrigerator. Cover with a cake dome or loosely with plastic wrap.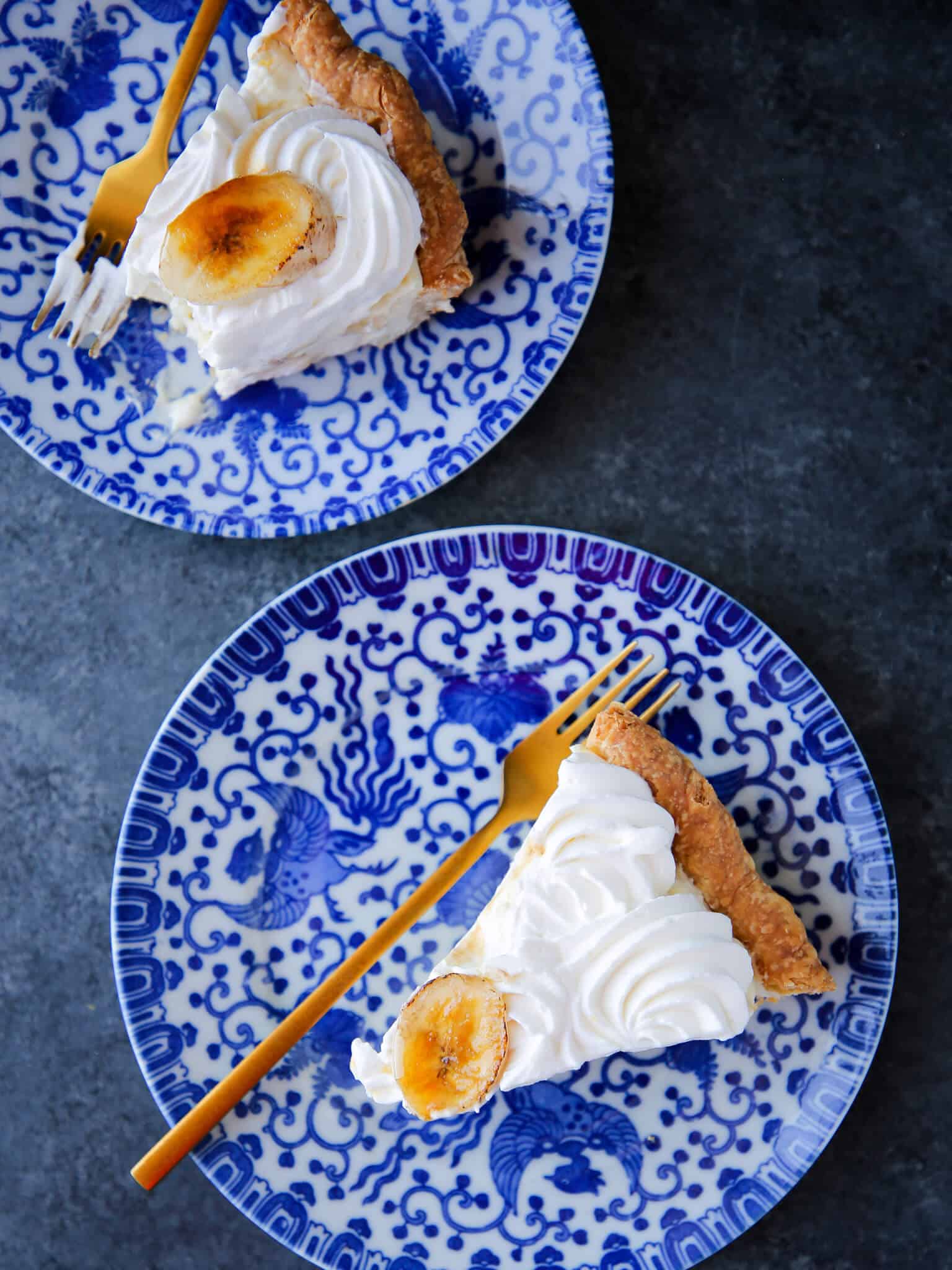 Ingredients Needed for Banana Cream Pie
Whole Milk: I generally bake with whole milk but low-fat can be substituted.
Eggs and Cornstarch: The power of eggs and cornstarch come together to make a thick but smooth pastry cream. I whisk my cornstarch in with the sugar and eggs to keep it from getting lumpy.
Vanilla Bean: Vanilla beans are one of the most expensive ingredients on Earth, but they add an unmistakable flavor. Scrape out the seeds to use now and save the pods for infusing in ice cream, anglaise or pudding. You can also make vanilla sugar with the pods. In this recipe I use both the seeds and the pods but it would be almost as good with just the seeds.
Whole Egg: The egg in a stirred custard is integral to thickening the custard. Whisking it first with the sugar protects it from the heat and also acidic ingredients like lemon juice.
Egg Yolk: Eggs yolks in a stirred custard are also thickeners like the whole eggs but they add more fat than the whole egg without the added moisture from the whites. This makes a thick, rich custard. To many yolks will make it taste "eggy"
Granulated Sugar: Sugar is here for sweetness but also to add a little leavening when beaten with the eggs and protect the eggs from the heat and additional acidic ingredients like lemon juice.
Dark Rum: The rum is optional but it really does add a lovely depth of flavor to the finished pie!
Heavy Cream: Whipped Heavy cream is in the filling and then also piled high on top!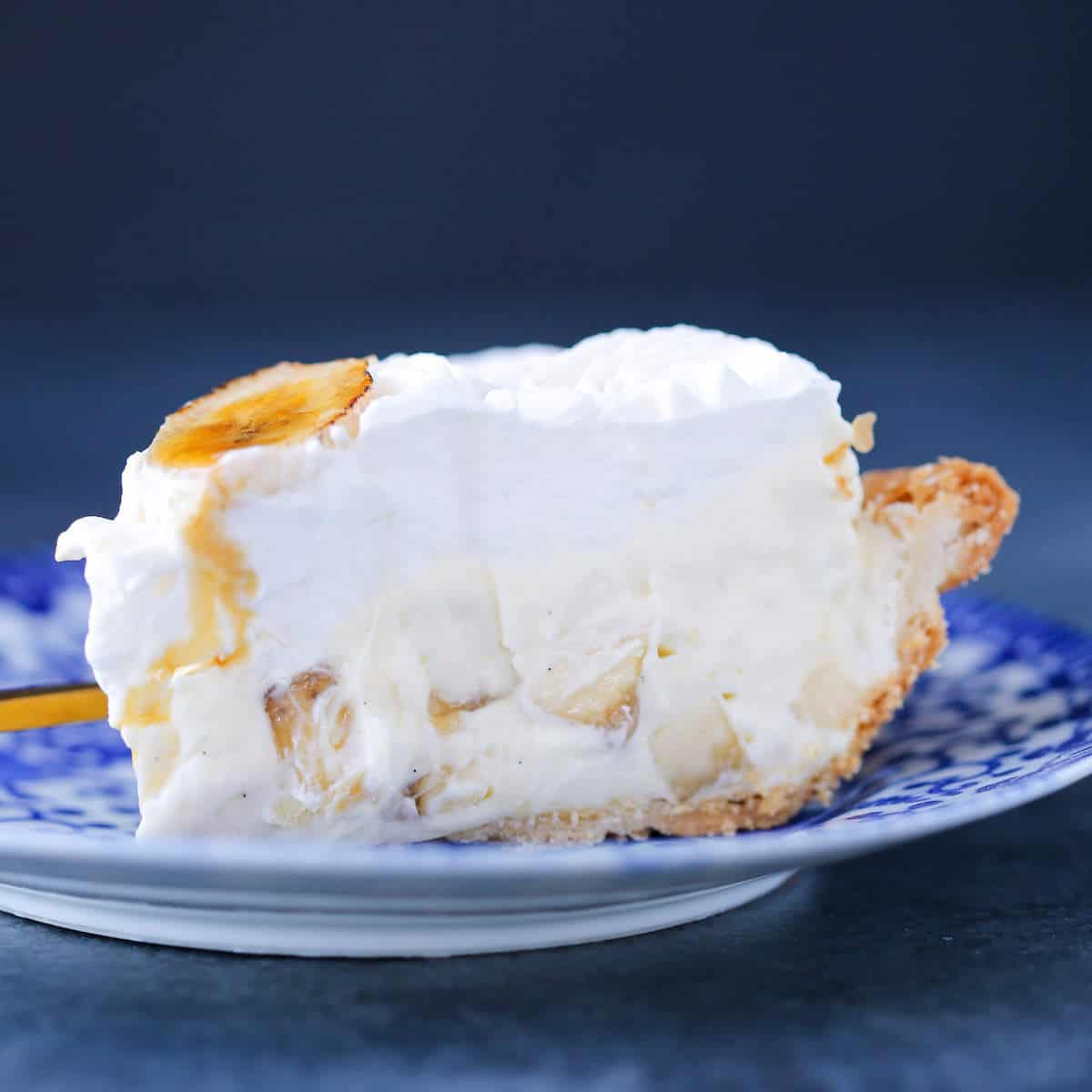 Possible Variations
Caramel All the Things: Pour some caramel sauce on the crust before adding the filling, use this salted caramel pastry cream or make the filling with my salted caramel pudding for a caramel twist!
Individual Mini Tarts: Follow my instructions on this chocolate tart post and make mini banana cream pie tarts instead! Try not to die from the cuteness.
Easy Banana Cream Pie Jars: Forget the drama of the whole pie and layer everything in jars instead! Rather than putting the crust on the bottom, slice strips of pie crust dough, sprinkle with cinnamon sugar and then bake until golden brown. Serve the pie crust strips for dipping into the jars. You could even make the strips with classic puff pastry or left-over pie crust scraps.
Serving Suggestions
While Old-fashioned banana cream pie needs no accoutrements, a little caramel sauce for the plate never hurt anyone! I also served mine with brûléed banana coins. I have those instructions in the recipe below.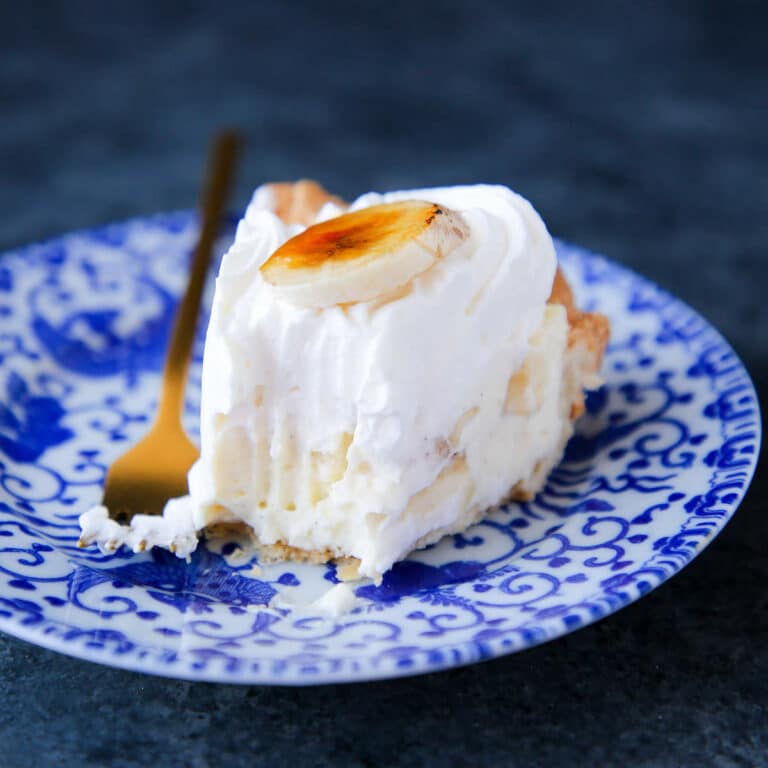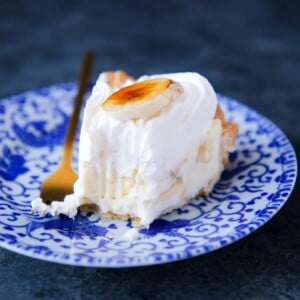 Banana Cream Pie
This Classic Banana Cream Pie has a silky, smooth lightened vanilla pastry cream, tons of ripe bananas, a sweet pastry crust and a generous whipped cream topping! It is layered with flavors and perfect for your next barbecue, dinner party or potluck.
Instructions
Prepare the Pastry Cream:
I find it easier to prepare a double recipe here because trying to get this small of a batch smooth is challenging. This will also make it 1 whole egg, so that is nice.

Split and scrape the seeds from half a vanilla bean pod. Save the pod for another use or throw it in!

Heat milk, sugar and vanilla beans to a boil.

Whisk eggs and yolks with cornstarch until lightened. Slowly add the milk mixture into eggs while whisking constantly. Return to pot, turning heat to medium, whisk until it begins to thicken. Boil 1 minute while constantly whisking.

Pour out onto plastic lined baking pan, cover with another sheet of plastic wrap, poke holes and cool.
Prepare Crust:
Blind bake pie crust until a golden brown on the bottom. You won't be baking it again, so you want the crust to be fully baked! You can dock the crust (poke it several times with a fork) to keep the crust from puffing in the oven. Docking allows the steam to escape from the baking crust, which allows for a move even rise and bake. If you forget, no biggie. It will still bake just fine.

Allow to cool before assembling pie.
Final Assembly:
Slice bananas in ¼ inch slices. You can further cut them into quarters if you prefer small pieces.

Whip the heavy cream for the filling to medium soft peaks. This is where the filling is just almost to stiff peaks but the cream will still slightly fold over at the tip when the whisk is pulled out and held straight up. I like to whip both the heavy cream for the filling and topping at one time, but this means you will need to use a kitchen scale to divide it.

Remove the whipped cream from the mixing bowl and reuse the same bowl to refresh your pastry cream.

Before you use pastry cream, you need to "refresh it" or "condition" it. All this means is you need to beat it so that it becomes smooth and silky. This won't get any lumps out but it will create a more pleasant product to eat and work with.

Place pastry cream in a stand mixer fitted with the paddle attachment. Beat on medium-high speed until smooth. You don't want to beat it too long or it will loosen and the cornstarch with lose some of its hold and it will not firm back up when chilled. This can lead to loose, unruly fillings.

Beat in Rum.

Fold in a small portion of the whipped cream allotted for the filling. This small amount is to further loosen the pastry cream to make it easier to fold in the remaining cream. It is called "sacrificing" because you sacrifice the trapped air in a small amount of the whipped cream by folding it in aggressively. This causes it to lose most of its lightness, but it loosens the pastry cream.

Fold in the remaining whipped cream allotted to the filling.

Fold in the cut bananas.

Pour into prepared pie crust and smooth out.

Top with remaining whipped cream.

Refrigerate at least 2 hours to overnight. This allows the pastry cream to set and will make for a beautifully sliceable pie!
Optional Bruléed Banana Coins
Before serving top with banana coins or brûléed bananas. To make the brûléed banana coins, slice a few pieces of banana and place on a metal or heat-proof baking sheet or dish.

Sprinkle with granulated sugar and brûlée with a kitchen torch.

This needs to be done right before serving or the caramel will absorb the moisture from the bananas and liquify.
Notes
Yield: 1, 9 or 10-inch Pie
Nutrition
Calories:
310
kcal
|
Carbohydrates:
29
g
|
Protein:
4
g
|
Fat:
20
g
|
Saturated Fat:
11
g
|
Polyunsaturated Fat:
1
g
|
Monounsaturated Fat:
6
g
|
Trans Fat:
0.001
g
|
Cholesterol:
75
mg
|
Sodium:
94
mg
|
Potassium:
265
mg
|
Fiber:
2
g
|
Sugar:
13
g
|
Vitamin A:
691
IU
|
Vitamin C:
4
mg
|
Calcium:
65
mg
|
Iron:
1
mg
Like this? Leave a comment below!
Before You Go!
Check out all our delicious, chef-created Pies & Tart Recipes!