A Thanksgiving Dinner menu and step-by-step preparation plan! I will give you everything you need to know about having a stress-free and delicious Thanksgiving dinner including the menu, a shopping list and a plan for preparation!
This menu goes out to all the obsessive planners (hey, friends) and to all the last-minute "I hope I get a turkey" shoppers. No matter where you land on that spectrum, don't panic. As always, I've obviously got you.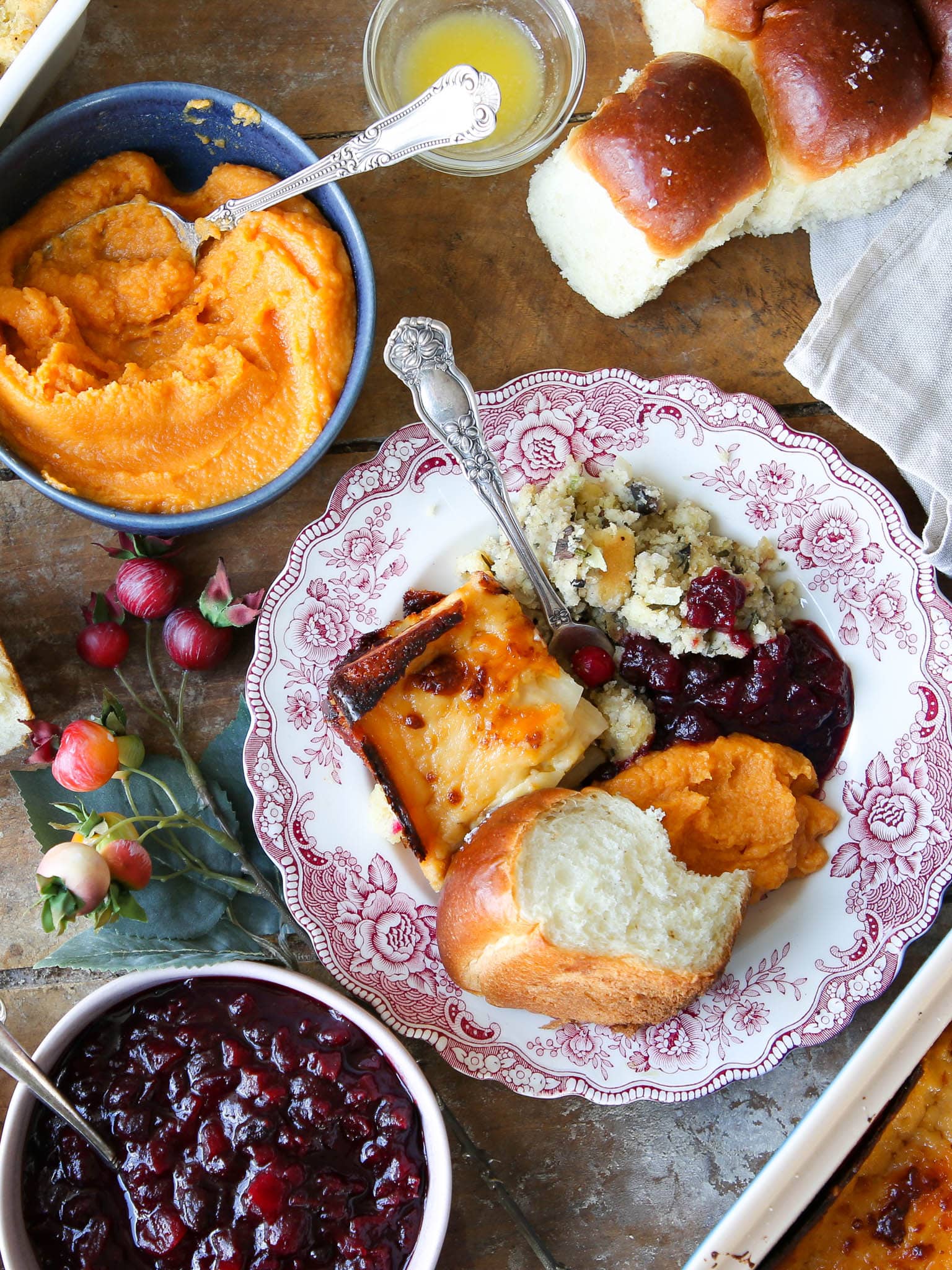 Table of Contents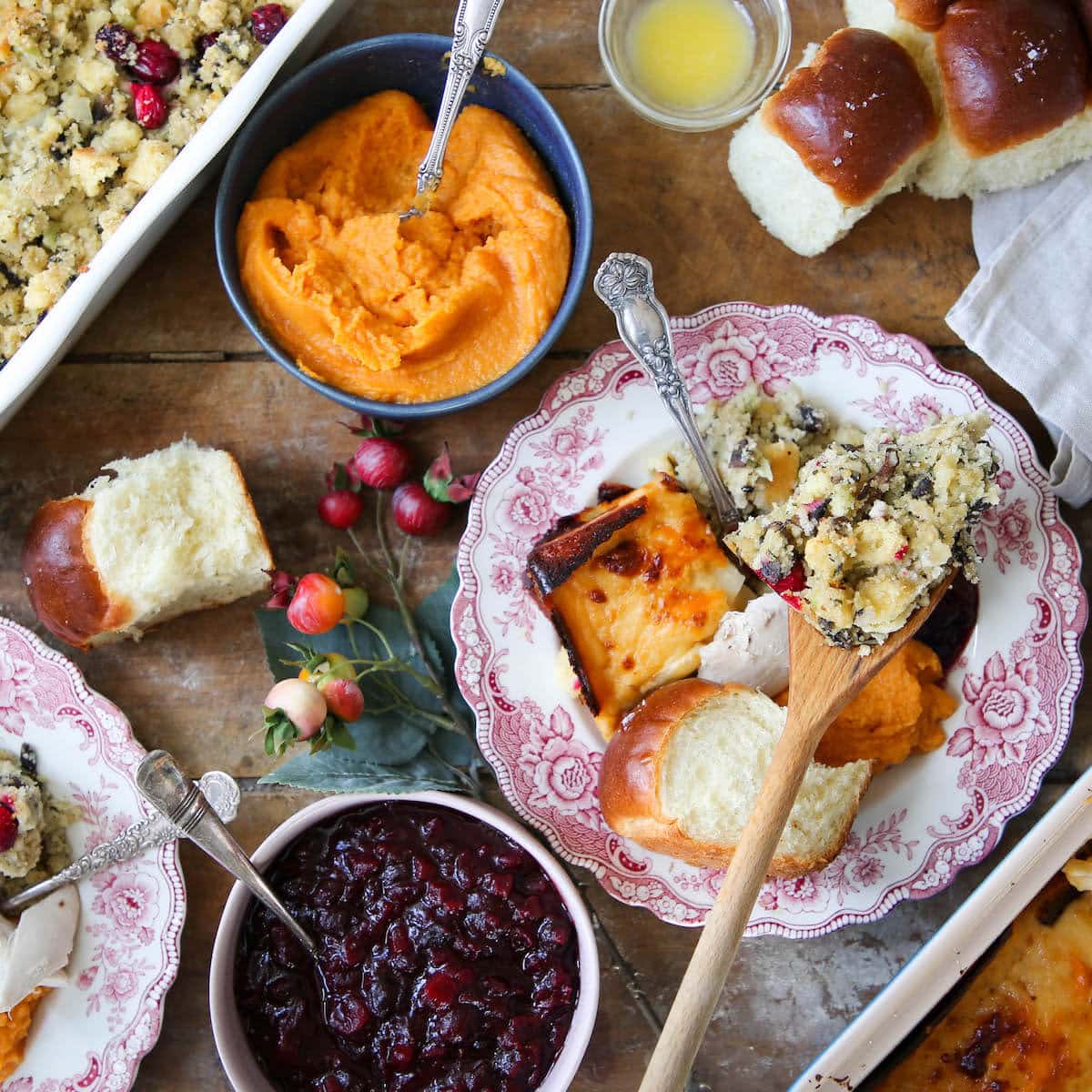 Thanksgiving Dinner Menu
Roasted Turkey, of course. Though sometimes I make roasted chicken instead! I know this fact could be triggering for some, but let's move on to what Thanksgiving is particularly all about…the SIDE DISHES.
Sage Mashed Sweet Potatoes: Smooth and creamy mashed sweet potatoes, nutty brown butter and savory fresh sage come together in a beautiful and undeniably delicious side dish! I love sweet potatoes in every form and you will always find them on my Thanksgiving dinner menu. These sage mashed sweet potatoes are a savory answer to the sweet potato question.
Cheesy Scalloped Potatoes: These Scalloped Potatoes are rich and creamy and not to mention super cheesy! Layers of perfectly cooked potatoes and cheesy béchamel bake together into one stunning side dish! This is my Husband's Thanksgiving dinner menu prerequisite. He doesn't mind if I fuss with the recipe every year (bless him) just so long as they are present and accounted for!
Mushroom Cornbread Stuffing : This Mushroom Cornbread Stuffing is flavored with mushrooms and all the herbs, and there are cranberries studded throughout for the perfect holiday side dish!
This stuffing does use my Savory Cornbread Recipe, but if you aren't into cornbread stuffing or aren't here for making a dish to go inside of another dish; I hear you, and with this in mind, I came prepared. I've got this fantastic Apple Sage Stuffing to suit your fancy or you could buy pre-made cornbread instead.
Nana's Cranberry Chutney: Nana's cranberry chutney is a little sweet and just the right amount of tart. It is cohesive yet you can distinguish the various ingredients.
In my house, cranberry chutney is emphatically not optional for any Thanksgiving Dinner Menu. It is the cornerstone that ties together the whole meal and transforms a good leftover sandwich into an especially GREAT leftover sandwich. I have strayed over the years and tried out different variations like this spiced apple cider cranberry sauce, but homemade cranberry sauce is mandatory. Furthermore, ask my mom about the year that she forgot it.
Potato Rolls : These are the best Potato Dinner Rolls. They are easy enough for a beginner baker but are soft, tender and buttery! They use real mashed potatoes for a rich flavor!
I know, I know. This feels like a lot but I promise you you've got this! This is the easiest bread ever. It is fast and the mixing method is foolproof. Trust me, I have made tens of thousands myself and trained more than a dozen people to make them. Plus I filmed a video!
Thanksgiving Desserts Ideas
My favorite pumpkin pie is a must-make. There are just the right amount of spices and it is thick, rich and silky smooth. The sweetened condensed milk gives it the perfect sweetness and texture.
This Bourbon Pecan Pie is also a must make for your Thanksgiving dinner menu! It is thick and not too sweet! The secret is double cooking the filling!
Now you've got the lay of the land, let's talk details.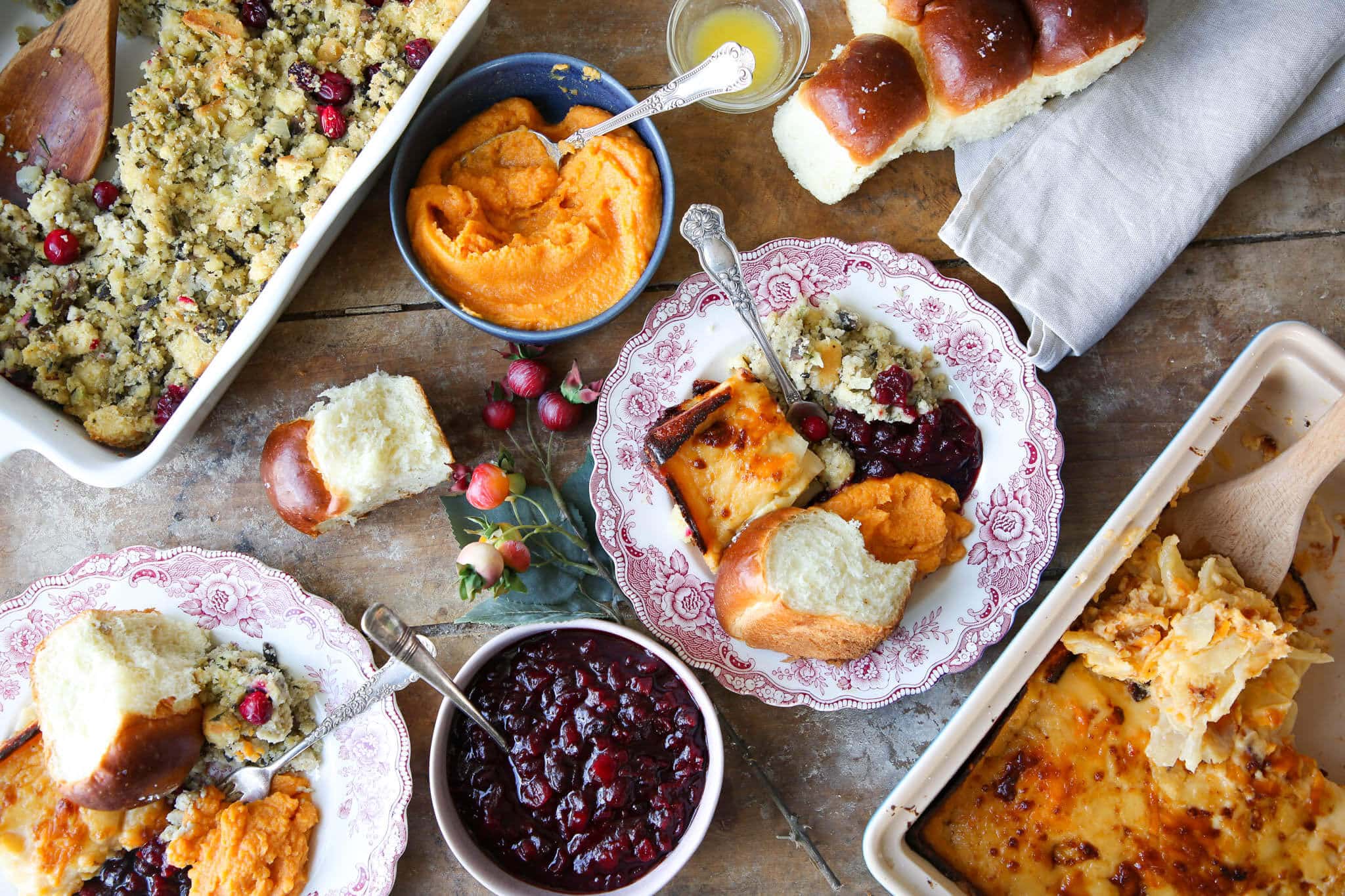 Shopping List for this Thanksgiving Dinner Menu
Butter - 8 sticks
Large Eggs - 10
Crème fraiche or sour cream - ⅔ cup
Milk - 4 cups
Sharp Cheddar Cheese Yellow, shredded - 6 oz
Sharp White Cheddar Cheese, shredded - 12 oz
Sweetened condensed milk - 1 (14 oz) can
Pumpkin Puree - 1 (15 oz) can
Russet Potatoes - 8
Sweet Potatoes - 2 ½ pounds
Cranberries, fresh, whole - 4 cups
Seedless Raisins - ¾ cup
Finely Diced Apple - ¾ cup
Pecans (toasted and chopped) - 2 cups
Diced mushrooms (I used button and cremini) - 3 cups
Diced Celery - ⅔ cups
Finely Diced Onion - 2 cups
Rosemary, fresh, picked and chopped - 3 T
Thyme, fresh, picked - 1 T
Sage - 2 T plus extra for serving
Canola oil - 1 T
Light corn syrup - ¾ cups
Chicken or turkey stock - 1 ½ c
Cornmeal - 1 cup
White Granulated Sugar - 2 cups
Dark Brown Sugar - 1 cup, packed
Kosher Salt
Fresh Black Pepper
Flour - At least 9 cups
Baking powder - 2 t
Cinnamon - 2 T
Ground Ginger - 3 t
Ground Cloves - 1 t
Allspice - ¼ t
Vanilla - 1 T
Dry Active Yeast - 1T + ½ t
Ground Nutmeg - ¼ t
Bourbon - 1 T
Vodka - frozen, ¼ cup
Brandy - 1 t
What to make with the leftovers?
We came for the leftovers. Same girl, same.
I love to just pile them all on the potato rolls for an easy sandwich situation, but you could always get creative and make a leftover turkey pot pie or make a shepherd's pie.