This Flourless Chocolate Decadence Cake is sensational: it is rich with an eye-opening chocolate flavor; it is dense and moist like a good flourless chocolate cake should be; and it has this amazing crust that forms on top.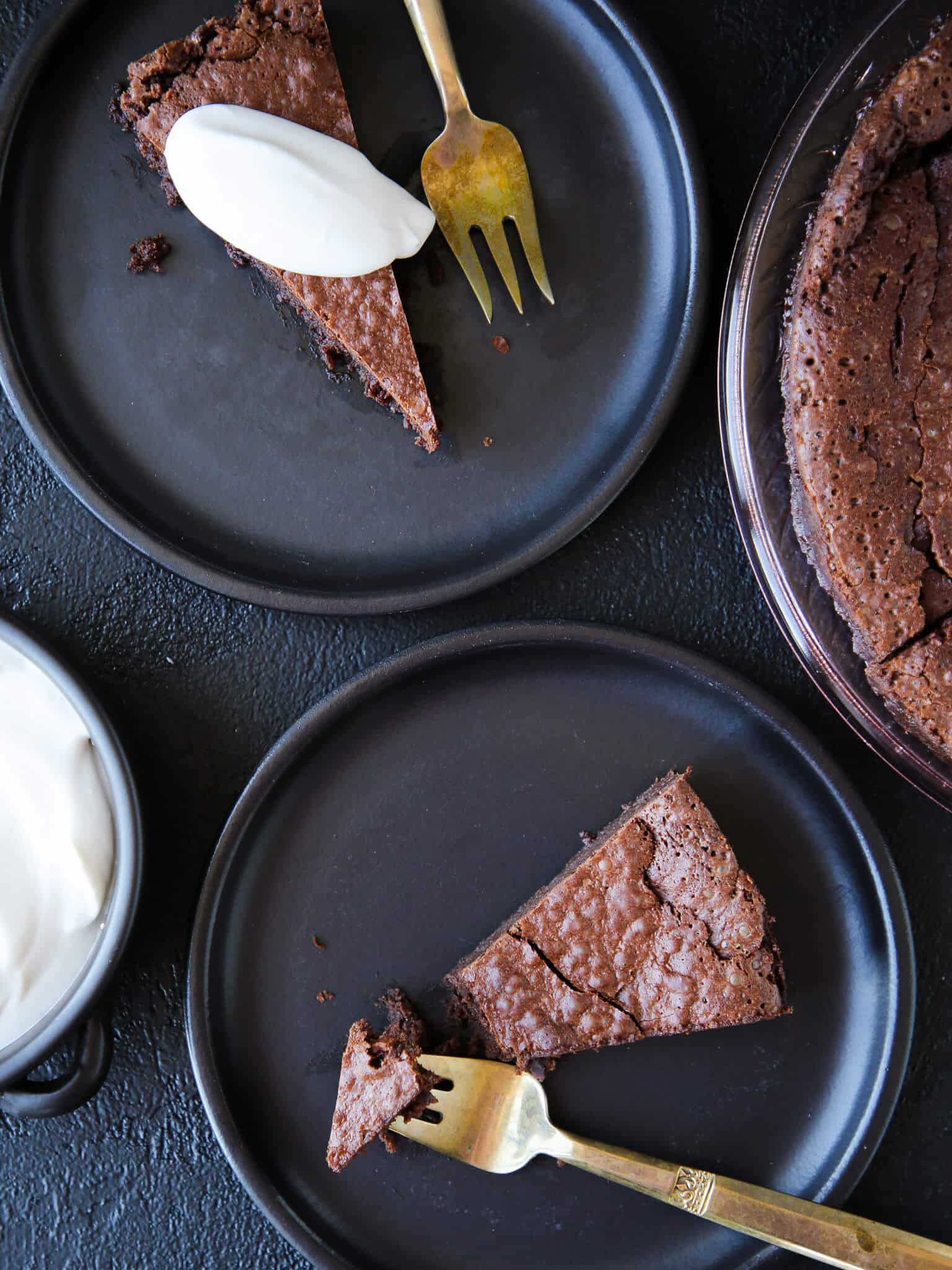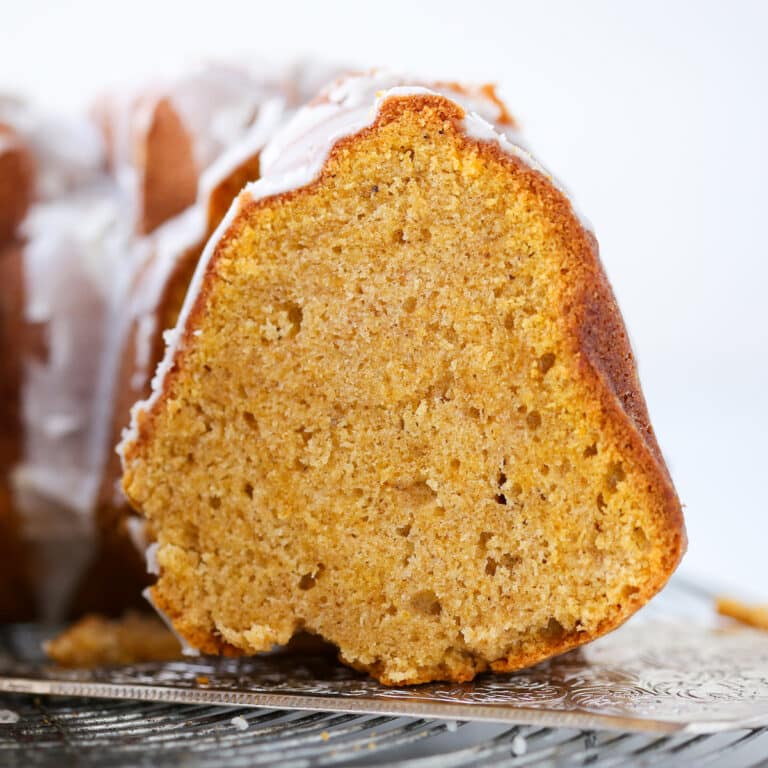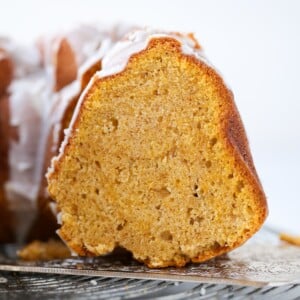 Several weeks ago, like millions of others, I was scouring the Internet for the perfect Valentine's Day dessert. My friend, Kayle, over at The Cooking Actress, suggested I bake thisfor Valentine's Day: a flourless chocolate decadence cake. When she said, "It's one of my faves!", well, I just knew I had to try it. Search = Over!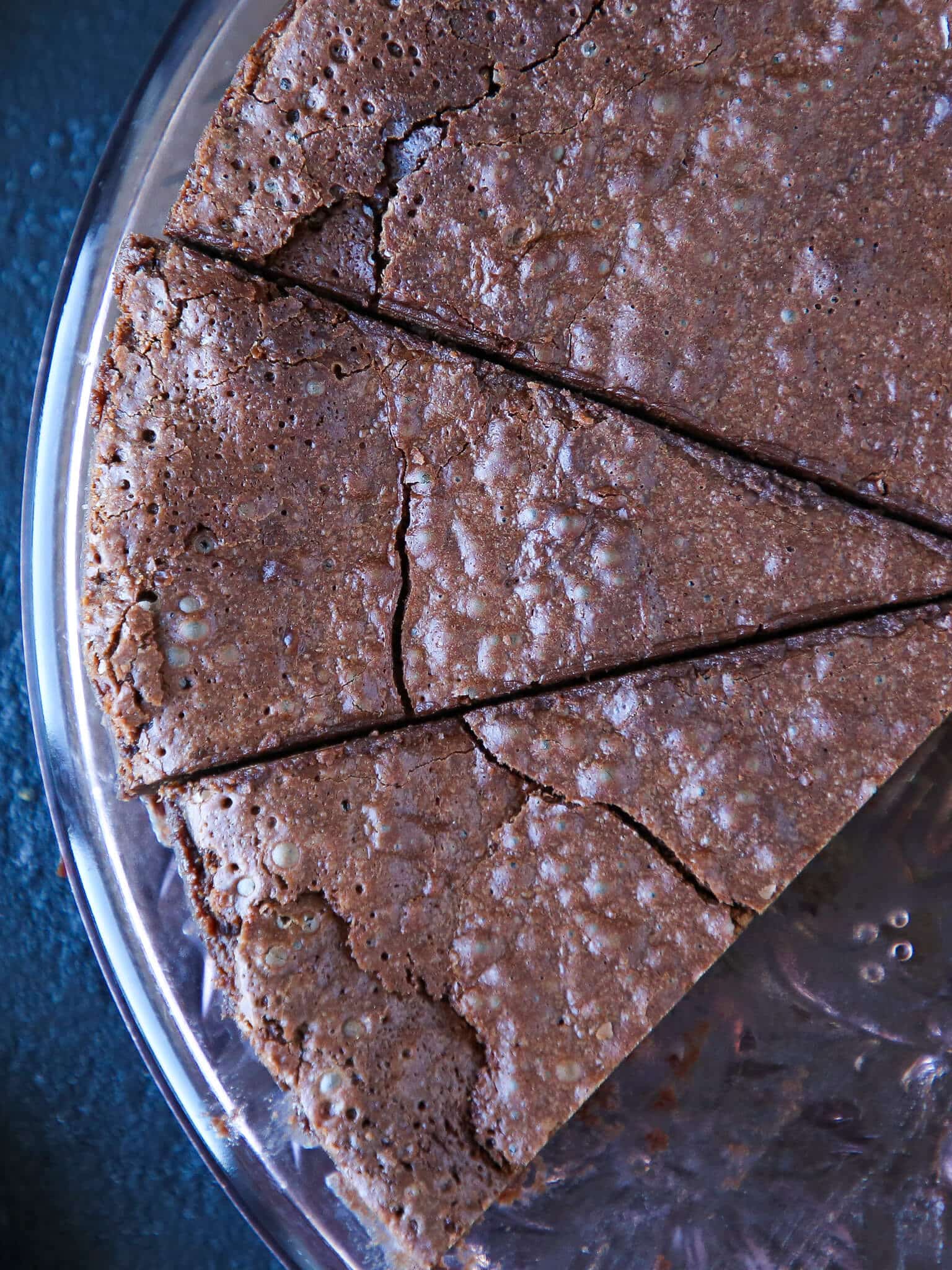 It's a chocoholic's paradise. Ohmygodsogood.
Special thanks need to go out to Kayle for bringing this chocolate cake into my life.
There was a flourless chocolate decadence cake void; albeit I didn't know it.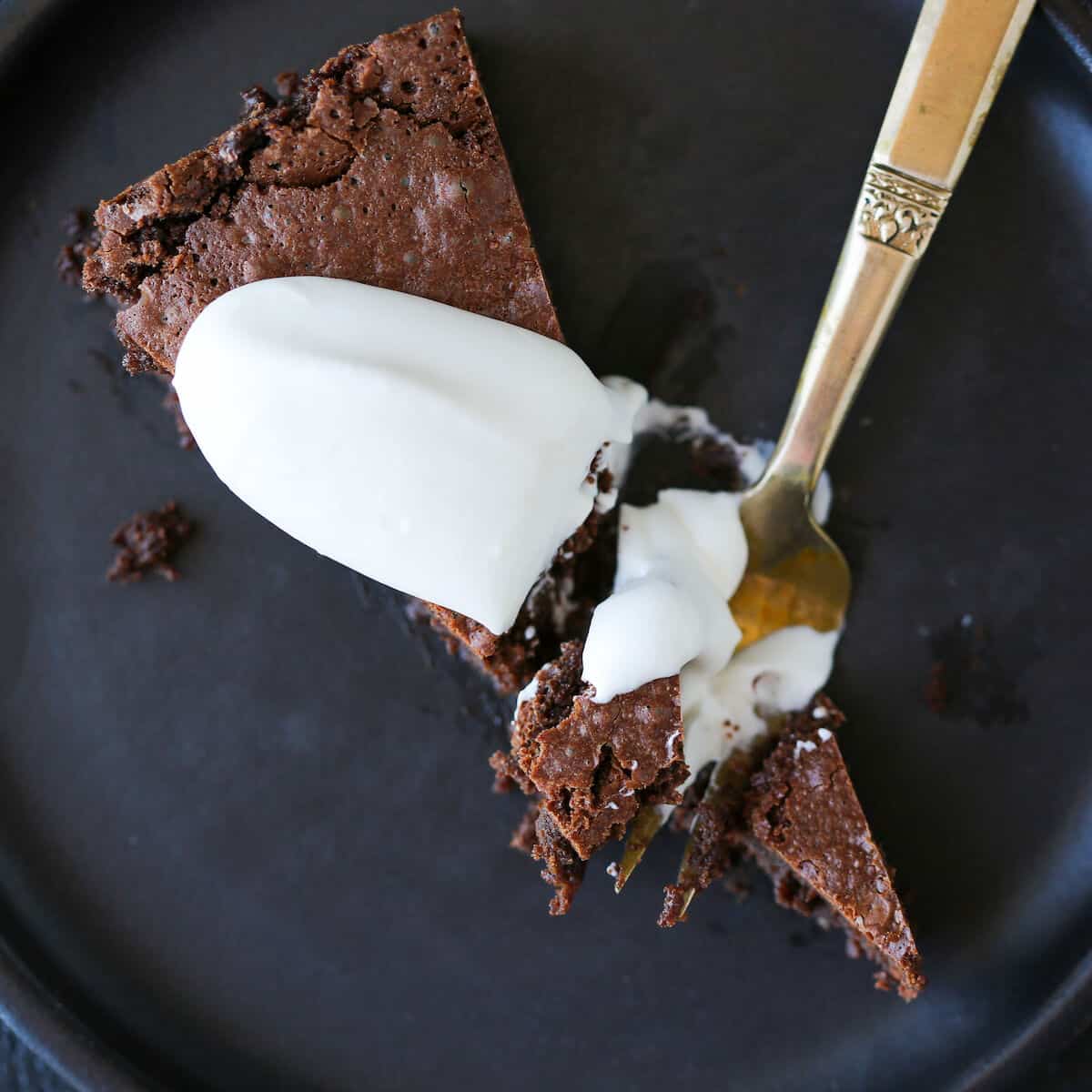 My Spin on Flourless Chocolate Decadence Cake
The only change that I made was swapping heavy whipping cream for the water, because I figured it could only make the cake that much more moist, creamy and decadent, and I was right.
Right never tasted so good.
Serve it with some unsweetened whipped cream and raspberry sauce. Only a small slice is needed because the cake is so rich and chocolatey.
Can I just tell you that I FOUGHT with these photos to get them halfway acceptable? Like knock down on the ground, drag out, Full Nelson kind of fighting. Or at least that's what it felt like.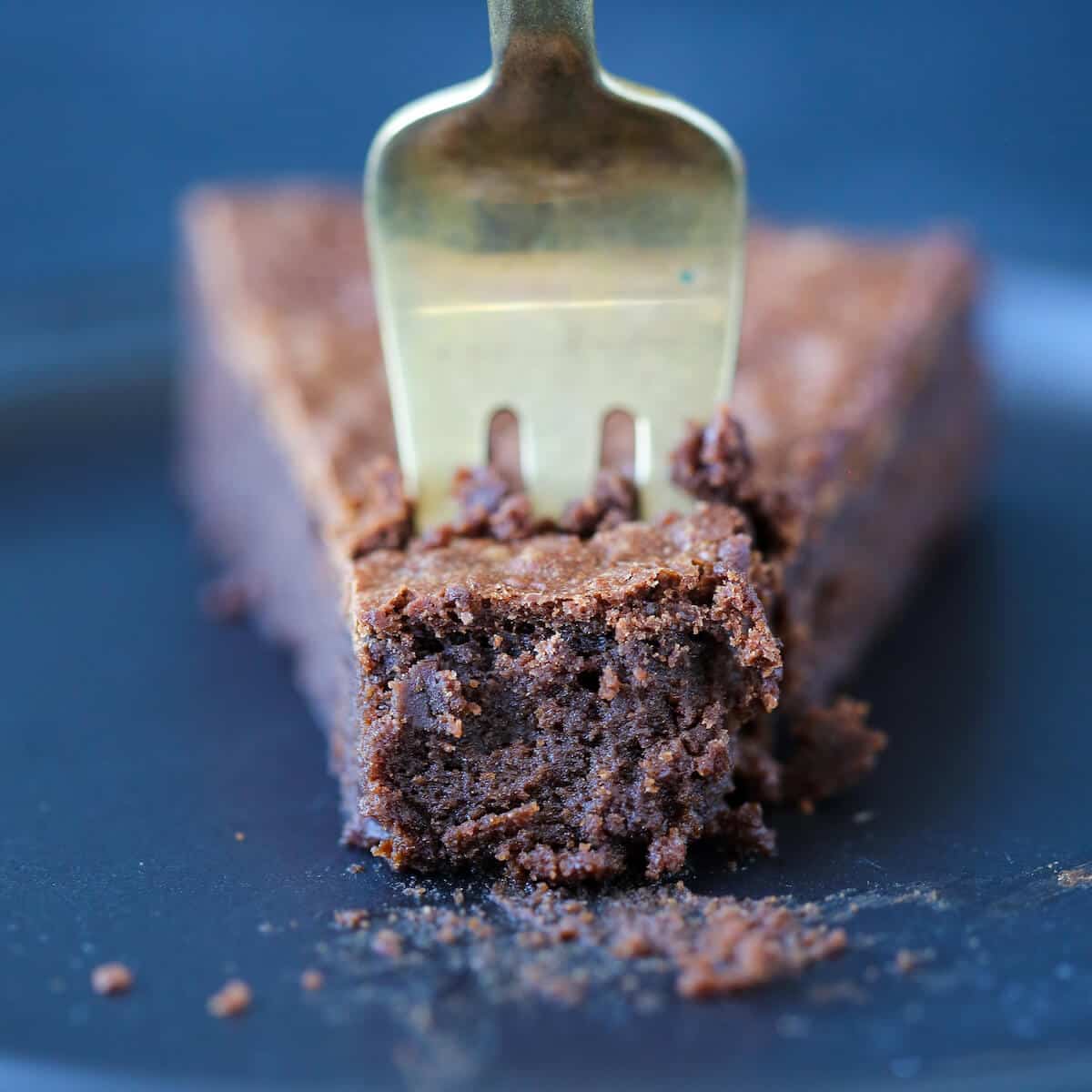 Hopefully they are passable enough to entice you to try this Flourless Chocolate Decadence Cake because they just don't do it justice. Sigh.
If you are in a berry mood…why not add some berries on top!? And if you want to go a white chocolate route, these Red Velvet White Chocolate Cupcakes. Red Velvet White Chocolate cupcakes this time of year? Mmmmm…red velvet….white chocolate! White chocolate also plays a prominent role in my White Chocolate Raspberry Mousse from a bit ago, and I was not kidding when I said eating that was like eating a white chocolate cloud.
Either of these desserts would be perfect for Valentine's Day, dinner parties, and special occasions.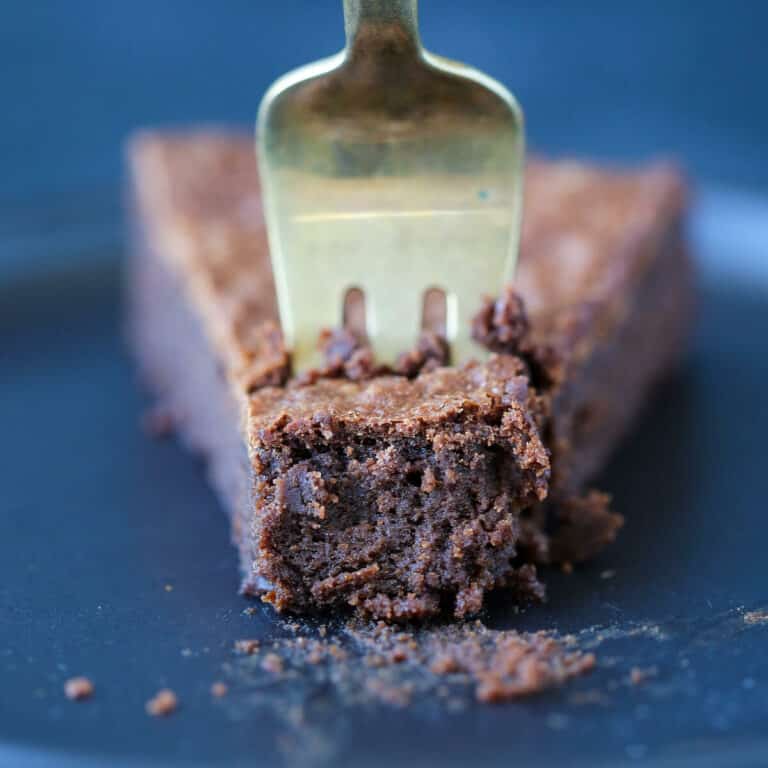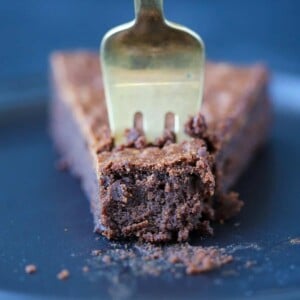 Flourless Chocolate Decadence Cake
The Flourless Chocolate Decadence Cake is sensational: it is rich with an eye-opening chocolate flavor; it is dense and moist like a good flourless chocolate cake should be; and it has this amazing crust that forms on top.
Ingredients
12

ounces

semisweet chocolate chips

Ghirardelli

4

ounces

unsweetened chocolate squares

Such as Bakers

1½

cups

butter

cut into pieces

1¾

cups

granulated sugar

¾ + 2 tablespoons

½

cup

heavy whipping cream

or water

7

eggs

room temperature
Makes:
10
inch
10
x
10
inch
round
Instructions
Preheat the oven 350°. Butter a 10 inch round pan or two 5 inch small round pans, line the bottom with parchment paper, and butter the paper.

Chop chocolate very finely and place in a large heat proof bowl with the chocolate chips.

Heat cream and sugar over medium heat in a heavy-bottom saucepan until hot and liquidy and sugar has started to dissolve; stirring frequently. Add butter and stir until completely melted.

Pour hot mixture over the chocolate and stir until all the chocolate has melted and the mixture is smooth and glossy.

In a separate bowl beat eggs until double in volume and then gradually add the sugar while continuing to beat. I continued to beat until the eggs were thicker and a very pale yellow, but I wouldn't suggest doing this because my cakes rose too much and then fell as they cooled creating a pocket between the crispy top and the cake. It did produce a remarkably light flourless cake. Sometimes flourless cakes can be like lead…Your call.

Fold eggs into chocolate mixture. This was actually challenging because the chocolate did NOT want to incorporate with the eggs. Just be persistent. It'll turn out great!

Place pan on a cookie sheet or roasting pan and fill halfway with boiling water.

Bake for 45 to 90 minutes or until a toothpick comes out with some crumbs and a little chocolate smear. My small 5" pans took almost 90 minutes but the original recipe said 40 to 50 minutes!

Let cool completely in pans.

The original recipe says to cool completely and refrigerate in the pan but I had the hardest time trying to get my cakes out even after dipping in hot water. So next time I will refrigerate for about 30 minutes then run an offset spatula around the edges and flip it out onto a cooking rack and then onto a plate. I might also just bake it in a springform pan and be done with it.

Store in the refrigerator. You can serve cold or warmed!
Nutrition
Calories:
448
kcal
|
Carbohydrates:
35
g
|
Protein:
5
g
|
Fat:
34
g
|
Saturated Fat:
20
g
|
Polyunsaturated Fat:
2
g
|
Monounsaturated Fat:
9
g
|
Trans Fat:
1
g
|
Cholesterol:
127
mg
|
Sodium:
170
mg
|
Potassium:
219
mg
|
Fiber:
3
g
|
Sugar:
30
g
|
Vitamin A:
756
IU
|
Vitamin C:
1
mg
|
Calcium:
41
mg
|
Iron:
3
mg
Like this? Leave a comment below!